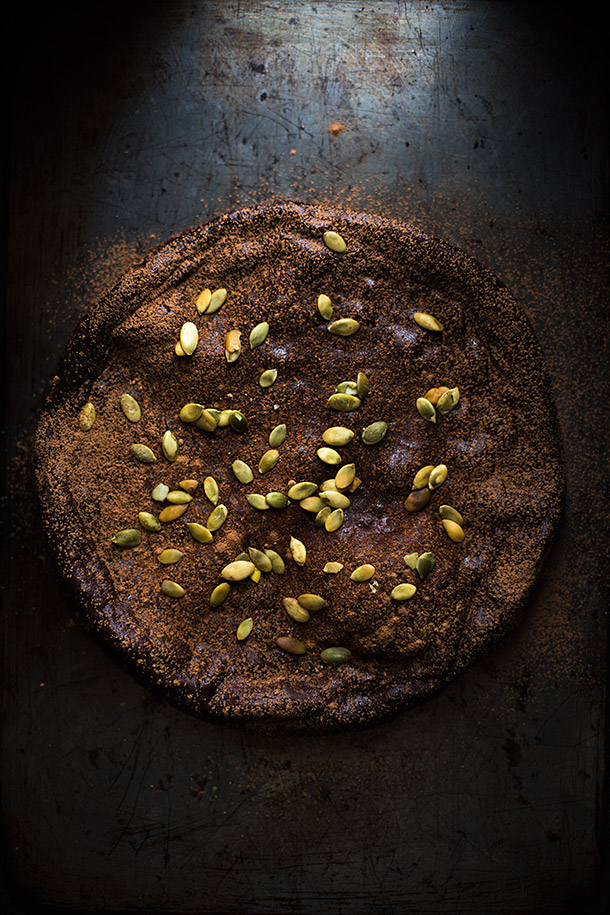 Flourless Chocolate Torte With Pumpkin Seeds
Prep time: 5 mins
Cook time: 30 mins
Total time: 35 mins
A completely flourless, grain free, nut free, and gluten free chocolate torte that is incredibly decadent and rich. With a smooth and fudgey, ganache like inside that literally melts away in your mouth.
10 ounces bittersweet or 70 % chocolate
½ cup butter + 2 tablespoons (and a little extra for greasing) *See notes*
½ cup coconut sugar
5 eggs
¼ teaspoon salt
2 teaspoons vanilla
toasted pumpkin seeds for garnishing
cacao powder for sprinkling
Preheat the oven to 350 degrees fahrenheit. Grease a 9 inch spring form pan with butter and cut out a piece of parchment paper to place in the bottom of the spring form pan and butter as well (the parchment simply adds extra safety from sticking).
In a medium sized heat proof bowl add chocolate and butter and place over a pot of simmering water making sure that the bottom of the bowl does not touch the water. Stir frequently until the chocolate and butter is fully melted then remove from the heat. In a separate medium sized bowl combine eggs, coconut sugar, salt, and vanilla and whisk until thoroughly combined and well incorporated. Carefully whisk in about ⅕ of the melted chocolate mixture into the egg mixture and whisk until well incorporated then add the rest of the chocolate mixture into the egg mixture and whisk until fully combined and well mixed.
Pour batter into prepared spring form pan and place in the oven to bake for 25-30 minutes or until center doesn't really jiggle very much or is just firm to the touch. Remove from the oven and let cool in pan completely then run a knife around the edges and remove it from the pan. This cake can be served room temperature but is best cold so I recommend refrigerating it for about 2 hours before serving.
Right before serving shake cacao powder through a sifter over the top of the cake and sprinkle with pumpkin seeds.
Notes for toasted pumpkin seeds: You can toast your pumpkin seeds by placing them in a dry skillet over medium heat while shaking the pan frequently to prevent burning until they begin to turn lightly golden on some parts and become fragrant.
Notes about butter: I aware that many of you abstain from butter but I choose not to, and I have not tested this with coconut oil so I do not know if it would work with any other fat such as coconut oil for sure. In my opinion it would probably bake just fine with coconut oil but I can't guarantee that. Also it's likely the flavor and possibly texture would be completely thrown off if you used coconut oil. If anyone wants to try it and let me know then please do, otherwise I'm gonna have to wait till the next time I make this to test it again.
Recipe by
Slim Palate
at https://slimpalate.com/flourless-chocolate-torte-with-pumpkin-seeds/