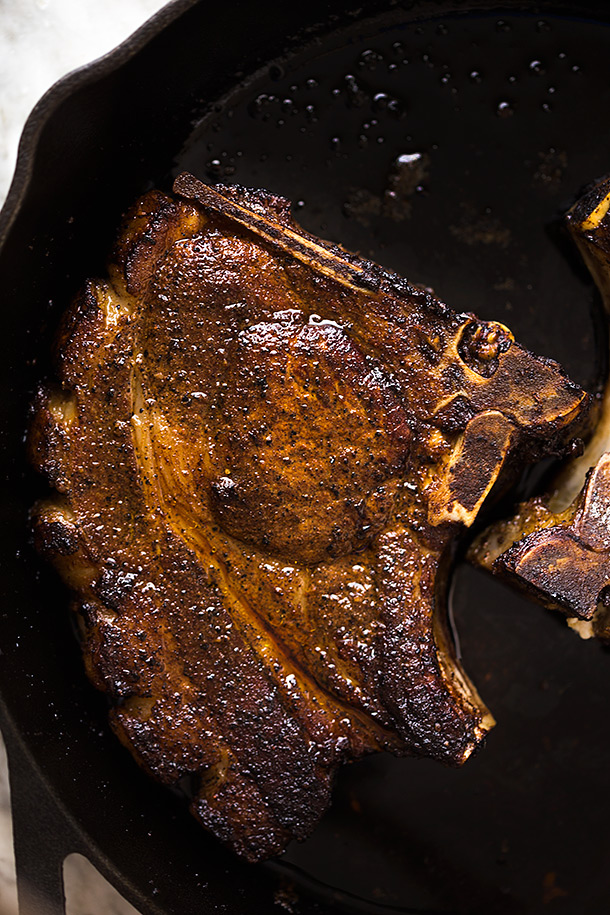 Coffee-Chipotle Pork Chops
Prep time: 5 mins
Cook time: 30 mins
Total time: 35 mins
Intensely flavored, smokey, pan roasted pork chops adapted from The Homesick Texan's Family Table.
4 bone in pork chops
2½ tablespoons ghee, lard, or any high heat cooking fat of choice (I used ghee)
Rub Ingredients:
1 tablespoon sea salt
1 tablespoon finely ground dark roasted coffee
½ tablespoon ground black pepper
½ teaspoon chipotle chile powder
½ teaspoon garlic powder
½ teaspoon cinnamon
½ teaspoon cumin
½ teaspoon ground allspice
Optional: 1½ teaspoons coconut sugar
Mix all of the ingredients for the rub in a small bowl. Rinse and pat dry pork chops and score the fat cap of the pork chops at 1 inch intervals. Then thoroughly rub both sides of the pork chops with the spice mixture until well coated, and reserve any remaining spice rub for another use (there will verily likely be some left over). Place rubbed pork chops in a large bag or container, and let sit in the fridge for at least 8 hours but preferably overnight.
Once the pork chops have sat in the fridge pull them out 30 minutes prior to cooking to allow to come to room temperature. Preheat the oven to 350 degrees fahrenheit. In a large oven safe pan or skillet heat cooking fat of choice over medium high heat until very hot and then add pork chops while avoiding overcrowding the pan and sear 2-3 minutes each side.
Place pan or skillet in the oven for 10 minutes or until pork reaches 145 degrees. Remove from the oven and place pork chops on a cutting board and allow to rest for at least 10 minutes.
Recipe by
Slim Palate
at https://slimpalate.com/coffee-chipotle-pork-chops/