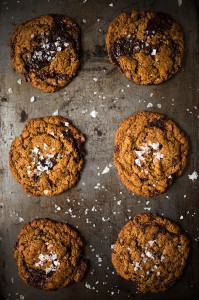 Chewy Dark Chocolate Chunk Cookies With Sea Salt
Prep time: 5 mins
Cook time: 12 mins
Total time: 17 mins
The very best gluten, grain free, and paleo chewy dark chocolate chunk, or chip cookies.
1 cup creamy raw almond butter *See Notes*
¾ cup coconut sugar preferably sifted *See Notes*
1 egg
1 egg yolk
1½ teaspoons vanilla extract
1 teaspoon baking soda
¼ teaspoon salt
4 ounces dark chocolate coarsely chopped (I recommend 70-85% the actual cookie is fairly sweet so a darker chocolate contrasts best, and you can also use chocolate chips same weight in lieu of this and turn them into chocolate chip cookies if you wish)
flakey or coarse sea salt for sprinkling *see notes*
Preheat the oven to 350 degrees fahrenheit and line two baking sheets with parchment paper or do these in batches on a single baking sheet. (These spread out quite wide so they have to be done on two different sheets or in batches)
In a medium sized bowl add the almond butter. In a separate bowl whisk together egg and egg yolk. Stir the coconut sugar into the almond butter until thoroughly incorporated then add the baking soda, salt and vanilla extract and stir until completely mixed then add the whisked egg and egg yolk to the mixture and stir once more until completely incorporated. Fold in the chopped chocolate until well incorporated.
With a cookie scoop or spoon drop 1½- 2 tablespoon sized mounds of cookie dough on to the parchment lined baking sheet spacing them about 2½ inches apart. This should allow you to only have 6 per cookie sheet and I don't recommend trying to fit more on there because they do spread out quite wide.
If you're doing these with 2 baking sheets place one baking sheet into the preheated oven for 10-12 minutes then remove them and let cool slightly for 5-7 minutes. With a spatula, transfer them to a cooling rack to let them finish cooling completely. Repeat this step with the other baking sheet or with the same baking sheet until all the the cookie dough is used. As the cookies are cooling sprinkle them with a little bit of flakey sea salt.
Notes for sprinkling with flakey sea salt: Don't go too crazy here, a little bit goes a long way and you may want to put a little less than pictured in this recipe. Just a tiny sprinkling on each cookie.
Notes for coconut sugar: I have gotten many questions on if there are substitutes for the coconut sugar and my answer is yes but you can only substitute it with another granulated sugar. Things like evaporated cane sugar, sucanat, etc. The coconut sugar does not taste coconutty at all either, it has a very light brown sugar like taste. Do not substitute it with stevia, xylitol, swerve, any liquid sweetener, etc. It must be dry and granulated and actually have *gasp* sugar in it, in order for it to turn out properly.
Notes for almond butter: You're almond butter should be raw. There is a caramelization affect that happens in the oven that only results from raw almond butter. Once it is roasted it slightly loses it's ability to caramelize. *UPDATE* I used no stir almond butter from maranatha and it also works just fine for this recipe.
Recipe by
Slim Palate
at https://slimpalate.com/chewy-dark-chocolate-chunk-cookies-with-sea-salt/