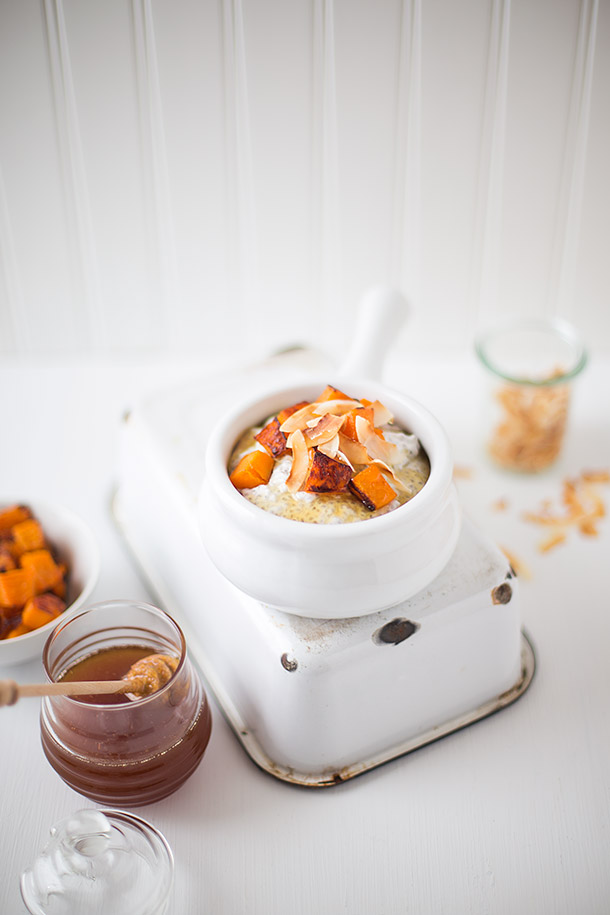 Coconut Chia Pudding with Roasted Butternut and Honey
A dairy-free and Paleo coconut chia pudding with roasted butternut squash and honey.
1½ cups coconut milk
½ cup almond milk
3 tablespoons chia seeds
½ teaspoon vanilla extract
small pinch of sea salt
½ cup coconut flakes
2 tablespoons honey
For the Roasted butternut squash:
1 small butternut squash (about 1.25 lbs) peeled and cubed into 1 inch cubes
2 teaspoons ghee or lard melted
Preheat the oven to 400 degrees. Place the cubed butternut squash on a foil lined baking sheet and toss with melted ghee or lard. Roast in the preheated oven for 35-40 minutes or until nicely caramelized and easily pierced with a fork.
While the squash is roasting, mix together coconut milk, almond milk, vanilla, sea salt and chia seeds in a mason jar or glass container. Place container in the refrigerator and allow to set for 3 hours and up to overnight. Once the squash is done roasting simply refrigerate it until the pudding is ready.
Once the pudding is thick and ready add coconut flakes to a medium sized pan and toast over medium heat shaking the pan often to prevent burning for 3-4 minutes or until golden brown around it's edges then immediately remove it from the heat and place the coconut on a plate to cool.
Stir the coconut chia pudding and divide it among bowls. Top with roasted butternut squash, toasted coconut, and drizzle with honey divided evenly amongst each pudding serving. Serve immediately.
You can adjust the amount of toppings added to the pudding to your preference if there is too much or too little of anything for you.
Additional toppings: You can also add a sprinkling of flakey sea salt or shaved dark chocolate to add some more flavor layering and richness to this if you like.
Recipe by
Slim Palate
at https://slimpalate.com/coconut-chia-pudding-with-roasted-butternut-and-honey/