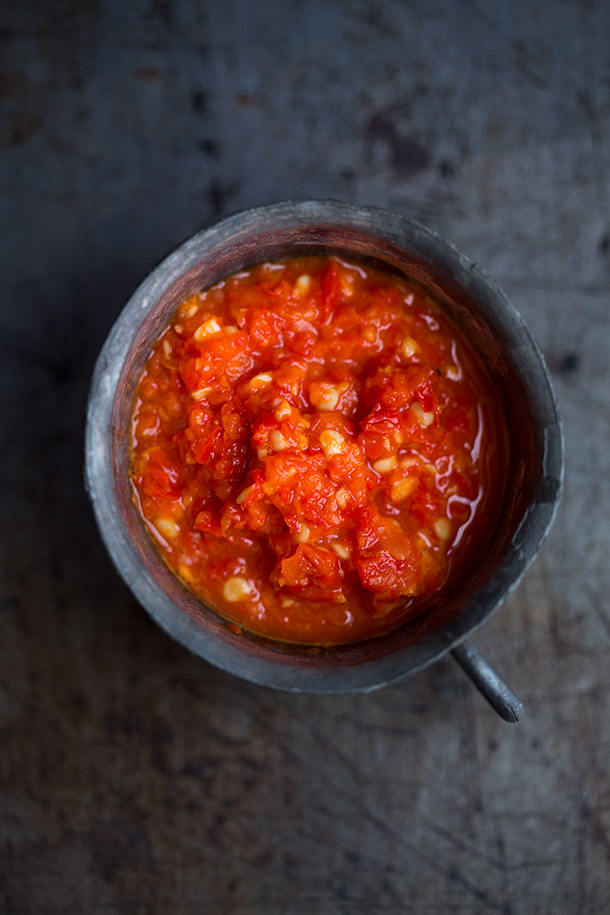 Prep time: 3 mins
Cook time: 10 mins
Total time: 13 mins
A synthetic preservative free, sugar free, Paleo and Whole 30, homemade recipe for the addictive condiment of coarsely ground chilies and garlic that goes with just about everything. Adapted from
Homemade Chili Garlic Sauce (Tuong Ot Toi)
by Viet World Kitchen.
8 ounces fresno chilies
6 cloves of garlic peeled
2½ tablespoons unseasoned rice vinegar or distilled white vinegar
¾ teaspoon salt
De-stem and chop fresno chilies and place in a food processor along with the seeds. The more seeds you add the spicier it will be. Add the garlic, vinegar and salt. Blitz until you get a slightly coarse paste.
Pour pureed chile mixture into a smalll saucepan and bring to a boil over medium heat and then lower the heat to a gentle simmer. Simmer gently for 7-10 minutes or until it not longer has a raw scent.
If you want you're sauce more fine then place it back in the food processor at this point and blitz it a few more times. You may serve it immediately but it's best after the flavors have had at least 4 hours to meld; overnight preferably.
Note about rice vinegar: Make sure you get unseasoned rice vinegar, there are types of rice vinegar called seasoned rice vinegar that have added sugar.
Note about seeds from the chilies: I used all of the seeds and it was just fine for me, quite spicy, but tolerable. If you're afraid of it being too spicy then use only half of the seeds.
Recipe by
Slim Palate
at https://slimpalate.com/paleo-chili-garlic-sauce/