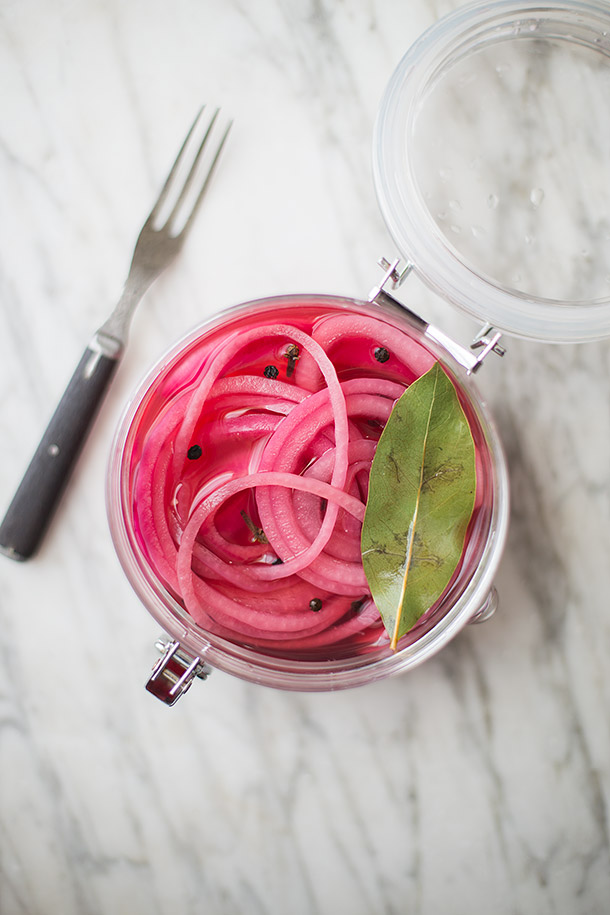 Prep time: 10 mins
Total time: 10 mins
A fast and easy recipe for pickled red onions.
1 large red onion
1¼ cups unseasoned rice vinegar or white wine vinegar
1 bay leaf
2 teaspoons black peppercorns
4 whole cloves
½ teaspoon salt
optional: ¼ teaspoon coconut sugar (for sweetness to balance out the vinegary, saltiness)
Slice the onion into ¼ inch rounds, place in a metal sieve and slowly pour boiling water over them to par blanch them (3 cups or more of boiling water).
In a glass or plastic container, (any container works as long as the onions will fit in and be mostly submersed in the vinegar) pour in the vinegar and stir in salt and optional coconut sugar until dissolved.
Add bay leaf, peppercorns, cloves, and par-blanched red onion to the vinegar mixture, cover, and let them sit for at least 1 hour but preferably overnight. Store in the fridge for up to 2 weeks.
I've noticed that let tin them sit in the vinegar mixture for 2days or longer yields the best flavored and colored results. If you want those vibrant and bright pink rings then you'll want to go for 2 days. These can be made several days ahead of time so you can just make them and then store them for whenever you want to use them or make them a few days ahead of a party or get together.
Par-blanching note: We just need to par blanch the onions so there is no need to pour 4 quarts of boiling water on these, we just want a steady stream of hot water to blanch them for a few seconds.
Recipe by
Slim Palate
at https://slimpalate.com/pickled-red-onions/