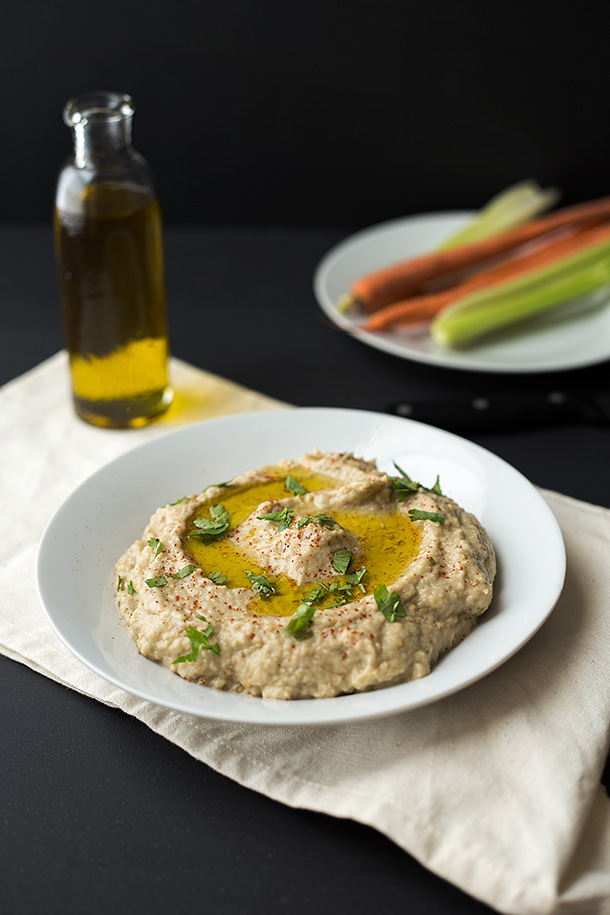 Prep time: 15 mins
Cook time: 35 mins
Total time: 50 mins
2 globe eggplants
3 tablespoons tahini
1 tablespoon extra virgin olive oil plus extra for serving
3 cloves of garlic peeled
juice from 1 lemon
¾ teaspoon salt
¼ teaspoon cumin
pinch of red chile powder for serving
3 tablespoons fresh chopped parsley for serving
avocado oil for brushing
Preheat the oven to 400. Slice the eggplants in half and brush the cut sides with avocado oil. Place the halved eggplants cut side down on a foil lined baking sheet and prick them all over with a fork
Place the eggplants into the oven for 35 minutes or until very soft. Pull them out and allow them to cool for at least 5 minutes.
Scrape out the flesh of the eggplant and place it in a blender with the remaining ingredients and puree until smooth.
Serve garnished with chopped parsley, chile powder and a drizzle of olive oil.