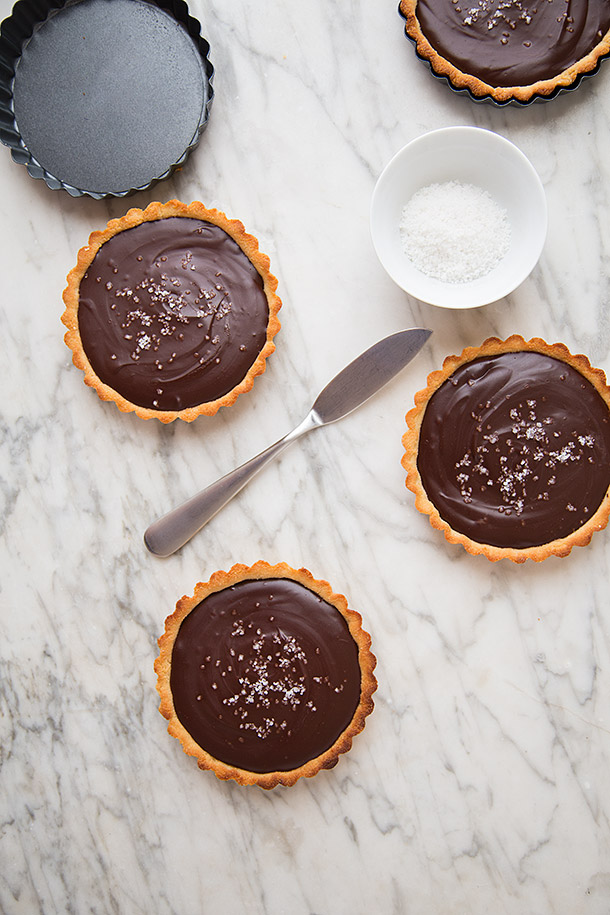 Salted Mexican Chocolate Ganache Tarts
Prep time: 45 mins
Cook time: 30 mins
Total time: 1 hour 15 mins
Makes 4 tarts
For The Tart Shells:
2 cups almond flour
1 tablespoon coconut flour
2 tablespoons coconut oil melted plus more unmelted for greasing
1 egg
2 teaspoons honey
pinch of salt
For The Ganache:
1 cup coconut milk
3 tablespoons coconut oil softened
8 ounces dark chocolate chopped(70 percent or higher but preferably something in between 70 and 75 percent)
2 cinnamon sticks
1 dried guajjillo chile
optional: ¼ teaspoon cayenne pepper
¼ teaspoon cinnamon
flakey or coarse sea salt for sprinkling
Make the Tart Shells:
Preheat the oven to 350 degrees and grease 4 - 4 inch tart pans with unmelted coconut oil. In a medium sized bowl combine almond flour, coconut flour, salt, and stir to combine. In a small bowl shisk together egg, honey, and melted coconut oil then pour wet into dry ingredients and stir until thorougly incorporated and there are no clumps remaining.
Divide and press the dough amongst the tart shells and bake them for 10 minutes or until lightly browned around the edges. Pull out of the oven and allow to cool slightly.
Make the Ganache:
While wearing gloves snip the stem off the guajillo chile and shake out most of the seeds. Chop the chocolate finely and place into a medium sized bowl along with the coconut oil.
In a small sauce pot heat coconut milk until hot and steaming then add guajjilo chile, cinnamon sticks, cinnamon, and if using, cayenne pepper. Turn off the heat, cover and let steep for 10 minutes then with kitchen shears snip the cinnamon sticks and guajjilo chile into pieces, stir, and reheat until hot again then turn off the heat, cover, and let steep for 20 more minutes.
Remove the lid and reheat the coconut milk mixture once more until hot and steaming then pour the hot coconut milk through a mesh strainer over the chocolate while pressing the cinnamon and chili against the strainer. Let the hot coconut milk and chocolate sit for 1 minute then gently whisk until completely smooth.
Pour chocolate ganache into cooled tart shells, shape with a spatula, sprinkle with sea salt and place in the refrigerator for 15-20 minutes to harden. If you are not serving them the same day then salt them when serving otherwise the salt will dissolve into the ganache over time.
These have a very mild bit of heat from the cayenne but feel free to reduce the amount to your liking.
Recipe by
Slim Palate
at https://slimpalate.com/salted-mexican-chocolate-ganache-tarts/