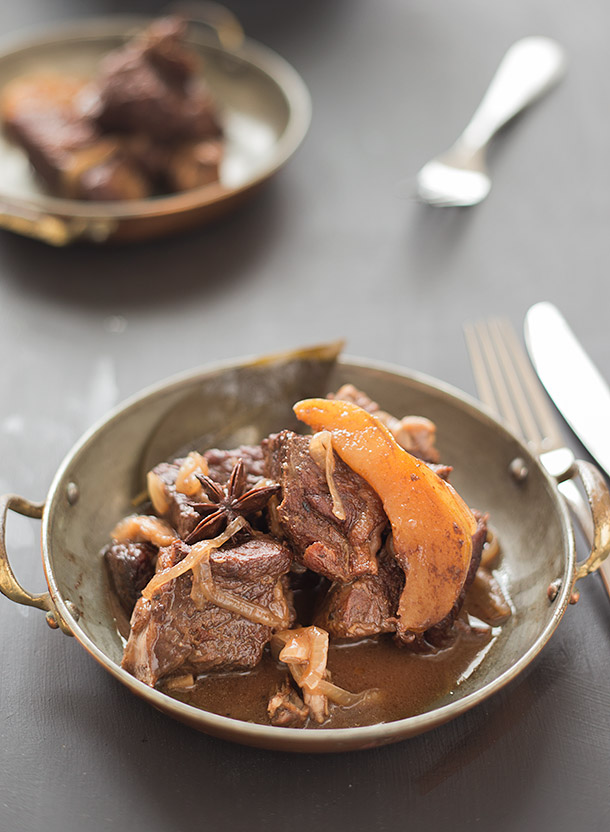 Braised Chuck with Pear, Chocolate and Ginger
Prep time: 20 mins
Cook time: 3 hours
Total time: 3 hours 20 mins
3½-4 lbs boneless chuck roast cut into 1½ inch cubes
1 inch knob of ginger peeled and grated
3½ tablespoons ghee or avocado oil
3 star anise (It's not as odd of an ingredient as you might think, you can find it at most grocery stores)
1 bay leaf
1 medium onion sliced thin
5 cloves garlic peeled and sliced thin
2 cups red wine
1¼ cup chicken or beef stock
1 oz unsweetened baking chocolate chopped
1 Bartlett pear
3 tablespoons rice vinegar *See Notes*
salt and pepper to taste
Preheat the oven to 325 degrees. Cut pear in half and then cut each half into 4 wedges, after cutting into wedges carve out core in each wedge. Heat 2½ tablespoons of ghee in a large pot or dutch oven over medium high heat. Pat dry cubed chuck roast and season generously with salt and pepper. Brown chuck roast in batches as to not overcrowd the pot 2-3 minutes each side until nicely browned and caramelized and place on a large dish lightly tented with foil.
After everything is browned and placed on the dish pour out any remaining ghee and discard then add remaining tablespoon of ghee in pot and add onion, garlic and ginger and cook until onions begin to soften. Pour in red wine and chicken stock while scraping the bottom of the pot to get any and all stuck bits off the bottom. Add chopped chocolate and rice wine vinegar, season lightly with salt and pepper and stir then place pear slices in the pot evenly spaced apart.
Carefully nestle browned beef back to the pot in a single layer then add bay leaf and stars of anise. Bring to a simmer then reduce to low heat and cover with lid and place in preheated oven for 3 hours.
*This Part is optional but highly recommended* Pull out of the oven and carefully place beef and pears on a preheated dish and tent lightly with foil. Raise heat to medium high heat and reduce sauce by ½ or until you reach desired thickness and taste and season with salt and pepper if necessary.
Serve with a pear or two and reduced braising liquid spooned on top.
Make sure you get plain rice vinegar and not seasoned rice vinegar(check your ingredient labels). Seasoned rice vinegar has sugar in it but regular rice vinegar does not. Rice vinegar is considered Paleo and Whole 30 compliant just as an FYI. This goes great served on top of cauliflower mash or even cauliflower rice. I would imagine it would be great in lettuce cups as well for something a little more "fresh"
Recipe by
Slim Palate
at https://slimpalate.com/braised-chuck-with-pear-chocolate-and-ginger/