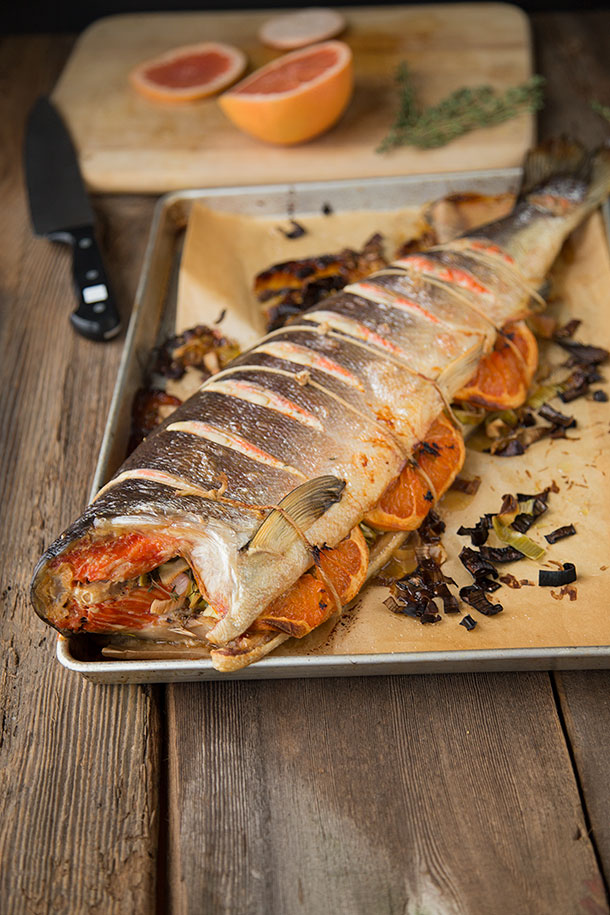 Whole Roasted Salmon with Grapefruit and Leeks
Prep time: 10 mins
Cook time: 60 mins
Total time: 1 hour 10 mins
whole salmon (about 5-7 lbs)
3 medium leeks
4 cloves of garlic minced
1 medium grapefruit cut into slices ¼ inch thick
5 large sprigs of thyme
salt and pepper to test
Preheat the oven to 425 degrees.
Cut the root bottoms and hard green tops off of your leeks and discard then slice all the way through the leek lengthwise but keep the halves together then slice it in to ½ inch rounds so you have 2 moon shaped slices each about ½ inch thick.
If your salmon isn't open already carefully make a cut into belly of the salmon and clean out the cavity so you have a decent sized pocket most of the way down the salmon to stuff. Then make slits in the skin about ½ inch deep and 2 inches apart on both sides of the salmon.
In a small bowl mix the minced garlic and sliced leeks then stuff the salmon with the garlic and leek mixtures, then the slices of grape fruit and then the sprigs of thyme. (If you don't have enough stuffing space for al of the slices of grapefruit serve the salmon with a slice of grape fruit) then if you have any remaining slices of leek just sprinkle them around and closely to the salmon and be sure you drizzle a little avocado oil or melted ghee over them.
Tie the salmon at 2 inch intervals with kitchen twine and place diagonally on a parchment lined baking sheet and then into the oven for 50-60 minutes or until firm to the touch.
Turn your broiler on high and broil until the skin get nicely browned, crackly and crispy.
Recipe by
Slim Palate
at https://slimpalate.com/whole-roasted-salmon-with-grapefruit-and-leeks/