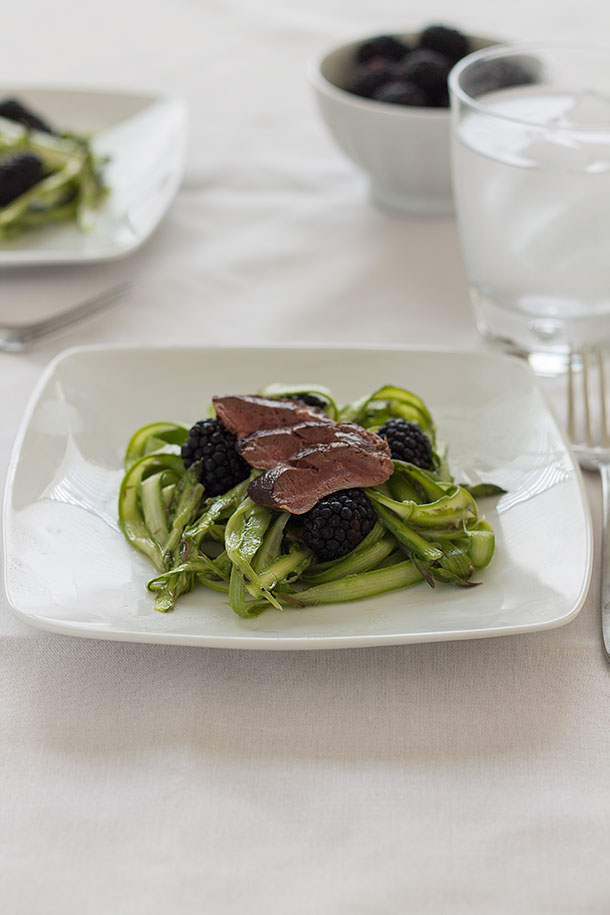 Shaved Asparagus, Blackberry and Seared Duck Breast Salad
Prep time: 20 mins
Cook time: 6 mins
Total time: 26 mins
For the Salad:
3 duck breasts or could substitute 3 fully cooked chicken breasts and just skip the first step
1 tablespoon ghee
1 bunch asparagus
1 cup blackberries
optional shaved kerry gold Ivernia or parmesan cheese for garnishing
salt and pepper to taste
For the Lemon Vinaigrette:
¼ cup extra virgin olive oil
juice of 1 lemon
1 teaspoon dijon mustard
1 clove of garlic grated
Heat ghee in a medium pan over medium high heat and place duck breasts in pan skin side down if they have skin and let cook for 3 minutes. Flip duck breasts and let cook for addition 2-3 minutes and pull out of the pan and place to the side and allow them to rest.
While your duck breasts are resting assemble your dressing by combining extra virgin olive oil, lemon juice, dijon mustard and grated garlic and whisk well until fully incorporated.
With a vegetable peeler delicately shave the asparagus lengthwise to create ribbons. Place shaved asparagus in a medium sized bowl along with blackberries and toss with vinaigrette and salt and pepper to taste.
Now that your duck breasts have rested slice them and place them atop each divvied up salad and garnish with optional cheese.
The duck breast I used was already sliced, don't worry about this just sear your whole duck breasts as normal if using duck breast.
Recipe by
Slim Palate
at https://slimpalate.com/shaved-asparagus-blackberry-and-seared-duck-breast-salad/