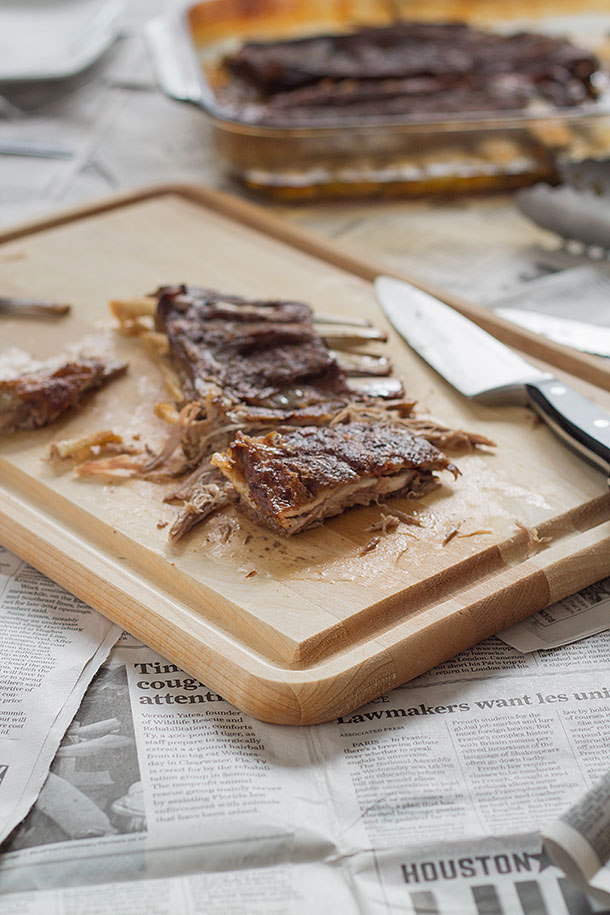 Tex-Mex Braised Lamb Ribs
Prep time: 15 mins
Cook time: 3 hours 30 mins
Total time: 3 hours 45 mins
4 lbs denver lamb ribs (I got mine graciously sent to me by Lava Lake Lamb)
1 medium ripe tomato chopped (could use 1 cup peeled chopped canned but I prefer fresh and unpeeled for this recipe)
4 shallots sliced thin
1 poblano pepper sliced thin
4 cloves garlic minced
1 teaspoon chili powder
¾ teaspoon cumin
¼ teaspoon salt
¼ cup red wine vinegar
1 tablespoon ghee or avocado oil
Water to cover (about 2 cups)
Preheat the ovens broiler to high in a small bowl combine chili powder, cumin, and salt and combine. Evenly distribute spice mixture over ribs and rub all over ribs. Place ribs on a wire rack on top of a baking sheet lined with foil and brown them slightly on both sides. (You can skip this browning step if you like, I just like to slightly brown them first to ensure a nice deep dark brown around them but you can always add that part at the end if you wish. In this case just preheat the oven to 300 and rubs the ribs with the spice mixture and place them to the side and follow the rest of the steps as usual)
Once ribs are browned or if you skipping the browning step heat the oven to 300 degrees.
Heat ghee or avocado oil over medium heat in a medium sized pan (I really noticed my Le Creuset stainless steel pan works wonders for deglazing for this stage). Once hot add sliced shallots, poblano pepper, garlic and tomato and sauté until shallots and pepper begin to soften. Pour in red wine vinegar and reduce heat to low and scrape any bits stuck to the bottom.
In a gratin dish large enough to hold all of the ribs in a single layer (it's okay if they squeeze together or very slightly overlap) add sautéed shallots, poblano pepper, garlic, tomato and juices from pan and distribute evenly along the bottom of the dish. Nestle ribs in gratin dish so they are all in one even layer. Pour in water so that the ribs are ½ of the way covered with the water. (about 2 cups)
Cover tightly with foil, place in the oven and braise for 3 hours. Once they are done braising take the foil off and increase the oven temperature to 375 degree and continue to cook for 25-30 more minutes or until the ribs are nicely browned and caramelized on the outside and the vegetables are nicely caramelized.
For serving these you can either serve these with each individual rib cut into riblets or serve ½ or ¼ racks.
Recipe by
Slim Palate
at https://slimpalate.com/tex-mex-braised-lamb-ribs/