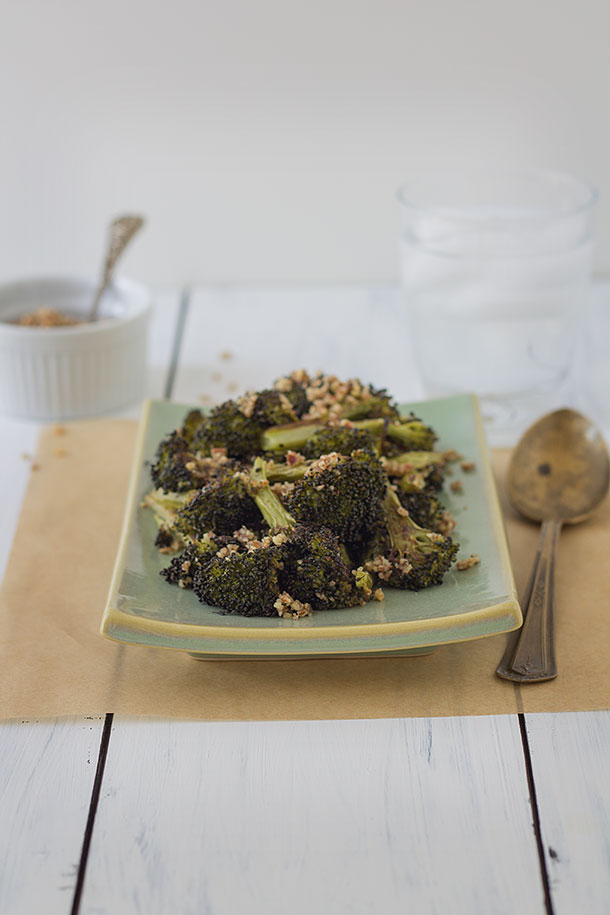 Prep time: 10 mins
Cook time: 30 mins
Total time: 40 mins
1 medium head of broccoli
3 cloves of garlic whole and unpeeled
1-2 tablespoons avocado oil or melted ghee (I find it faster and easier with the avocado oil)
⅓ cup pecans
2 teaspoons ghee melted (separate from the other measurement of ghee if using ghee to roast the broccoli)
salt and pepper to taste
Preheat oven to 400 degrees and line a baking sheet with foil.
Slightly trim stem off each broccoli head and cut each heat into fourths or sixths so you have wedges of broccoli (you can use the pictures as a reference)
Place cut broccoli onto baking sheet and drizzle avocado oil or melted ghee and sprinkle salt and pepper over the broccoli and toss to coat evenly. Spread the broccoli back around the baking sheet evenly so they lay in a flat layer then add the whole unpeeled garlic cloves around the baking sheet.
Place baking sheet into oven for 25-30 minutes shaking the pan a couple of times in between cooking or until broccoli is browned around the edges.
Once the broccoli is done roasting pull baking sheet out of the oven and remove all of the now roasted garlic cloves and remove the skin and place in a food processor along with pecans, melted ghee and a pinch of salt and pulse until you get a moderately fine grind not too fine but not too coarse and starts to clump, it should stick a little bit together when you squeeze it together.
In a medium sized bowl add broccoli and pecan mixture, toss well to combine and serve.