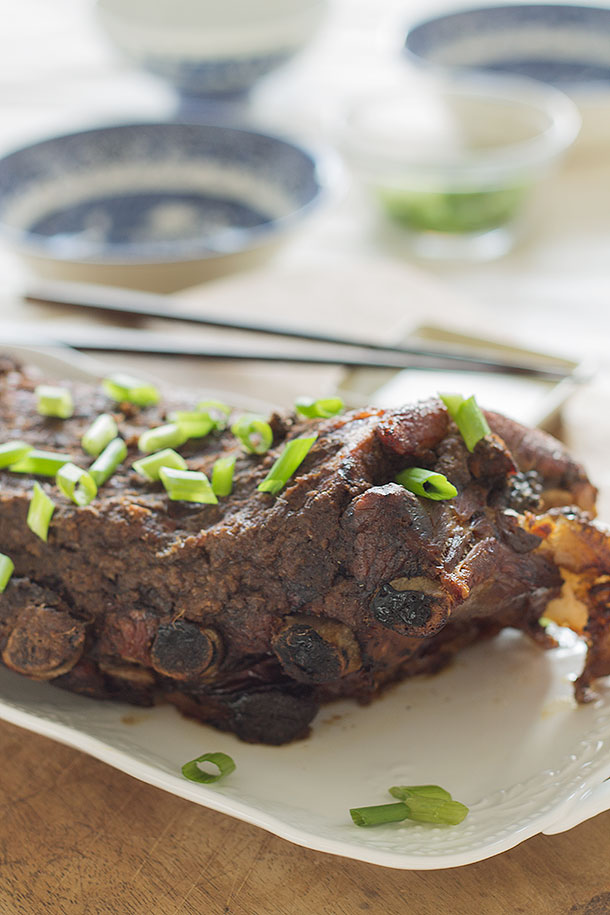 Slow Cooker Chinese Spare Ribs
Prep time: 20 mins
Cook time: 8 hours
Total time: 8 hours 20 mins
4 lbs pork spare ribs
1 tablespoon Chinese five spice
1 tablespoon plus 1 teaspoon fresh grated ginger
2 teaspoons grated fresh grated garlic
¼ cup dry white wine or sherry
1 tablespoon plus 1 teaspoon apple cider vinegar
2 tablespoons coconut aminos or tamari (I used coconut aminos)
1 tablespoon tomato paste
1 tablespoon plus 1 teaspoon lemon juice
optional 2 teaspoons of honey (I actually do not to add the honey because in my opinion the tomato paste that I added seems to add a nice subtle sweetness that fits my tastes a little better but it depends on the person, just taste your sauce and see if you want it.)
In an oven make sure an oven rack is 4-6 inches away from heating element and preheat broiler on high.
Line a medium baking sheet with foil, place a wire rack on it and place spare ribs on it fat cap side up.
In a measuring cup or small bowl add Chinese five spice, grated ginger, grated garlic, white wine or sherry, apple cider vinegar, coconut aminos or tamari, tomato paste and lemon juice and optional honey if using and stir until thoroughly combined and place to the side.
Once broiler is hot place ribs under broiler and brown both sides until nicely browned and crispy. 4-6 minutes each side.
Place ribs on sides in slow cooker and pour the sauce mixture you place on the side earlier all over the ribs. (It's okay if it runs down the ribs and into the bottom of the slow cooker, in fact that's a good thing.)
Place lid on slow cooker and cook on low for 7-8 hours.
Recipe by
Slim Palate
at https://slimpalate.com/slow-cooker-chinese-spare-ribs-paleo-grain-free-gluten-free/