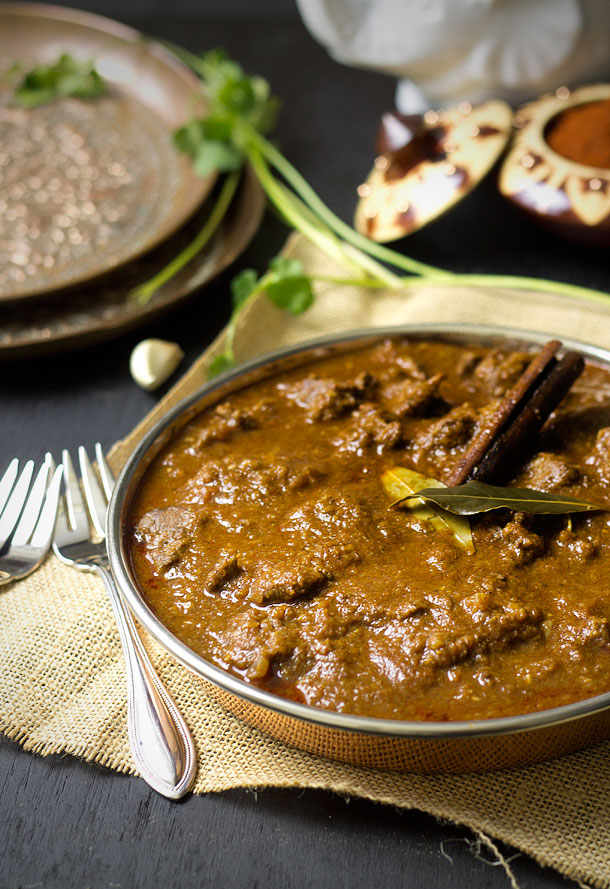 Prep time: 20 mins
Cook time: 1 hour 15 mins
Total time: 1 hour 35 mins
2 lbs lamb shoulder cut into 1-2 inch chunks (You want a little bit of fat on this but be sure to trim it juts a little bit to keep from having a huge pool of fat on top of the gravy, although there should be a thin layer)
2 tablespoons or enough to coat the bottom of the pan or dutch oven of avocado oil or macadamia nut oil (I used the avocado oil)
Onion and Garlic Paste:
1 medium onion
8 cloves garlic
Spice Blend:
2 bay leaves
10 whole cardamom pods
1 stick cinnamon
½ teaspoon ground cloves
1 teaspoon coriander
2 teaspoon cumin
2 tablespoon paprika
1 teaspoon cayenne pepper (reduce to ½ teaspoon if your sensitive to spicy dishes. This dish is not that spicy but its about a medium in my opinion)
¾ teaspoon salt
1 teaspoon pepper
Sauce Base:
3 medium fresh roma tomatoes blanched and chopped fairly fine but leave it a little chunky. (remember the tomatoes will kind of disintegrate in there so don't get them too small)
¼ cup coconut milk or yogurt (yogurt keeps this dish much more traditional and is probably the best way to go but coconut milk works almost as good too)
Combine all of the ingredients under spice blend in a small bowl keeping the cardamom, cinnamon stick, and bay leaves whole.
Blanch your fresh roma tomatoes by submersing them in boiling water for about a minute or until they pop and allow them to become cool to the touch then peal them, chop them and place them to the side.
In a food processor add the onion and garlic and process until you get a fairly fine paste and place in a small bowl on the side.
Now that everything is ready on the side heat oil in a dutch oven over medium high heat (or a large skillet)
Once hot add meat in batches if necessary and brown well on all sides and place to the side. (Your going to add the meat right back after this but I do it this way because I can get better browning and keep from steaming the meat)
Once all the meat is browned place it back in the dutch oven, reduce the heat to medium and add the onion and garlic paste along with the spice blend.
Stir everything in gently making sure not to crush the bay leaves.(they will begin to soften and be easier to stir around in there later)
Let simmer for 3-5 minutes or until very aromatic.
Add the chopped and blanched roma tomatoes and coconut milk and stir until thoroughly combined.
Once it is combined and has come back to a simmer reduce the heat to low and place the lid on the dutch oven and simmer lightly for 1 hour and 15 minutes or until fork tender.
Once finished serve with fresh chopped cilantro sprinkled over the top. (I served mine over saffron cauliflower rice)
Simmering Note: While simmering at step 10 make sure that it's not simmering too hard. If it is simmering too hard then warm a diffuser on the side. Then move the dutch oven or skillet over and place the warmed diffuser over the burner that the duch oven or skillet was on and place the dutch oven or skillet onto the diffuser and place lid back on and continue simmering at low. Leftovers Note: If you happen to have leftovers this makes an amazing breakfast. Simply reheat in the oven at 350 for 10-15 minutes stirring occasionally or in the microwave at 30 second intervals with a splatter guard on top until hot and eat with your eggs in the morning. Whats better than a lamb curry and eggs? I had my bit of left overs served over wilted spinach and topped with two fried eggs for breakfast, and it was amazing.
Recipe by
Slim Palate
at https://slimpalate.com/rogan-josh-lamb-curry/