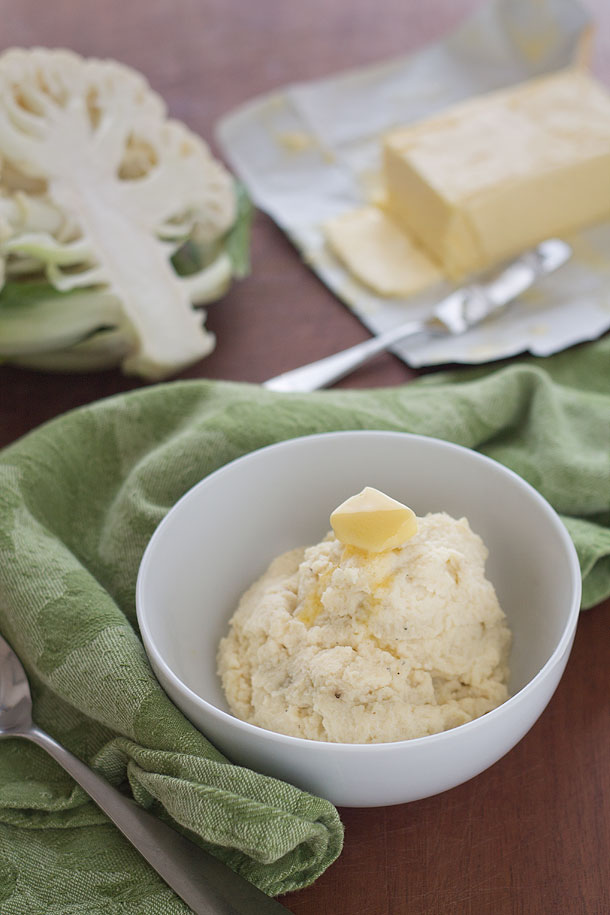 Prep time: 5 mins
Cook time: 10 mins
Total time: 15 mins
½ large head of cauliflower (stem removed and each floret cut into fourths depending on size)
2 tablespoons grass fed butter
2-3 garlic cloves unpeeled
salt and pepper to taste
Flavor Variations:
Curried Mashed Cauliflower: add ½ tablespoon curry powder and ¼ teaspoon cayenne pepper powder.
Cheesy Mashed Cauliflower: add ¼ cup grated grass fed cheese and a tablespoon of heavy cream or coconut milk.
Herbed Mashed Cauliflower: add 1 sprig fresh thyme, 1 sprig fresh rosemary finely minced and chopped chives.
Smokey Barbecue Mashed Cauliflower: ½ teaspoon smoked paprika, ½ teaspoon chili powder, ½ teaspoon cumin, ½ teaspoon ground coriander.
Take individual unpeeled garlic cloves and place them on a small baking sheet and place them under the broiler on high until nicely browned all the way around and soft.
Either place cauliflower in a medium sized bowl and steam in the microwave until slightly translucent and easily pierced with a fork or steam for about 10 minutes or until soft.
Place cooked cauliflower in processor followed by butter, roasted garlic and a little bit of salt and pepper to taste.
Process until you get a nice smooth and creamy texture(you may need to scrape down the sides to make it go faster)