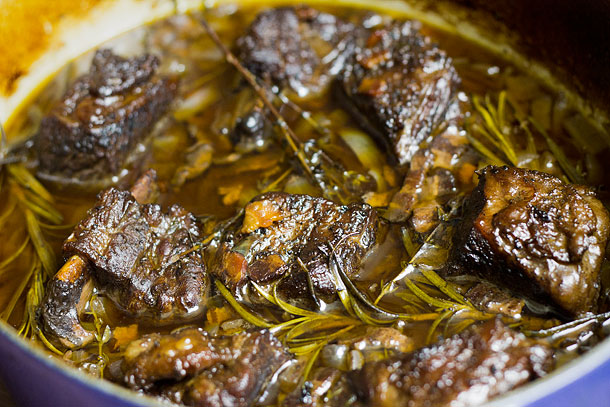 Red Wine Braised Short Ribs (Paleo, Grain Free, Gluten Free)
Prep time: 25 mins
Cook time: 3 hours
Total time: 3 hours 25 mins
2-3 lbs beef short ribs
1½ cup chicken or beef stock
2 cups dry red wine (such as cabernet)
4 sprigs rosemary
3 sprigs of thyme
1 medium onion
1 tablespoon tomato paste
1 carrot
1 celery stalk
3-4 strips bacon
salt and pepper to taste
something to braise in (I love and used a Le Creuset Oval French Oven)
Preheat the oven to 325 degrees
Chop bacon in thin ¼ inch slices. Chop carrots, celery, and onion coarsely (you want this fairly coarse so they don't disintegrate while cooking)
If your short ribs are the whole cut with several ribs cut in between each rib evenly to give you individual cuts of each short rib. Lightly salt and generously pepper each short rib.
Heat a dutch oven over medium heat and add bacon and fry until crispy and remove but leave the bacon fat in the dutch oven.
If there isn't enough bacon fat coating the bottom then add a little bit of avocado oil (you only want enough oil to coat the bottom of the dutch oven)
Make sure the oil is nice and hot which it should still be and add the cut short ribs to the dutch oven and brown on all sides well but do not over crowd the dutch oven while browning. About 1-2 minutes per side. (you may have to do the browning in batches so you don't overcrowd the pan)
Once all the short ribs are browned nicely on all sides place all of them into a bowl or dish, place on the side and cover with foil to keep warm.
Add coarsely chopped onions, carrot, celery and tomato paste to the dutch oven and cook for a minute or two stirring often to prevent any burning.
Once veggies begin to soften pour in red wine and stock and scrape the bottom of the dutch oven while stirring to deglaze the dutch oven add salt and pepper to taste and continue stirring.
Let come to a light simmer and then place the browned short ribs back in the pot spacing them evenly apart, then nestle the rosemary and thyme all around in the dutch oven and pour bacon back into the dutch oven.
Place lid on dutch oven and put in oven for 2½- 3 hours. (I did mine for 2½ hours)
Once they're done place all of the meat on a warmed dish and tent with foil to keep warm and place on the side.
With a spoon carefully take out only the rosemary and thyme sprigs and then carefully de-fat the braising liquid by carefully pressing your spoon flat over the liquid and slowly letting the fat run into the spoon. (Don't completely de-fat it, you just want to remove that pool of fat that develops in the dutch oven that creates an undesirable texture when there is too much. But you do want a little bit at least, that's where the flavor is!
Place dutch oven back on stove over medium heat and reduce braising liquid slightly.
Turn heat off and serve meat with your choice of side and reduced braising liquid and vegetables spooned over the short ribs.
At the two hour mark if you choose you can check and make sure you have enough liquid left in the pot to continue cooking. The braising liquid should be about halfway above the short ribs or higher when you check. Also, make sure it isn't simmering too vigorously. If it is simmering too vigorously lower the temperature by 10-15 degrees. Lastly dont be worried about the alcohol in this recipe because the alcohol actually cooks off as its cooking.
Recipe by
Slim Palate
at https://slimpalate.com/red-wine-braised-short-ribs-paleo-grain-free-gluten-free/