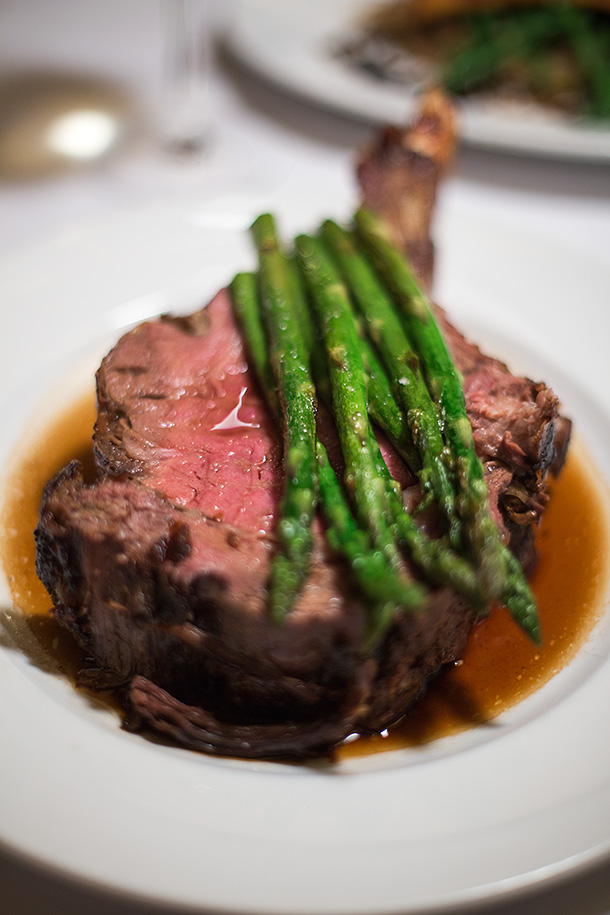 If you have been keeping an eye on my social media you might know that I'm on a book tour! Currently I'm on my flight back to Texas from the East Coast part of my book tour, which was slightly shorter than expected due to school. I planned on going to Virginia but sadly my schedule only allowed me to go to New Jersey and New York. Although I'm not complaining at all, it was all worth while.
I started the tour in New Jersey where the kind and wonderful people Dana and Karianne of Guerrilla Fitness let me do a Q&A and book signing at their Morristown location. Lucky for me they helped a ton with promotion even though it was slightly last second.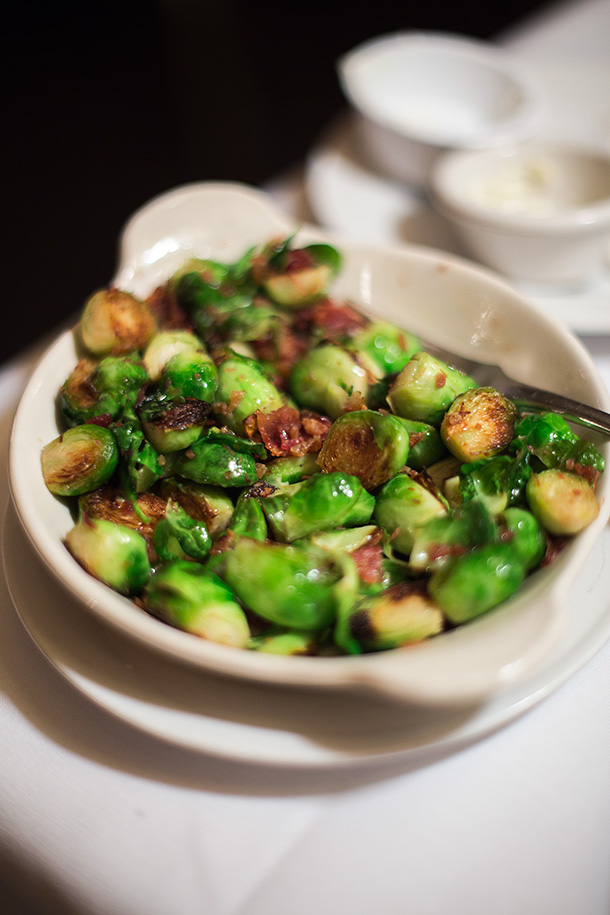 They suggested I go to Black Horse Tavern after the signing so I happily took their advice. Now, as I've expressed before in a previous post, I'm currently trying to gain healthy muscle weight and I had just finished a workout at their gym. With that said, I think we both know that I needed to eat a ton, plus I was incredibly ravenous from going over our time at the signing. Due to the post workout hunger my mom and I got the risotto with carrot cream, and truffle oil, and the steamed mussels with sausage and slow roasted garlic to keep me at bay while we waited for the main event.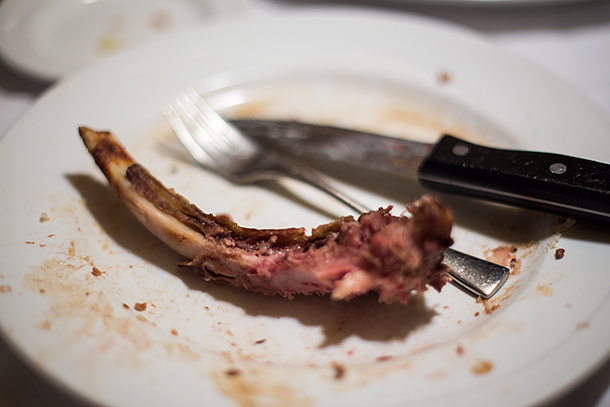 I ate most of the risotto and most of the steamed mussels, both of which were fantastic. For dinner, naturally, I ordered the 24 ounce rotisserie ribeye, browned butter brussels sprouts with bacon, and a baked potato. I explained my insatiable hunger to our waitress so she brought me the largest baked potato they had in the kitchen.  The first bite of that ribeye made my eyes roll into the back of my head it was so good.
This was probably the best ribeye I've ever eaten in my life. It was cooked perfectly, exceptionally tender, and consistently juicy throughout the entire piece of meat. Of course I ate it all, too bad I had a long ride to New York Right after that.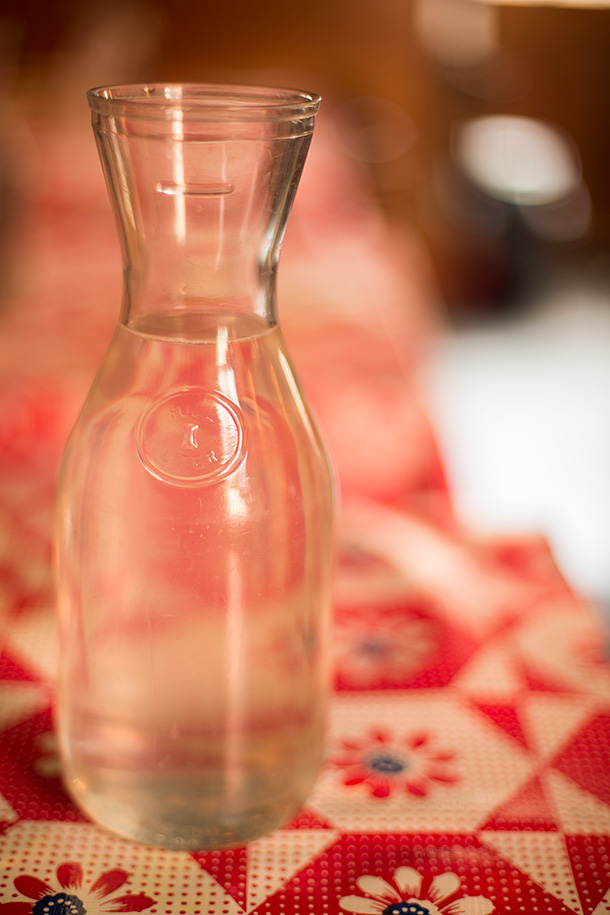 Once I arrived in New York I had an unusual craving for Thai Food so I made the immediate request to go to Pok Pok. Instead my mom gave me a weird look and told me: "I don't know what that means but okay.". Well played mom, onward to pol pok. The first thing I noticed was that the water was flavored with something, which the waitress later informed me was an infusion of some sort of leaf. The flavor was… interesting, it tasted kind of like rice starch in my opinion, but wasn't exactly the most delicious thing in the world. I ordered two things for myself the ground fish curry and a real deal thai salad.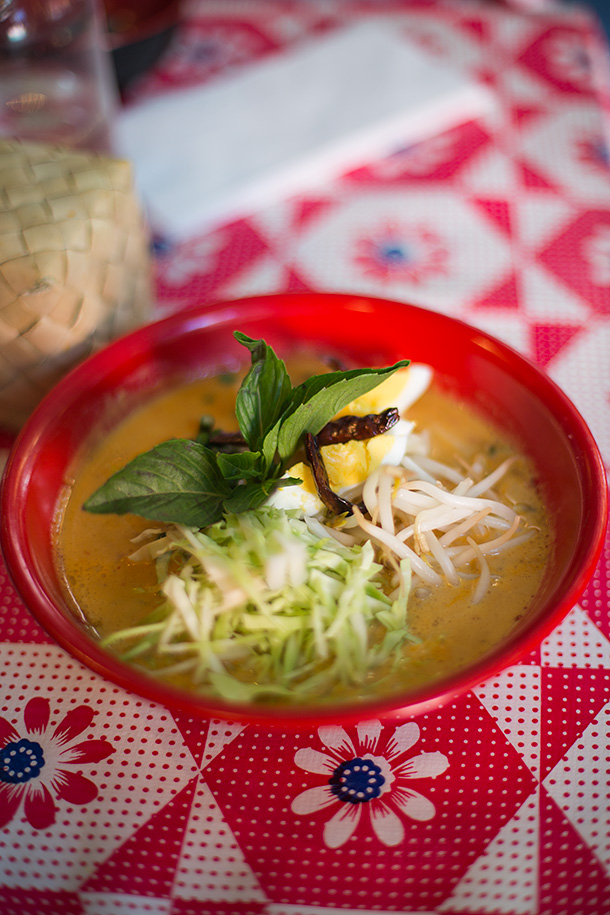 The ground fish curry was good but was not as great as I expected it to be. It was creamy from the coconut milk, light and mildly spicy. It didn't seem to have much flavor but from the coconut milk itself, but I wouldn't say that's bad.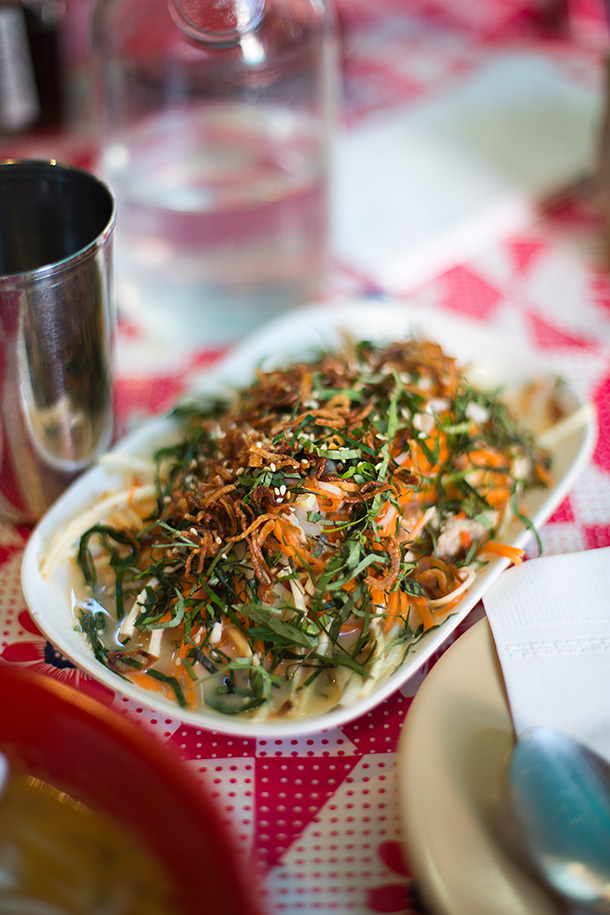 The Yam Samun Phrai was surprisingly one of the best thai dishes I've ever eaten in my life. It's flavor was so incredibly well layered and unusual but I couldn't stop going back for another bite. Each flavor was somewhat muted until you bit into it so at first it might have tasted like sweet carrot and fragrant cilantro but then you would bite into a piece of crispy shallot and the nuttiness of the shallot was released into the rest of the salad. It really was an experience in it self.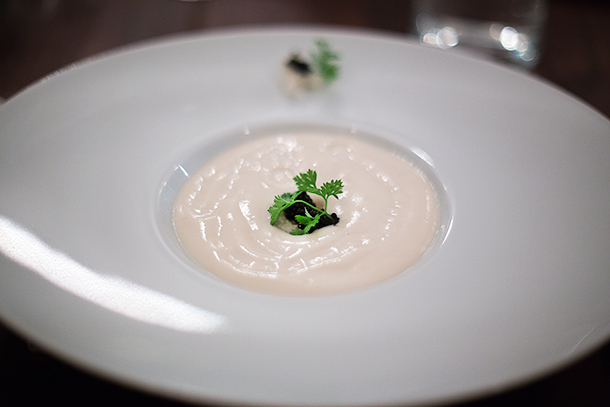 Post book signing I was inspired to go to The Musket Room because of my Instagram friend Noelle, whom works there as a pastry chef. This place was very special, and was a very unique experience in food for me. We ordered the six course tasting menu but the chef generously threw in a free 7th course which, happened to be a foie gras dish.
Because this was a tasting menu there were a lot of things that came by so I will simply give you the step by step. The first dish we received was a cauliflower soup with curry and caviar. I wasn't blown away by this dish because I already make a plethora of cauliflower dishes myself but the caviar mixed in gave it an exceptionally wonderful addition of flavor.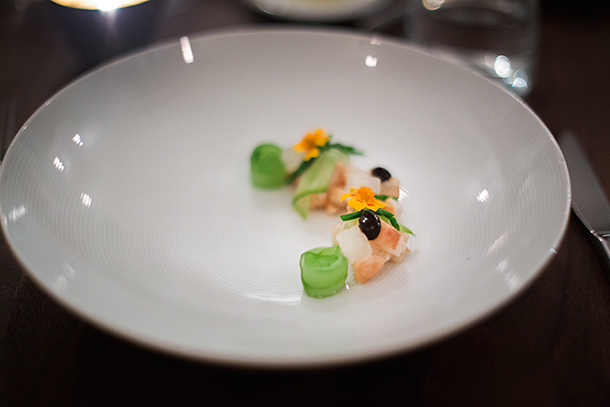 Following the soup was the cold smoked scallops, cucumber, black garlic, pears, and sea beans. It was served with a metal dome over the top which the server then removed at the table and a plume of smoke erupted from the bowl. I really enjoyed the presentation flare that this one had. Throw any magic tricks at me with my dinner and I'm sold. The dish was incredibly good. The scallops overwhelmed you with the smokey essence they were infused with each bite. The only down side of this dish was your neighbors in the seat next to you looking to find where the smell of alluring smoke was coming from.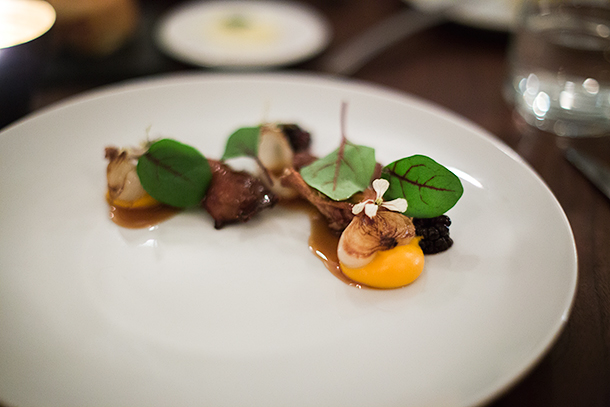 Next up was the quail, blackberries, and roasted onions. This one was best eaten with every element on the plate at once. A tart and semisweet raspberry, a smokey onion, and a tender piece of quail.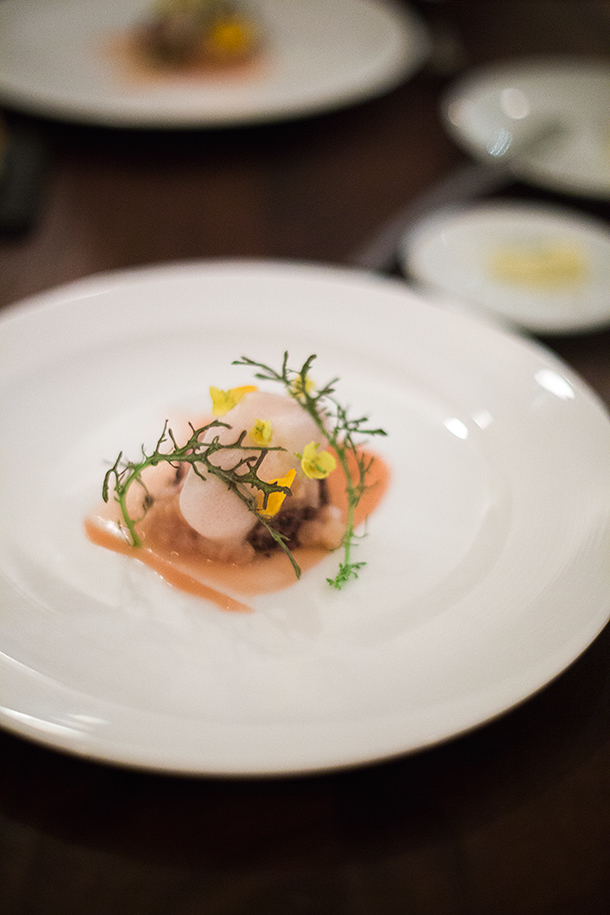 The additional course that the chef threw in came next which was a foie gras torchon, rhubarb and cocoa nibs. The foie gras was actually rolled in the cocoa nibs which really enticed me when I found out what those little speckles on there were. This was one of my favorites out of the whole tasting menu. The foie gras literally melted away in your mouth the second that it touched your tongue and the flavors and textures mingled together perfectly.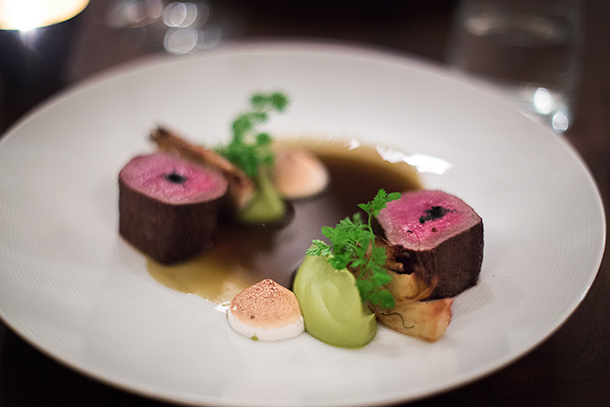 Last out of the savory dishes was the New Zealand red deer with flavors of gin. The deer was cooked exactly how I like it and was served with some sort of celery root meringue. It was by far the most flavorful savory dish that I got. An easy runner up against the foie gras.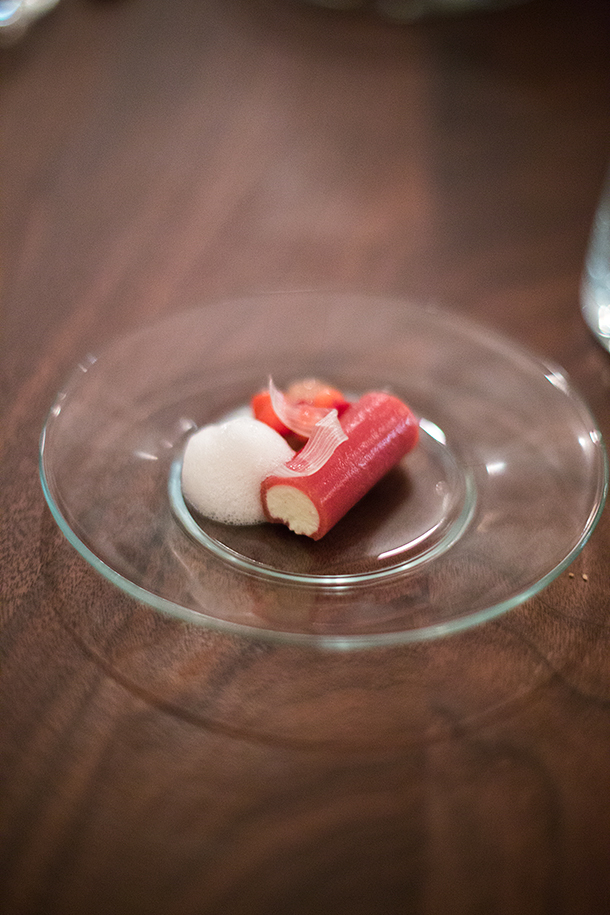 Before dessert we were informed that we actually got a pre-dessert. I like this kind of thinking. Strawberry, rhubarb, and camembert mousse. Once I tasted this dessert I absolutely understood why they made it a "pre" rather than the dessert it self. This dessert was light and tart, which really wet the appetite for the truly decadent dessert to come.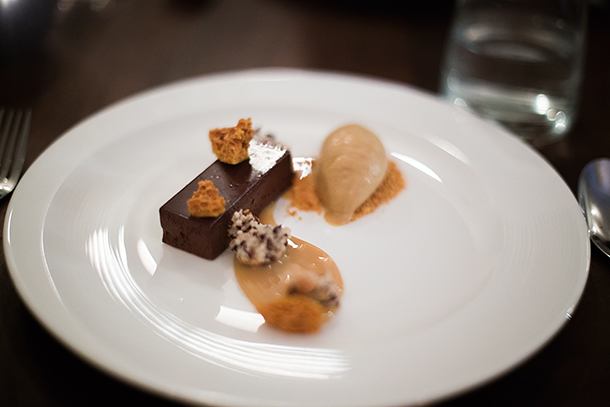 Last on the list was a dessert that they modified to make it gluten free for me because the kind folks at The Musket Room are super sweet and accommodating. A chocolate torte with hokey pokey ice cream caramelized milk, burnt orange, and cocoa nib macaroon. I don't think I've ever had a dessert experience like this. Sometimes after I have a dessert I still have the craving for a little bit more but not with this one.
This one seemed to cover all of my senses and needs for sweet. The chocolate torte was intensely rich and thick, much like a nice ganache. The caramelized milk was crispy and crunchy and stuck to the teeth like toffee, and the macaroon was a nice change of pace for the richness and gave a chewy element to all of the textures.  I'm not sure why they call it hokey pokey ice cream but it tasted very much like salted caramel ice cream. Salted caramel ice cream does tend to make me want to do the hokey pokey dance.