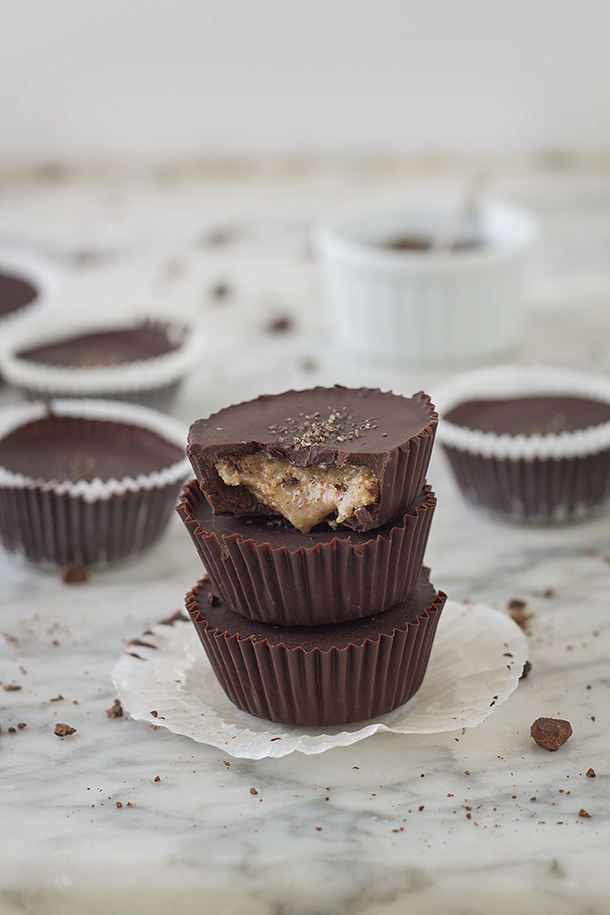 I think we all have that one specific familiarity and constant attraction to some food that is bad for you. Like Reeses butter cups. I'm not going to preach about how bad they are for you because it's simply obvious. But regardless of that, those little cups are incredibly delicious and whenever I think of them or see someone enjoying I begin to feel an eye twitching spasm coming on. I think it's mainly because I loved them so much as a kid and they are incredibly memorable and familiar to me.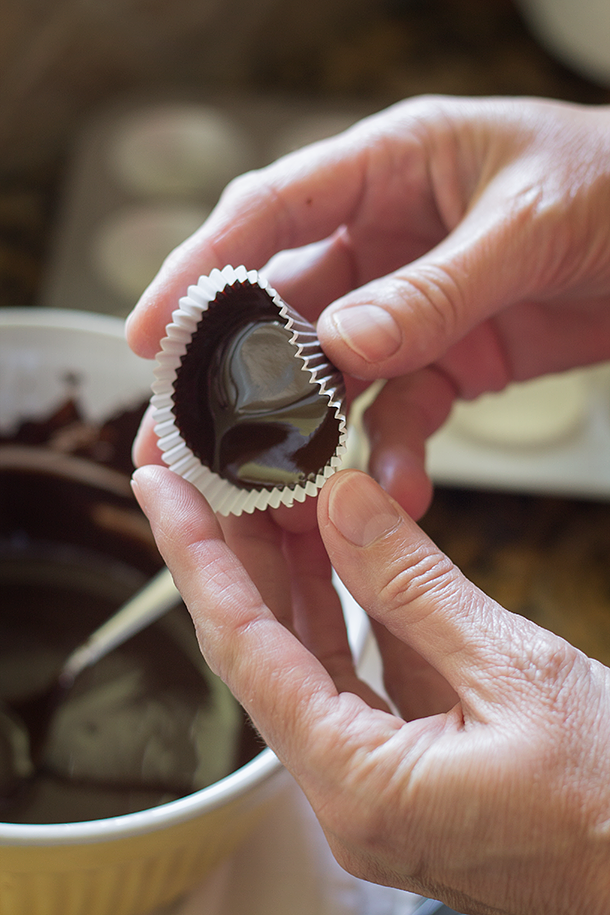 At the same time if you begin to really think about it, one thought arises. What if you just use wholesome ingredients to make the same thing?  All they are really composed of is chocolate stuffed with nut butter. With that taken into consideration you can actually make one yourself pretty easily  with so much more flavor and decadence without the health repercussions. I would imagine most foodies, health conscious or not, would probably prefer to make their own simply for the pure bliss of flavor.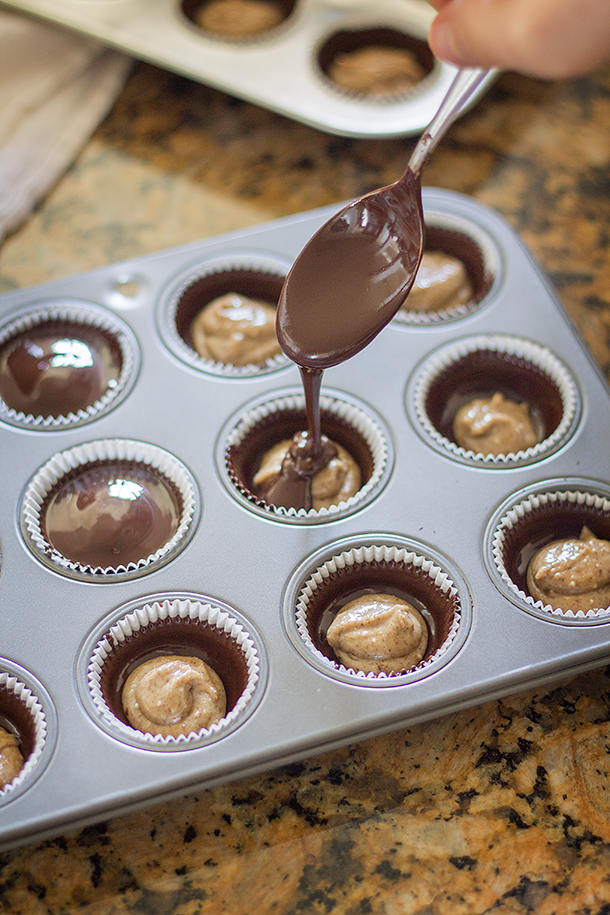 The use of real ingredients in anything is obviously going to allow it's quality of taste to really shine which brings a different yet better and beautiful flavor change to my childhood favorite treat. The more gourmand version of them that is. Now, I could have just went with the standard dark chocolate and nut butter but sometimes you have to be a little fancy and add some sea salt.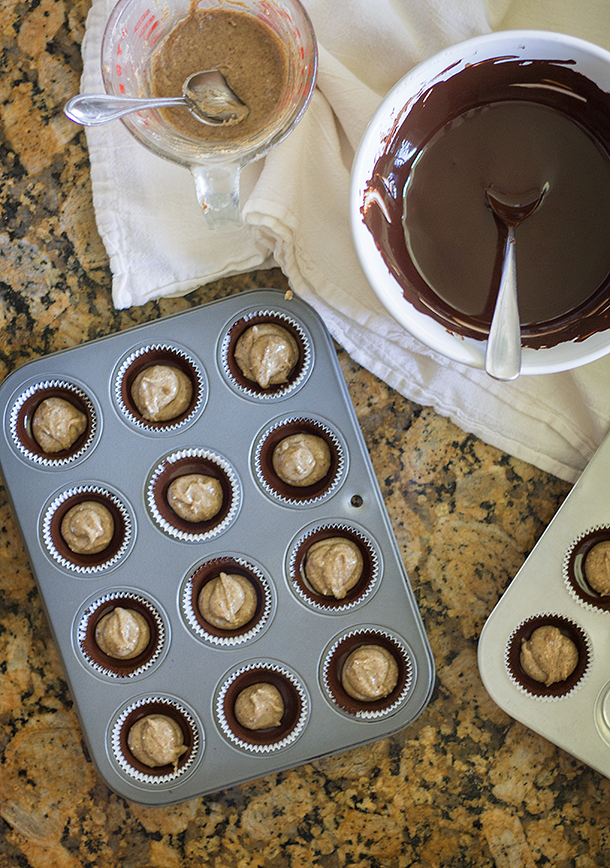 In this case I had found the perfect use for some smoked sea salt that I had recently picked up at the store due to curiosity. If you have ever dealt with smoked sea salt you probably know that the smell of it is incredibly pungent and will make your countertop smell like it for all eternity if you spill any on it. That is just a fair warning to those of you who have never used it, so you can't say I didn't warn you about the glue-like properties of the scent of smoked sea salt.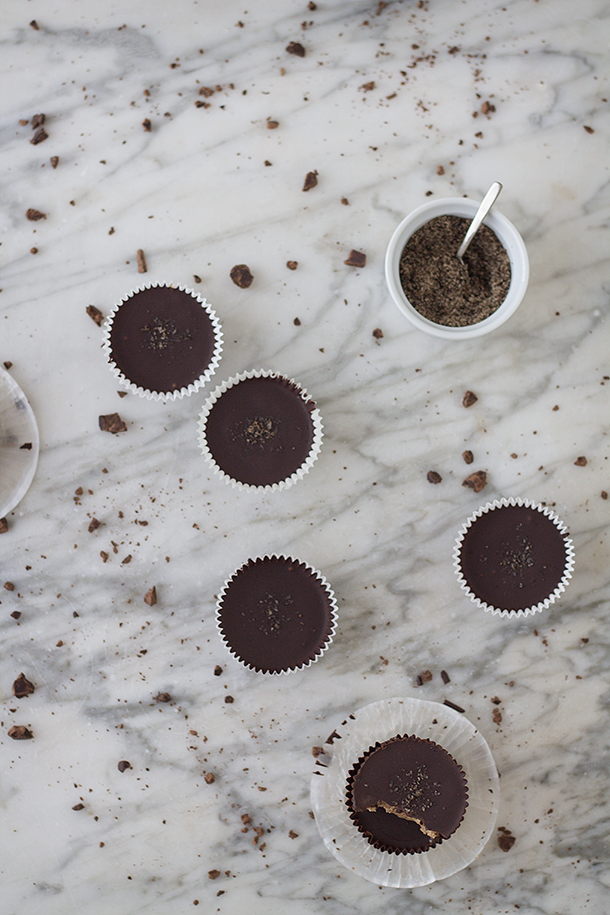 I'm interested to see what else that smoked sea salt can do  with sweets and desserts. Maybe it will develop into the "next level" salted  treat. Whether it does or not I think it matches this decadent and satisfying chocolate perfectly. If you don't know where to find smoked sea salt try checking one of your local grocery stores, I was surprised to finding the array of smoked sea salts when I asked for it. I tried both the hickory and the alderwood smoked sea salts on these and they were both great but the hickory smoked had the hierarchy in flavor for me. There is no rule for it though, the only rule is to try not to eat them all. Which not to mention is also my second warning.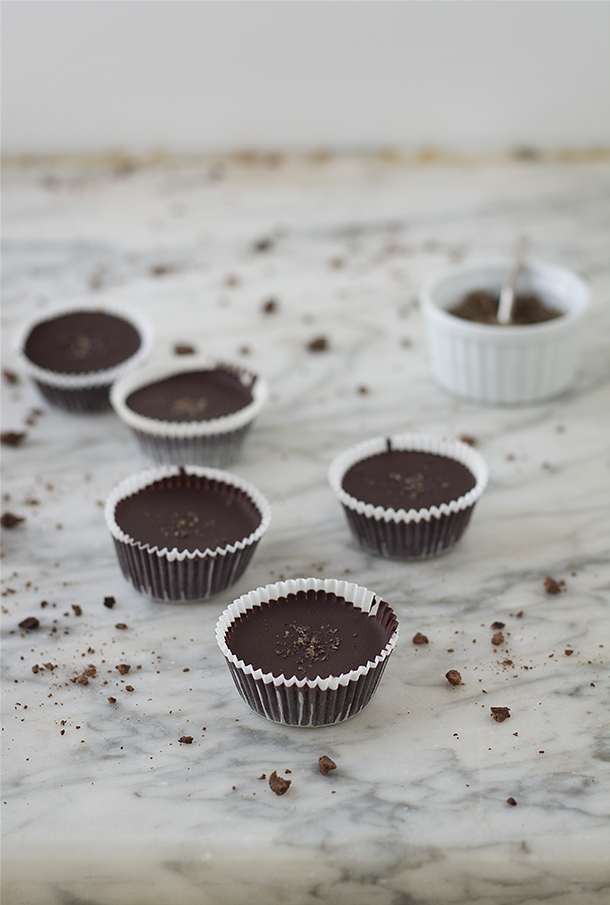 Dark Chocolate Almond Butter Cups with Smoked Sea Salt (Paleo, Refined Sugar free)
Ingredients
7-8 ounces high quality dark chocolate (70 percent or higher) or unsweetened baking chocolate sweetened with 5 packets of stevia
½ cup almond butter
1 packet additive free stevia or 1 tablespoon honey
2 tablespoons coconut flour
2½ teaspoons arrowroot powder
smoked sea salt for sprinkling (I tested with hickory smoked sea salt and alderwood smoked sea salt and preferred the hickory smoked)
Instructions
Line a mini muffin tin with mini muffin cups.
In a small bowl add almond butter, honey or stevia, coconut flour and arrowroot powder and stir until well combined and place to the side.
Chop or break the chocolate into pieces and melt it in a double boiler or place it in a bowl and microwave at 10 second intervals stirring in between each interval until melted.
Once melted drizzle about a teaspoon or so of melted chocolate into mini muffin cups then carefully and slowly rotate the cups to line the sides with the melted chocolate but not all the way to the top.
Once all of the mini muffin cups are filled and lined spoon in 2 teaspoons to a tablespoon of almond butter mixture into each chocolate filled and lined cup. (If you used honey the mixture might be thick enough for you to be able to roll it into balls, if it is then simply roll the mixture into balls and place the balls into the mini muffin cups and slightly press down a little)
Drizzle melted chocolate over almond butter filled molds with just enough chocolate to cover completely.
Sprinkle smoked sea salt over each finished chocolate and place in the fridge until hard. (at least 20 minutes)