Before going to PaleoFX I met up with Bill and Hayley of Primal Palate to dine at Corner Table to get to know them better. At first I was incredibly skeptical and slightly scared to go because I hadn't eaten out for a few years and wasn't sure if I was ready for someone else to be handling my food just yet. So I did my research and found that that they not only serve grass fed meats but also serve all local produce and even have a Paleo menu. With my relief I decided to go and the event ended up being a lot of nerdy camera talk and politically correct real food speak, which I love but there was also one key point that I'll never forget. The food, which was absolutely enchanting in both taste and presentation.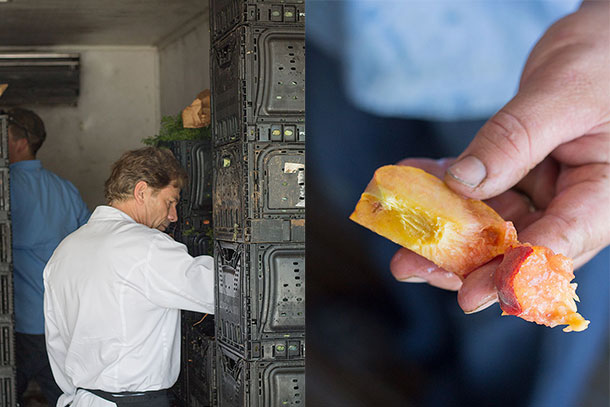 After the event I ended up talking to a wonderful lady named Karen who actually knew the Chef behind the magic of the food. I spoke with her for a while and then took my leave. A few weeks later I was invited back by the Chef by the name of Bruce Molzan to have a tour of the restauraunt and speak with him for a bit. So I made my way back to Corner Table to meet with Chef Bruce and Karen. First we took a trip to the Urban Harvest farmers market. I was absolutely stunned to see the actual percentage of his food that was local and organically grown which was roughly most of his food after viewing how much he had ordered.
We went into the back of one of the local farms transport trucks so he could go and review what they had. He sniffed and tasted to make sure everything was to his liking wrote out what he wanted for delivery and moved on. We of course had a wonderful down to earth talk about real food with the kind farmer behind the produce as he offered me a slice of the fresh peach that bruce picked out to taste. After visiting all of the different vendors and farmers I realized that Chef Bruce truly works his fingers to the bone to bring local and organically grown produce and grassfed and local meats to his restaurant as often as possible. Which after my witnessing what he ordered  and how he spoke about  it, I would say it seems like it's practically always.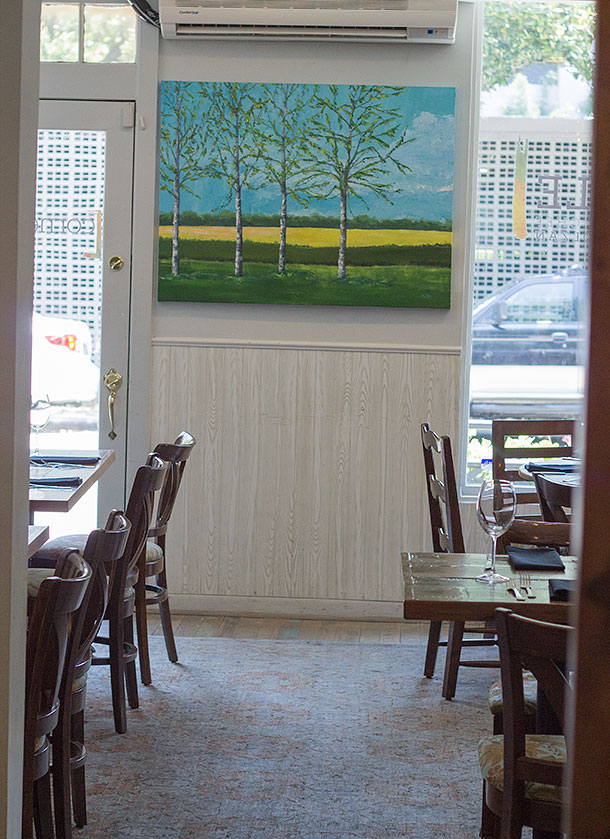 Finishing our adventure through refrigerated trucks and delicious ambient smelling tents at the farmers market we went back to Corner Table to take a quick tour. As I waited for Chef Bruce to find his way back to the front I was told not to take any pictures of the waiter whom was in the witness protection program. He was joking of course, but it was my first time photographing inside a restaurant so I thought he was actually serious at first. Luckily at this point Bruce was back to show me around and my confused face was turned back to the event at hand.
Hilariously from the outside my first thought was that I might just see some small other parts but at every turn there seemed to be a whole another part to the restaurant. Including a beautiful bar area, a club area and a private dining hall.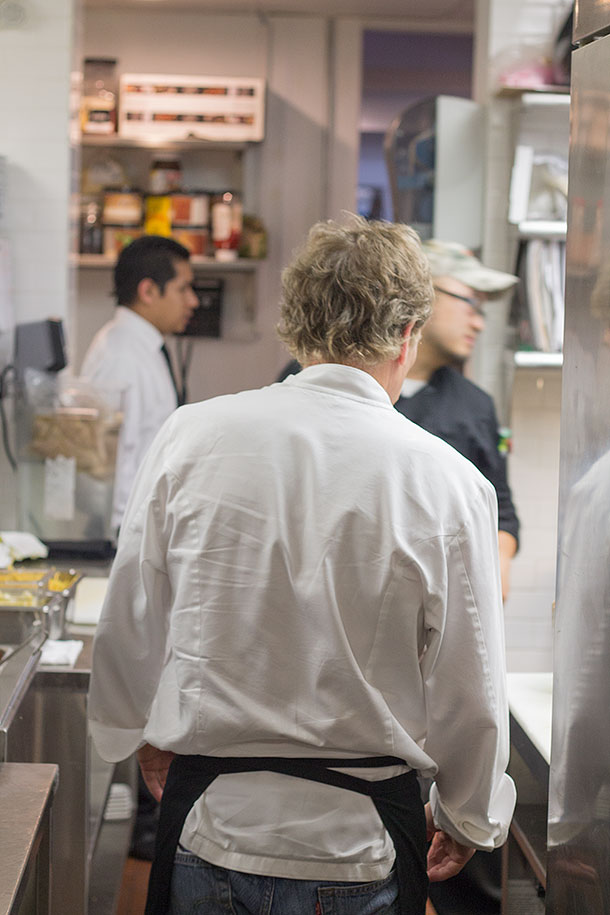 After taking a look through each great place I got the wonderful opportunity to take a look inside the heart of the restaurant; the kitchen.  It was everything I expected, tip top shape, clean, and organized despite all of the rapid and fast paced movements around the kitchen.
People were flooding the surprisingly small but functional kitchen, flying through each of their stations setting dishes, prepping ingredients. Varied scents flowed through each station depending on the station you were at. One of my favorite areas in the kitchen was in the meat and food prep area actually. Yes I know, of course, the meat area. You know a restaurant is Paleo/Primal when they have an entire grass fed lamb hanging and aging in their walk in fridge.
This of course wasn't the only thing of beauty in the refrigerator he had, but I was pretty mesmerized by it. After I was done being hypnotized by the whole lamb I looked around and noticed all of the wonders around me including fresh chicken brining, house made chorizo, fresh made pickled and fermented veggies which all lined the shelves in an orderly fashion.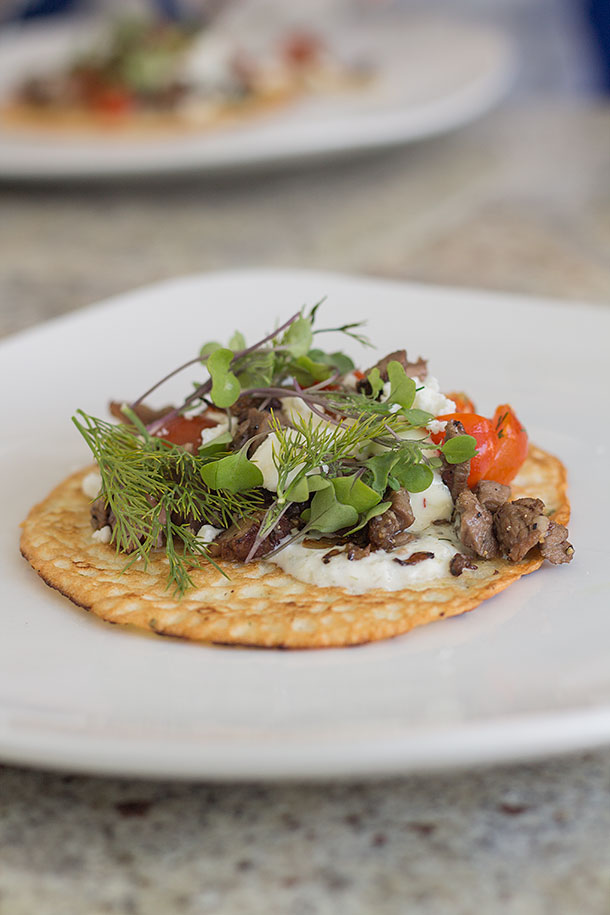 At this point you can probably imagine I was getting hungry and almost like a sixth sense Chef Bruce asked me if I'd like anything to eat to which I promptly replied with a yes. So he sat me outside in the back area of the restaurant and provided me a wonderful 3 course meal. We started with a grass fed leg of lamb gyro on a coconut flour pita and fresh goats cheese that we had just gotten from the farmers market. This one was actually my favorite among the other dishes I was served because I used to have an incredible attraction to gyros, so long as they were made right (which this one was).
When I bit into the coconut flour pita I noticed that it was crisp on the outside and airy on the inside which was a surprising yet wonderful trait for one made with coconut flour. The lamb was spiced to perfection, aromatic and meaty tasting with a little bit of a tickle of heat on the tongue just like gyro meat should be. All of this was combined with the creamy and fresh goats cheese and a goats tzaziki sauce. I could not detect one thing wrong with this dish, everything was in place for a gyro in my opinion while maintaining a healthy aspect.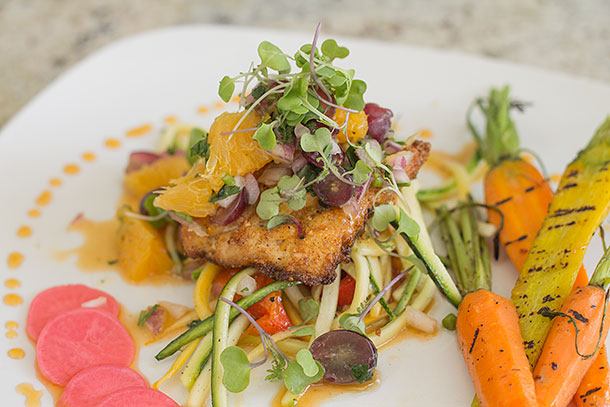 Next we were served almond flour breaded and pan fried spring snapper with a summer squash salad and a grape citrus salsa. This dish was extraordinarily beautiful when it came out. It looks very floral and natural the way that they plated it. The texture of the almond flour breaded spring snapper was actually quite nice, it was crunchy and crumbly on the outside while moist and tender on the inside. It tasted like the noodles had been marinating for a little bit in the salsa or something because their flavor was pretty strong but in a good way. There was also an array of sliced pickled radishes which were actually quite good as well, good enough that even though they were there for garnishing I noticed them.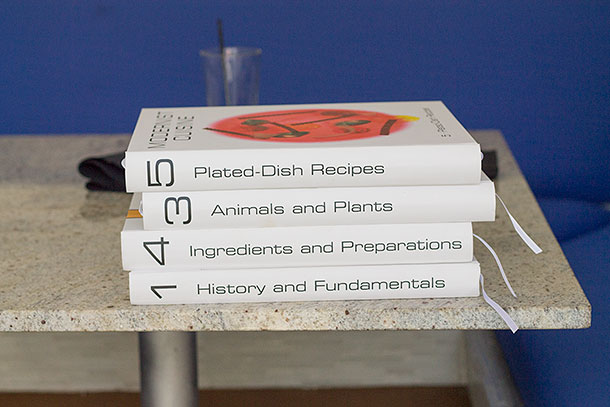 This dish is very vibrant and refreshing but a little bit too sweet for my tastes. I'm okay with a tiny bit of sweetness in my savory dishes on occasions but this one was just a tad too sweet for my tastes and slightly teetering onto a dessert like flavor. Regardless it was still incredibly flavorful and delicious, I'd just tone down the sweetness a little bit if it was me. At this point I thought my eating was done until he came out with the naughtiness of the restaurant. A caramel coconut flan from Gather with an array of berry reductions on the side, coconut milk ice cream and a dark chocolate ornament on top. I didn't want to be rude so I accepted his offer and took the flan. At first I was afraid I would regret any bite, but I ate half of it and thoroughly enjoyed it.
Again I'm not to keen on sweetness any more and this dessert was very sweet and very rich but regardless I had to fight myself to stop at the halfway point. Which I did luckily, but it was a tough battle. How can you ignore a grain free and paleo/primal coconut flan with caramel and ice cream on top. As I enjoyed the dessert I asked chef Bruce if he had a favorite dish, which he promptly responded with by slapping down his 4 volumes of Modernist Cuisine. That was the one event that locked in my love for Chef Bruce's passion, and brought a grin to my face. I feel like that is exactly how I would have responded to a question like that. Not to mention he was sweet enough to send me home with all his volumes.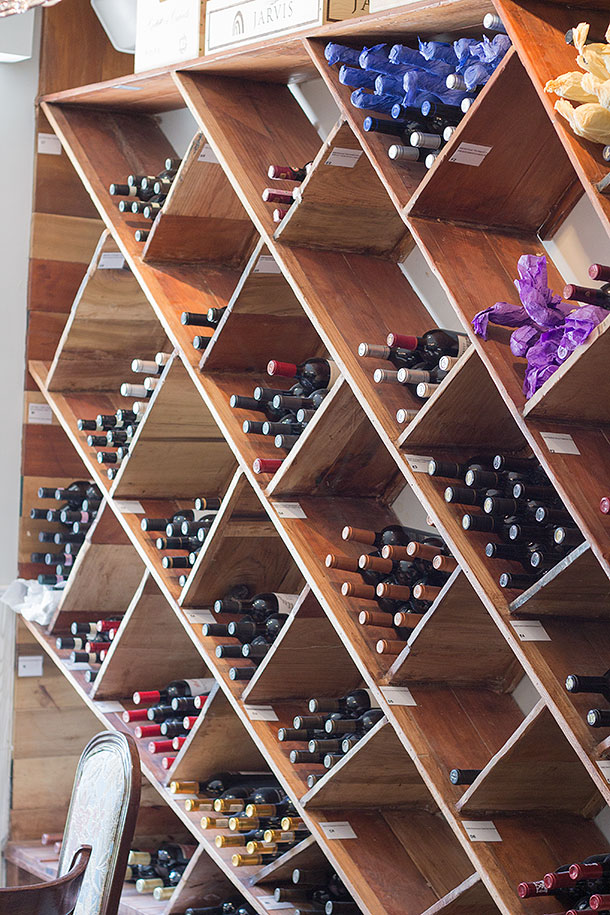 All and all my experience was out of this world and the restaurant is incredibly unique and beautiful. They serve gorgeous food, and they are dedicated to keeping it local, grassfed and organic. In fact they are probably one of the only restaurants that I know of in Houston Texas that actually serves food like this and is actually this dedicated to it being local, etc and not to mention has a Paleo menu. Whether you love food, eat Paleo/Primal or simply just care where your food comes and think your out of a restaurant in Houston then you may just be in luck with this place. Just be sure to get a reservation or call ahead just to be safe because they seem to get very busy very quickly.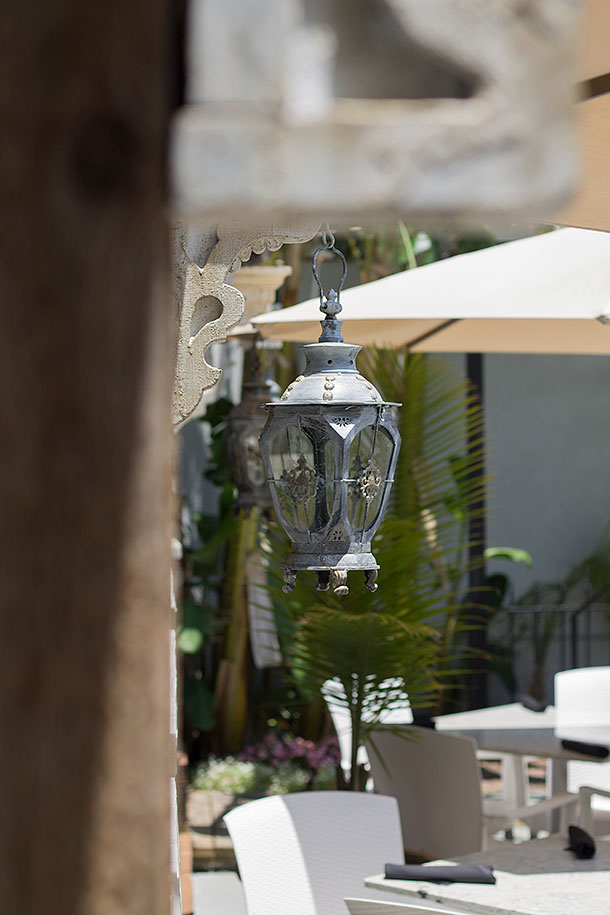 2736 Virginia St. Houston, Texas 77098
Telephone: 713-568-9196
Related Links
Corner Table (Facebook)