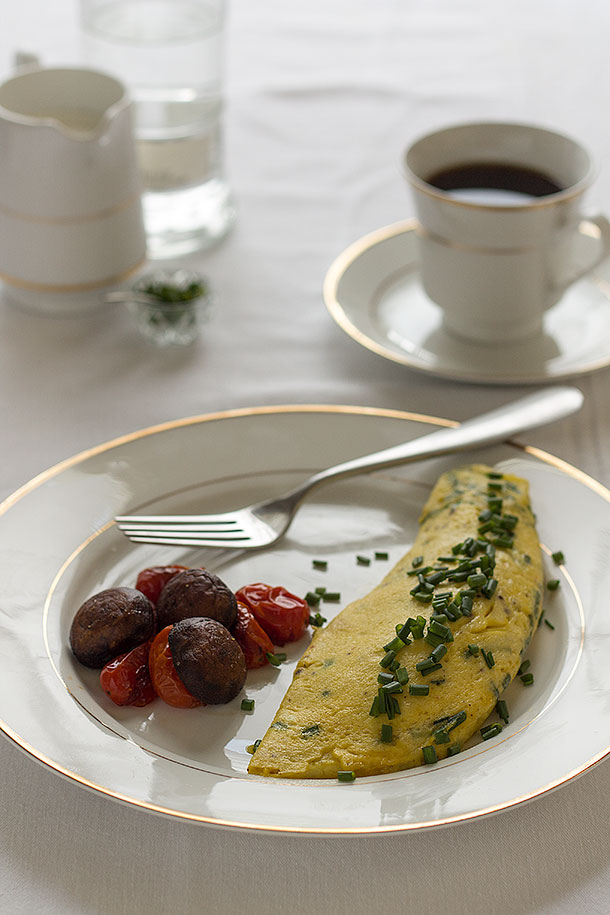 I've said before in my post for Duck Egg Mayonnaise how much I love eggs. Packed full of nutrients, healthy fats, protein and they can do almost anything. The one man army of food I suppose. Because of all of these amazing benefits and the fact that I'm just addicted to them I happen to eat eggs every day. I still haven't gotten bored from my morning eggs yet. Although I switch up the way that I cook them from time to time. Fry them, scramble them or make the best concoction ever known as an omelette. With it's fluffy masses of folded egg and a little hint of something to nestle in between.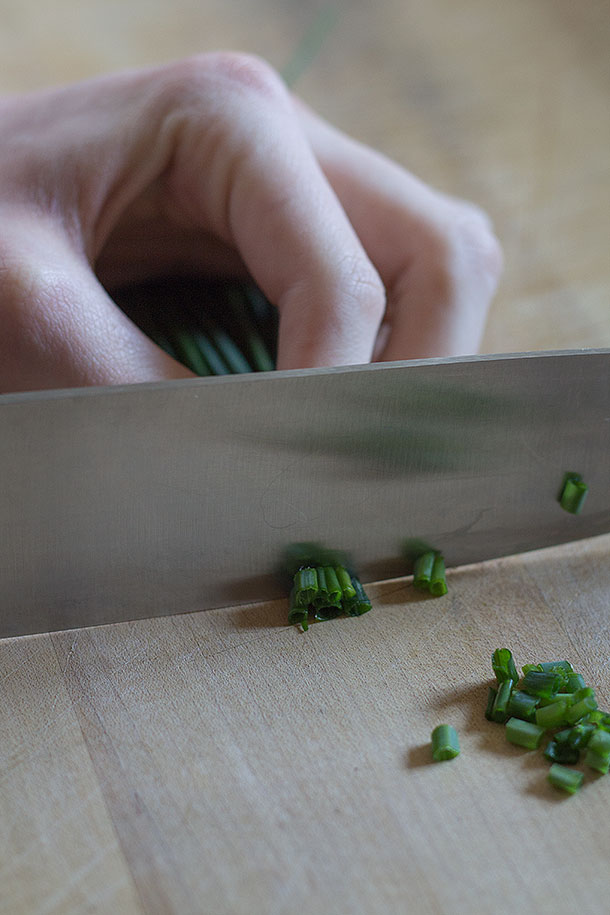 Nothing makes you feel better and accomplished than when you are cutting into a freshly cooked omelette to see the lightly cooked fold around it and an oozing creamy inside. Now the first thing to remember about this omelette is that it is a classic French omelette which is slightly different than the more commonly known country style omelette. A country style omelette is usually folded once and is browned on at least one of its sides and usually has a fairly large curd leaving larger more solid masses of egg. Where as the French omelette is made with no browning and quite a bit of rapid movements and disturbances to the egg so that it cooks with little pieces of curd.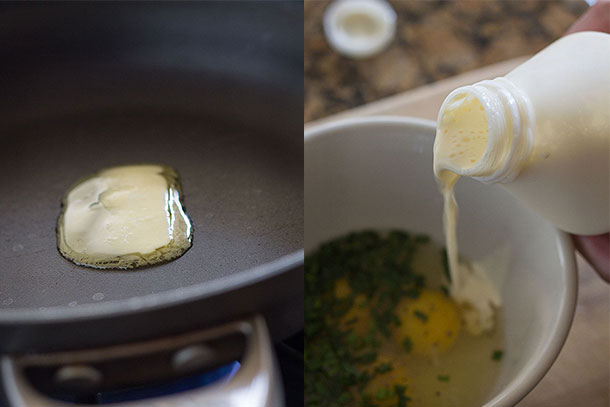 This way your left with a very light and soft outside. The key to making a good classic French omelette is making sure that the inside is still slightly moist. When you cut into the center of it it should have a nice soft cooked egg all the way around and a slightly moist, velvety and slightly creamy scrambled egg like texture in the middle. I'm not saying raw egg, I'm just saying that it shouldn't be cooked to death so that it's a completely seized of block of egg. I like all my omelettes a little moist but it's especially important to me in a classic French omelette because that's just the way that it should be.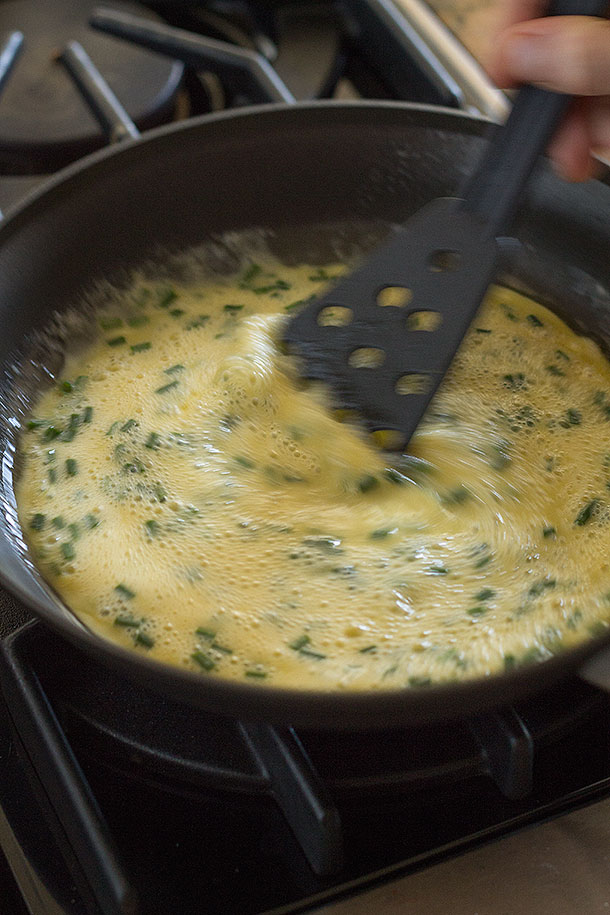 Call the omelette police because there's nothing worse than being served an overcooked mass of egg that sticks and flops down your throat. It takes a bit of practice but after a few times you'll be flipping out the French omelettes like nobodies business. Although once you start making these I have to warn you that it can cause you to become kind of an omelette snob. It sort of comes with the territory of making omelettes often. Just remember to use it for good and not evil.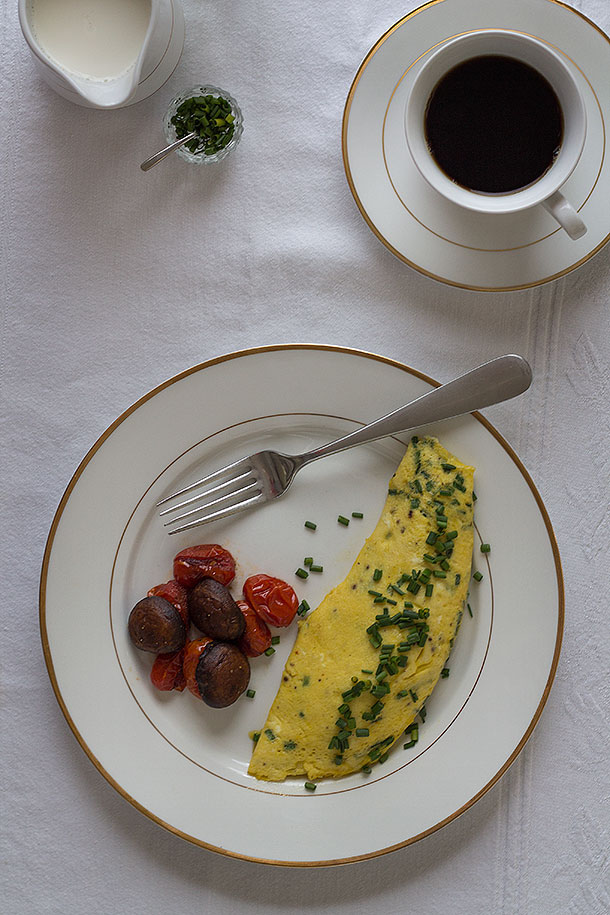 For example, don't drop a bomb of omelette knowledge on your innocent friends head because they complained about the fact that it's slightly moist on the inside. I know it's incredibly annoying and makes you want to gouge your eyes out with a caviar spoon but it's important to just feel sad for them. Very sad. But don't be too dreary for too long about it because you have the unstoppable knowledge of omelette making in your arsenal and that's all that matters right?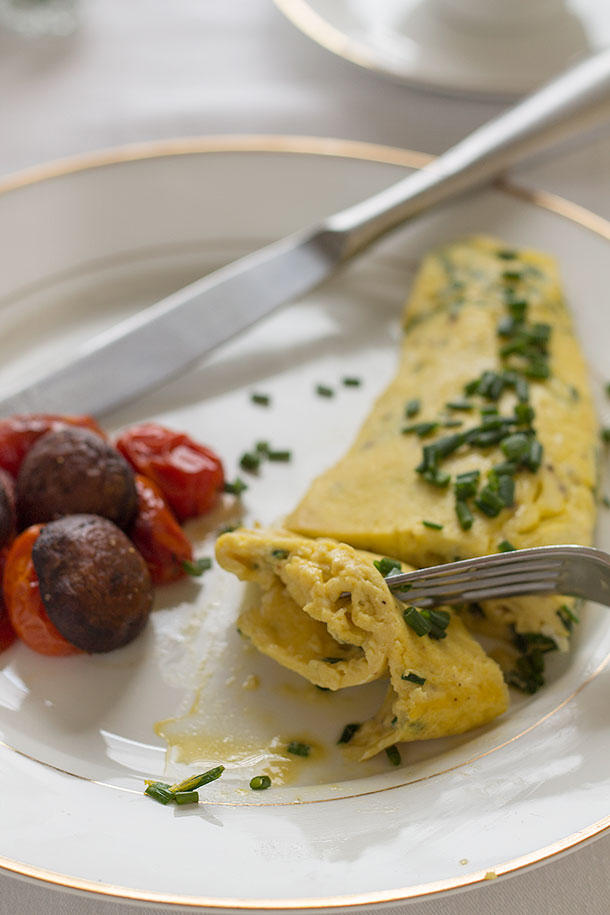 Classic French Omelette with Chives and Smoked Gouda (Paleo, Primal, Grain free, Gluten Free)
Ingredients
2-3 eggs
1 teaspoon heavy cream or coconut milk
1½ tablespoons chopped chives
¼ cup lightly packed grated smoked gouda (luckily I have a local farm that makes a delicious raw, 100 percent grass fed smoked gouda but if you cant find any grass fed smoked gouda kerrygolds blarney castle works pretty well with this as well.)
1 teaspoon coconut oil or butter for cooking (enough to coat the pan, also I highly recommend using butter when making this omelette for the flavor, I usually use Kerrygolds.)
salt and pepper to taste
Instructions
Crack eggs into a medium bowl and add chives,salt, pepper and your choice of heavy cream or coconut milk.
Warm a medium skillet with coconut oil or butter inside over medium heat and swish it around to make sure you coat the entire inside of the pan nicely.
Whisk eggs vigorously until there is no egg white left outside the mixture and it is fairly frothy and fluffy.
Pour egg mixture into heated pan and begin moving the pan forwards and backwards quickly and abruptly (be careful not to swish it out of the pan or coat the sides to much you just want to move the egg mixture around) while swirling your spatula around in the mixture.
Keep doing this and scraping the sides into the middle while continuing the movement until there is only a little bit of uncooked egg left.
Tilt the pan so that the uncooked eggs run to one side of the pan and begin to cook on the edge of the pan and then add your grated gouda on that side but be sure it doesn't touch the pan.
Rotate your spatula around the base of the omelette to loosen it and then carefully fold the side of the omelette that is up in the air downard ¾ of the way down, close to the moist egg part you have tilted downward but not all the way over.
Then make sure that you run your spatula on the side you havent folded yet to loosen it then carefully fold it to touch and meet with the other fold that you did not fold all the way over and lightly press it down to help it adhere to the omelette and seal the fold.
Grip the pan underhanded and lightly tap the front of the pan on a hard surface to get the lip of the omelette to come slightly out or you can just carefully slide it towards the edge of the pan and then hold a plate up to it and invert the omelette onto the plate.
Garnish with chopped chives if desired and enjoy.
Notes
I actually learned this technique and adapted it to my specifications from Jacques Pepin on Youtube believe it or not. So if reading the recipe without any type of demonstration is too intimidation, fear not, you can see the video
here
.