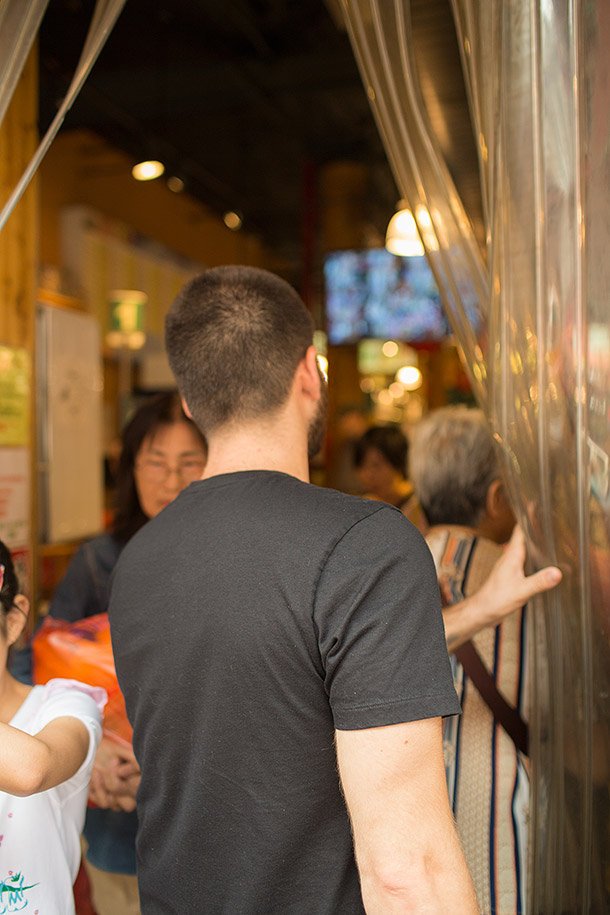 So this might be a slight shocker to some people but I had no idea that there were other chinatowns. This whole time I thought there was only one in California. I know, how befuddling. I should know thing like this seeing as I used to go there as a kid all the time when I lived in California. My brother and I decided to explore Chinatown while I was in New York, and I guess you could say we had some fairly interesting findings.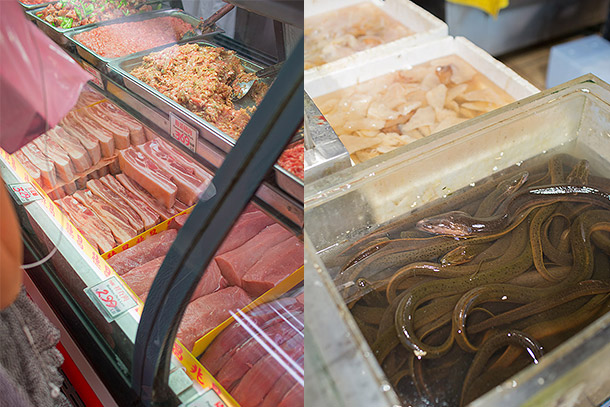 To begin our adventure we went through a seemingly neverending meat shop. The rooms were incredibly long and continusously opened up into another long and overcrowded room. The first few finding were not at all ordinary. Such as say, live frogs, eels, turtles and some unidentifiable meats.  *NOTE* Some of the next shots might be a little bit too much for the faint hearted, if you have a problem with seeing butchered meat then it might not be so great for you.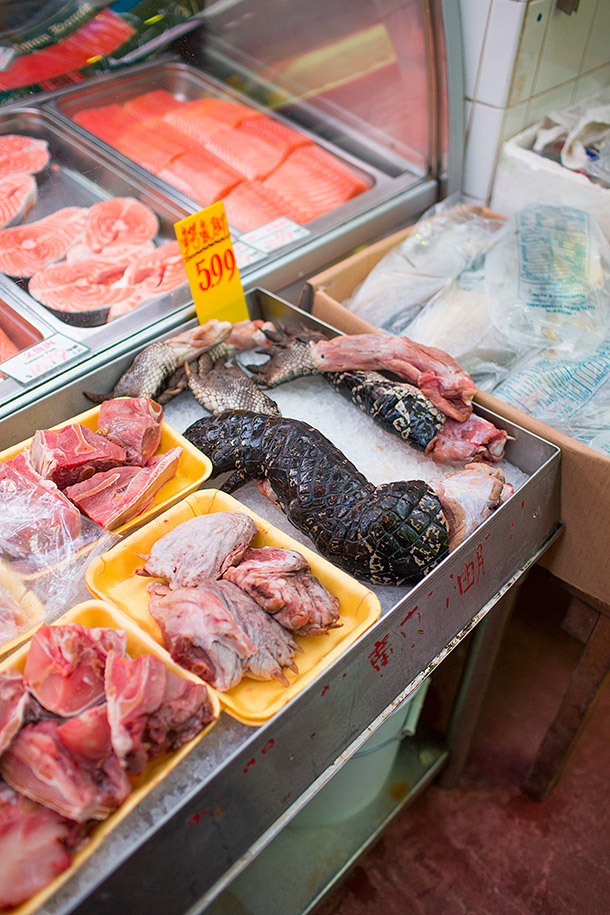 Not to mention the alligator arms. When we saw those that really threw me off. While they do have a different culture in that area and I'm sure that it's perfectly normal to them, I was pretty shocked by seeing that. Even though I was shocked by the oddity of it I was also kind of intrigued, plus it's not half bad at 5.99 a lb. I would say that alligator is definitely not grass fed, tsk tsk. Even more shockingly as we ventured through that area we saw some pork loin for 2.99 a lb and pork belly for 3.99 a lb. That's where I draw the line at too good to be true, or edible.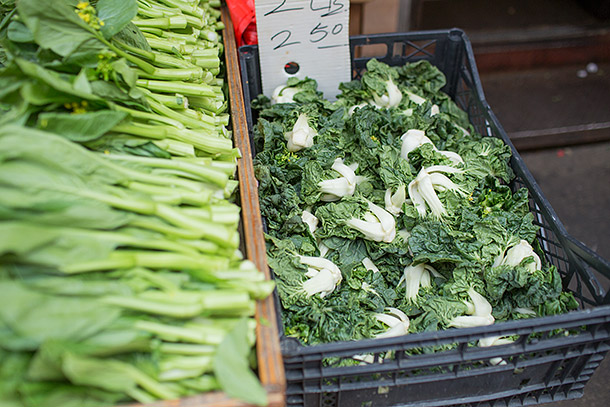 We continued through the bustling streets, me of course admiring all of the wonderful fresh vegetables. I couldnt help myself but to call out everything I could identify but because my brother is just hilarious he started calling out what he could "identify" such as the "asian green leaf", yeah real mature Nick. There was a lot of  fairly fresh looking dragon fruit being sold around there and I kind of wished that I had grabbed some but another time I suppose. I am kind of curious how they get all of that imported though, it makes me wonder whether or not everything there is being done completely legally but hey, it's fresh right?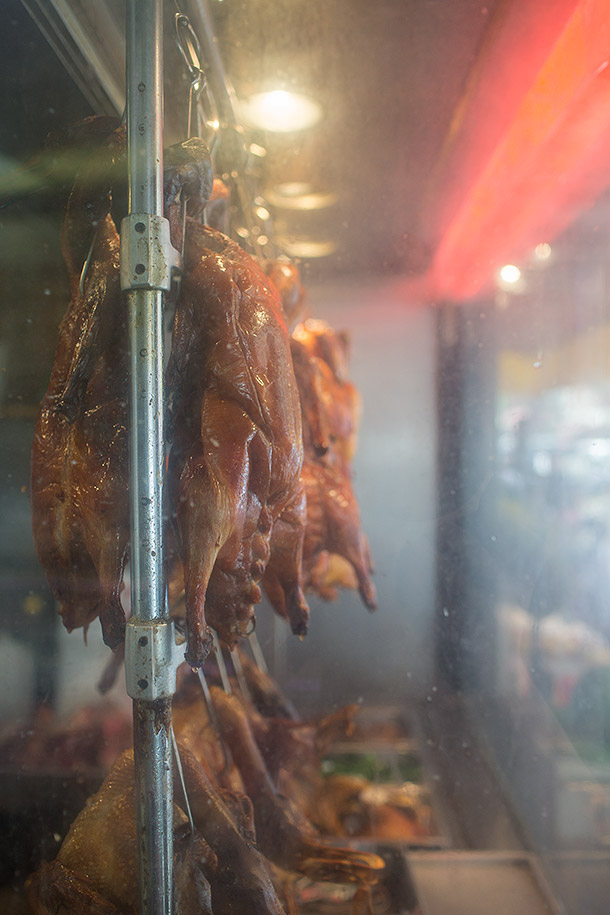 I also noticed a lot of different shops that almost always had crispy duck in the window. Crispy duck seemed to be overflowing out of at least 10 shops that I saw. Passing by them of course was slightly torturous because the aroma was so overwhelming it kind of stopped me in my tracks a few times. It came to a point where I had my fair share of fighting the scent and started to get pretty hungry. The combination of walking so much and having to deal with the scent kind of kept grinding on me until I couldn't take it anymore.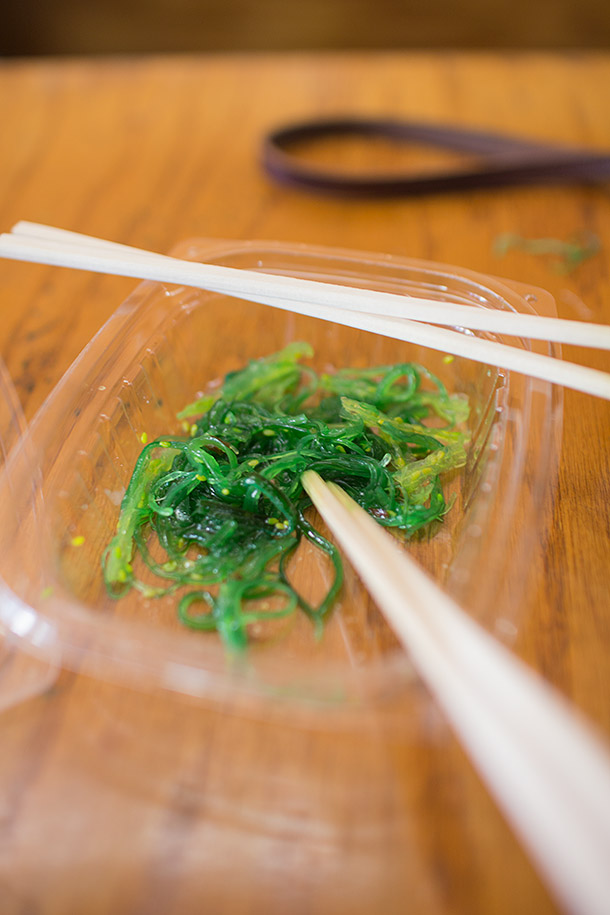 With both my brother and I's stomachs rumbling we made a pitstop at his favorite niche dumpling place. The place was incredibly tiny and looked pretty sketchy, always a sign of tasty food. My brother talked me into trying the seaweed salad which didn't look all that appetizing but it was pretty good, slight nuttiness from the sesame seeds and a nice crunch from the seaweed, actually quite a nice palate cleanser before our snack.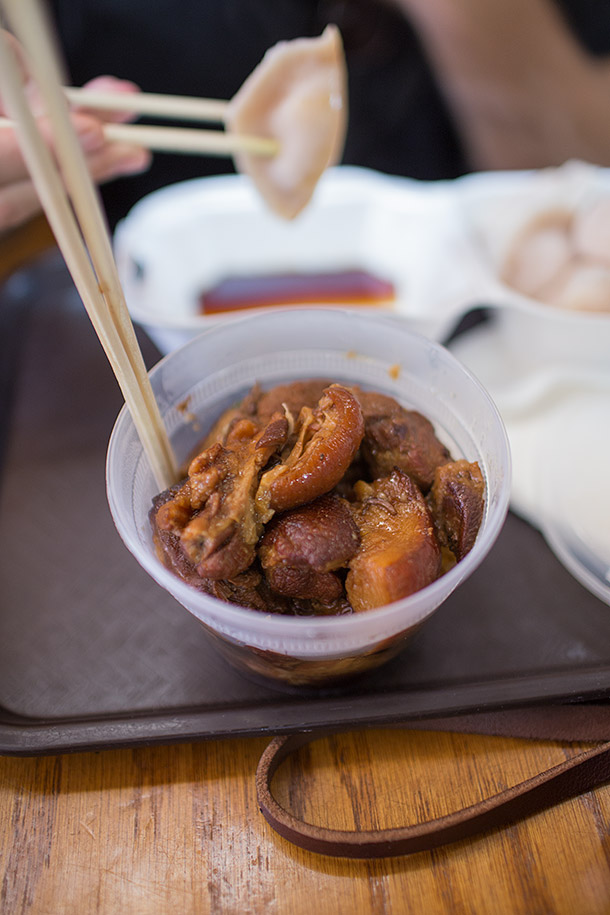 My brother ordered the dumplings which I considered trying but regretfully didn't go for it. Yeah it was probably made with flour rather than potato but I should have at least tried one, which brings me back to the try things at least once that I mentioned in my Los Otates post, with that said if I get the chance to have a handmade traditional dumpling I might just go for it.
I ordered the roasted pork because I have been kind of pork obsessed for the past months, only to be fueled by the release of Beyond Bacon by my friends over at Paleo Parents. This one came with an amalgamation of mystery cuts of pork, some belly was in there but I think it was mostly shoulder. It was was a straight shot of umami the second it hit you're tongue. The pork was steeped in a shimmering pool of it's own fat and fish sauce. When I first bit into it I immediately noticed it's subtle smoky and rich meaty flavor with a touch of sweetness from the spices and heavy saltiness from the fish sauce. I'm not certain what spices they used exactly but I'm fairly sure that it was their house formula of a Chinese five spice. They were definitely heavier on the cinnamon and star anise than most but it paired very well with the pork. Also as a note I'm totally aware of my poor manners by sticking my chopsticks straight up in the food pictured above, I guess I was too hungry to be considering my chopstick usage.  Believe it or not it is actually considered rude and resembles incense at a funeral or death, so yeah, no death for me please.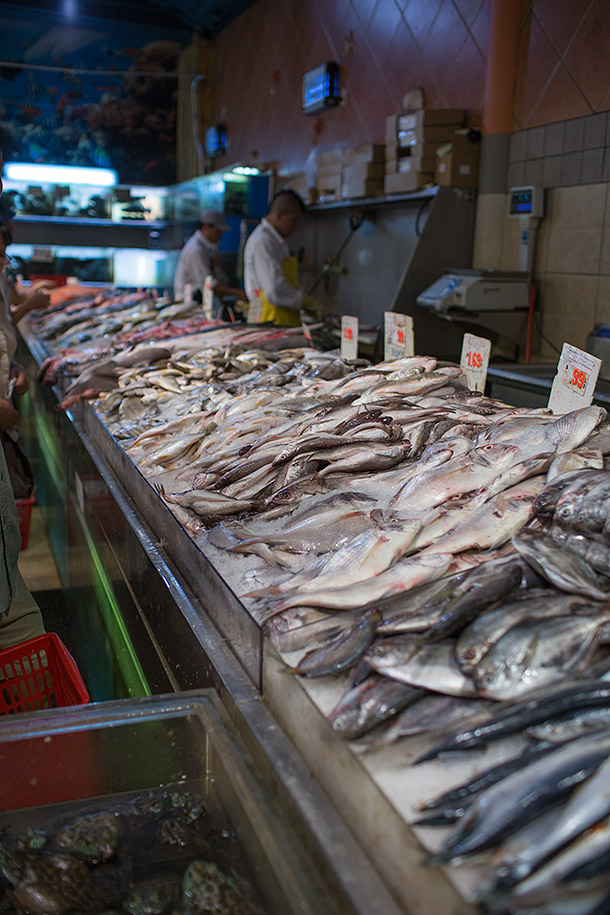 Once it was all done and we had our fair share of adventure my brother shared the fact that he had never ventured into the little nooks and crannies of those areas so it was a pretty surprising adventure for him too. That was kind of a surprise to hear seeing as he was just waltzing through the place like it was a fine day in the park. I guess I'm glad he didn't tell me that before we went into the more "cultural" areas.
Tips if you go to Chinatown in New York:
Eating Clean or Paleo – Eating Paleo or even clean for that matter isn't too difficult but you have to be aware that there is likely going to be soy sauce in some of the dishes but it's still possible. Grass fed, organic, pastured whatever it may be is most likely out the window but if it's just a visit I wouldn't worry to much about that. Try and order some of the roasted items because they are less likely to be touched by too many unsavory ingredients if you're worried about that. In terms of sides there are usually plenty of vegetable options but if you're like me and you were walking around the whole time it might be a good time to grab a side of white rice to enjoy.
Foodie places to stop by – There is an abundant amount of places to go in Chinatown that would give any foodie a heart palpitation but sometimes it's difficult to know which one to go to when your time there is limited. I only went for  a few hours but my brother and I managed to cover a wide variety of places to go here. I highly recommend wandering, just make sure a phone on you that has GPS and that you have a full battery charge so you can find your way out if you get lost. I think some of the most interesting places to go are the meat and fish markets, as you can see there are some pretty wild things to catch a glimpse of by just walking through, and who knows maybe you can pick up an alligator arm while your there.
There are many, many places to eat and we only went to one place specifically called Vanessa's Dumpling House which is my brothers favorite place to get dumplings, but that doesn't mean they just serve dumplings. They have a pretty wide menu to choose from and I would definitely go there again. I also heard that Peking Duck House and  Big Wong King are great places to stop by. Not all 100 percent clean but there are fairly clean options on the menu, if all else fails like I said just order something roasted with a side of veggies, white rice or both.
Lastly, make sure that you stop by some of the asian markets around there and pick up some stuff to take home that you can't normally find that you think are interesting or that you would want to cook with. They have some really interesting and fun stuff there like curry pastes, fresh dried fish, and loads of other stuff.