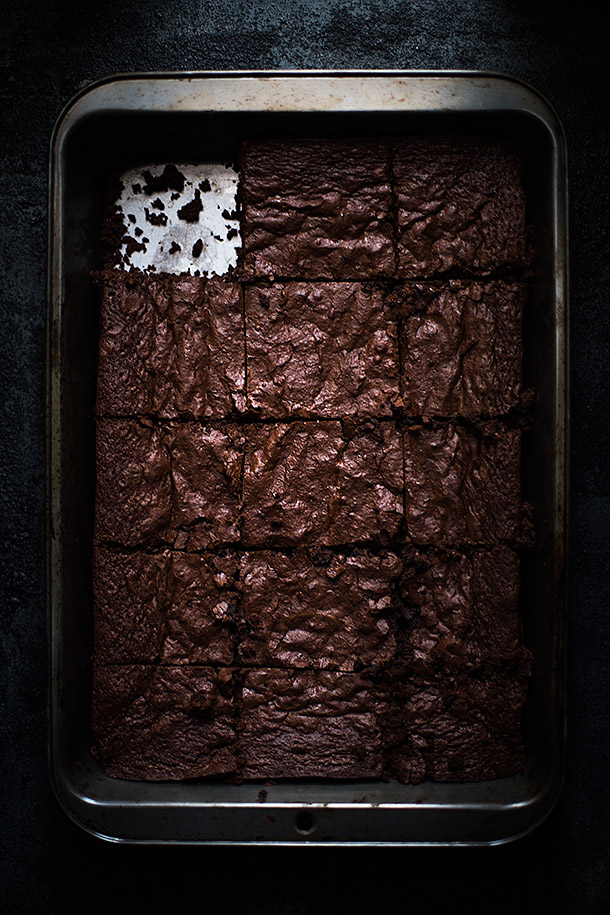 Before I say anything at all let me just mention that these brownies literally have an entire pound of chocolate in them. If that doesn't get you going, then I don't know what else possibly could. Brownies to me are something of richness, chewiness, and above all it should taste of chocolate. These brownies are made of all of those dreams and much, much, more.  Let's get chocolate wasted.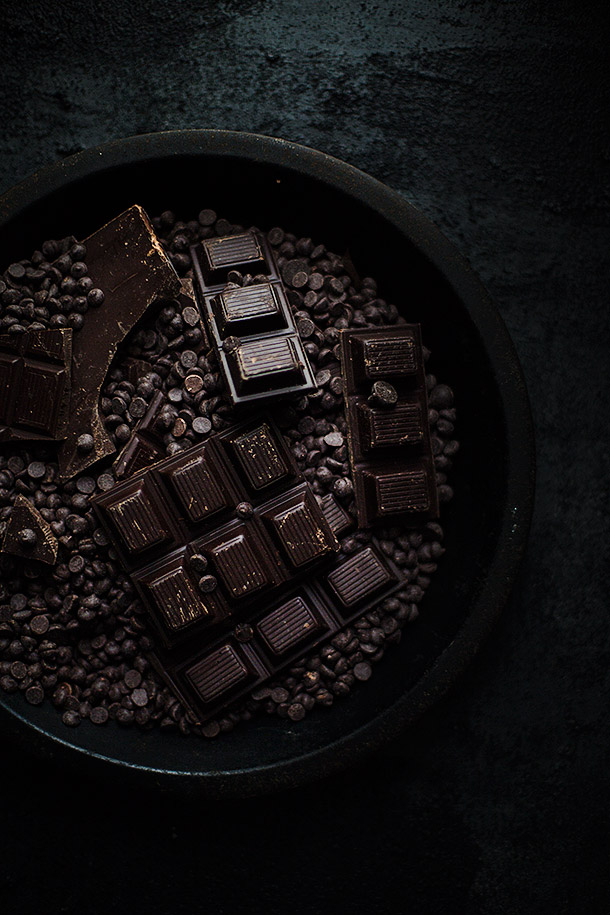 I don't really know what got me in the mood to make brownies, but it sort of just happened. I suppose there has been a lot of emotional turmoil going on for me lately. At a certain point, a little switch turned on in my head and I knew I needed to make brownies. I'm not saying I was recklessly turned to food for comfort, rather it was something to keep my mind busy and calm. The kitchen is a place I often turn to because the preparation of food is one of the few things that can relax my mind and bring me back down to earth.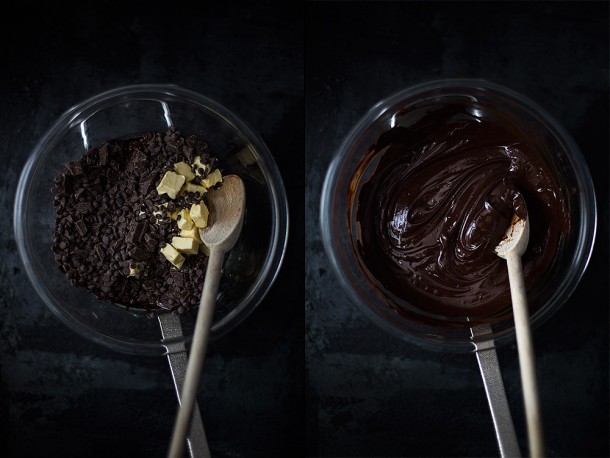 When I first started the prep work I turned off all of my music, and left the kitchen completely soundless. All I had to listen to was the sound of my knife cracking into the perfectly tempered chocolate and listening to it echo through the house. Of course there is also nothing better than the sweet and bitter coffee-like scent of good chocolate and butter melting. I also sorta have a thing for the appearance of chocolate melting, first dry crumbles of chocolate, then a messy amalgamation of melted chocolate enrobing the mismatched chunks of chocolate, and finally the glossy smooth finished molten chocolate. This to me, is the highest form of therapy when going through a difficult time.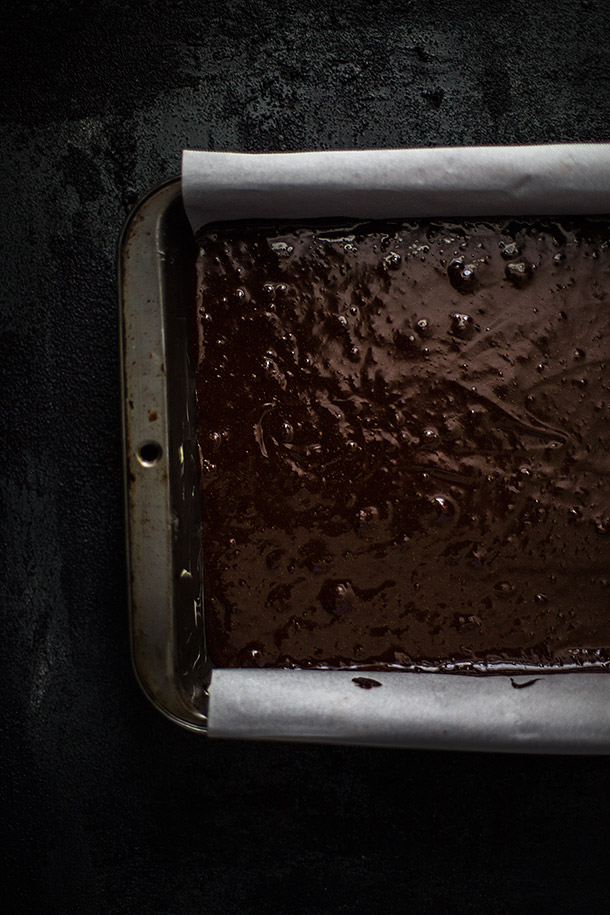 Of course my favorite part is eating them but that's besides the point. The preparation of something like this is always a pleasurable one. Try this approach if you're going to making these brownies. Quiet things down in the house and just listen, smell, look, really experience it. Then again we are just talking about brownies, maybe just make them, eat them, and be happy because these are probably one of the best brownies on the internet. Make these for anything, this upcoming Halloween, a gathering, the holidays, Christmas, Thanksgiving, Hanukkah, Kwanzaa, birthday,  literally anytime is a good time for brownies.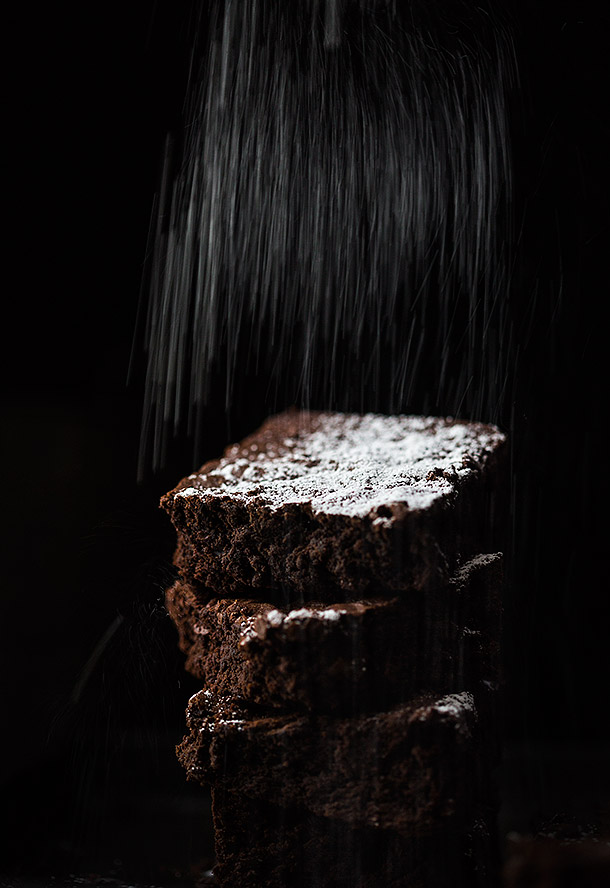 Chewy Fudge Brownies
Ingredients
1 lb chocolate, chopped (use semisweet or dark chocolate up to 85%) *see notes*
6 tablespoons unsalted butter
½ teaspoon baking soda
¼ cup tapioca starch (tapioca flour is the same thing)
¼ cup cassava flour
4 eggs
½ teaspoon salt
2 teaspoons vanilla extract
1 cup coconut sugar
Instructions
Preheat the oven to 350 degrees and line a 13x9 baking pan with parchment paper, leave some good overhang on all sides. I did one long sheet across it width wise and just greased the short sides with butter.
In a small bowl mix together the baking soda, salt, tapioca starch, and cassava flour.
Place a medium sized heatproof bowl on top of a pot of simmering water (make sure your bowl doesn't touch the water or the bottom). Add the chocolate and butter to the bowl atop the pot of simmering water and melt them, stirring often, until it is completely melted and smooth. Remove the bowl from atop the simmering pot of water and let cool slightly.
In a large bowl add the eggs, vanilla extract, and coconut sugar, and blend with a handheld mixer on medium speed until the mixture begins to turn to a pale tan and thickens (about 4-6 minutes). Add the flour mixture to the bowl and with a scraper or spoon fold it into the egg mixture just until incorporated. Pour the melted chocolate and butter into the mixture while stirring at the same time. Mix until everything is completely incorporated and smooth.
Pour into your prepared baking pan and bake for 25-30 mins or until the top looks dry, shiny, and cracked. Let cool completely before cutting into 2x2in. squares. *Optionally, you can lightly dust them with cocoa powder or gluten free powdered sugar. I like mine dusted with cacao powder.*
Notes
For the chocolate you can use any type of chocolate really but make sure you are paying attention to the sugar content. For sweeter brownies use semisweet, for darker brownies use dark chocolate 70-85% depending on your taste, and for a nice balance do half dark chocolate and half semisweet chocolate.