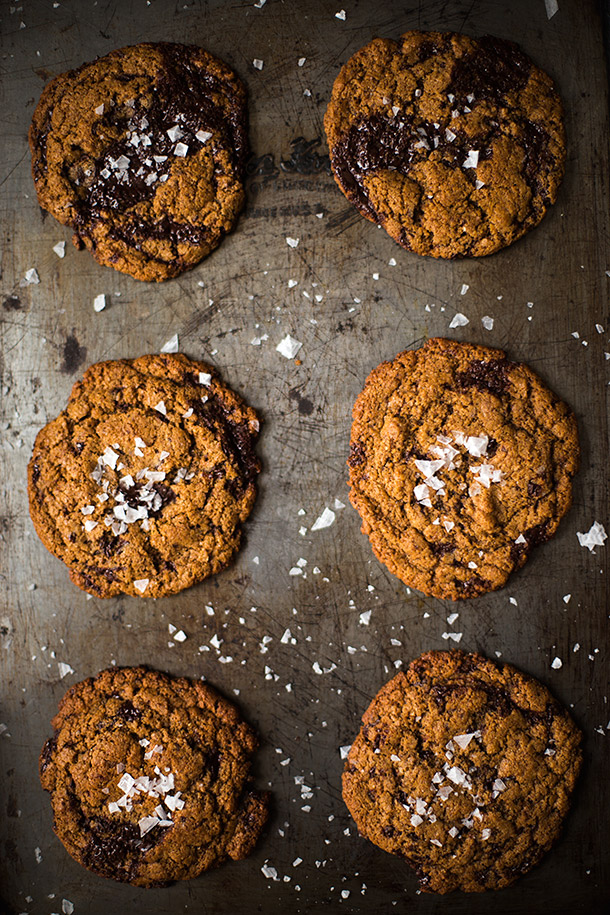 I have had a problem lately. An obsession really. Cookies; I try to stop thinking about them but then they just keep coming back to me, calling my name. Maybe it's all of the planning and work on my cookbook getting to me but even so, this is a really unusual thing for me. I don't typically dive into the sweets or really think about them that often because I'm more of a savory guy. Even if I do get the hankering for something sweet I'm usually just fine with something as small and simple as a spoon full of coconut butter.
With that said, I also endorse listening to your body. In this case, my body wanted cookies, therefore I listened. That's as scientific as I need to get about that because you just don't question cookies. Actually this might be very bad advice for some people.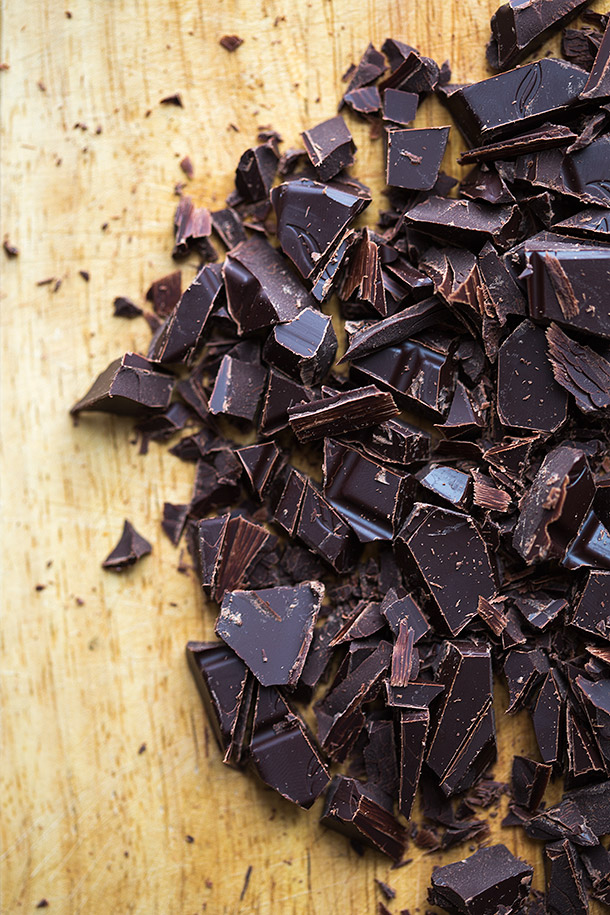 I wanted desperately to title these something like "The Best Ever Paleo Chocolate Chip Cookies" but chose not to because it sounds a tad cocky. Despite that, I honestly do believe that that these really are the absolute best gluten, grain free, refined sugar free, and Paleo chocolate chip cookies ever created. Seriously, these are the best, are incredibly easy to make and you have to try them. I've never actually really tried to convince someone to try a recipe of mine simply because I don't want to waste energy on something like that but you have to taste it to believe it these are so ridiculously good. I even fooled my non-paleo eating friends and family with these.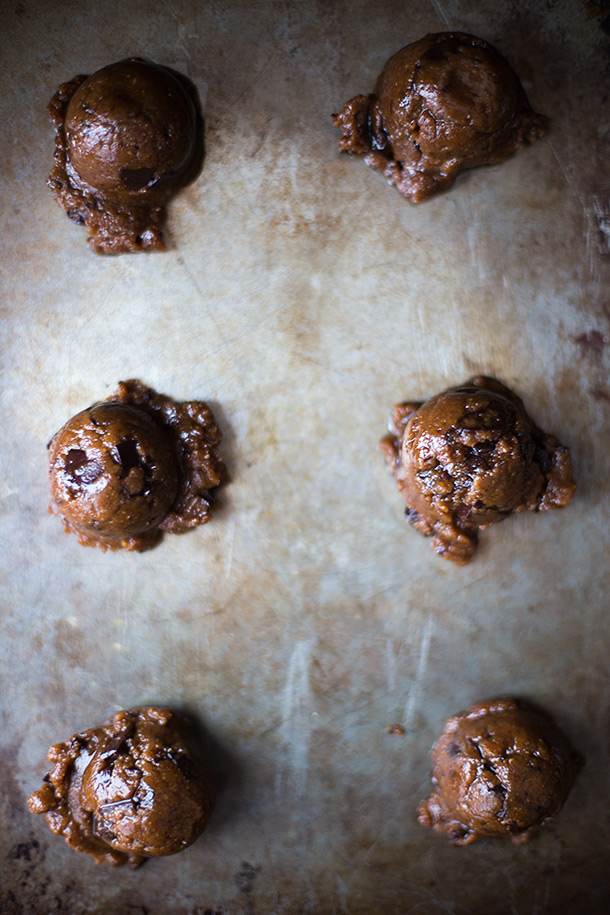 The trait that makes these cookies so irresistibly amazing is their stellar consistency. These cookies to me represent my perfect cookie. They're soft yet slightly crispy on the outside, and decadently chewy and fudgey on the inside. The kind of beautiful chewiness that just slightly sticks to your teeth every other bite and then melts away in your mouth as you chew. Nothing beats the level of bliss that a good cookie can give you. Clearly I get pretty emotional whenever I eat or even think about these cookies.
Plus I'm really proud of them because it took a bit of work to figure out how to get the cookie to a consistency and flavor that I know and love and I'm happy to say I have figured it out. The only thing that I could say that went wrong is I ended up sprinkling them with a little too much flakey sea salt after I was done baking them.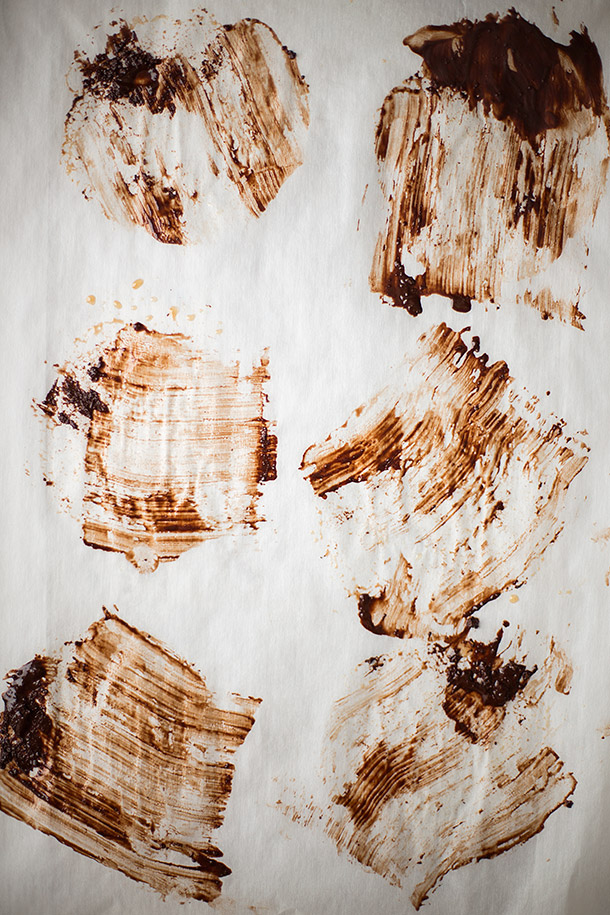 I'm typically not as smooth and savvy with a baking sheet as I am when wielding a cast iron skillet. In order for me to be successful in baking I always have to get super scientific about it. Cue the rapid searching of google. I found out that it's a combination of the maillard reaction and of course the caramelization of the sugar in the cookies that gets them to ultimate level of chewiness. So I went on a whim and used coconut sugar along with almond butter (which tends to be prone to caramelizing as well, given the right circumstances) in hopes that the google overlords tale would ring true, and it did. If only I didn't let that work go to waste the same day by trying to be a good person and giving the cookies out to my friends at school. I should have kept them all for my parents and I. And no that isn't selfish; there is no "us" in cookie but there is in fact an "I". Remember that.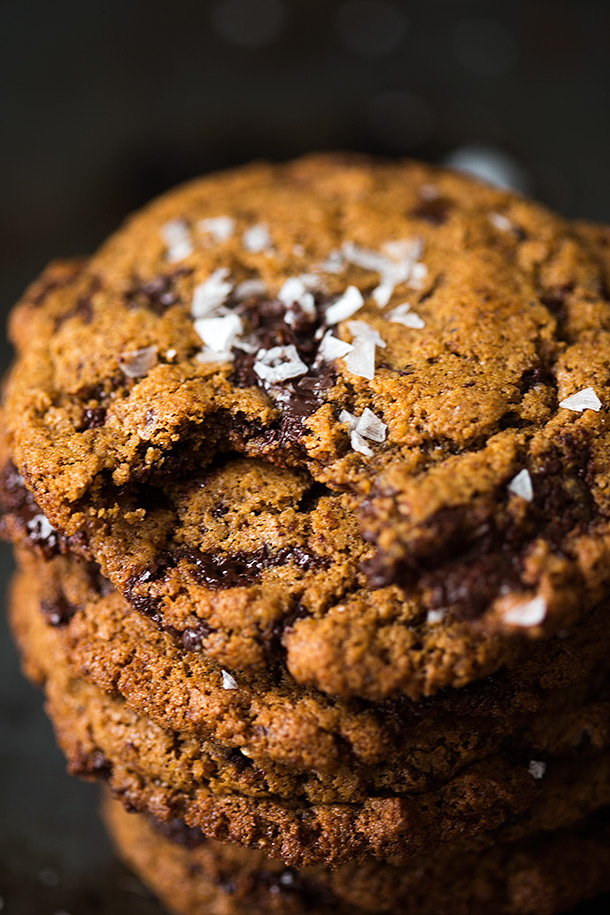 Chewy Dark Chocolate Chunk Cookies With Sea Salt
The very best gluten, grain free, and paleo chewy dark chocolate chunk, or chip cookies.
Ingredients
1 cup creamy raw almond butter *See Notes*
¾ cup coconut sugar preferably sifted *See Notes*
1 egg
1 egg yolk
1½ teaspoons vanilla extract
1 teaspoon baking soda
¼ teaspoon salt
4 ounces dark chocolate coarsely chopped (I recommend 70-85% the actual cookie is fairly sweet so a darker chocolate contrasts best, and you can also use chocolate chips same weight in lieu of this and turn them into chocolate chip cookies if you wish)
flakey or coarse sea salt for sprinkling *see notes*
Instructions
Preheat the oven to 350 degrees fahrenheit and line two baking sheets with parchment paper or do these in batches on a single baking sheet. (These spread out quite wide so they have to be done on two different sheets or in batches)
In a medium sized bowl add the almond butter. In a separate bowl whisk together egg and egg yolk. Stir the coconut sugar into the almond butter until thoroughly incorporated then add the baking soda, salt and vanilla extract and stir until completely mixed then add the whisked egg and egg yolk to the mixture and stir once more until completely incorporated. Fold in the chopped chocolate until well incorporated.
With a cookie scoop or spoon drop 1½- 2 tablespoon sized mounds of cookie dough on to the parchment lined baking sheet spacing them about 2½ inches apart. This should allow you to only have 6 per cookie sheet and I don't recommend trying to fit more on there because they do spread out quite wide.
If you're doing these with 2 baking sheets place one baking sheet into the preheated oven for 10-12 minutes then remove them and let cool slightly for 5-7 minutes. With a spatula, transfer them to a cooling rack to let them finish cooling completely. Repeat this step with the other baking sheet or with the same baking sheet until all the the cookie dough is used. As the cookies are cooling sprinkle them with a little bit of flakey sea salt.
Notes
Notes for sprinkling with flakey sea salt: Don't go too crazy here, a little bit goes a long way and you may want to put a little less than pictured in this recipe. Just a tiny sprinkling on each cookie.
Notes for coconut sugar: I have gotten many questions on if there are substitutes for the coconut sugar and my answer is yes but you can only substitute it with another granulated sugar. Things like evaporated cane sugar, sucanat, etc. The coconut sugar does not taste coconutty at all either, it has a very light brown sugar like taste. Do not substitute it with stevia, xylitol, swerve, any liquid sweetener, etc. It must be dry and granulated and actually have *gasp* sugar in it, in order for it to turn out properly.
Notes for almond butter: You're almond butter should be raw. There is a caramelization affect that happens in the oven that only results from raw almond butter. Once it is roasted it slightly loses it's ability to caramelize. *UPDATE* I used no stir almond butter from maranatha and it also works just fine for this recipe.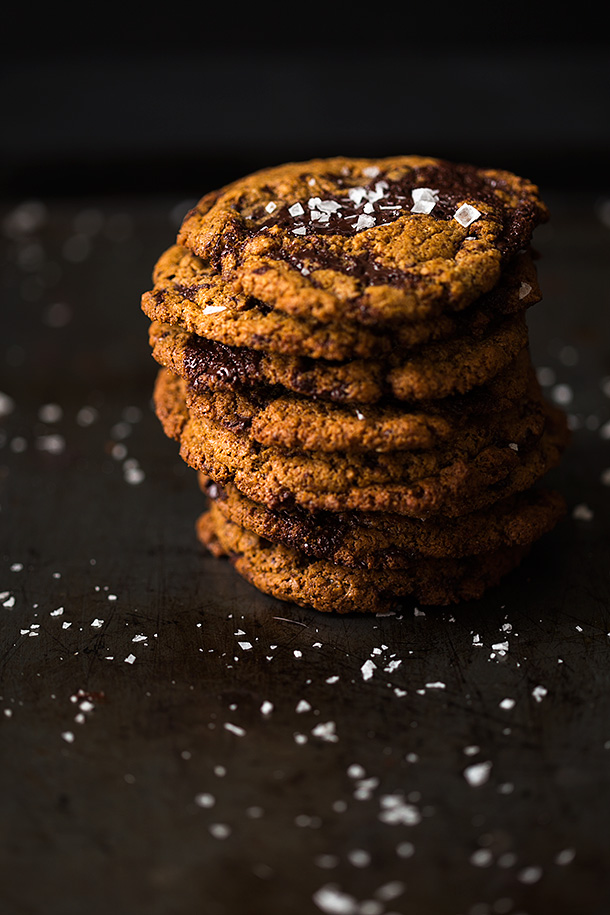 Okay one more shot, because cookies.