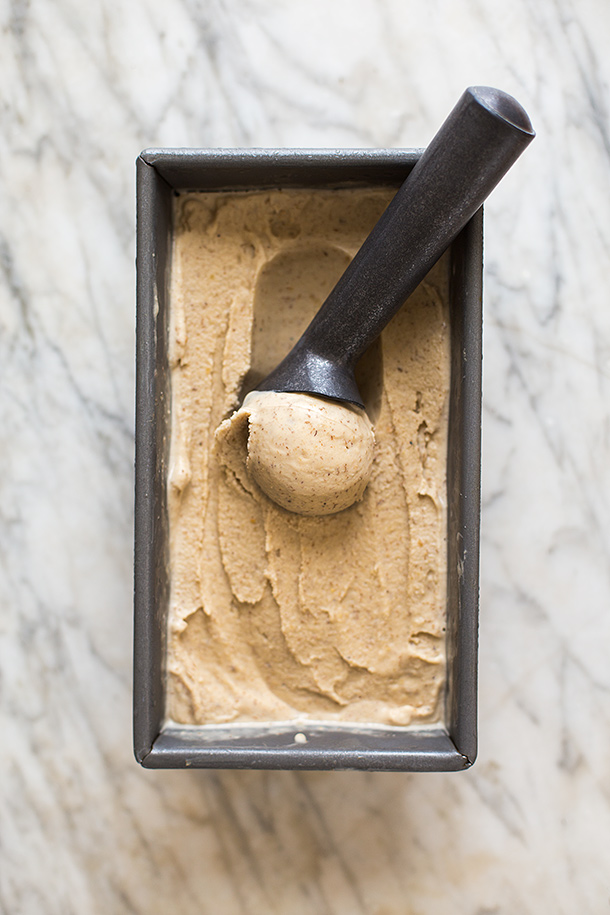 Well, I'm just all over the place. First extolling my love for raw milk and now I'm doing a recipe for a dairy free ice cream. Don't get me wrong I'm still in love with my raw milk. That's never going to change. I'm even going to share some of my raw milk with the nice folks who created the granilla bar because they're out of raw milk. No one needs that kind of pain in their life so I'm willing to share some since I have 3 gallons in the fridge right now. I just imagine myself in their place and shudder merely at the thought. One thing to note though is that if I share my raw milk or bacon with you then you are one very lucky person.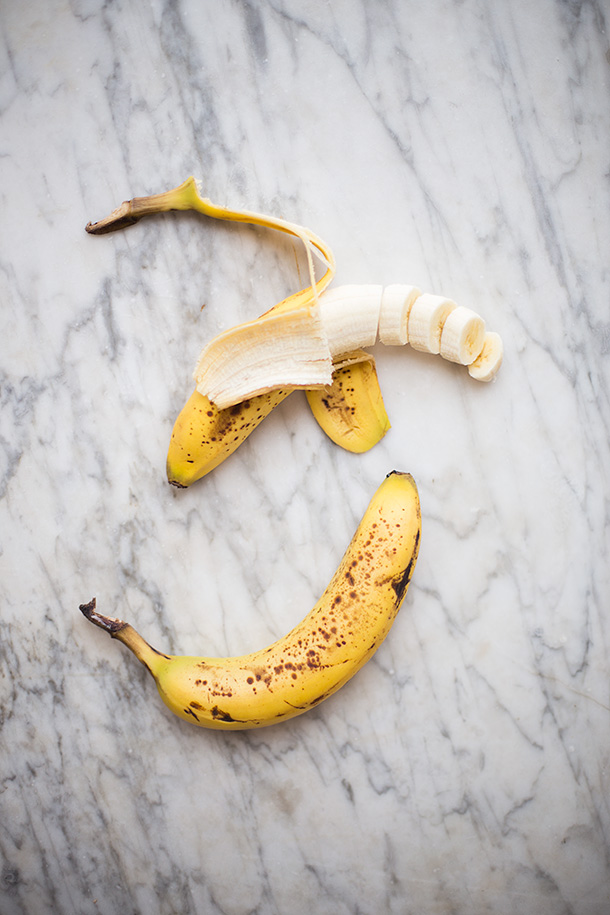 I try to eat as balanced as possible in accordance to my lifestyle. In other words I try to keep treating myself in line, as to have maximum performance at Cross Fit, etc. The problem is that my girlfriend has been out of town and still won't be back for a couple of days and she's been gone for about a week now. With that said, that ideal that I try to hold on to, yeah it momentarily flew out the window.  That way I could make ice cream to soothe my aching soul that longs for her return. To soothe it with ice cold sweet creamy goodness. I swear I wasn't cry-eating it.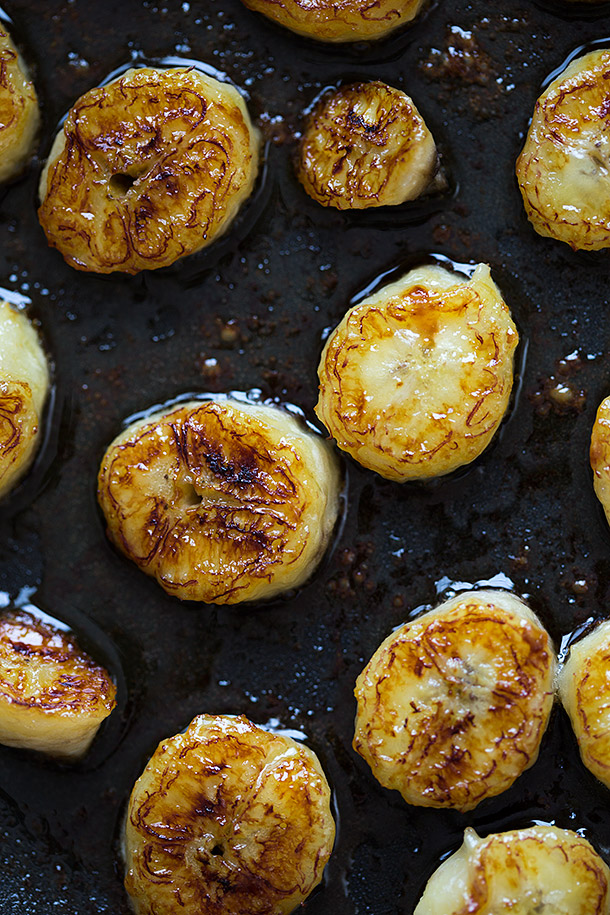 If you've never caramelized bananas before then you're in for a love at first scent. It has an alluring sweet smell that always draws me near to stick my face as close to it as possible and take in a creepy wheeze sounding breath of banana-y goodness. Clearly I care about sanitary cooking. I should probably work on that.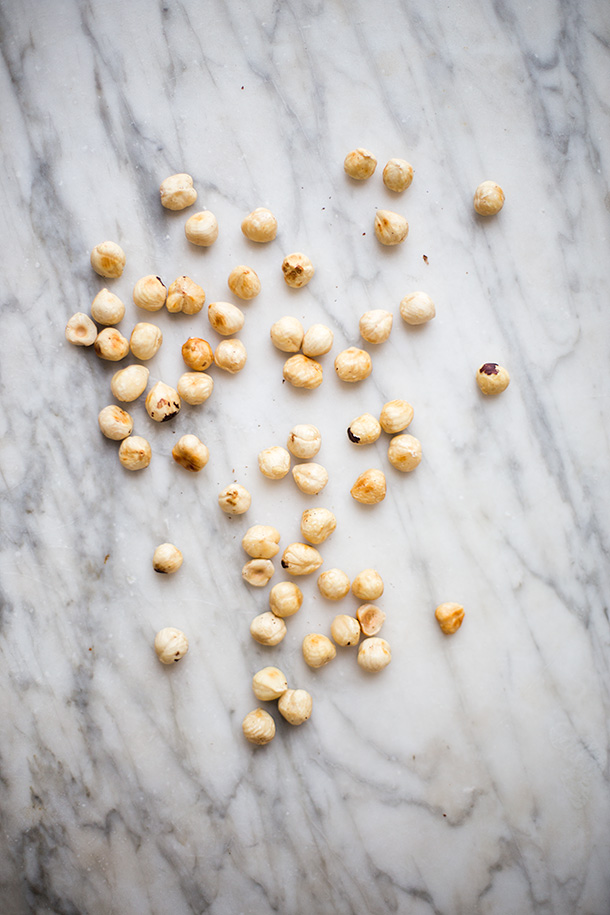 The interesting thing about caramelization (and please excuse me here but I must nerd out) is that it's actually a very chemical reaction involving heat that converts the more complex carbohydrates into more simple carbohydrates, thus making the caramelized product significantly sweeter. This results in a minimally sweetened ice cream, in fact it's reduced down to only 1/3 of a cup of coconut sugar. So thank you Kelly Brozyna for being an amazing friend and sweet treat genius so I could maintain my manly composure whilst totally not cry-eating ice cream until my girlfriend comes back.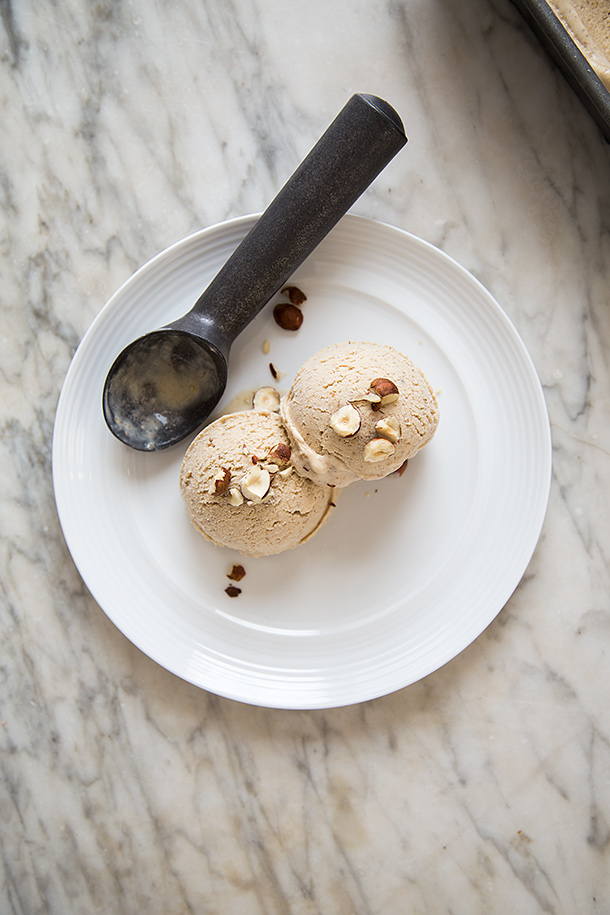 Caramelized Banana Hazelnut Ice Cream
Rich, and creamy caramelized banana ice cream with a touch of toasted hazelnut that's egg free and has a dairy free option. Adapted from
Dairy-Free Ice Cream
by Kelly Brozyna.
Ingredients
2 ripe bananas at room temperature
2 tablespoons of butter, ghee, or coconut oil (best with butter or ghee but can be made dairy-free with coconut oil
⅓ cup coconut sugar finely ground in a spice grinder or food processor
1 can full fat coconut milk
2 tablespoons of water
1 cup almond milk, cashew milk, or hazelnut milk
2 teaspoons vanilla extract
2 teaspoons lemon juice
½ cup of hazelnuts
pinch of sea salt
Instructions
Peel bananas and cut them into ½ inch slices. Heat a medium sized pan with 2 tablespoons of butter, ghee, or coconut oil over medium heat. Once hot add all of the bananas in a single layer in the pan and let cook for 3 minutes undisturbed. Flip them and caramelized for another 3 minutes.
Carefully remove the caramelized bananas from the pan and transfer them to a blender. Add 2 tablespoons of water to the pan while scraping the bottom of the pan with a wooden spoon to remove any stuck bits. Pour water with browned bits into the blender.
In a small skillet toast hazelnuts shaking the pan often to avoid burning over medium heat for 5-8 minutes or until skin is easily peeling off and hazelnuts are lightly browned in some spots and the nuts become fragrant. Transfer the nuts to a dishtowel and vigorously rub off the skins. Place the now skinned and toasted hazelnuts in a food processor and process, scraping on the sides occasionally, until you get a nut butter consistency.
In the blender add the coconut milk, coconut sugar, and blend until smooth. Then add your choice of milk, vanilla extract, lemon juice, and sea salt, and puree until completely smooth. Transfer the ice cream mixture to a bowl and refrigerate for at least 4 hours or overnight.
Once the mixture is thoroughly chilled churn in your ice cream mixer according to your manufacturers directions and add the toasted hazelnut butter as soon as the ice cream begins to thicken a lot in the ice cream maker.