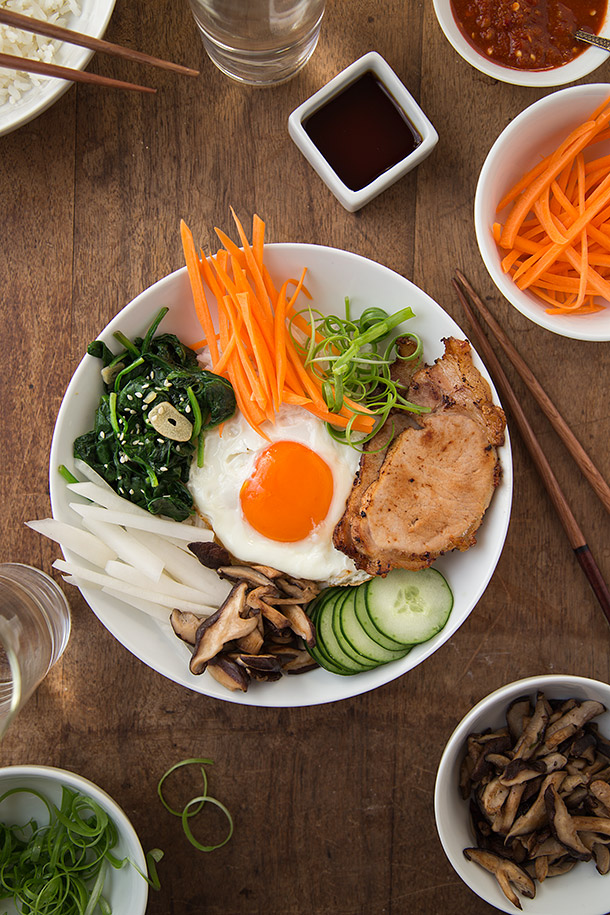 I love various types of ethnic foods and constantly seem to talk about how much I love (x) regions cuisine. Mainly through obsessing over a specific region for weeks on end and then abandoning it for a few months to obsess over another. I'm really trying hard not to seem like an ethnic food floozy with my sporadic "affairs" with other regional foods but I also can't help the fact that it looks exactly like I might be. By the way as a side note, that egg yolk is not photoshopped, that is just the work of Yonder Way Farm.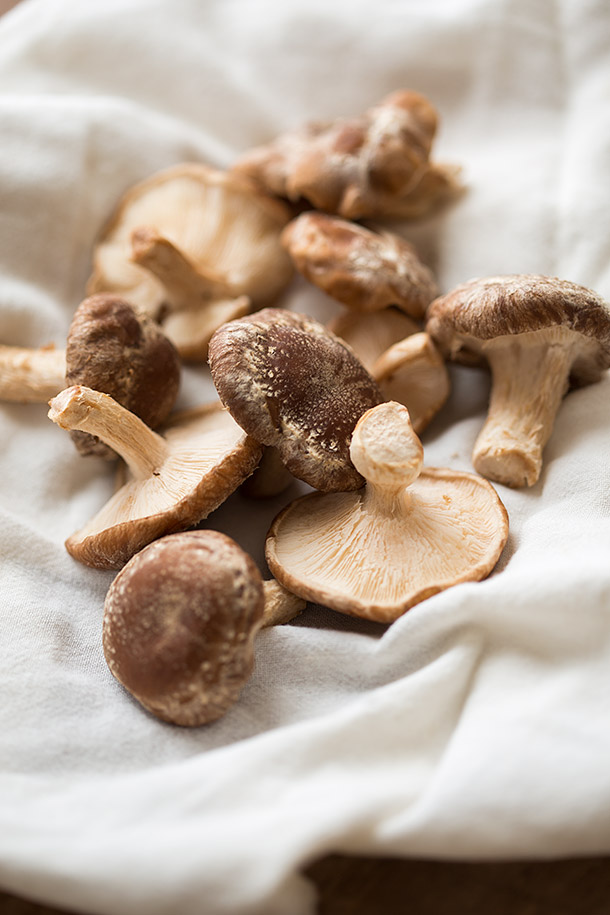 Now that I think about it, the reality is that amongst the amalgamation of various food cultures, they all tend to be incredibly good. There really isn't specifically a bad or grotesque regional food in my opinion, there is only bad cooking. Though, I tend to lean towards Asian and European the most. And by Asian I am including Chinese, Vietnamese, Thai, Indian, etc. My escapades in european food aren't as vast as I'm only familiar with French, Italian, and some English. Now I feel more cultured and worldly than I probably am. Hopefully I'm not sounding conceited by now.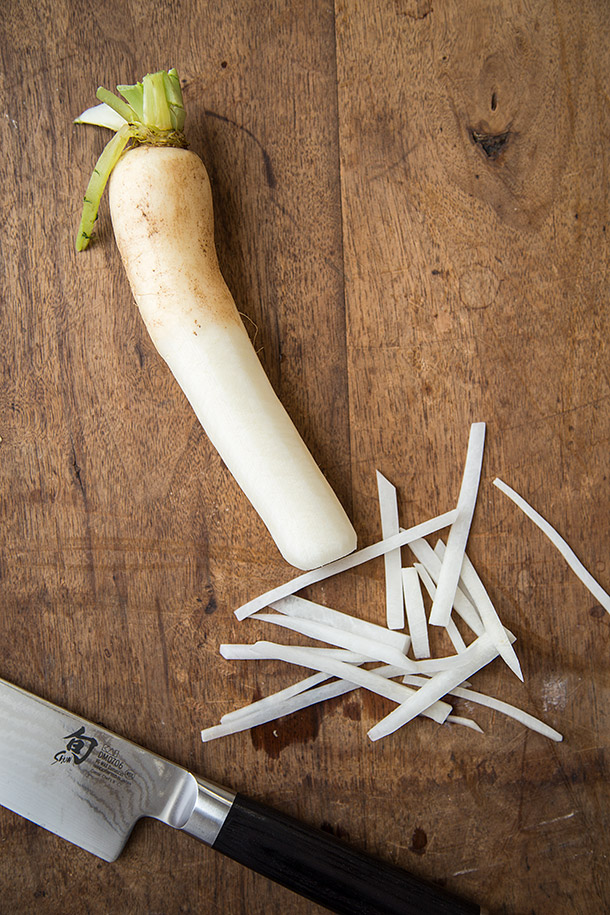 Speaking of being worldly, I had the most interesting substitute teacher the other day. In my advanced algebra class we got a 30 years + retired NYPD police officer, whom informed us on our way in the door that he had not work for us to do in class but sought to "activate our minds".  To keep me from numbing your mind with too many details, we essentially (or should I say he?) went up and down an emotional ladder that consisted of various incredibly uncomfortable life subjects (getting stabbed, shot at, date rape, etc.) for 50 minutes.
Although, lucky for me, my mind was preoccupied with thoughts of a vibrant and colorful bowl of Bibimbap.The various additions that can be used in it ranging from meats, vegetables and sauces. After finally experiencing it for myself I think I could say that this classic Korean dish  is an incredibly fun meal much like phó in terms of assembly, and you can make it with both cauliflower rice if you're doing a more strict Paleo and don't want to incorporate any white rice in your eating. I like it with both, but traditionally it is done with white rice, which I consider a safe starch. Clearly I'm reinforcing the thought that I could be an ethnic food floozy.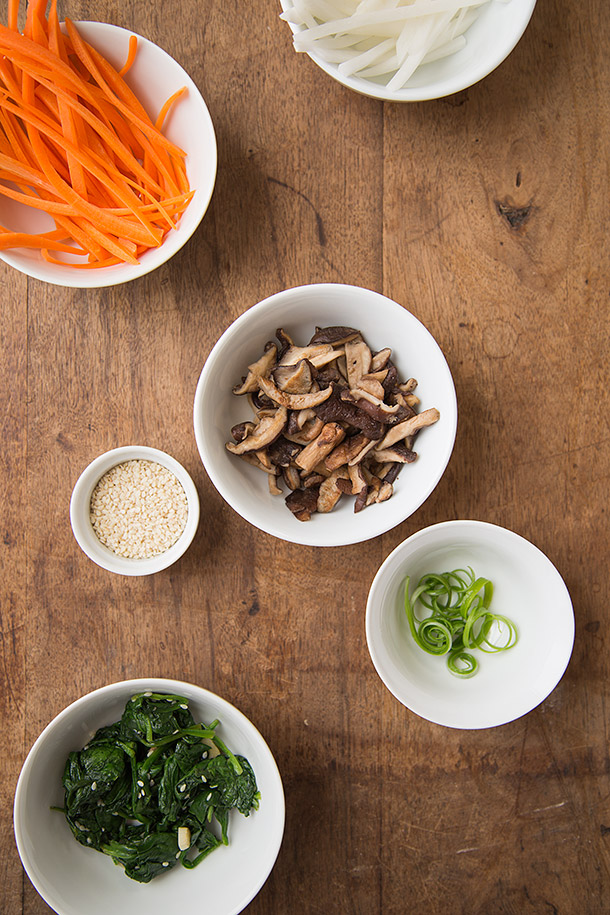 My upcoming cookbook was a great outlet for my arbitrary regional food obsessions. I had the chance to share several recipes that were influenced by numerous of my favorite ethnic cuisines. Although it's not as extensive when it comes to ethnic cuisines as my buddy Russ Crandalls new cookbook The Ancestral Table since his focuses on ethnic foods from all over the world, which coincidentally comes out fairly close to mine. This is exactly why I felt this recipe was fit to also have a small giveaway of his book , and prior to the release (you can find the giveaway at the bottom of the page). I only wish I had gotten the book before I made this recipe because he happens to have a recipe for Bibimbap in his cookbook yet I created this one before I received it in the mail.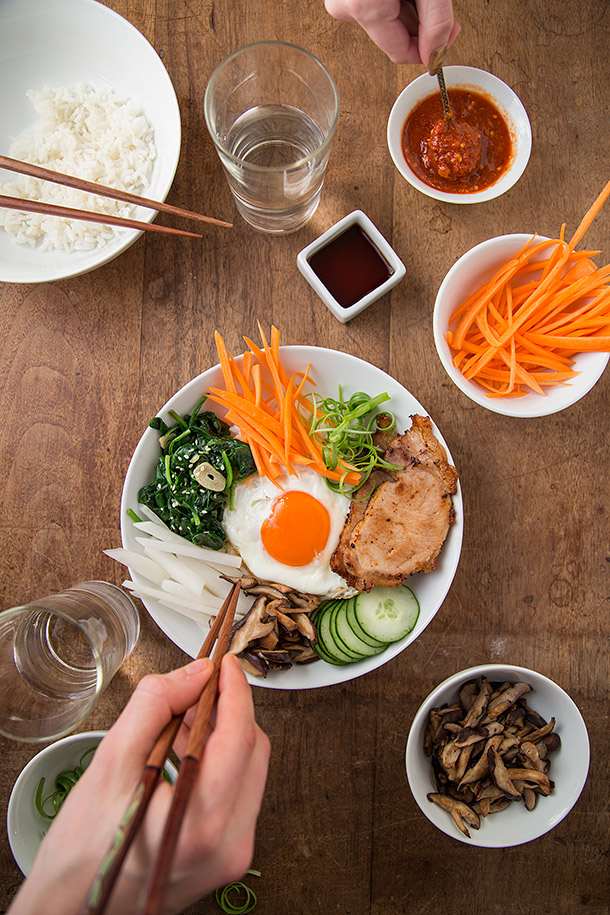 Bibimbap
How to make the easy and classic korean dish made up of cauliflower rice or regular white rice topped with an array of sautéed vegetables, meat, your choice of sauce, and a crispy fried egg known as Bibimbap. Gochujang sauce adapted from
The Ancestral Table
.
Ingredients
4 sunny side up fried eggs
For the meat (either with leftover meat or bulgogi):
Your choice of cooked meat (I used leftover roasted pork loin)
Or (if you have no leftover cooked meats) 1 pound of sirloin steak sliced thinly
3 tablespoons coconut aminos or tamari
1 clove of garlic grated
2 teaspoons grated ginger
½ tablespoon unseasoned rice vinegar
For the Bibimbap:
3 tablespoons ghee or coconut oil (I prefer to use ghee for the high heat searing)
1½ teaspoons toasted sesame oil
2 teaspoons coconut aminos
4 carrots julliened
½ daikon radish peeled and julliened
7 ounces fresh shiitake mushrooms sliced
1 cucumber thinly sliced (I sliced mine with a mandolin)
½ teaspoon salt
2 tablespoons of rice vinegar
6 ounces of baby spinach
1 teaspoon sesame seeds
4 cups steamed white rice or cooked riced cauliflower (instructions for cauliflower below)
3 green onions thinly sliced
2 cloves of garlic thinly sliced
salt and pepper to taste
Optional add ins:
Optional Gochujang sauce from The Ancestral Table (puree all the below ingredients in a food processor until smooth):
2 tablespoons korean red pepper powder
2 cloves of garlic
1 tablespoon rice vinegar
1 teaspoon of each: coconut aminos, sesame oil, and honey
3 tablespoons of chicken stock
Instructions
If using cauliflower rice instead of white rice:
You may need a little more than 1 large head of cauliflower (around 1½ heads). de-stem and core the cauliflower and cut it into small florets. Pulse the florets in a food processor until you get a rice like consistency. Place in a medium sized pan over medium heat and cover with a lid for 3-4 minutes or until you begin to hear a small sizzle. Stir the cauliflower rice, reduce the heat to medium low and continue to cook stirring occasionally for 2-3 more minutes or until the cauliflower is tender and tastes cooked.
For The Meat (If using sirloin steak):
If you don't have any leftover meat and are using raw sirloin steak, combine the coconut amines or tamari, garlic, ginger, and rice vinegar in a bowl and pour over the sirloin steak and let it marinate for 30 minutes (while it's marinating you can move on to the rest of the assembly and do step 2 of this part once you've prepped everything else).
Heat 1 tablespoon of ghee or coconut oil in a medium sized pan over medium high heat. Add the beef in batches so that the meat lays in a single layer. Sear for 2-3 minutes and toss and sear for another 2-3 minutes. Continue this until all the meat is cooked; placing the cooked beef on a platter tented with foil.
For the Meat (If using precooked/leftover meat):
Slice the meat thinly and heat 1 tablespoon of the ghee or coconut oil in a medium sized pan over medium high heat. Add the sliced meat so it lays in a single layer and brown for 1-2 minutes each side or until nicely browned on both sides. Add the sauce and simmer until the sauce reduces by half; about 2 minutes.
The assembly:
Place the cucumber in a small bowl, add rice vinegar, sprinkle with salt and toss and let sit while you assemble the rest of the ingredients.
Clean out the pan you used to cook the meat, add ½ tablespoon of ghee or coconut oil along with 1 teaspoon of sesame oil over medium heat. Add all of the sliced garlic and sauté until fragrant then add, spinach and sesame seeds. Cook for 3-4 minutes or until wilted. Wipe out the pan and add another ½ tablespoon of ghee or coconut oil along with ½ teaspoon of sesame oil over medium heat and add the carrots and sauté for 3-4 minutes. Wipe out the pan and do repeat the process with ½ tablespoon of ghee or coconut oil, and 1 teaspoon of coconut amines or tamari, each for the shiitake mushrooms and then the daikon radish.
Divide the white rice or cauliflower rice among bowls. Add a sunny side up egg to each bowl on in the center and atop the white rice or cauliflower rice and arrange the meat, sautéed veggies, cucumber, and green onions around the bowl and serve with any optional additions (sauces). I recommend either my chili garlic sauce or the gochujang sauce.
Notes
Despite the long list of ingredients this is an incredibly easy and fun meal to serve. I also made this again and used kimchi as one of the vegetable add-ins in addition to the other vegetables and it was even better.
Sauce Note: This is traditionally served with a gochujang sauce which is made with fermented soy. I tend to avoid soy as often as possible even in fermented forms so I served it with chili garlic sauce, which in my opinion was wonderful and still provided that semi-sweet spicy addition. Coincidentally I did this post before I got my copy of Ancestral table but Mr. Crandall actually has a gochujang sauce with ingredients I'm more comfortable with so I included his gochujang as well to make this a little more traditional. Thanks Russ!
Meat note: I know that I might have made this a little confusing with the way I did the meat in this recipe, but the idea is that you can use any meat for this. A lot of people make bulgogi or simply thinly sliced beef, but I actually really enjoyed it with the leftover roast pork loin that I browned again in the pan. Like I said the idea is that you can really use any meat you like in this whether it's leftovers or simply ground beef, any choice will likely be delicious but I also included a small recipe for bulgogi to add to it if you don't have any leftover meat to utilize. So when making this choose either the (if using sirloin steak) or (if using precooked/leftover meat), not both.
 This Giveaway ends Thursday February 5th at midnight and can be shipped internationally. Good luck!
Related Links:
White Rice: Friend or Foe? – Primal Toad