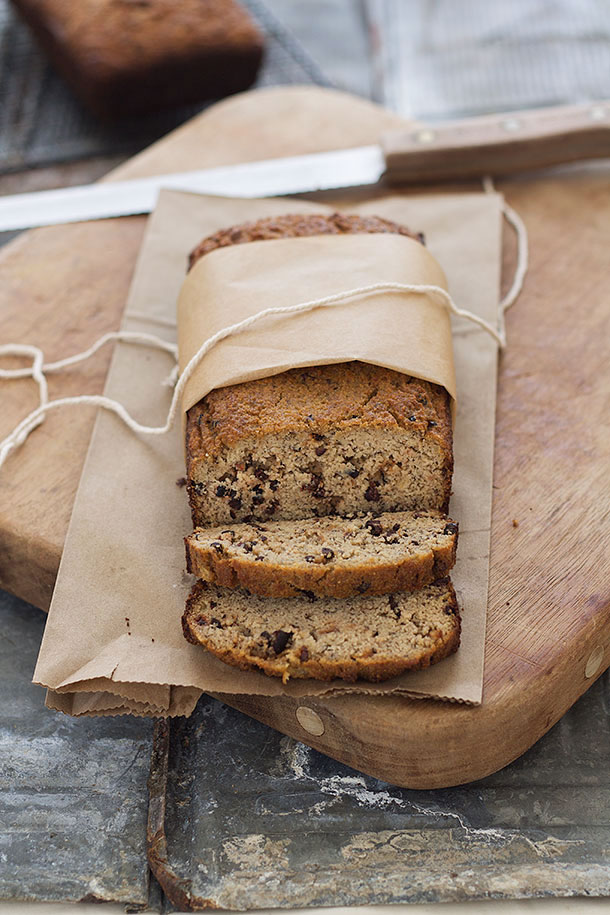 There comes a time when you buy bananas and then leave them to sit in the fruit basket until you notice that the object that was once yellow is now a heavily spotted mess. For me, this is an every time event. It can be quite the predicament at first thought because I don't really know anyone that could eat a banana that utterly goopy and enjoy it. You would have to pretend that it's just an incredibly sweet and banana-ey tasting plate of cauliflower mash.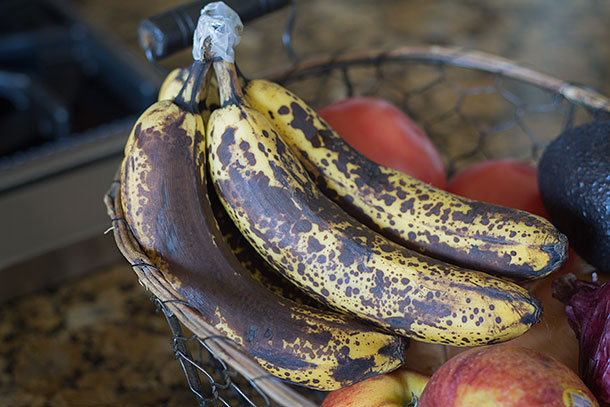 Gross, and that will that never ever happen. I don't suggest imagining it either. Although at this point I suppose it's inevitable that you would imagine it because I keep bringing it up. I'll stop with my incessant ripe banana escapade talk and move on to the plus side of this. The plus side is that there is a specific law set in place for those who do things like letting there bananas sit there to get ot the point of mushy ripening. That law would be that you are required to make banana bread at that point.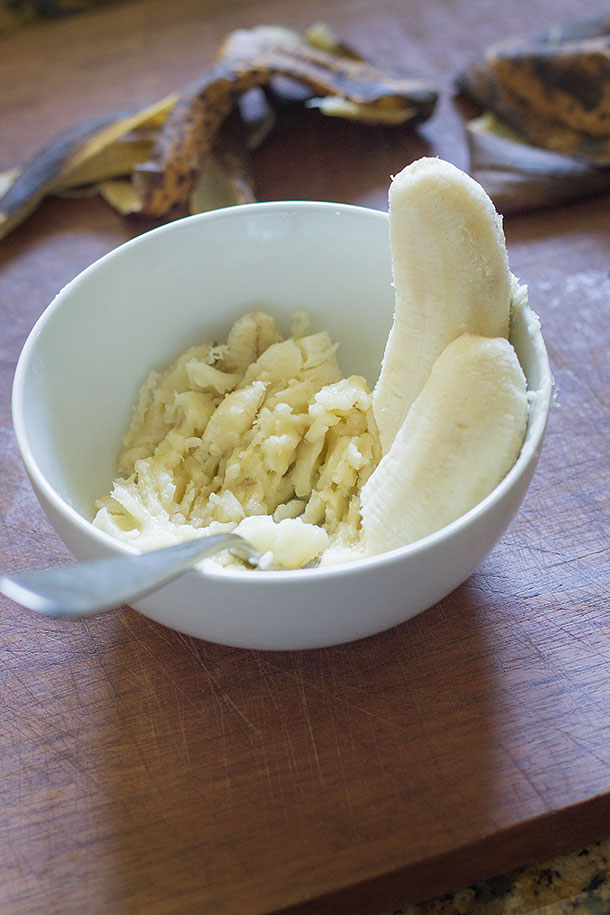 See you don't even have to make the decision to make it because it's required. Have you got really ripe bananas? Great now make banana bread and be a happy camper. All joking aside though I really am quite happy with the way this banana bread turned out. In the words of my mother "oh my god this tastes like actual banana bread…" Well of course it does, that was the idea mom.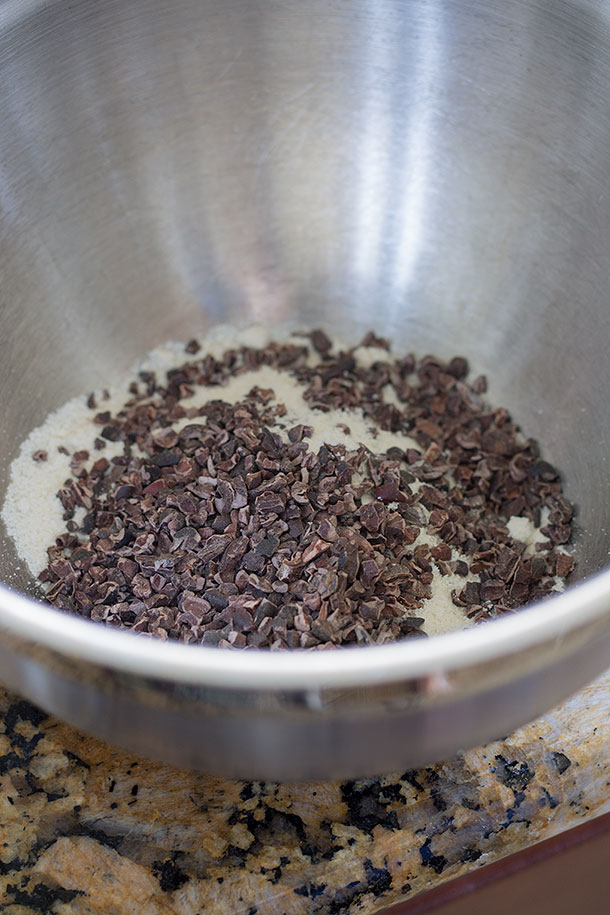 I don't want to sound snooty and would like to say that this may just be the best Paleo Banana bread out there, but I'm not certain it would be right to say that. Especially seeing as I haven't tried any of the other grain free or Paleo banana breads on the internet. But believe me when I say this is incredibly delicious, it's one of the most moist, tender and satisfying baked goods I've ever had the pleasure to pull out of the oven.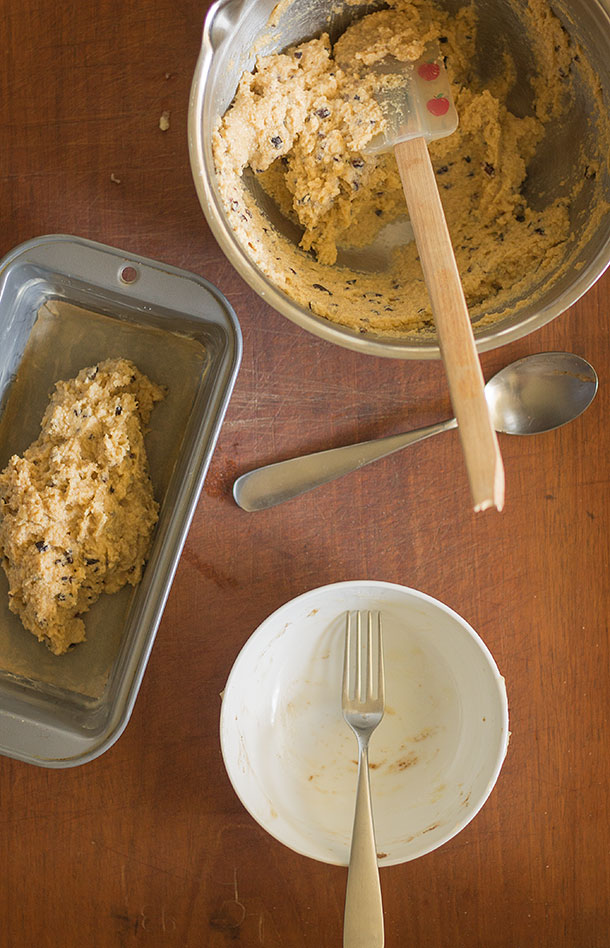 I brought a loaf to school to share with my friends at lunch (which they all raved about and had no idea that it was Paleo banana bread that they were eating) but the people who didn't get any but were in the classes before lunch were searching around the room trying to figure out where the scent was aerating from. Several people actually started to become frustrated wondering and asking why it smelled so good and where it was coming from. Being the sneak I am I only smirked and let them be confused. It was quite odd though, I've never seen people get so frustrated over a good smell because they couldn't locate where it was coming from.
Maybe it was because they knew they weren't getting any. I think I'll have to bake up some more and bring it to those classes another day so they can at least taste it after having to endure that torture. Just try not to do what I did and share it with the people who might start to look around to figure out where that wonderful aroma is coming from or else you might have an outbreak of mass panic.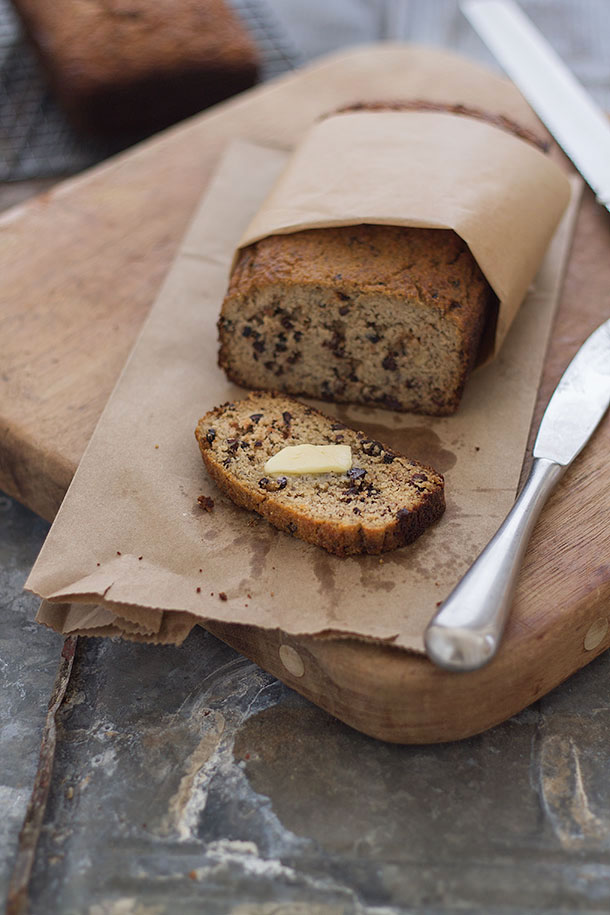 Banana Bread (Paleo, Grain Free, Gluten Free)
Ingredients
½ cup coconut flour
½ cup almond flour
1 cup very ripe banana mashed well with a fork (2-3 medium bananas)
½ cup butter melted + extra butter unmelted for greasing (preferably grass-fed or you could sub with coconut oil but it's way better with butter)
¼ cup cacao nibs
½ teaspoon cinnamon
¾ teaspoon baking soda
¼ teaspoon no additive liquid stevia or ¼ cup honey (can increase honey all the way up to ⅓ cup of honey or ½ teaspoon of liquid stevia but I wouldn't recommend going above ⅓ cup of honey or ½ teaspoon liquid stevia in terms of sweetness. In fact I actually prefer to stick to about ¼ cup of honey if you go to ⅓ cup you want to make sure you use the coconut flour I linked to above because it seems to be more absorbent otherwise just add a couple more teaspoons of coconut flour if it's too runny)
4 eggs
½ teaspoon vanilla extract
pinch of salt
Instructions
Preheat the oven to 350 degrees and grease a 8.5 x 4.5 loaf pan with butter and place a cut bit of parchment paper that fits in the bottom of the loaf pan inside it flat on the bottom.
In a medium sized bowl combine the coconut flour, almond flour, cinnamon, baking soda, cacao nibs, and pinch of salt and mix with a fork to reduce any clumps until thoroughly combined.
In a small bowl add eggs, vanilla extract, stevia or honey and whisk then add mashed banana to the egg mixture and whisk more until well combined.
Pour the liquid ingredients into the dry and stir with a spoon until thoroughly combined then add melted butter and continue stirring until well incorporated.
Spoon all of the bater in your greased loaf pan and spread it out evenly with a scraper and shape it in any way you want (specifically in the shape of a loaf so that it rises like that)
Place in the oven for 40-45 minutes or until the center is pierced with a toothpick and the toothpick comes out clean.
Pull out of the oven and let it cool slightly (only for a minute or so) then carefully run a knife along the edges to make sure nothing is sticking and cautiously invert it onto your hand or a wire rack and flip it so the bottom is laying flat on the wire rack and let it cool for 20-30 minutes. (if you can wait that long)
Notes
Update: for those of you who have had runny batter I believe it has to do with the brand of coconut flour, I think that Bobs Red Mill Organic Coconut Flour is slightly more absorbent than some of the other brands
. This is amazing sliced and toasted with butter in a pan. Just turn a pan to medium heat and add a butter pat to the pan and let it melt slightly then add the bread and swirl it around on both sides until it's toasted to your liking. Crisy-edged, warm and buttery goodness.