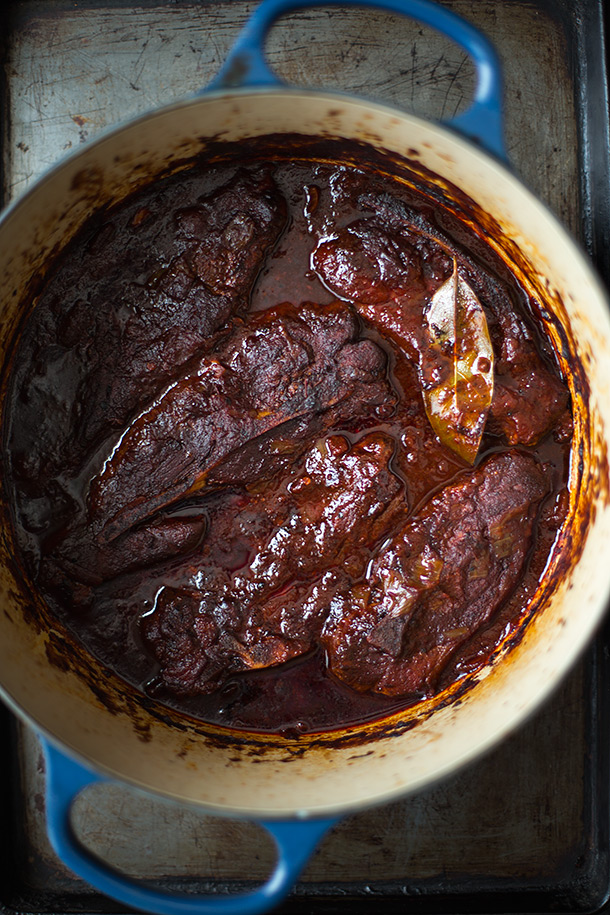 I frequently find myself looking for different ways to prepare meats. Sometimes it's as simple as trying a different cooking method with a frequently used cut but recently I have been looking for cuts of meat that I've never even cooked before.  Cuts like liver, heart, hocks, feet, neck; pretty much as weird as I can possibly get it. Mainly because I don't really view it as unusual, instead I view it as just another part of the animal. And as far as I've experienced, there is no "bad" part of the animal.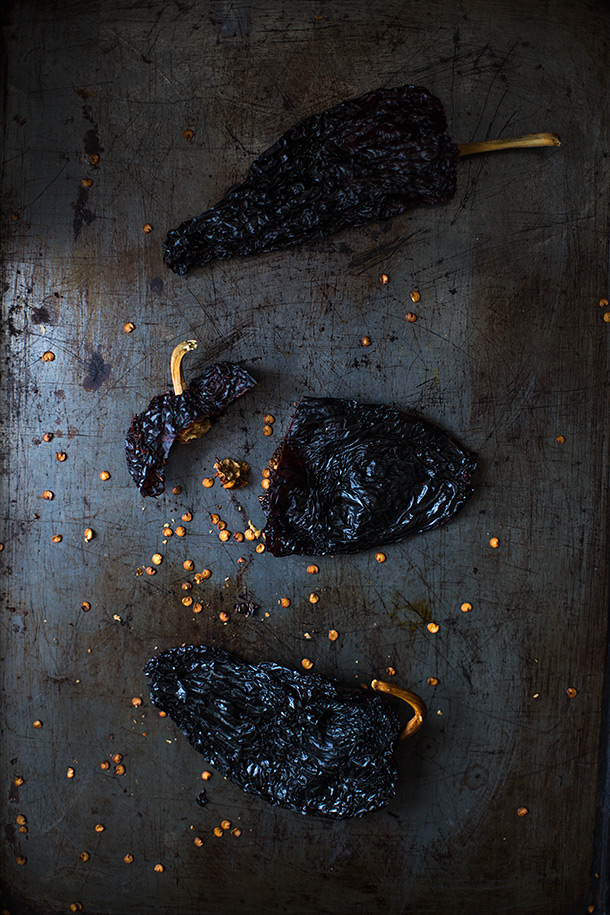 Since I was searching for any cut with a name that I couldn't recognize on my go to local farm Yonder Way's order form, I often skimmed over and ignored any of the cuts with words that I recognized like "ribs". Unfortunately, because of that, I was passing up Country Style ribs under the pork section for months on end. Finally after missing this wonderful cut so many times my eyes locked with the name, noticing that it didn't have wording for ribs that I was familiar with.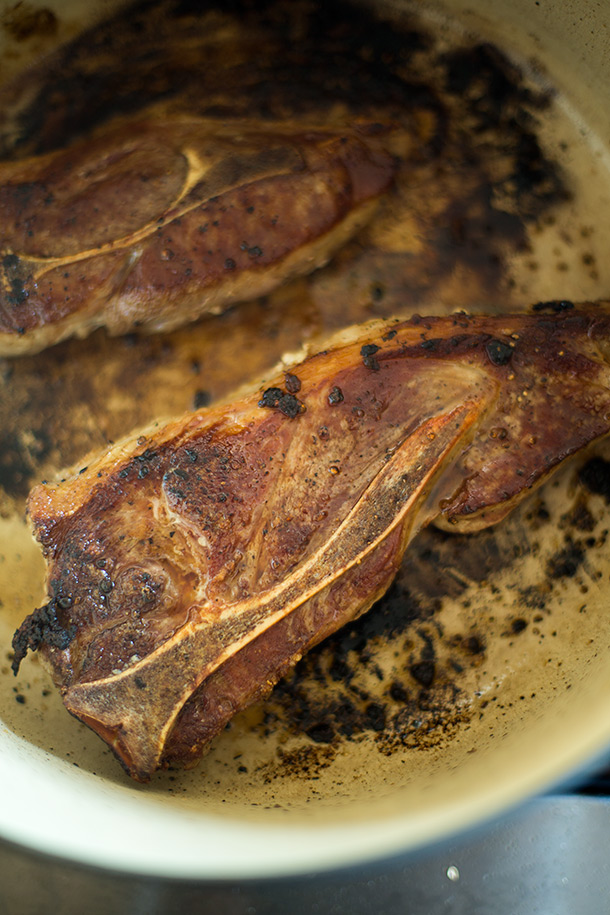 Of course I did my google research and ordered them right away; because, well ribs. I'm gonna be completely honest, this cut of pork may not have necessarily met my standard on the weirdness scale but I did fall in love with a cut that I wouldn't have expected to fall in love with. It's got a fair marbling of fat so the flavor is wonderful. There are also a variety of sections to the cut that give you a plethora of textures to eat through as you enjoy your meal. Ranging from tender to completely melt in your mouth consistency.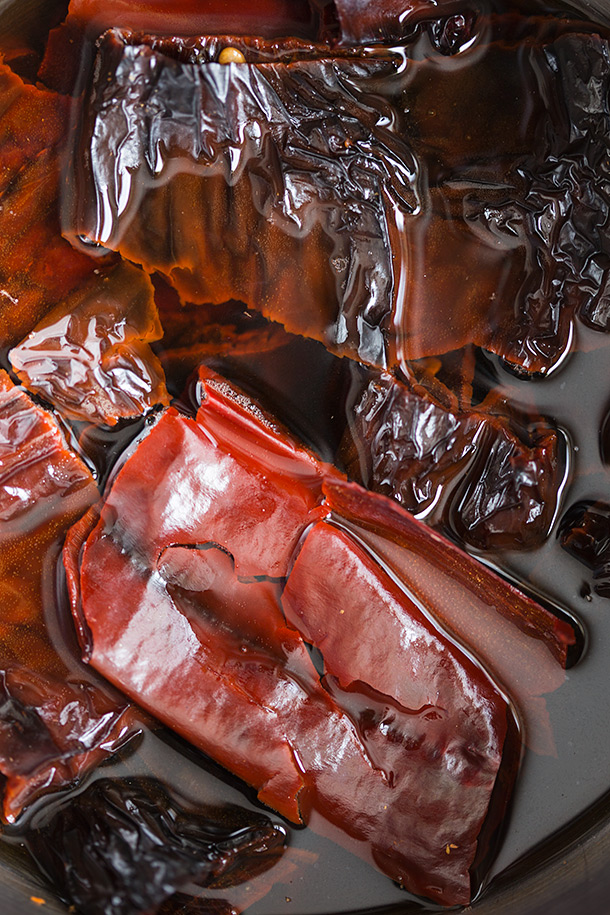 I guess there is a good reason those are my friend Jason's favorite cut.  He calls them the Farmers cut, and with good sense I agree with that notion. Especially since I slowly braised them and then finished them with a layer of sauce on top to caramelize to an intoxicating stickiness full of umami heaven. Despite the fact I went all out on flavor for this recipe, he mentioned that this cut can do a number of things other than being braised, even simply cooking them like a pork chop could have some promising results, but I'll have to report back with anything like that. In the mean time I prefer to cozy up to warming recipes like this one, especially with the way the weather has decided to behave lately.
Ancho Chile Braised Country Style Pork Ribs
Country style pork ribs braised in a sweet, piquant and smoky ancho chile sauce to irresistible sticky tenderness. First the ribs are braised in the ancho chile sauce and then in the final stages of cooking are finished with a layer of the sauce to caramelize on top of the ribs giving them an sticky umami packed layer of flavor on top of the ribs.
Ingredients
2½ pounds bone in country style pork ribs
3½ tablespoons ghee or other high heat cooking fat
2 cups water
3 dried ancho chiles
1 dried guajillo chile
½ cup diced tomatoes pulsed in a food processor to get a smoother consistency (not too smooth but not too chunky)
2 tablespoons apple cider vinegar
1 red bell pepper
½ tablespoon of tomato paste
1 medium onion chopped
4 cloves of garlic sliced thinly
1 bay leaf
salt and pepper to taste
Spice Mix:
1 teaspoon coriander seeds
1 teaspoon of ground cumin
1 teaspoon of salt
½ teaspoon ground cinnamon
¼ teaspoon ground cloves
½ teaspoon black pepper
½ tablespoon dried oregano
salt and pepper to taste
Instructions
In a medium sized pan dry pan, toast the coriander seeds over medium heat shaking the pan often to prevent burning for 2-3 minutes or until fragrant. Pour the toasted coriander seeds in a mortar and pestle or spice grinder and grind until you get a powder like consistency. In a pinch bowl mix together the toasted ground coriander with the rest of the spice mix ingredients.
Carefully snip the ends of the chilies off with kitchen shears over a trash can and shake out and many of the seeds as you can. The more seeds the spicier it will be, and if you get most of the seeds out then it will not be spicy at all. With the same pan you toasted the coriander seeds, toast the chiles tossing the pan to prevent burning for about 2 minutes or until the chiles have slightly softened and become fragrant. Place the chiles in a heat proof bowl and heat the water until boiling. Pour the water over the chiles, cover the bowl with foil, and allow to sit and soak for 25 minutes.
While the chiles are soaking place your red bell pepper over a gas stove so it's right above a burner and turn the heat to medium heat so that the flame is touching the bare pepper. This will blacken and char the skin, so you'll want to rotate it and char the whole thing, Once it's charred place the whole thing in a medium bowl and cover it with foil to rest for the remainder of the soaking time for the chiles.
Once the chiles have soaked pour the soaking liquid along with the soaked chiles into a blender. Remove the red bell pepper and peel the blackened skin off and cut the core, stem and seeds out of it leaving just the flesh and place the roasted pepper flesh into the blender along with the spice mix and apple cider vinegar. Turn the blender on and puree starting at low and then gradually rising to a higher speed until completely smooth.
Preheat the oven to 300 degrees and rinse and pat dry the ribs. Heat 2½ tablespoons of the ghee in a large dutch oven over medium high heat. Season the ribs with salt and pepper and brown them in batches to avoid over crowding the dutch oven; 2-3 minutes each side. As you finish browning each piece place them on a large dish tented with foil. Once your finished browning reduce the heat to low and pour out the ghee from the bottom of the dutch oven and dab lightly with a paper towel then place the pot back on the burner and add remaining tablespoon of ghee. Add onions and garlic and sauté for 3-4 minutes or until the onions begin to soften then add the tomato paste and stir. Let the tomato paste caramelize in the dutch oven for about 1 minute then pour in the diced tomatoes, ancho chile and roasted pepper puree, while scraping the bottom of the dutch oven. Season lightly with salt and pepper and stir then nestle the ribs in the braising liquid and pour in any accumulated juices from the bottom of the tray they were placed in.
Bring to a simmer and reduce the heat to low, add the bay leaf and cover the dutch oven with it's lid and place it in the oven for 1 hour and 15 minutes. (I recommend checking the ribs at the 20 minute mark to see if they're simmering too hard or not, if they are then cover it back up and reduce the heat to 280)
Once the ribs are done remove the lid from the dutch oven and flip the each of the ribs over with tongs being careful not to tear the meat. Spoon some of the sauce on the tops of the ribs and increase the heat of the oven to 375 and allow to cook for 15-20 more minutes or until the sauce caramelizes on top of the ribs. (optionally you could broil on high for 3-4 minutes instead which should achieve the same effect, but this is only if you don't have the extra time)
Serve each rib with a second slathering of sauce if you wish.
Notes
These are not spicy at all, ancho chiles are incredibly mild and are more of a sweeter pepper than spicy. Even my mom loved them and didn't think they were spicy, which is saying something. Lastly, don't be daunted by the list of ingredients, many of these ingredients you likely already have and you can find dried chilies at pretty much any local grocery store.
Make-ahead Note: These can absolutely be made ahead, in fact they can be made up to 2 day in advance and then refrigerated. Simply make them ahead as instructed but skip removing the part where you remove the lid and increase the heat as you will do this when yore ready to serve them. Once you've made them, place them in a baking dish along with all of the braising liquid, cover them with foil and refrigerate them. Once you're ready to serve skim off any hardened fat on the top of the sauce (there should be little to none so you don't really have to worry about this), then preheat the oven to 375 and place them in the oven covered with foil for 15-20 minutes or until hot and bubbly then remove the foil, flip them with tongs being careful not to tear the meat and baste each rib with the sauce, then broil them on high for 3-4 minutes or until the sauce is caramelized on top and serve.
Serving Note: If you don't know what to serve with these, they go wonderfully with my cauliflower tortillas, vegetables, on top of cauliflower rice or white rice. The possibilities are limitless with these.