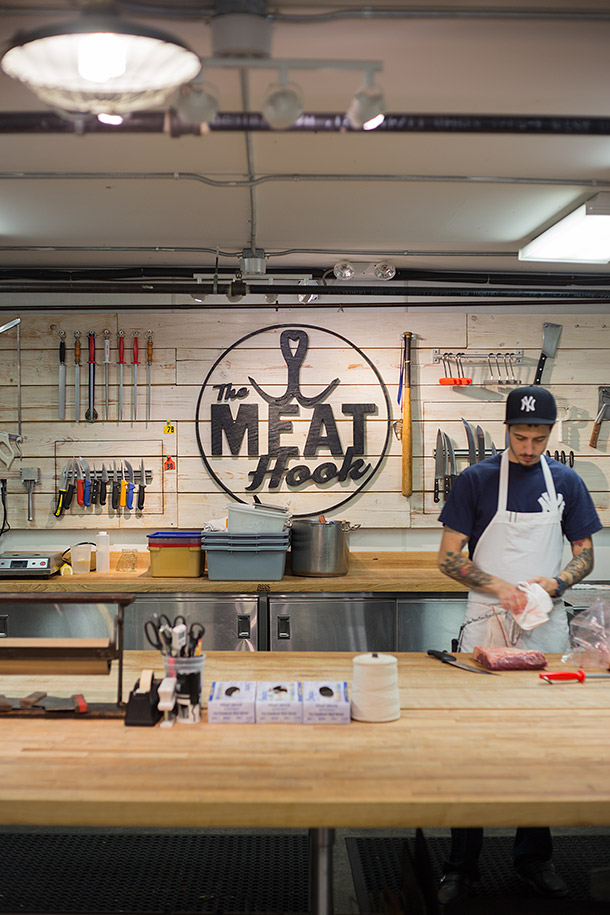 As I'm sure many of you already know by now, I recently went to New York to go see my brother Nick. Lucky for me he had a plethora of wonderful things planned, all of them food related of course. I was actually quite surprised with how much we actually fit in while I was there. I only stayed for about 4 days and we managed to go to over 14 different places combined in both manhattan and Brooklyn. The first day we made quick trips to several places including probably one of the coolest butcher shops ever by the name of The Meat Hook.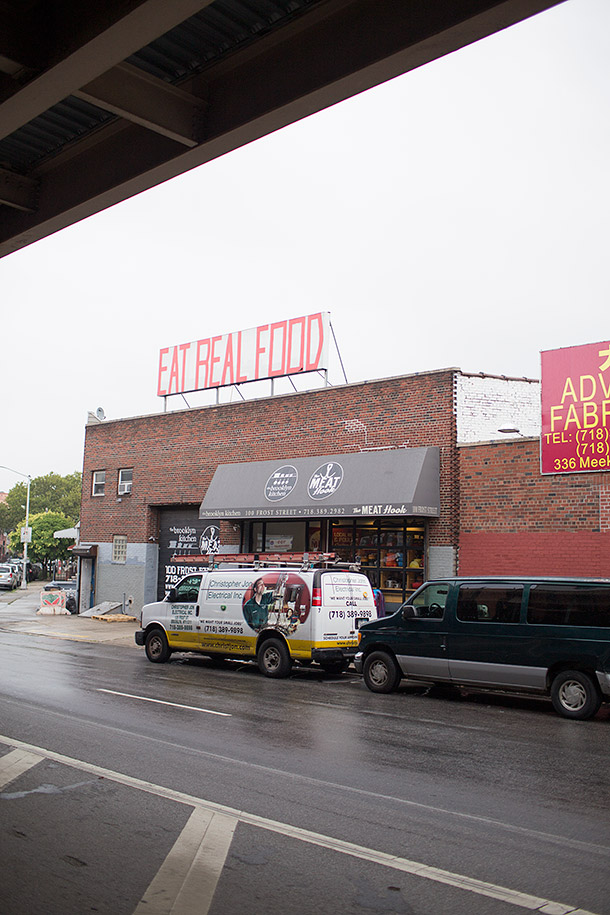 You can easily tell that they're awesome before you walk in just by the sign on top of their building. Eat real food, now that is something I can abide by. Sean of Underground Wellness would be proud. The Meat Hook specializes in all things meat and even have grassfed AND DRY AGED beef. If that doesn't get your blood pumping and your salivary glands overflowing then I don't know what will. I was pretty much sold after I had a nice refreshing talk with Mike White, one of the butchers there.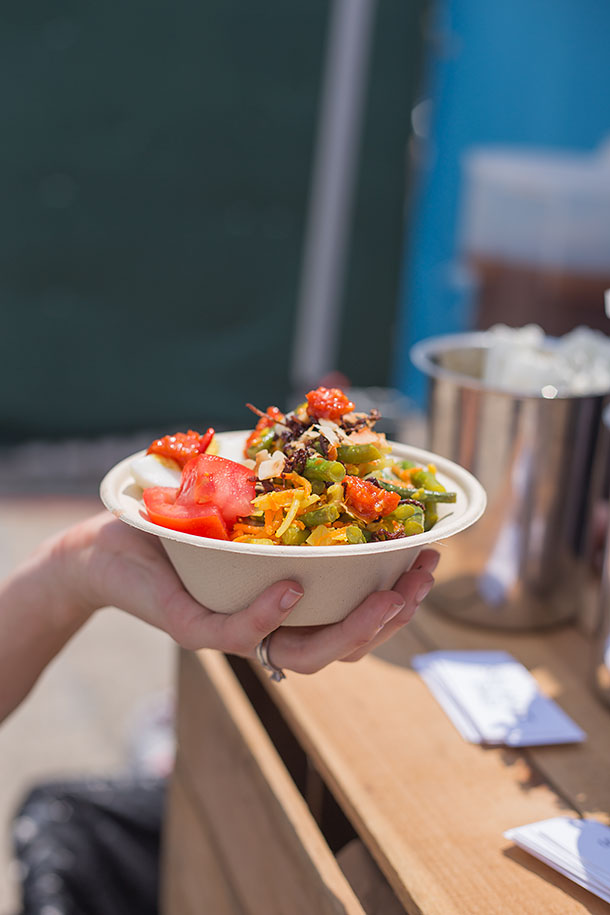 Post meat adventuring we made a quick run to Smorgasburg, which confused me at first when my brother said it aloud. So I asked my brother "Don't you meant smorgasbord Nick?" to which he replied with "No, smorgasburg, it's a place where theres a ton of food vendors and you get to eat a bunch of awesome local food.". Well you got me there nick, local food, lots of it and you can count me in. As soon as we arrived my brother told me that I should only get a lot of little things so that I get a chance to try multiple things before I get too full, as he proceeded to get the "pie shake" from one of the vendors. Come on man, I though we were in this one together.
Being an awesome role model for my brother Julia (his wife) got a nice and fresh bean salad, even though he seemed pretty content with his pie shake. I tried three different things, the first one being a chunk of bacon and chili powder on it. I don't really know how to describe the taste other than it was like eating a really big piece of bacon, in other words it was magnificent.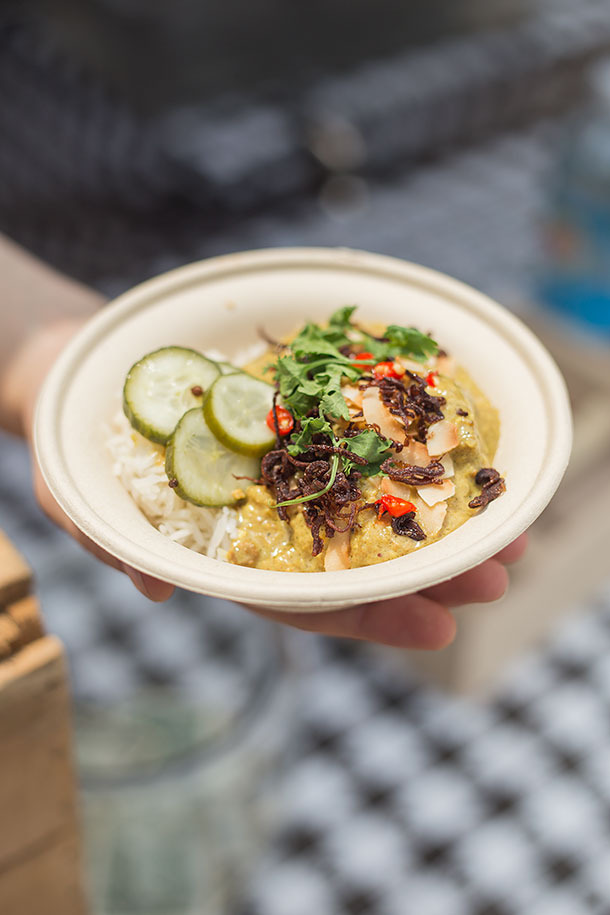 Next and surprisingly probably one of my most favorite things to have eaten while I was in New York was this beef Rendang by a new restaurant and stand there called Selamat Pagi. The meal was small and the talk with them was brief but I still think about that dish from when I first tasted it. I am a huge fan of curries and pulling off a good one is incredibly difficult for those of you who haven't tried making it yourself. This is literally the best beef Rendang I have ever had in my life. Perfect balance of spices, a nice and complex robust sauce with just the right amount of heat so that it wasn't overwhelming but complimented the rest of the dish to leave a nice tingle on the tongue. They even put some of their fresh house made pickles on the side to cool down the heat if it was too much for you. Just thinking about it makes swoon for another bowl. Another really cool thing that I recently discovered is the beef in it is grass fed, the moment I found that out they completely won my heart.
They just opened their restaurant I believe, so if you leave anywhere near Brooklyn I highly recommend checking them out and telling your friends, it's probably one of the only places to get curry that is this good and grass fed.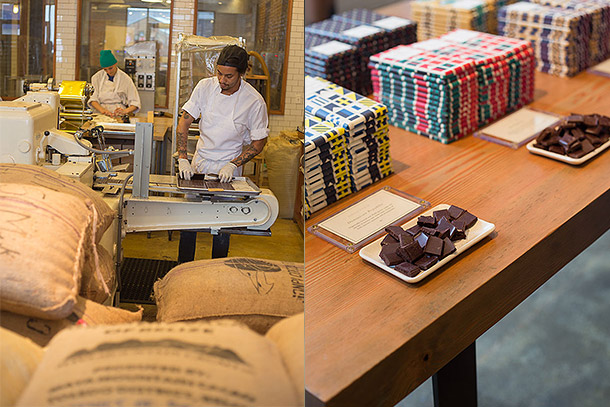 Next we made a quick pitstop at Mast Brothers Chocolate, to which I made sure we didn't spend to much time in. The overwhelmingly powerful scent of chocolate filled the room making it impossible to think in complete sentences. The smell in there is so incredibly intoxicating and condensed that it's like swimming in a pool of chocolate. Not necessarily a bad thing though, actually I take that back it is a bad thing, it's a ticking time bomb for over indulgence which is exactly why I didn't stay too long. I still love them to death though because they use some of the highest quality ingredients and they're certified organic so if you're going to indulge they are a pretty good choice.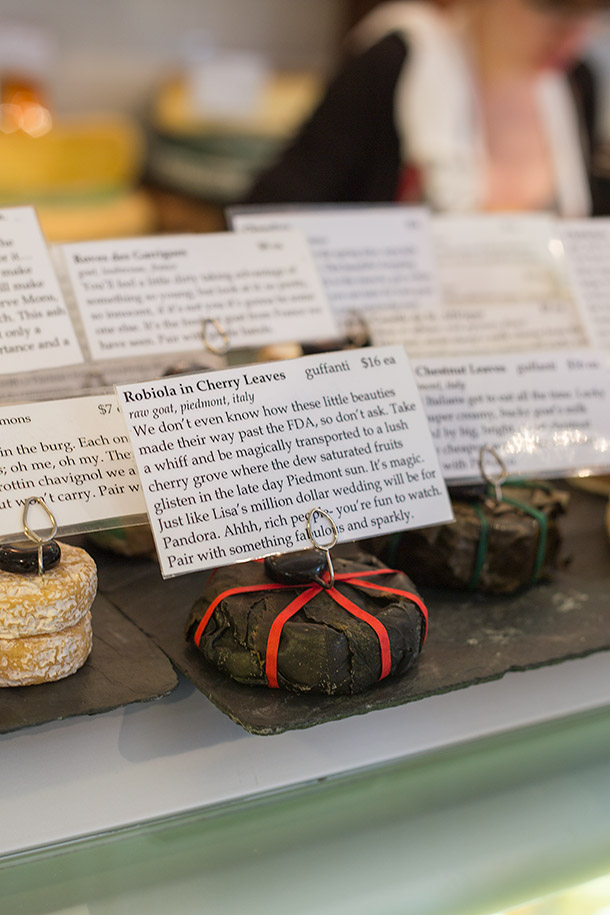 We also stopped by a cheese shop because, properly made cheese is awesome and one of the answers to life's problems. They had an ocean of raw goat cheeses so I went for some of the more aged and of course triple creme  cheese. It was basically like a super melty creamy goat cheese. When you cut into it the cheese would ooze outside the edges, it was as close as you could get to cheese porn.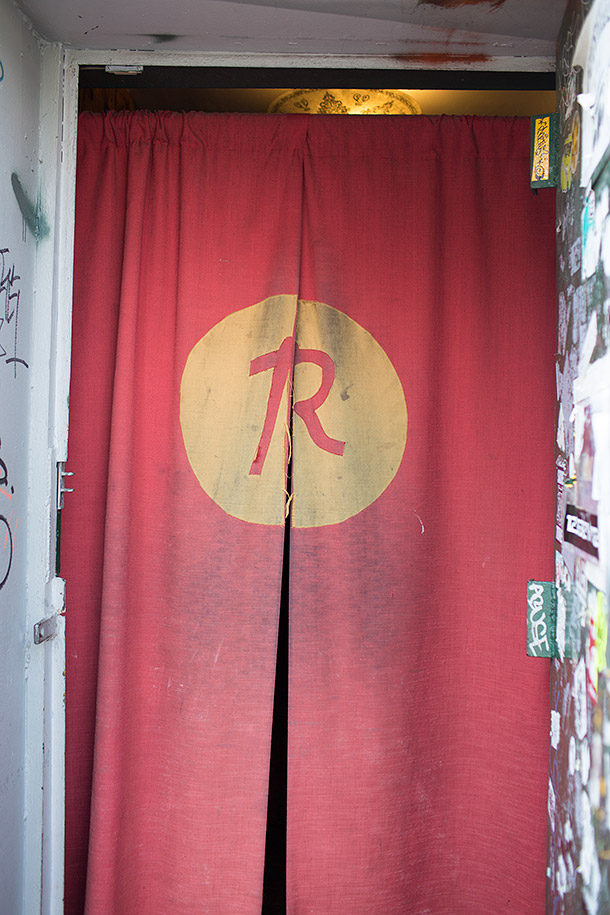 The day started to dwindle down and the night life of Brooklyn began to emerge so my brother finished up by showing me a small place called Roberta's. We were going to order a snack but it turned out that they only served pizza at that time and because my brother is so awesome and aware of the way that I eat we just looked around. The entrance was pretty interesting though being a drab looking worn out drape with an R on it. Mysterious and enticing, I like it. Next time when they rotate their menu I plan on going though.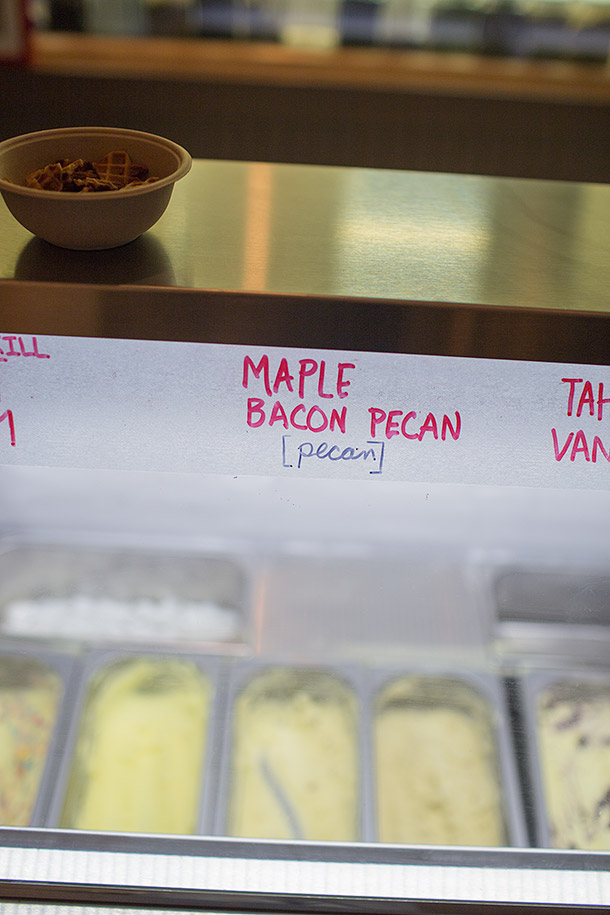 Instead of Roberta's we met up with some of his friends and they all immediately decided it was ice cream time so they dragged me along to a local ice cream joint called Odd Fellows. When we got there I began dreading about being tempted into getting anything that wasn't so great until I found out that it was grass fed and all locally sourced, thus making my worrying invalid of course. Sugar is sugar is sugar, but I digress. Their flavor choice was limited but all of them were good, I made the inevitable choice of maple bacon pecan and chocolate of course.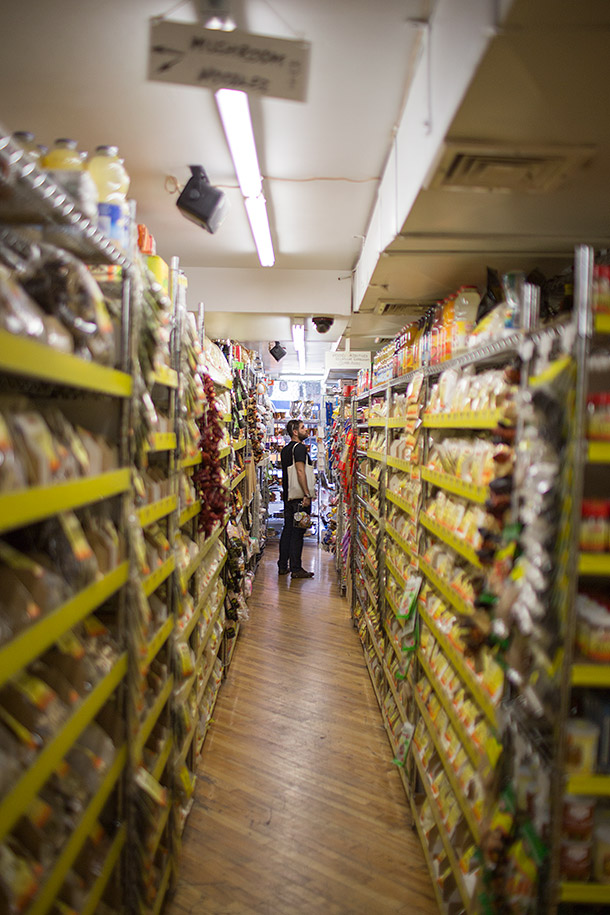 The next day we made a great trek around manhattan mainly hovering around spice shops. The spice shops were a really exciting event for me because I was able to grab a bunch of ingredients I can't normally get like fresh Kaffir Lime leaf and other goods. By the way the mass amount of spices you see in the shot above are not even half the amount of the spices in Kalustyan's, it was ridiculous. They even had Pure Indian Foods Ghee there which made me incredibly happy, then again I always get happy when I see a jar of grassfed ghee. After prancing around in the spice kingdom we went back home to cook up some grass fed, dry aged steaks from the Meathook. Long story short they were amazing.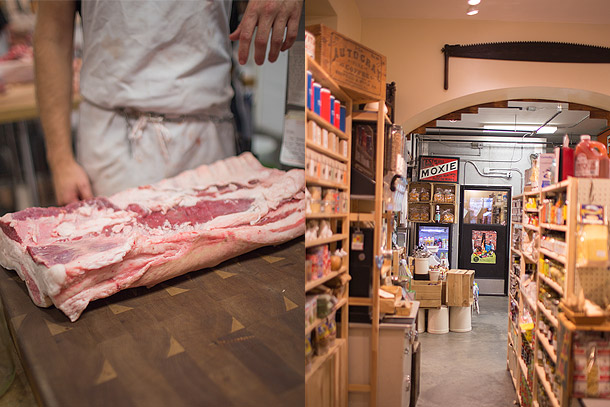 On my final day I was given freedom. An entire day to go figure out what to do. So my first decision was innate, which was to go revisit the meat wonderland of The Meat Hook to get a slab of pork belly to bring back home to the folks because I couldn't stop thinking about it with Beyond Bacon in my House. I also had yet another refreshing chat with Mike again. I like that guy, I could have a good steak a nice chat about meat sourcing with him.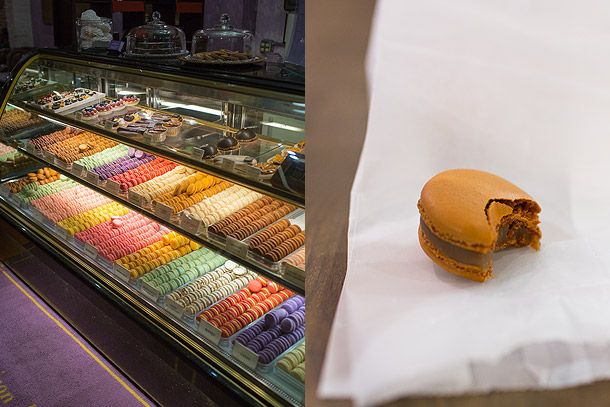 That's when it occured to me that I hadn't gotten anything for my parents. So I thought for a while and remembered seeing some mentioning of a macaron mecca in Manhatton. So I trekked my way from brooklyn to manhattan having never traveled a metro in my life let alone by myself. But I made it there safely, only for my phone to die the second I got there. After a phone charging pitstop I finally made it to La Maison Du Macaron. I quickly made my flavor choices of macarons for my parents, my brother and his wife but haulted as I exited the door.
I realized that I had never actually had a Macaron in my life.  So I made a slightly poor decision and had a couple and I've gotta say that they were well worth it. I got the Caramel Fleur de sel and the hazelnut flavor. Both were absolutely amazing, especially the caramel fleur de sel. A nice crisp and airy outside with a delightfully chewy and salty-sweet caramel in the middle. Although I do wish that I had not gotten those two together becuase the Caramel Fleur De Sel was so powerful that I could hardly taste the hazelnut because it was so subtle tasting. I suppose I should have eaten them in reverse order.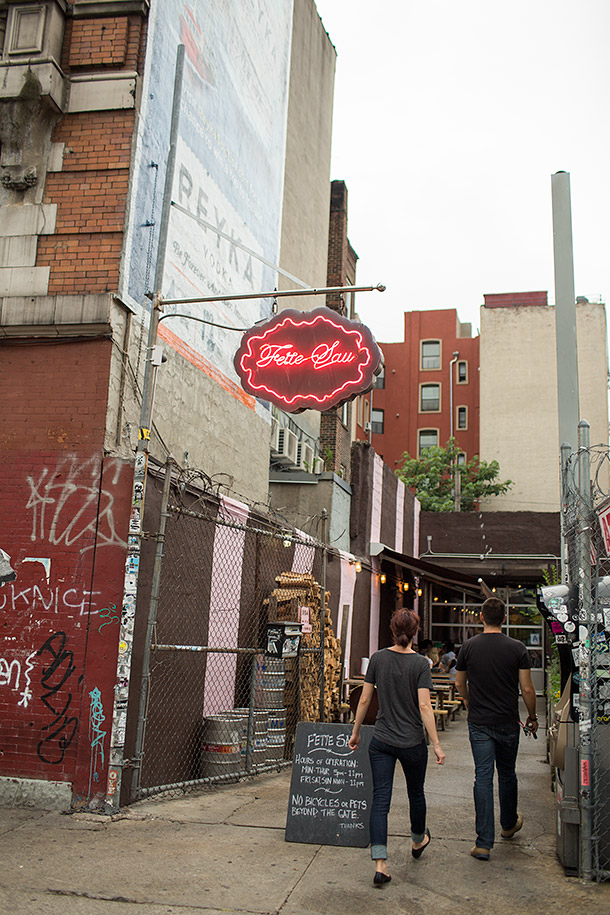 After my running around New York by myself I met back up with Nick and Julia at their apartment where we made our decision to end the trip with a visit to Fette Sau.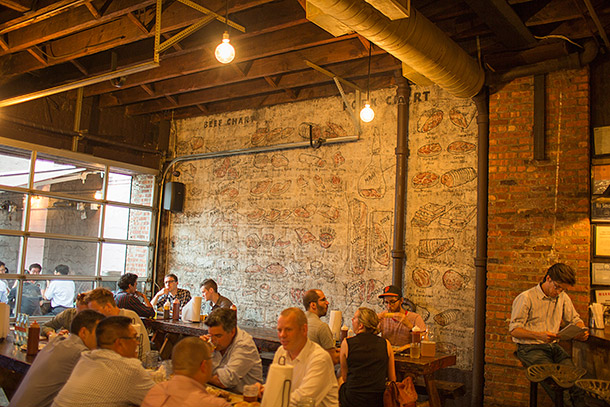 Now this place, was my kind of place; a meat empire. The walls were cluttered with interesting meat cut layouts and patterns and it of course was filled with the great scent of various smoked meats.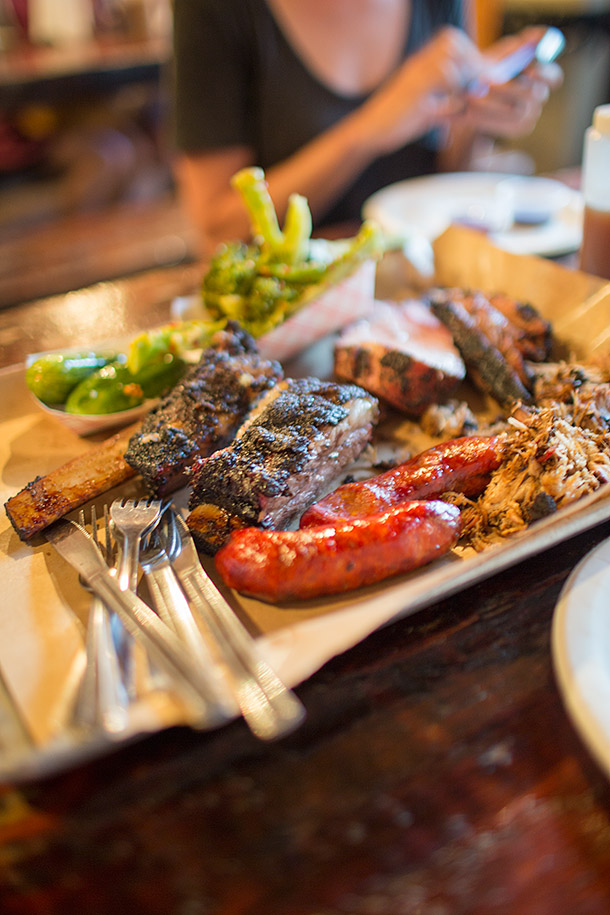 Then came the hardest part, deciding what to order. Instead of freaking out I made it easy on myself, order almost everything of course. So we made an order of pretty much one of everything including their short rib, pork chop, pulled pork shoulder, and spare ribs. Now the pork shoulder was completely my idea and I was willing to share, but my brother kept nonchalantly grabbing more than his fair share so I made my own reserve of pork shoulder on my plate.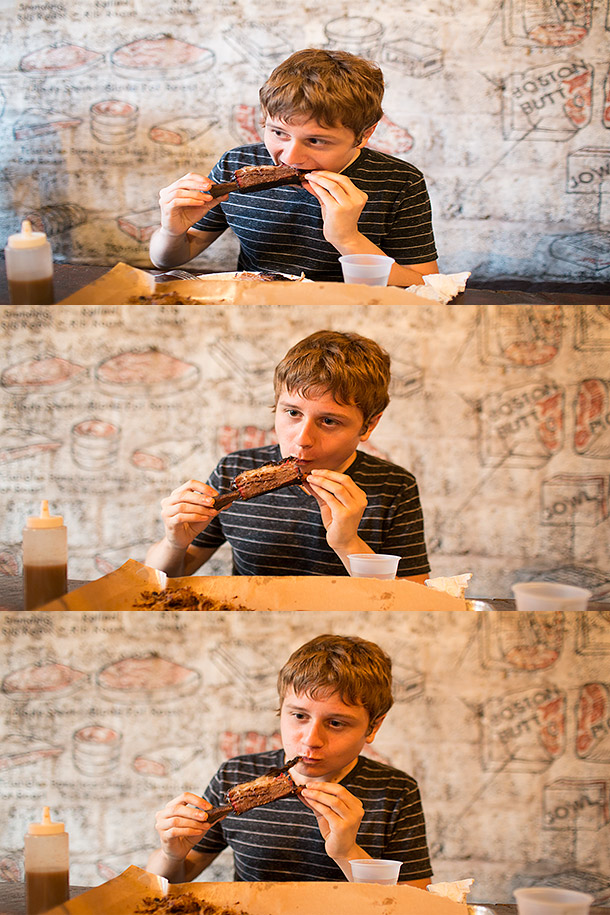 Nick managed to grab my camera and snap some interesting shots of me preying on a rib. Majestic is it not? It's hard to keep yourself from looking goofy when eating a massive short rib, but I was too busy being distracted by the utter tenderness of the rib to be worried about the shots he got of me. I'm just glad that there weren't any embarrassing pictures with me smiling with a greasy face at the camera. Not that they're on my camera and I'm just not uploading them or anything.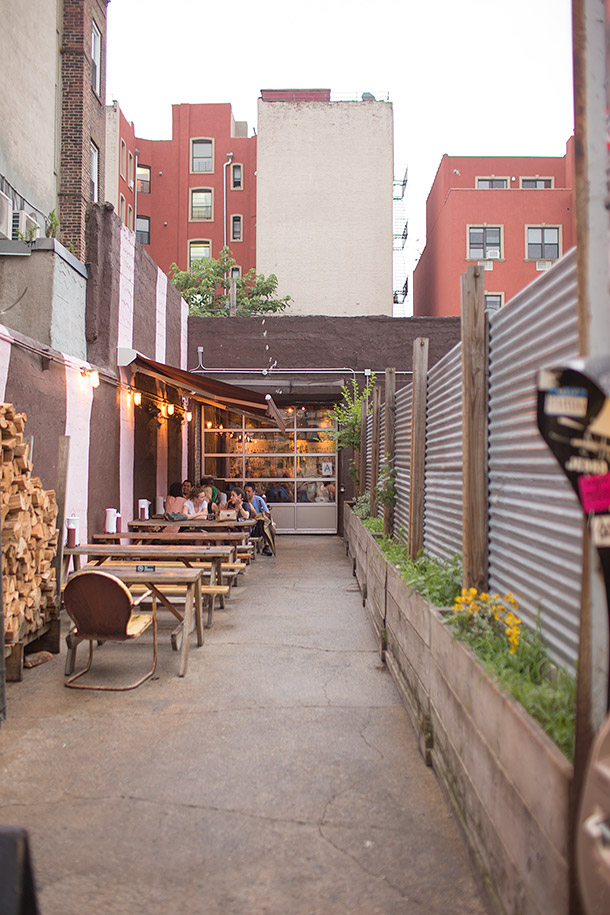 Tips on places to go and what to order in Brooklyn and Manhattan: In terms of eating I highly recommend making a stop by Smorgasburg, it's a great to start off an eating adventure because they have so many choices there. Of course all of the Momofuku places are amazing so any of those are great choices. For barbecue, and yes I know what you're thinking, it's New York why  would you want barbecue? Believe me you don't want to skip out on Fette Sau, just be sure that you go at an irregular time or day to eat becuase the typical times for eating usually have the place packed and you're going to end up waiting at least an hour. Friday through sunday are the probably the worst days you could go to Fette Sau because that's when they're most packed. We went at 6:30 on a Monday and there was practically nobody there so we got our food right away and sat down. All of their food is great but my favorites were their berkshire shoulder and their short rib.
Although I didn't get any shots of me being there my absolute favorite place for breakfast or even a quick lunch is Five Leaves. They look like a tiny cafe but they have a huge assortment of clean eats there, in fact almost everything there is organic including their coffee, which is absolutely wonderful. All of the staff are super friendly and they are very accommodating to any way of eating. If you want a wonderful and refreshing breakfast to start the day this place has a lot of veggie side options with your eggs and they have awesome house made chorizo and thick-cut bacon.
The Meathook is a really fun place just to go to and look at but if you're going to go there you might as well pick up a dry aged grass fed steak to cook up, all of them are good but I really enjoyed their hangar steak and ribeye. Their roasted garlic and herb sausage is superb as well and highly recommended. After seeing all of this I think it's pretty obvious that eating clean or Paleo in New York especially Brooklyn and Manhattan is incredibly easy and fun.
If you're a spices person there are a number of spice shops to stop by dotted around the area but my favorite place was Kalustyan's. They have just about every curry spice and specialty cooking item you can find packed into one store, in fact I found some of my favorite curry pastes there. I also went to a place called Dual specialty store which is where I picked up some fresh curry leaf and kaffir lime leaf. Just be sure to keep a vigilant eye because there store is packed away on the side of the street and somewhat difficult to see.
I also recommend making a stop at one of the Greenmarket Farmers Markets. It's literally the most massive farmers market I have ever seen, and they have a gigantic variety of local foods and things you can bring back home. I brought back some pickles and sauerkraut that made it home but the pickles container popped open in my suitcase during the flight so my suitcase smelled like pickles, but they made it back and in tact.
Lastly if you're going to be making any trips anywhere by metro be sure to bring your phone charger with you if you're going to navigate with your phone, the maps on the iPhone seem to drain the battery like nobodies business. Lucky for me I brought my charger with me so I just made pit stops at coffee shops and what not to get a quick battery recharge and a water or tea.
Related Links:
Fette Sau – Nom Nom Paleo