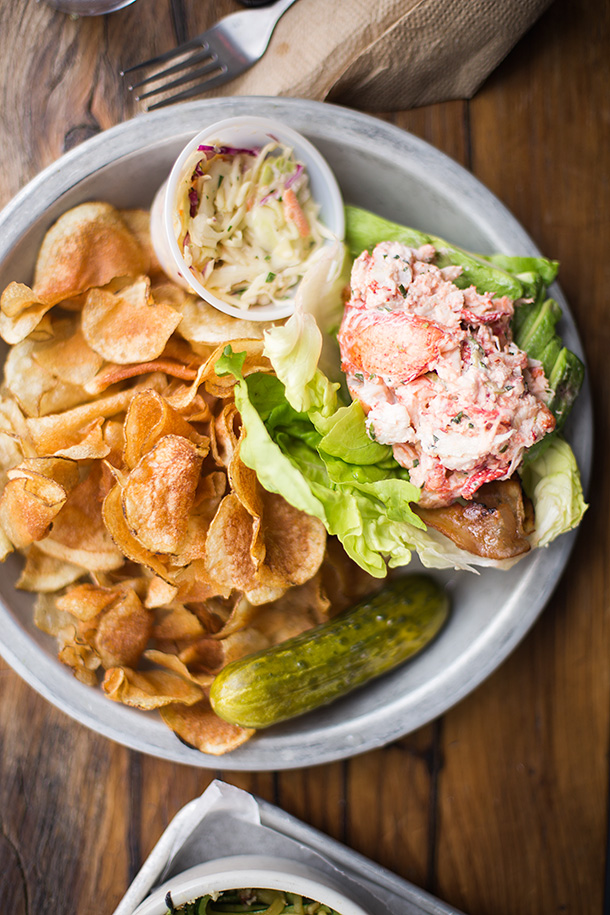 Once I finished the signings for my cookbook in New Jersey and New York City I still had an entire day left until my flight back home. I promptly woke up in the morning to devise a schedule which really ended up being only one location which was Lobster Joint; recommended by my brother. Other than the threat of being mugged on the way to the place, my lone subway travel was fairly enjoyable. Before you start asking questions about the mugging I'm fairly certain the old guy that was threatening me of this had dementia of some sort, but I'm not entirely sure, I'm totally fine though.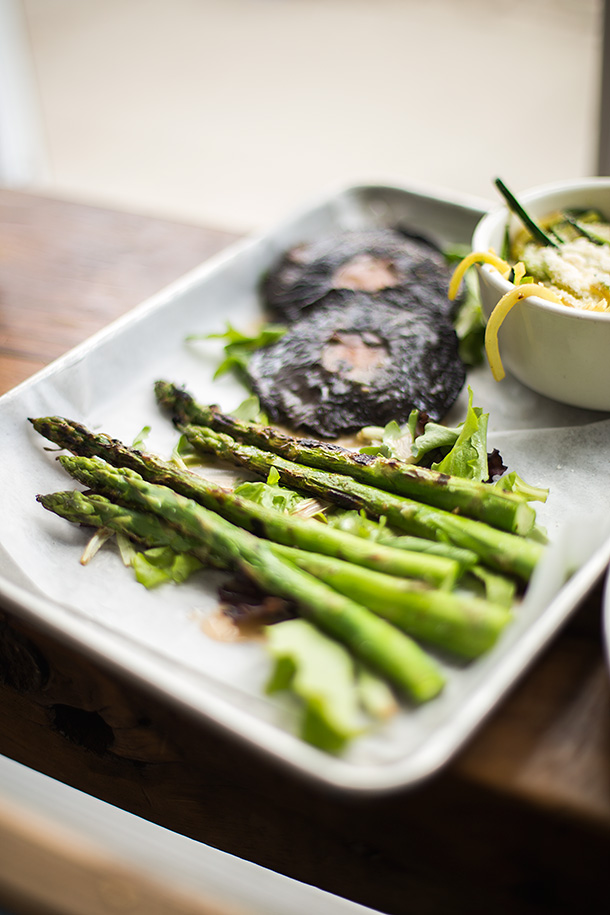 I ordered the Lobster Club Roll with a side of house made chips because the kind and upbeat hostess offered a gluten free version on a lettuce wrap. I also ordered two veggie sides, the asparagus, portobello mushrooms, and the sautéed zucchini which happened to actually be in noodle form. The lobster roll was incredibly good, in fact, arguably one of the best lobster dishes I've ever eaten. Each bite had a generous lump of cool and refreshing lobster salad with a contrasting saltiness from the bacon and a nice addition of texture from the avocado. The portobello mushrooms were actually soaked in  a house made vinaigrette which kept making me want to go back for another bite from the invigorating slight sweetness and zing.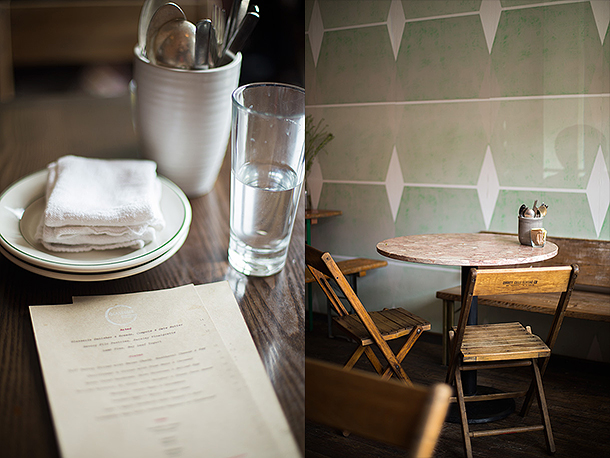 Once I finished eating at Lobster Joint I coincidentally received a text from my brother saying that I should also try a place called The Glasserie. I thought to myself that I wasn't really that hungry but also feared the fact that it was my last day there so I went ahead and started walking over there to at least take a look at the place. Naturally I ended up walking in and getting seated. At this point there was no turning back so I figured I might as well order a few things while I was there.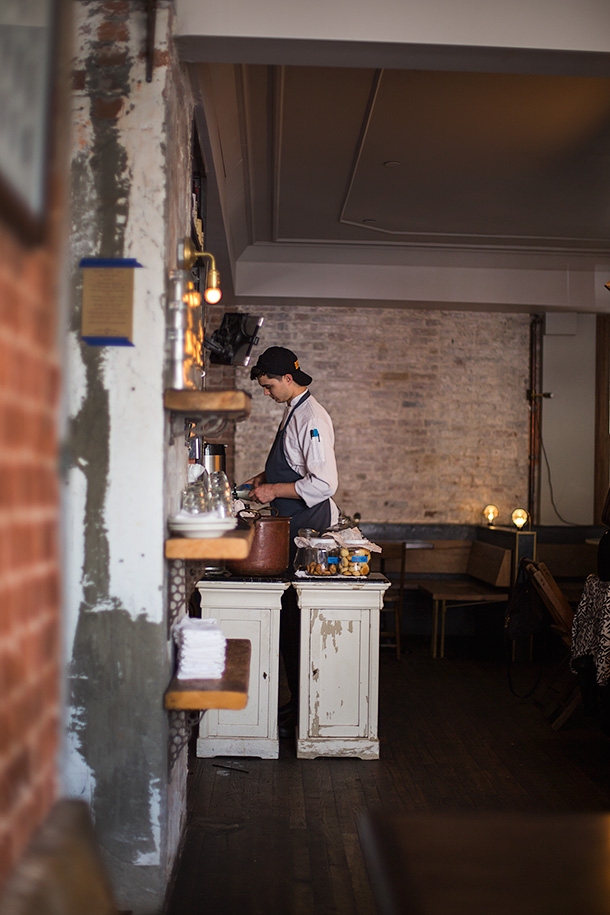 The menu, the location, the decor, and atmosphere was just perfect. Out of all the places I went this was my very favorite along with The Musket Room. Everything about this place screamed my kind of style. Minimalist, slightly rustic, monotoned, lovely. Definitely worth a "second lunch".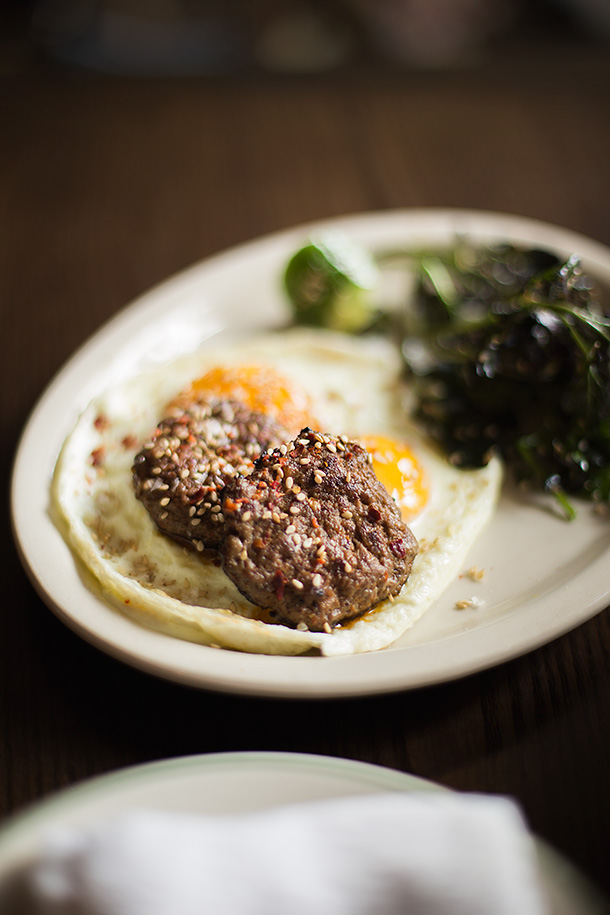 After pondering the menu and talking to the waiter about being gluten free he promptly pointed out that practically everything could easily be made gluten free. I always feel a little weird about saying this to waiters/waitresses sometimes but this waiter was very understanding and made me feel very comfortable. At this point I was ready to give all the staff of the restaurant a hug. I went ahead and decided upon the Cauliflower Citrus Salad with Pine Nuts and Caraway, and the Merguez, sunny eggs, and cucumber.
The Merguez sausage was wonderfully aromatic, lightly spicy, and sweet, while the sunny eggs were cooked perfectly and paired well with the sausage. I noticed that they also placed everything atop some sort of cream, which by tasting I assume was creme fraiche.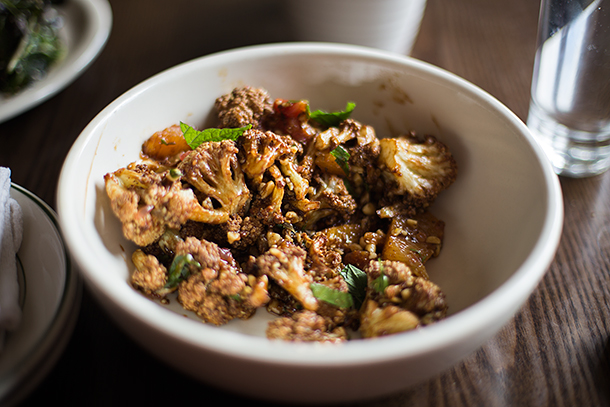 My very favorite out of the two was the cauliflower though. This dish was so good that I made a second order of it to go home with me, and I never ever do that. A golden bronze of browning coated each floret and the tops of them were astoundingly crispy. I asked the waiter if they deep fried it in order to achieve this kind of browning but he said that they just made it in a pan. I'm still not entirely sure that was true because these were just too perfectly browned to be done in a pan but who knows, maybe The Glasserie is just that good.
In addition to the beautifully browned crispiness on each floret, they were also drenched in an umami packed, fragrant, and citrusy sauce that made my mouth water like niagra falls ever time I began to bring a floret to my lips.  Each and every piece of cauliflower was intensely flavored and had small nuances of caraway as I occasionally bit into a seed. Half way through the dish I was beginning to feel the intensity of the dish overwhelm me but then I bit into a sliver of mint which entirely balanced everything out right away, thus preparing me for another bite. This cauliflower dish has made an imprint on my mind and I will be attempting to replicate it as soon as possible.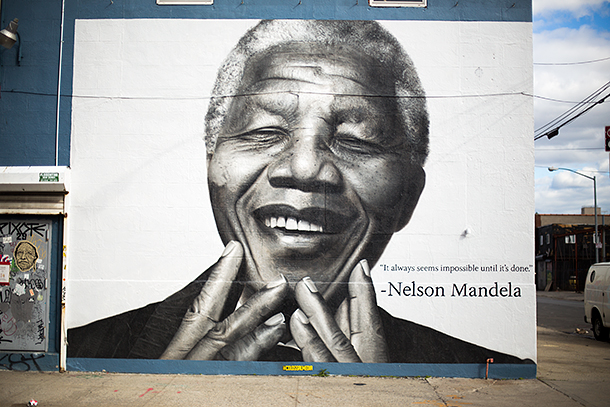 Post "second lunch" I received yet another text from my brother. This time saying "okay, now go to Achilles Heel.". Now that I was entirely satisfied with my meal I told myself I would just take a look inside this place. So I walked in and ordered a coffee. And some house made mortadella, lamb salami, and pickles… Clearly I was trying to fit in as much as I could on my last day in New York. Maybe a little too much. Good thing I was walking all over the place and I'm trying to gain weight (muscle weight that is).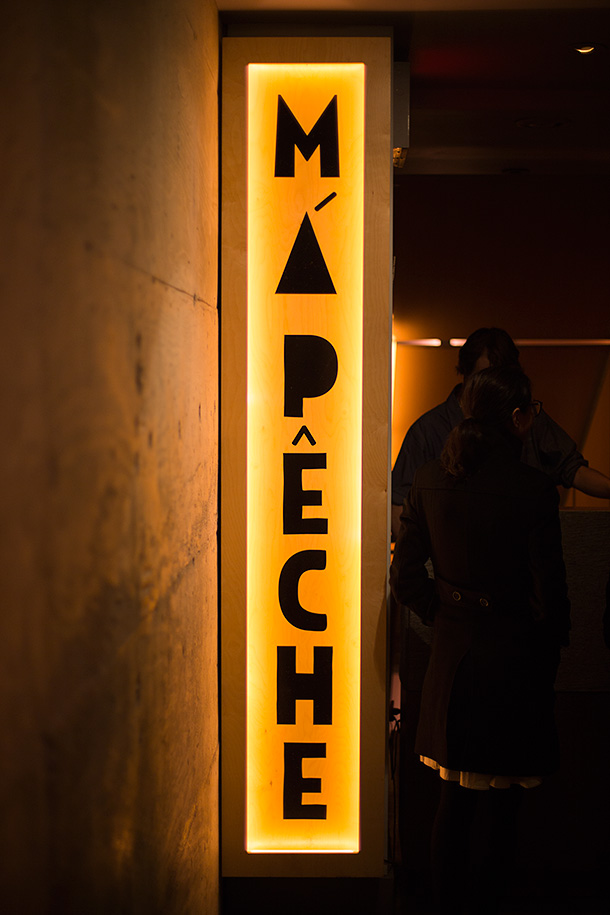 After my "triple lunch" I went ahead and took my leave to head to a speaking event from the author of the book Umami. It was a great speaking event but it also had tastings at the event. Which I also tried. Now I made the promise of myself to stop here because we had reservations for Momofuku Ma Peche in a couple of hours. Believe it or not, my hunger came back to me once I arrived at Ma Peche for dinner.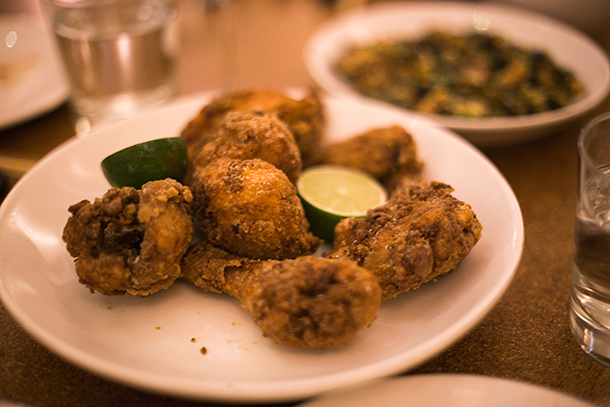 Everything at Ma Peche was served Dim Sum style, which is essentially when they walk around with little carts and you ask for stuff off of the cart. They also had a menu to order larger portions to share which we also ordered off of. The first thing we got was the gluten free habanero fried chicken, which was pretty mind blowing since I hadn't eaten fried chicken in quite a while.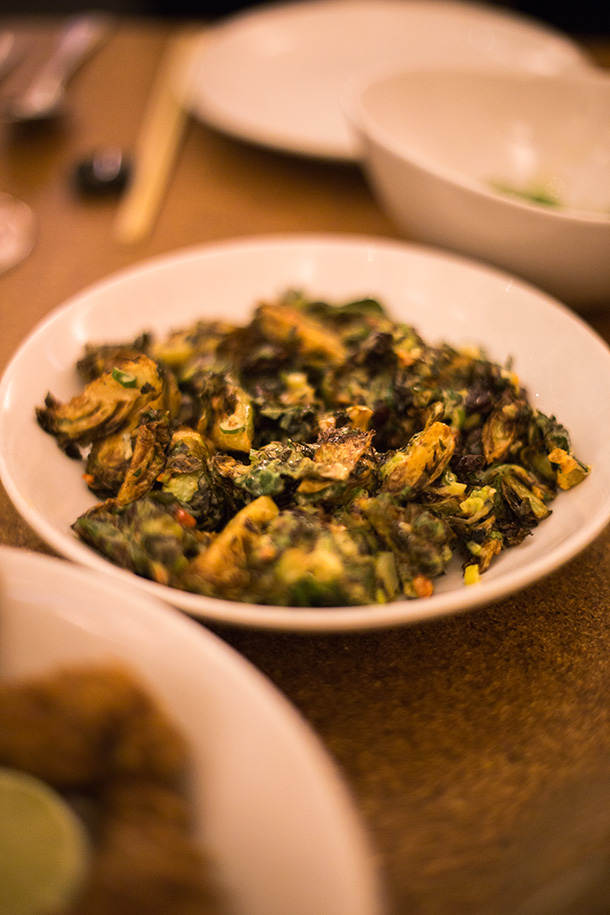 Of course I ordered the fried brussels sprouts because, duh, brussels sprouts are awesome. The texture was wonderful and they were tossed with a tangy mayonnaise and flecked with chewy dried cherries. Definitely an interest and wonderful take on my favorite vegetable.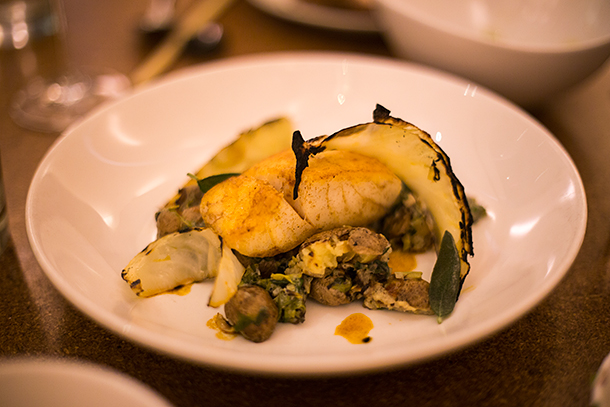 We also tried the cod with sage and berbere which was surprisingly delicious. Cod tends to be on the less flavorsome side of fish but this one was incredibly well seasoned and fragrant form the herbs and spices. I especially liked the little pieces of crispy fried sage that you could enjoy with a flake of tender fish. This isn't all I ate though, I also had plenty of what the dim sum carts were carrying around including short rib, ceviche, broccoli salad, and a couple of others but can't recall all of them. There wasn't a single thing that I didn't like.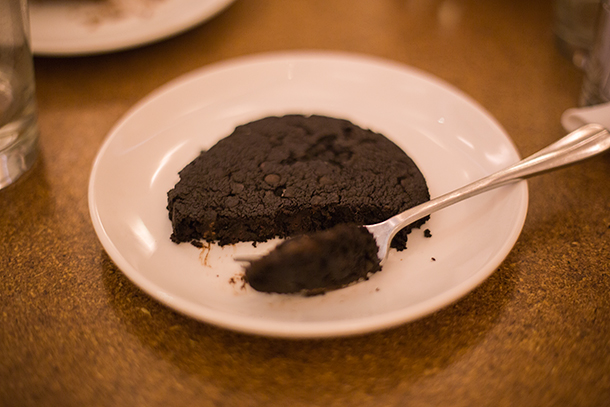 Lastly I was slightly disappointed with the gluten free dessert options from the Milk Bar because all they had to offer were cookies and I've heard so many amazing things about the milk bar. Though I understand completely, they're not super interested in making their desserts gluten free, their more interested about making them tasty, and I totally get that. Nonetheless I ordered a double chocolate cookie, which was incredibly good and wonderfully sweetened. It didn't really have much of a cookie like texture though, it was very fudgey and cake like. Kind of like, well, a fudge cake. Regardless it was exceptionally chocolately and incredibly decadent.
So I think there are a couple of things you probably learned about me here. Mainly the fact that I can put down quite a lot of food in a relatively short period of time.