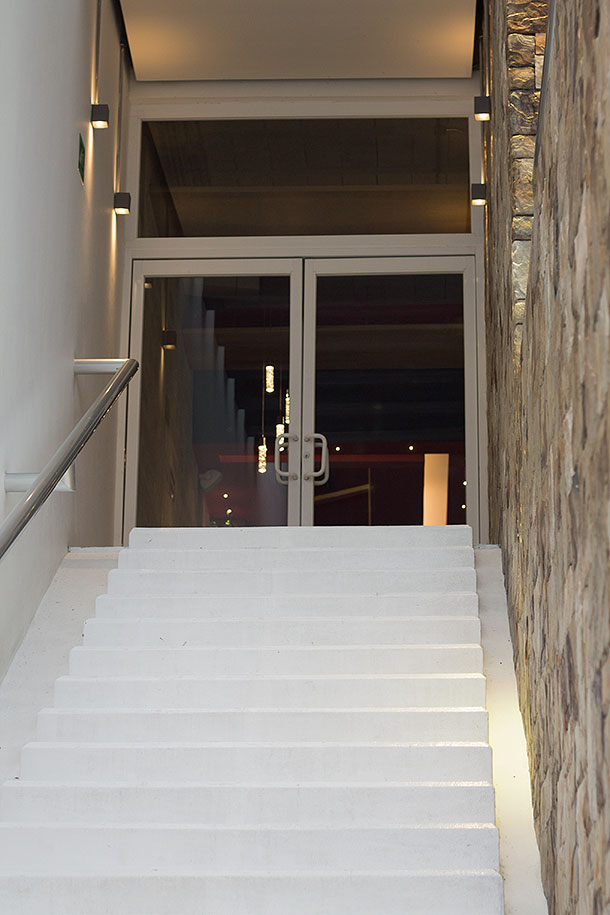 Cozumel is home to many nice little niche areas to eat with quality local fare handled with artisanal care but is slowly becoming commercialized with the onset of frequent tourism. With the commercialization of restaurants popping up you might get fooled into going into a restaurant that looks authentic but really isn't and is just a part of an organization.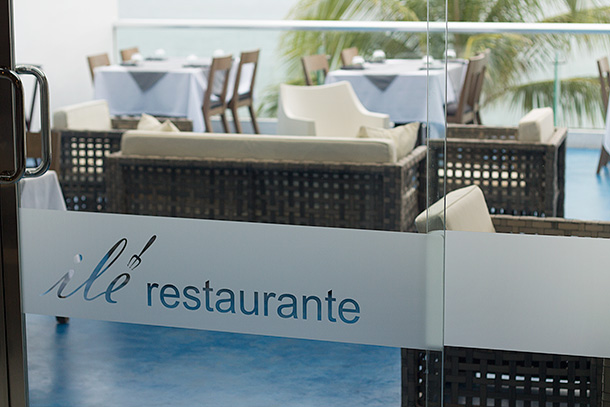 As these monopolies rise I would imagine that it is probably a little bit difficult to start a restaurant without getting stomped out. The niche places that have been there a little while still have some holding ground so they can most likely survive but amongst all these great restaurants and not so great restaurants a new one recently was set in motion and quite boldly if you ask me. The name of the brave place is Ile Restaurante.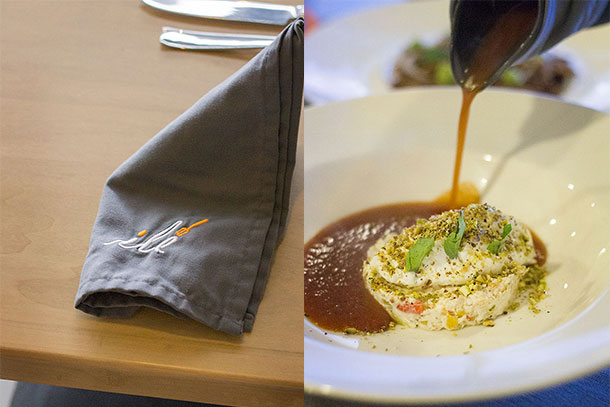 Ile Restaurante was started very recently, it's only been up and running for a few months and was started by Carlos Castillo. Carlos had just moved to Cozumel and with his ventures in being an avid foodie he stood up and started his restaurant (or better yet "restaurante"). With his restaurant being so new among many longstanding small places and towering commercialized places I feared that it might not last. With only a few days left in Cozumel I headed out after seeing a few very persuasive Trip Advisor photos.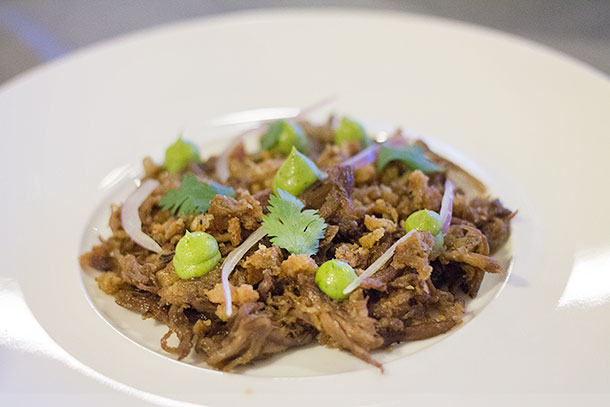 The second I arrived I was completely engulfed by the wonderful and gorgeous atmosphere, far superior and different to many of the competing restaurants. I was a tad shocked walking in though because there were almost no people in the restaurant, in fact I think we were the only ones in there at our entrance, it may have just been a slow day that day but I thought it was still quite oddly empty. Depite that we stayed because the quirky and energetic waiter really got us going with his foodie talk and obvious passion for what he and the restaurant did, which to me is always a good sign.
We started our order with two appetizers, Carnitas De Pato (Duck Carnitas) and a Roasted Tomato Soup with compressed shrimp and goats cheese.  Ironically the night before I had been thinking about how duck could make great carnitas and it's easy to say that Ile Restaurante pulled it off very nicely, they were crispy on the outside and melty on the inside. I especially loved the fact that they took traditional Mexican fare like Carnitas and turned them into something a little more extravagant and fun.They were served with elegant dots of pureed guacamole, thinly sliced red onion and cilantro and a spicy tomatillo salsa on the side. Next was the Roasted tomato soup which was served with the cool goats cheese and compressed shrimp in a wide bowl and then the waiter poured the steamy hot elixir around the centerpiece until bowl was decently filled and a bit of the goats cheese stuck out at the top. This one was one of my favorites, the soup itself was perfectly spiced, the right amount of salt, not too heavy on the pepper and it kept it's gorgeous sweetness from the tomatoes, one of the best and richest tomato soups I have ever had. What also stood out and was interesting was that the goats cheese and compressed shrimp were left ice old so you had the immediate contrast of hot and ice cold in each spoonful.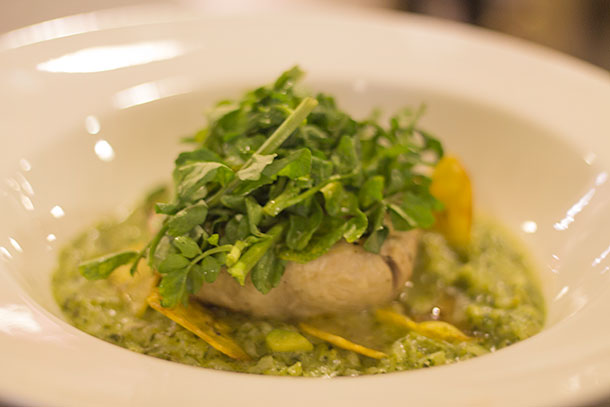 We might've overestimated our hunger because after that we felt pretty satisfied, but out came the dinner anyway. At first sight, I knew I would just have to take one for the team and get a little bit more full, for science of course. First came my Moms entreé which was fresh mahi mahi atop a creamy avocado verde risotto and house made fried plantain chips. To which she described as bliss, and the fish was cooked to perfection and perfectly moist.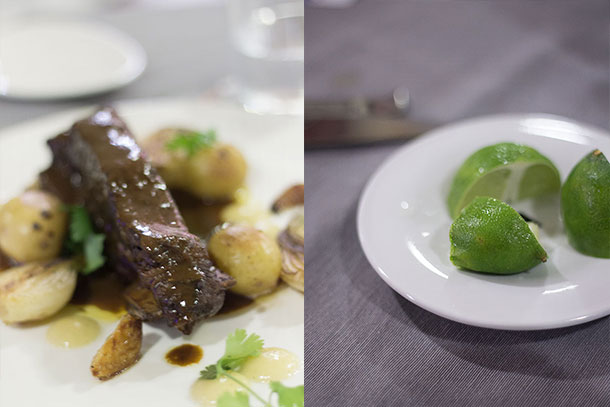 Next came my order, Short Ribs Braised in it's own juices with seared scallions, potatoes and vanilla butter. The presentation on this dish was just gorgeous in every possible way. He brought it out with the whole seciton of short ribs cut Flanken Style surrounded by beautiful arrangement of garnishments and little dots of vanilla butter and then came the great part, the waiter poured the steamy hot juices all along the short ribs creating a beatiful pool of juice that just barely kissed the little vanilla dots. The first bite was all it took, I was sold, this is one of the go to restaurants I will always go to in Cozumel. The flavor was intense,very consistent and precise.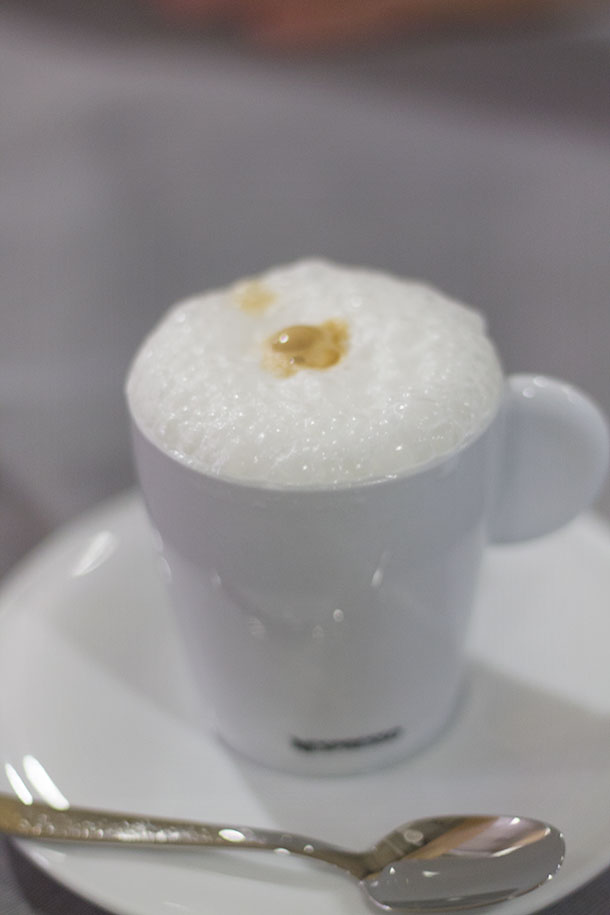 I really enjoyed my stay here, and truly admire the drive of the people running the restaurant.  Ile Restaurant is probably one of the only restaurants of its kind in Cozumel so it would truly be a shame to visit Cozumel and not have visited this place. If not for the atmosphere, extremely wonderful hospitality, or delicious duck carnitas go at least for the short ribs. If I ever come back to Cozumel I hope this place is still running strong so I can make another stop by.
Rafael E. Melgar # 125 Altos | Entre calles 2 y 4 Norte, Cozumel, Mexico
Related Links and Recipes: