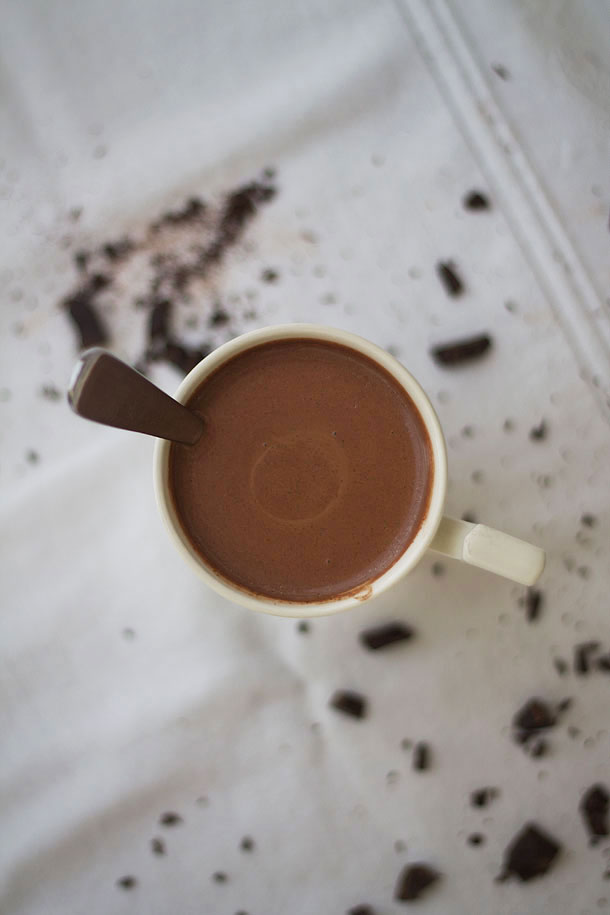 Since winter hit, all I have been wanting is warming and filling foods. It makes sense seeing as its way too cold for Texas right now. Im not whining Im just saying. Its cold. But the thing that beats any cold weather is a nice cup of thick, decadent, dark chocolaty hot chocolate. Hot chocolate is always an iconic and simple thing that is done on winter days but a lot of people do it where the hot chocolate is all runny and liquidy and I do not like it like that. I like it when its so thick that the last little bit sticks to the bottom of the cup like syrup.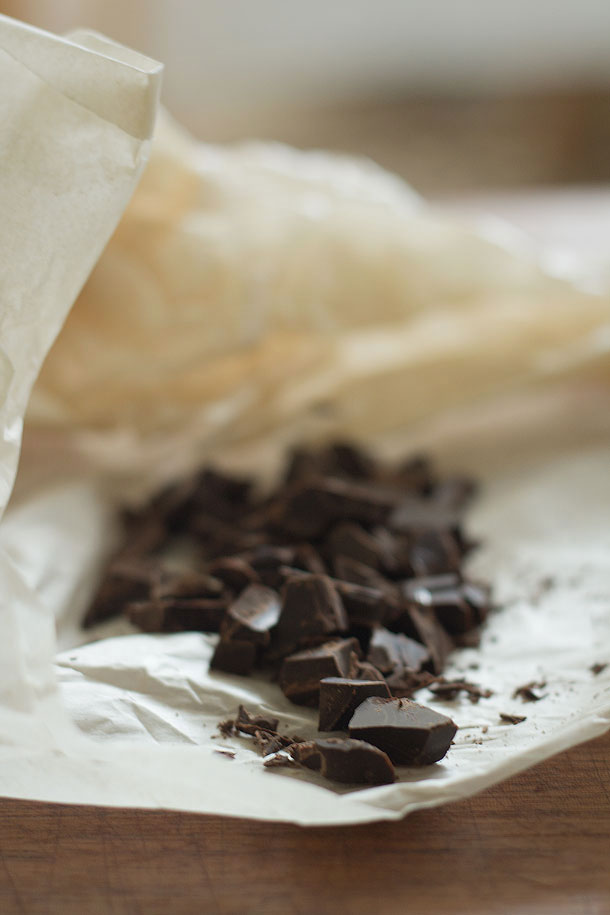 I'm telling you, drinking this is like drinking a cup of warm melted chocolate. It is so ridiculously decadent and so thick that it lines the back of your throat with this warm chocolatey amalgamation that just warms up your insides and makes you really happy. Or sleepy. Really really sleepy. I definitely would not have one of these if your about to go on a run or going to work out. Unless you are multi talented and can jog or lift while laying on the ground asleep. But I do suggest drinking this in front of a warm fire on a chilly night. Because that is just the best.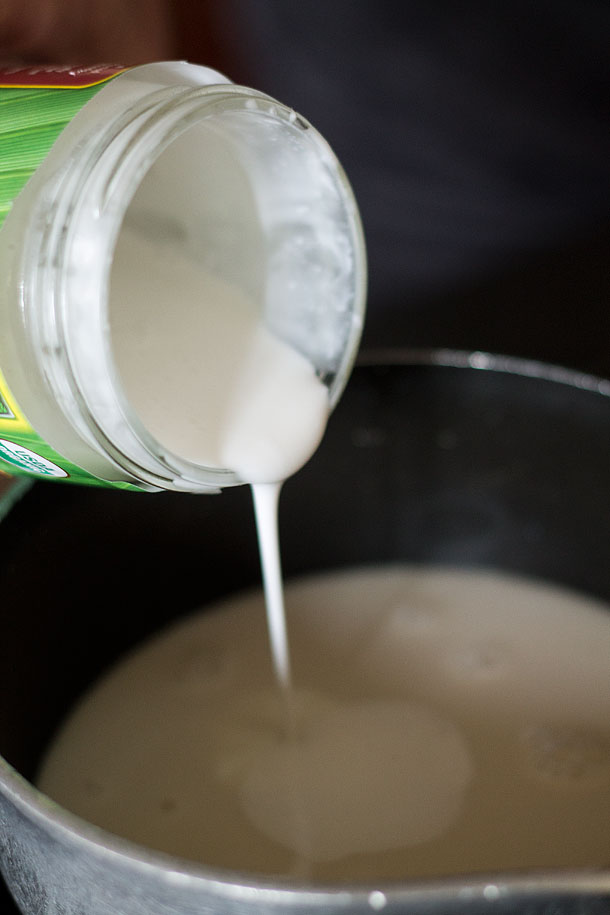 Chocolate has always and always will be a very important part of my life. And I dont take that lightly. I really, love chocolate. So the fact that there is an actual beverage in which is practically like melted chocolate makes life pretty awesome. But you have to be good with your chocolate choosing. You want to get a nice piece of chocolate to melt into this bad boy. The reason why is that chocolate is so much better when its high quality, and there are minimal ingredients, that way you get the true flavors.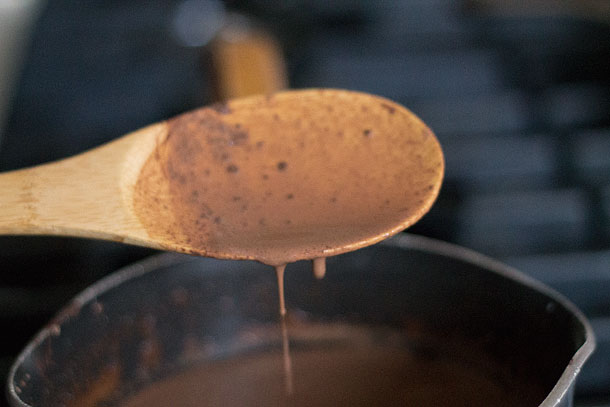 Its easy to get fairly good chocolate if its organic or fair trade because typically it is made using minimal ingredients and is made with care and properly. The first thing you should notice when you open a package of chocolate is the smell. Right away you should be overwhelmed with that smoky slightly acidic slightly sweet cocoa smell. I don't want to get weird on everyone here but its rather intoxicating if its good chocolate. I could sit around the house sniffing a nice bar of chocolate all day and exhaling a shuddering groan. And no that is not creepy.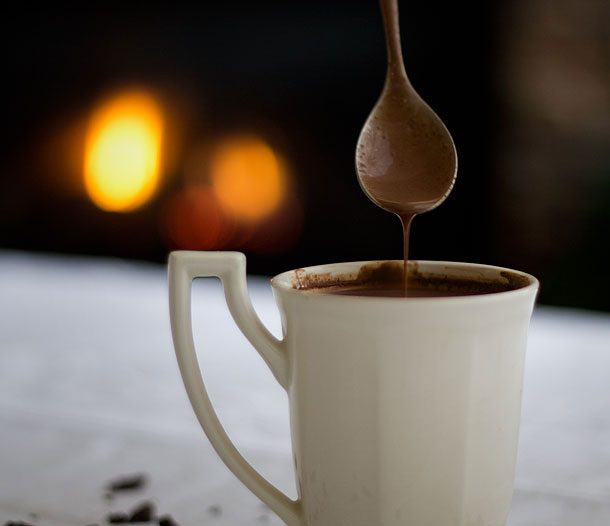 In fact it can be the best thing or the worst thing. I think the worst form of execution ever would be to put a piece of freshly snapped off chocolate in front of someones nose  with them restrained and have it just out of reach of their mouth. Because yes, eventually that person will die of chocolate deprivation. Or starvation. One of the two. I would rather take the electric chair. But enough about execution time to enjoy some thick, sinfully decadent hot chocolate.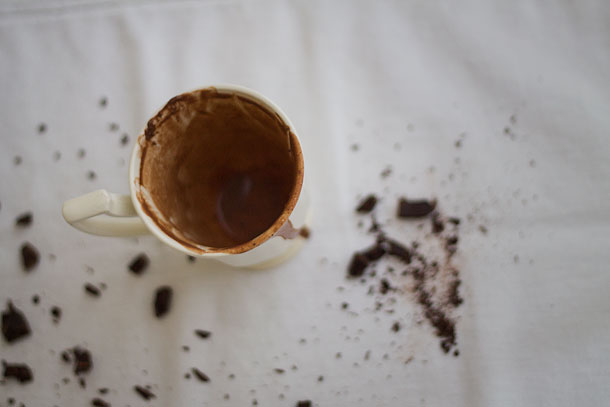 Thick and Creamy Coconut Milk Hot Chocolate
This recipe is unsweetened so that you can add your choice of sweetness to it and everyone can control the sweetness in each cup. I used Sweetleaf Stevia Drops to give mine some sweetness. This is also a double recipe so this should make quite a bit. Be sure to have some people around that want some. You can easily half this recipe as the original recipe was half of this if you don't have a small crowd to serve.
Ingredients
1 cup full fat coconut milk
2 cups almond milk
½-1 teaspoon vanilla extract
2 tablespoons cocoa powder
4 ounces high quality chocolate or baking chocolate(you could easily increase this amount for even more chocolatey goodness)
2-3 tablespoons heavy cream
Dairy Free Version
To make this dairy free simply remove the heavy cream and replace with 2 or 3 extra tablespoons of coconut milk
Instructions
Pour coconut milk, almond milk, vanilla extract, cocoa powder and heavy cream(if you're using it heavy cream) in a medium sized pot over medium-low heat.
Mix well to incorporate.
While its heating up roughly chop up chocolate.
Once the mixture is hot pour in the chocolate and mix until fully melted and combined.
Keep on medium low and stir often until it begins to simmer.
Once simmering turn heat down because you don't want you chocolate scorching.
Keep an eye on it and make sure your chocolate doesn't scorch and serve once it is thoroughly mixed.