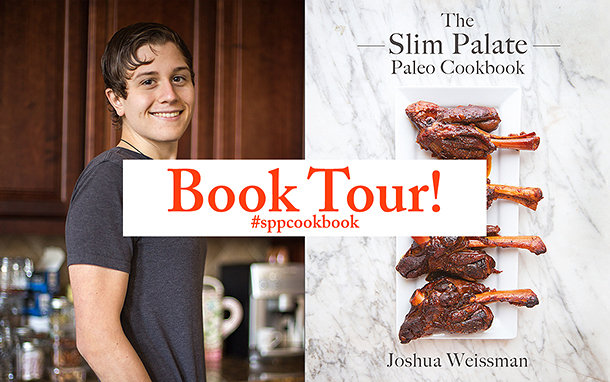 So I just recently had the release party for my cookbook  and it was a total blast , even though the weather had us make some last second venue changes. Now, just because the release party is over with doesn't mean that's the end of the fun, in fact it's only just beginning. I'm now going on a book tour thanks to all of the wonderfully generous people who contributed to the Indiegogo campaign I put up (thank you guys so much!!!). I'll be starting the tour off in Texas in various cities such as Houston, Austin and Dallas. I'll also be touring, the East Coast, and cities in California.
I know that this is a fraction of this country but I'm also planning on touring areas such as Washington, Oregon, Colorado, and Illinois. Who knows, in the future I may even stop by Canada or Australia!
*Below you will find all of the specific locations and venues for the book tour. I'll be updating this page with the RSVP and exact locations as the exact venues are revealed so don't forget to keep checking this page!*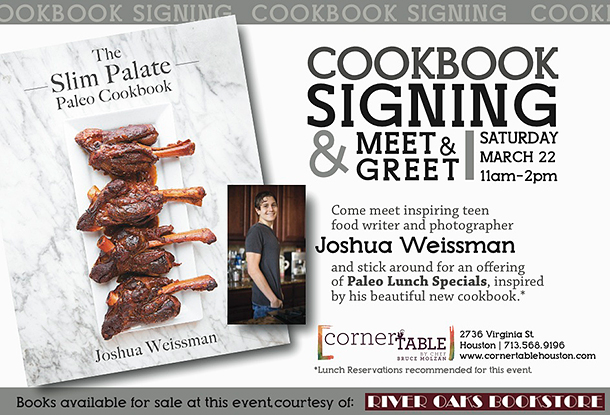 March 22nd: Signing at Corner Table (Houston, TX) 
I'll be kicking off my book tour in one of my favorite restaurants in Houston, Corner Table. Since there aren't really any places near me that I'll eat out at, I will always eat out at Corner Table. Chef Bruce Molzan has a passion for locally sourced and properly grown ingredients, which has also led him to create a completely Paleo menu at the restaurant. He has also developed a special menu just for the book signing with recipes inspired by The Slim Palate Paleo Cookbook! RSVP for the signing HERE.

March 29th: Cooking Demonstration and Book Signing at Whole Foods Market (Austin TX)
Who doesn't know about Whole Foods humble beginnings in Austin? I'll be doing a cooking demo and then a book signing at Whole Foods Market in Austin. There will first be a cooking demonstration with a recipe from the book as well as a tasting which will then be followed by a signing where we can chat and talk about food! There will also be giveaways that you will be entered in if you purchase a book there and fun prizes! RSVP is not required but seating is first come first served. Click HERE for the location.

*NOTE ABOUT DALLAS SIGNING – I will be going to Dallas but had to move the date of it to a later time. I will be going to Dallas towards the end of my tour around the end of April or early May. Check back for the updates soon.*

April 25th: Q&A and Book Signing at Guerrilla Fitness CrossFit Morristown (Morristown, NJ)
A while back I was lucky enough to get contacted and invited by Dana of Guerrilla Fitness to speak prior to my books release but I was so caught up with the actual making of my cookbook that I wasn't able to commit to the event. I'm lucky enough to still have that invitation at the ready for me, which I gladly accepted and now I will be doing a book signing and a Q/A at one of their CrossFit gym locations in Morristown New Jersey.

April 26th: Q&A and Book Signing at Crossfit Hells Kitchen (New York)
I'm going to be heading to New York right after New Jersey and will be doing the same thing as before but at Crossfit Hells Kitchen! Come get your questions answered and your book signed! This event is from 2-3pm.

July 19th: Book Signing & Meet and Greet at Book Passage in The Ferry Building (San Francisco) 
I'll be at Book Passage in their Ferry location on July 19th at 12:30pm for a book signing and meet and greet! Come and check out the Farmers market and then get your book signed!

July 25th: Book Signing at Pages A Bookstore (Los Angeles CA) 
I'll be coming to Los Angeles and doing a joint signing with Kelly Brozyna of The Spunky Coconut at Pages: A bookstore at 7pm!
*More events and locations will be added very soon so keep an eye on this page!*