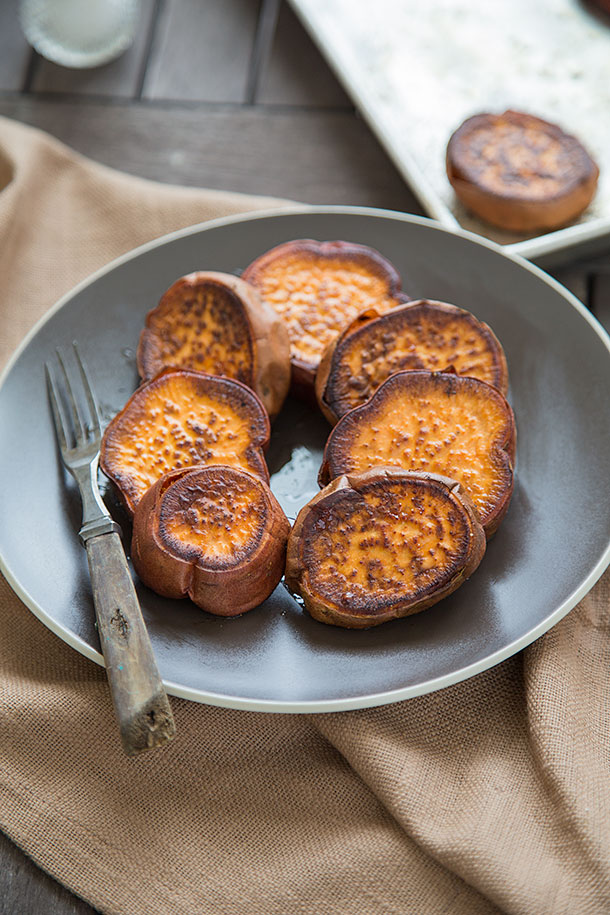 A while back I was talking with my mom about whether or not you can eat sweet potato skins. They look fairly leather like which to me seems like a visual deterrent to eat it. Although every time I would bake them in the oven I noticed one of the most alluring and fragrant parts of it was the skin. After I had eaten a sweet potato I noticed a perfuming sweet scent that always drifted from the sweet potato skin even though all of the flesh had been eaten. You know me and being swooned by various scents so I had to find out.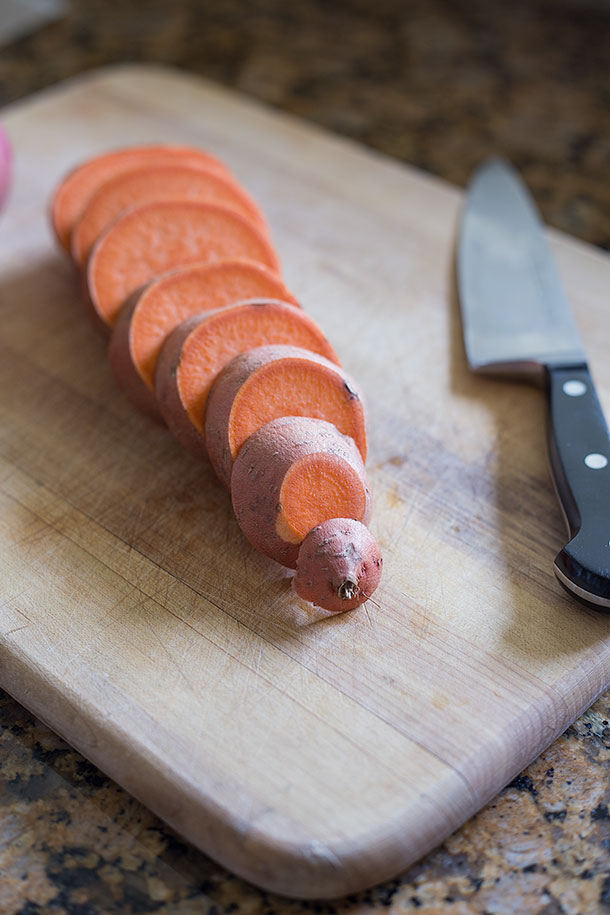 I of course wanted them to be edible in the back of my head so I kept my wishful thinking and with luck found out that you can in fact eat the skin. And for those of you who might ask yes, I believe the skin of a sweet potato is completely Paleo. Now there is another upside to the fact that you can eat the skin rather than the fact that there is more to greet your teeth with. You can now afford to be lazy and skip peeling the skin most of the time.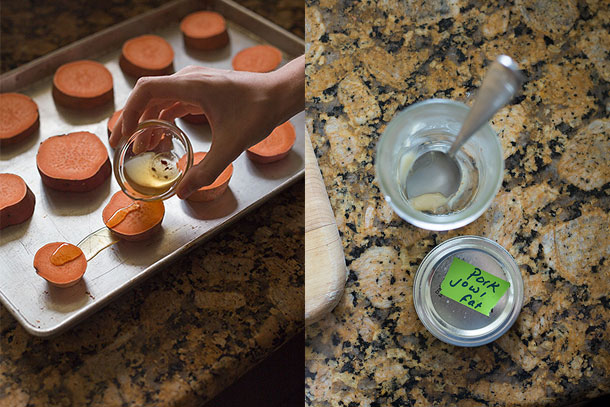 Maybe that's just an upside to me but I'm pretty sure no one likes peeling anything, ever. Have you ever noticed that in movies set in pre-industrialized times that the saddest people were the ones peeling the potatoes? Think about it. Actually I think that it still applies to modern times as well. I feel pretty bummed whenever I start peeling sweet potatoes or anything for that matter, something about the job is just saddening, don't ask me why because I might be slightly crazy.
Just remember that when you leave the skin your basically leaving a mop for skin, meaning your choice of cooking fat will reflect a lot of it's flavor. So of course for me that meant to whip out the bacon fat. Or well technically it's not bacon but it's a lot like bacon. The cut of pork jowl has a very similar meat profile to that of bacon so I used the last of my jowl bacon fat for this. That's how much I love these. Lucky for me my local farmer supplies me plenty of pork jowl bacon.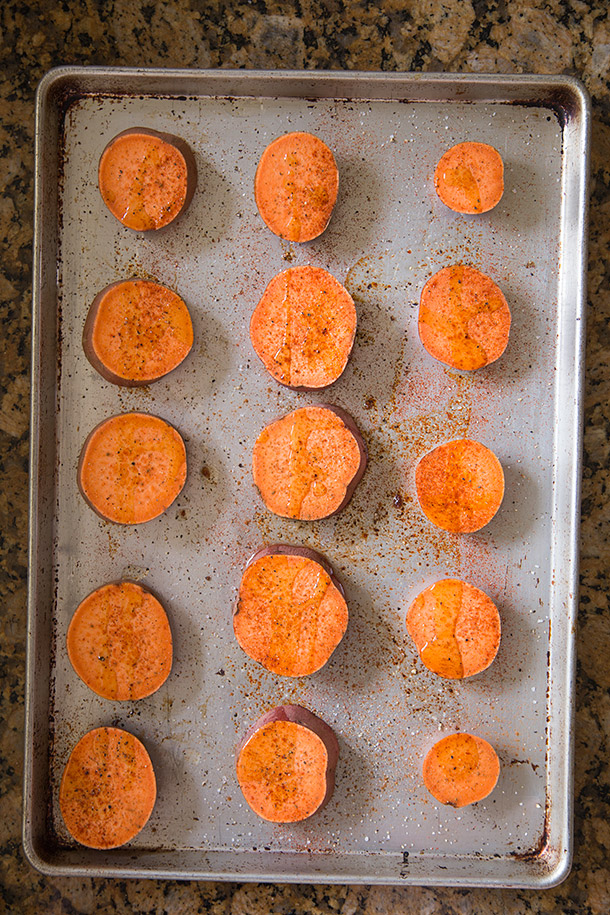 I suppose there is no reason to complain much about being out of pork jowl bacon fat because that's just more incentive to cook some more pork jowl bacon. It's like a cycle, the cycle of pork jowl bacon or regular bacon. All things bacon are usually good, okay I admit they're always good.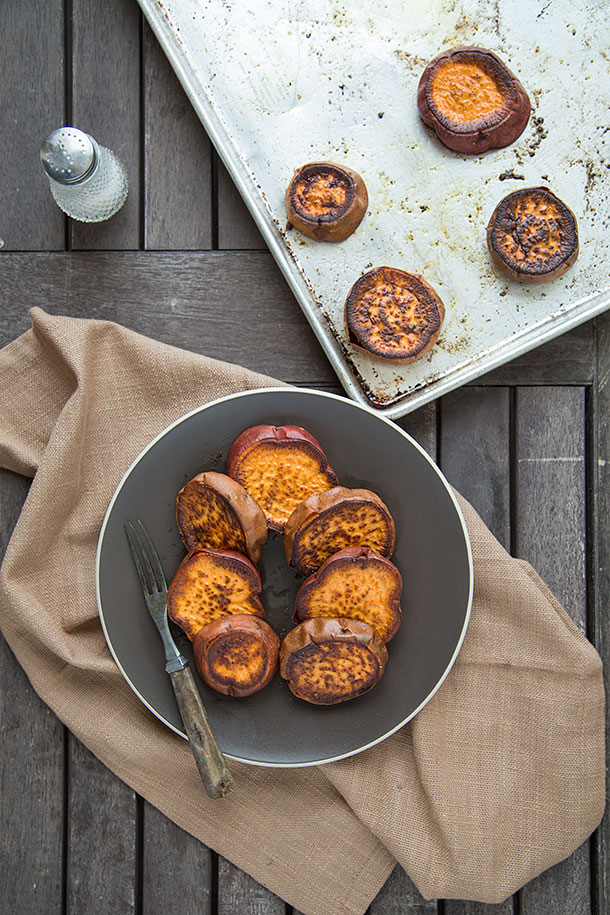 Spiced Sweet Potato Rounds
Ingredients
Spice Mix:
½ teaspoons cinnamon
¼ teaspoon paprika
¼ teaspoon cayenne
salt and pepper to taste (I usually use about ½ teaspoon salt and ½ teaspoon of black pepper)
Sweet Potatoes
2 large sweet potatoes
2 tablespoons bacon fat, lard or ghee melted (all work wonderfully but bacon fat is obviously the winner for this one)
Instructions
Preheat the oven to 425 degrees.
In a small bowl mix together all the ingredients for the spice mix. Slice the sweet potato into 1 inch slices and lay them out on a baking sheet. Drizzle the sweet potato rounds with your bacon fat, lard or ghee and then evenly sprinkle the spice mix over the sweet potatoes.
Place the sweet potatoes into the oven for 15 minutes then flip each of them and roast for an additional 10 minutes or until they're nicely browned on both sides.
Notes
If you're going to do this recipe and you don't usually purchase organic sweet potatoes I recommend you do since you will probably be eating the skin, or if you don't want the skin then could just peel the skin off after they're done.
Related Links:
Bacon Fat Roasted Brussels Sprouts with Crispy Garlic and Thyme
Baked Sweet Potatoes from Nom Nom Paleo
Paleo Sweet Potato Brownies from The Healthy Foodie
Loaded Baked Sweet Potato from The Domestic Man