With St. Patrick's day on the rise I got a little excited and started to dream about hearty, delicious corned beef. This of course also brought on thoughts of the little Lucy Charms guy with all of his sinister cuteness. He is always running from those kids that just want some lucky charms. Maybe it's because he knows about refined carbohydrates and unreasonably copious amounts of sugar and actually wants the children to live past the age of 40. It's a hard life for a little leprechaun just trying to keep deadly mass manufactured "foods" from children.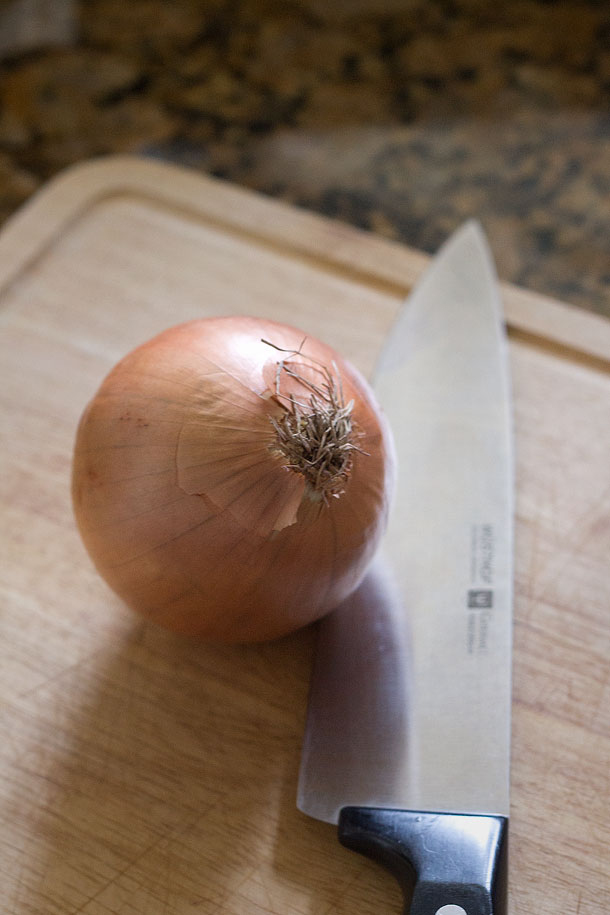 I could be making up this entire scenario in my head but I'm not entirely sure. But the part about the mass manufactured evil in a box known as lucky charms is true. That I know. Not trying to slander the company that makes lucky charms, I just really dislike their product. And the fact that they even produce it. And advertise it. Come to think of it I dislike a lot of those companies out there. But hey, that's just my opinion. I just think it's kind of messed up the way they advertise to kids making their food seem to be perfectly okay when it isn't even fit for human consumption and is going to end up killing kids in the long run and parents have no way of knowing because they look so "innocent".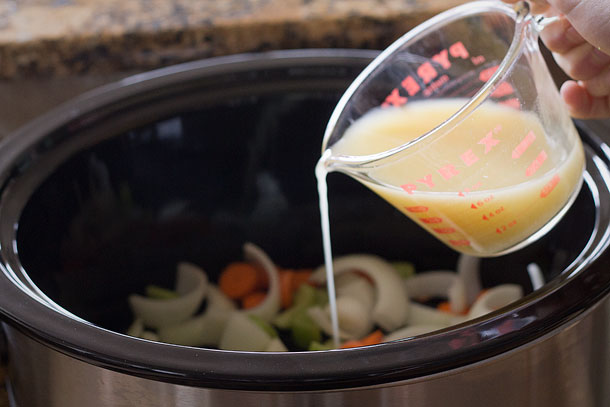 Anyway regardless of my ranting, lets get back on track here. Corned beef is something that is really special when you brine it yourself but you can save yourself a lot of time by buying one thats already brine. Sadly a lot of the pre-brined briskets out there have undesirable ingredients, but luckily US Wellness Meats has a pre brined corned beef brisket that is brined to perfection. It does have a little bit of xylitol in it which I was skeptical about, but it is so minuscule that it shouldn't have any affect on anyone and it's made from birch wood and not gross corn. If you don't want to do that you could always brine your own and you can do it without sugar.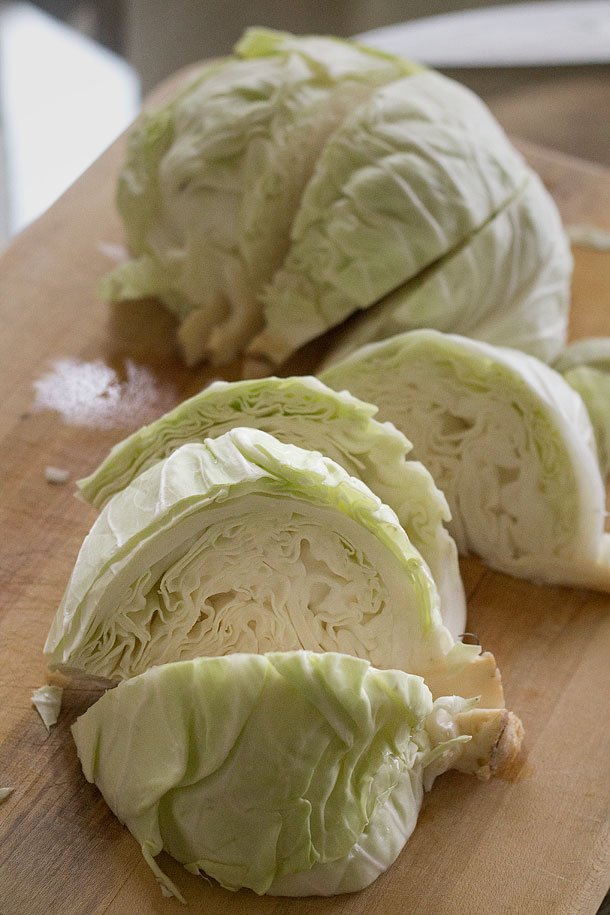 Doing the brining yourself can be a bit of a hassle but is incredibly self satisfying just knowing you let that bad boy brine for 4 or 5 days and then you get to eat it. Something about waiting that long makes it taste so much better, not including the fact that you brined it. Although I will admit that I did opt to go for the pre-brined brisket first. I know, I know, so lazy, but how often can you actually find a pre-brined brisket that is grass fed and sugar free without having to do it yourself.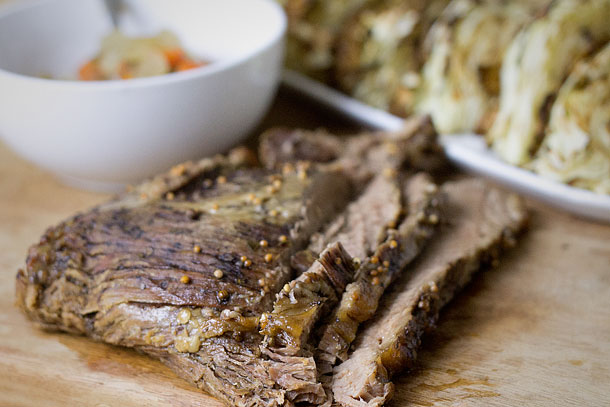 Regardless of what you choose to do doing the brisket some justice in a slow cooker with some aromatics is quite a satisfying and warming meal that is perfectly suited for a gorgeous and easy Saint Patricks Day dinner.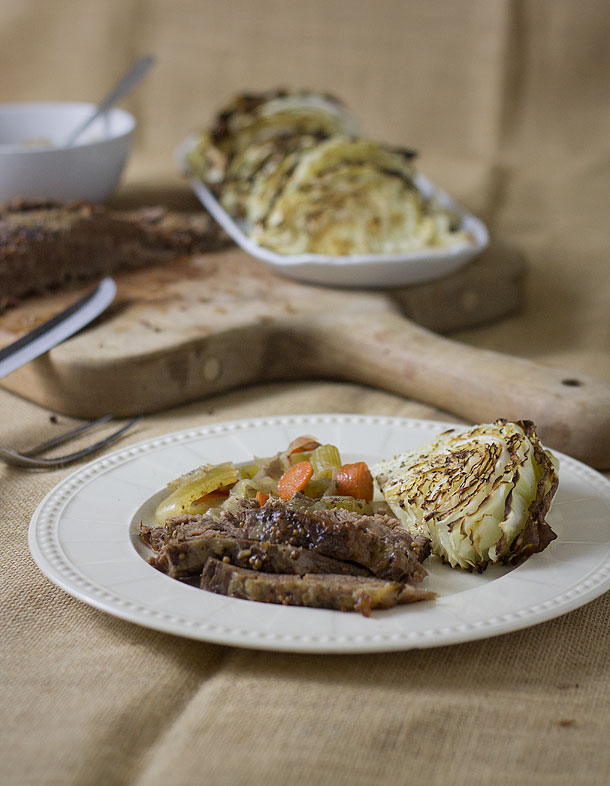 Slow Cooked Corned Beef Brisket and Roasted Cabbage
Ingredients
Slow Cooked Corned Beef Brisket
2½ lb corned beef brisket
½ medium onion
1 carrot
1 celery stalk
1 cup chicken or beef stock
Roasted Cabbage
1 head of green cabbage
1 tablespoon avocado oil
salt and pepper to taste
Instructions
Slow Cooked Corned Beef Brisket
Chop onion, carrot and celery stalk coarsely and place in the bottom of a slow cooker.
Pour chicken stock over onion, carrot, and celery and place corned beef brisket on top of veggies in the slow cooker.
Place top on slow cooker and cook on low for 6-8 hours. (I did 6 hours) That's it!
Roasted Cabbage
Preheat oven to 450 degrees
Slice Head of cabbage into 8 wedges and place on rimmed baking sheet.
Brush both sides with avocado oil and sprinkle salt and fresh cracked pepper to taste on both sides.
Place cabbage wedges into oven for 25-30 minutes flipping halfway through until you get nice crispy brown edges.
Notes
Serve each dish with some slices of corned beef brisket, a cabbage wedge, and some of the vegetables from the slow cooker on the side. You can also choose to spoon the juices from the slow cooker over the sliced brisket because it's incredibly divine. Also I found an interesting recipe for a brine that is sugar free
here
.