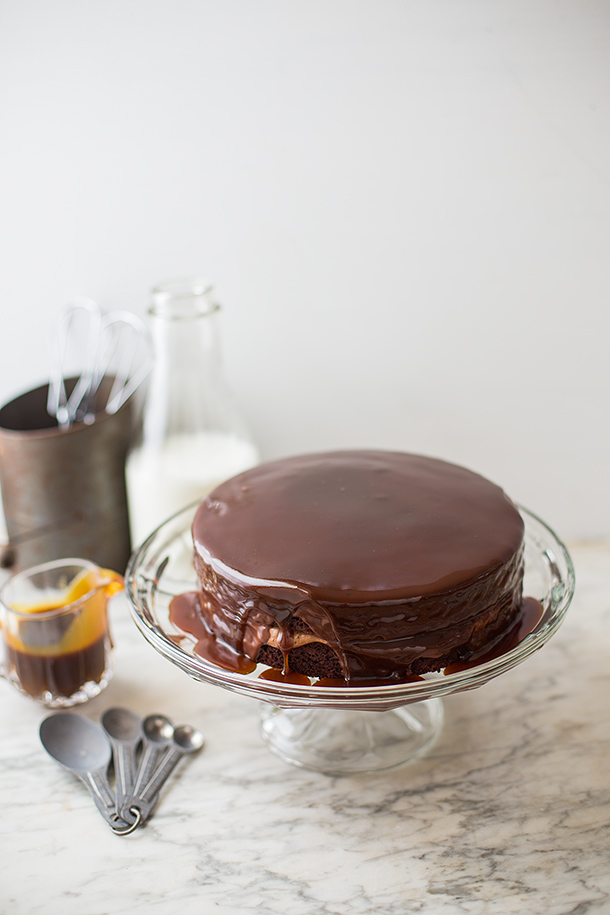 Today is a huge day for me. Mainly because my cookbook releases today and it feels completely surreal. I went from being overweight and depressed, then I lost more than 100 pounds with real food, started this blog and received a bunch of love from you wonderful people, and then wrote a cookbook. Now I'm trying to contain my excitement. Actually that's not true at all, I'm not containing my excitement very well. I am posting this preposterous celebratory cake recipe in excitement. Sometimes you just have to shout it on the top of a mountain. I just to prefer to shout mine with chocolate cake muffling the sound of my voice, ironically.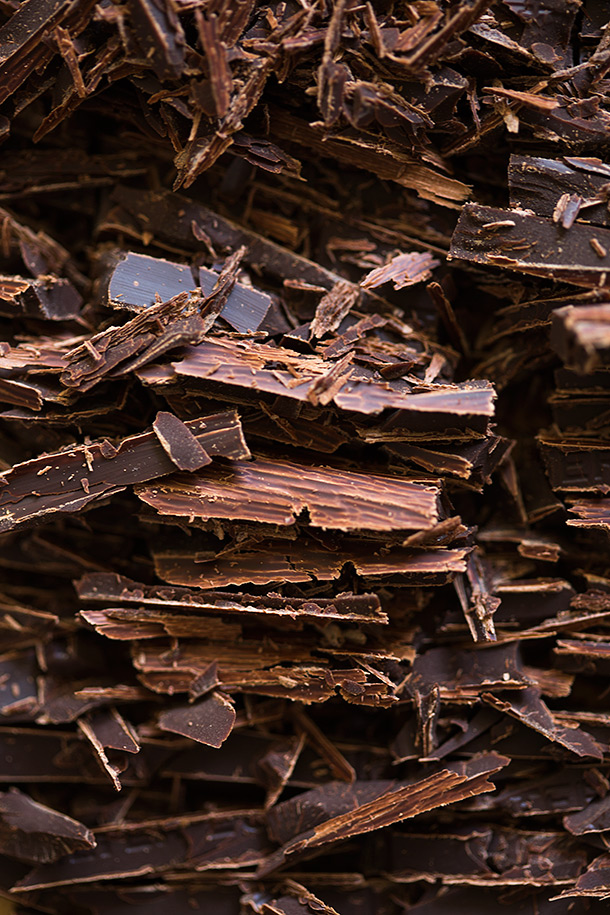 Sometimes you just can't have a celebration without some form of cake, no matter how healthy you choose to eat; even though this one happens to be gluten free, refined sugar free, Paleo, and dairy free. That doesn't make it health food, but it certainly makes it an treat food that you don't have to worry about making you feel awful after eating. Regardless, this was my first official cake that I've ever made, ever. I would say that it turned out pretty good.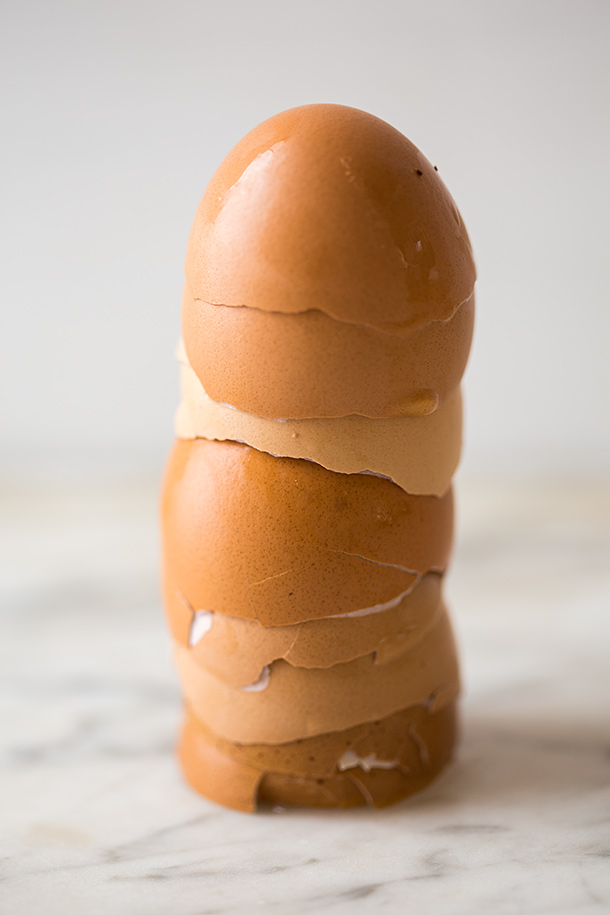 The night before I actually developed the whole thing. I simply just sort of guessed the ratio for the cake part and went off of consistency of the batter and it turned out good. The ganache was actually a tweaked recipe from the chocolate truffles in my cookbook. I just adjusted it so it wasn't as hard of a ganache. I could have left the ganache that hard I suppose but I really wanted a more smooth ganache on top.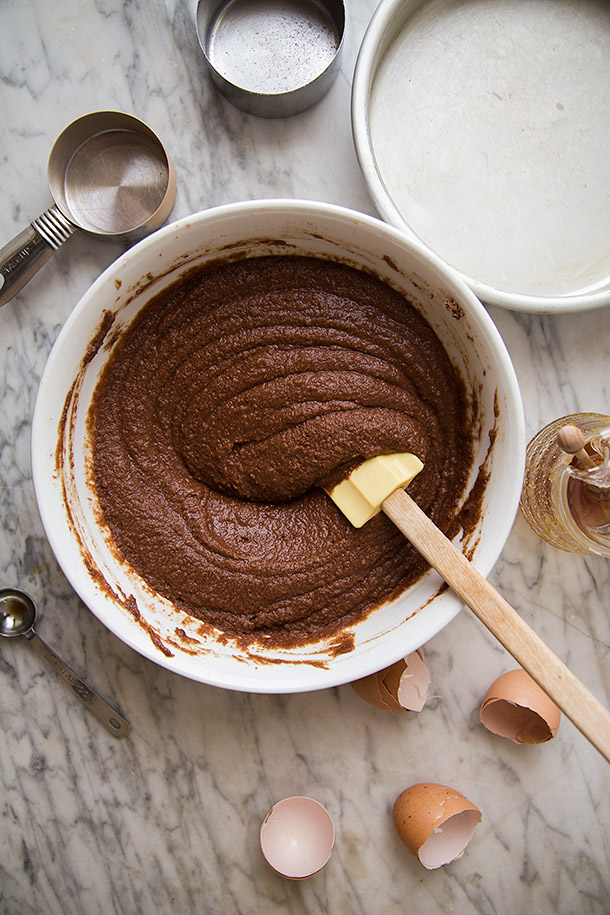 The caramel was also my first attempt at making something here since I've never made a caramel in my life. It was surprisingly easy. Really I think the science behind it is that you need to simmer it until it thickens just enough to your liking and it thickens a bit more after cooling. I think as long as you remember that you will probably have a successful caramel. Assuming you're like me and you keep a watchful eye on your caramel. I could see that burning very easily and quickly, followed by an endless flow of tears. Sure don't cry over spilled milk, but do cry over burnt salted caramel.
All and all it turned out great. Two layer cake with chocolate frosting sandwiched in between, a smooth and rich dark chocolate ganache enrobing the two layers, and salted caramel drenched all over the cake to create cascading drippings of oozing buttery, sweet, saltiness. It really makes a wonderful cake I'm telling ya. Not bad for my first true cake recipe ever if I do say so myself.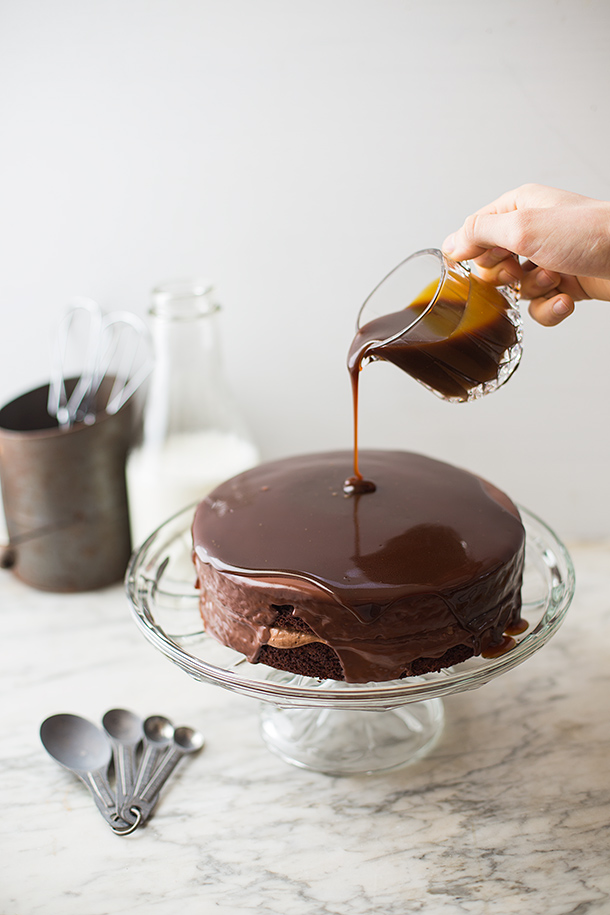 See, now that the book is out you might be asking yourself  what's next? Well just cause the book is out doesn't mean everything is over. It's just getting started. I can feel it. Yet another reason to dive into this cake, I just have to resist it. Also that reminds me, huge warning: you must resist licking any of the multiple cooking utensils that will be coated with, chocolate, chocolate frosting, ganache, ad salted caramel while doing this. I'm kidding, nobody can resist not licking the spoon at least once. Maybe just wait until you've gotten most of it done so you don't end up eating a noticeable amount of whatever portion of it that you're making.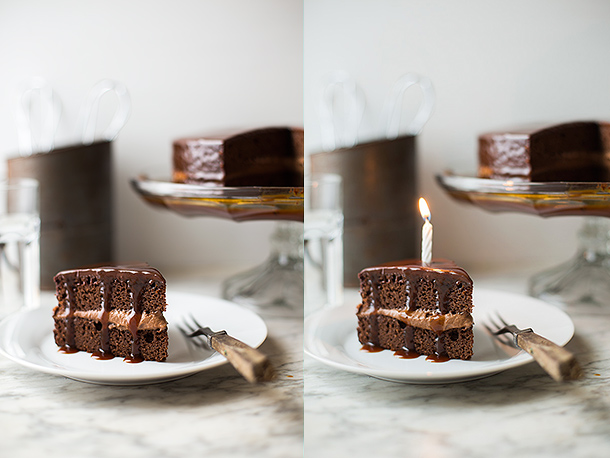 Coffee-Double Chocolate Cake With Salted Caramel
The Slim Palate Paleo Cookbook
released today so here's a celebratory cake recipe! Double layered with chocolate frosting sandwiched in between, a smooth and rich dark chocolate ganache enrobing the two layers, and salted caramel drenched all over the cake to create cascading drippings of oozing buttery, sweet, saltiness.
Ingredients
For Cake:
½ cup coconut flour
1 cup blanched almond flour
½ cup cacao powder (or cocoa powder)
5 eggs
¾ cup honey
2 teaspoons vanilla extract
¾ cup regular cold brew coffee ( I used chameleon cold brew)
¼ cup unsalted butter or coconut oil melted plus more (unmelted) for greasing
¾ teaspoon baking soda
pinch of salt
For Frosting
¼ cup semi-sweet chocolate chips (I used enjoy life)
½ cup heavy cream or coconut cream (see what coconut cream is here)
¼ teaspoon vanilla extract
For Ganache:
4 ounces of dark chocolate (70 percent or higher) chopped finely
1 tablespoon of coconut oil
¾ cup coconut milk
For Salted Caramel:
1 cup of coconut sugar
1¼ cups of coconut milk
½ teaspoon flaky sea salt
1 tablespoon of ghee or palm shortening (it's much better with ghee)
Instructions
To make the cake:
Preheat the oven to 350 degrees fahrenheit and grease (2) 8 inch cake pans with butter or coconut oil.
In a large bowl combine eggs, honey, vanilla extract, and cold brew coffee and whisk to combine. In a medium sized bowl combine coconut flour, almond flour, cacao or cocoa powder, baking soda, and salt. Stir dry ingredients with a fork to break up any clumps. Pour the wet ingredients into the dry ingredients and stir until thoroughly incorporated and no lumps remain.Then add the melted butter or coconut oil to the batter and stir to thoroughly incorporate.
If you have parchment paper I recommend cutting a circle out of the parchment paper and placing it in the bottom of each cake pan at this point before adding the batter because that prevents the bottom of the cake from sticking. Evenly divvy up the batter between the two cake pans and place in the oven for 25-30 minutes or until a toothpick inserted in the center comes out clean.
Remove from the oven and allow to cool for 6-7 minutes then run a knife around the edges and transfer the cakes to a wire rack to finish cooling while you assemble the rest of the cake.
To make the salted caramel:
In a small heavy bottomed pot add coconut milk, coconut sugar, and sea salt, and whisk until combined. Turn the burner on to medium heat and bring to a boil. Once it comes to a boil whisk in ghee and reduce heat to medium low and simmer for 15 minutes, whisking occasionally, until it turns a dark amber color and smells nutty and begins to thicken, it should almost be the consistency of caramel sauce, it will thicken as it cools. Pour it into a heat safe container to cool slightly.
To make the frosting:
Melt chocolate chips in a double boiler until fully melted or in the microwave at 20 second intervals.In a medium sized bowl with an electric mixer beat heavy cream or coconut cream on high setting until it is the consistency of whipped cream.
Add melted chocolate and give it one more whip until it's thoroughly incorporated.
On one of the baked cakes spoon all the frosting and spread it around evenly to coat most of the top of it and sandwich the other baked cake on top of that being careful not to press down to much otherwise your frosting will ooze out the sides.
To Make the Ganache:
In a medium sized bowl add chocolate and coconut oil. Heat coconut milk in a small saucepan until hot and steamy then pour it over the chocolate and coconut oil.
Allow to sit for 1 minute and then carefully whisk together until fully incorporated and smooth.
Assemble the cake:
Carefully place the cake on a wire rack and slowly pour all of the ganache on the top of the cake letting it run down the sides to coat the whole top and of the cake. Allow to cool and harden a bit for at least 10 minutes.
Transfer the cake to a cake stand or plate with a lip to avoid the caramel from flowing over. Repeat this step with the salted caramel allowing the caramel to pool at the bottom of the cake. Let the cake sit for 5 minutes or refrigerate and let the caramel harden even more (really personal preference on that choice). Serve and enjoy. And yay for the release of my cookbook!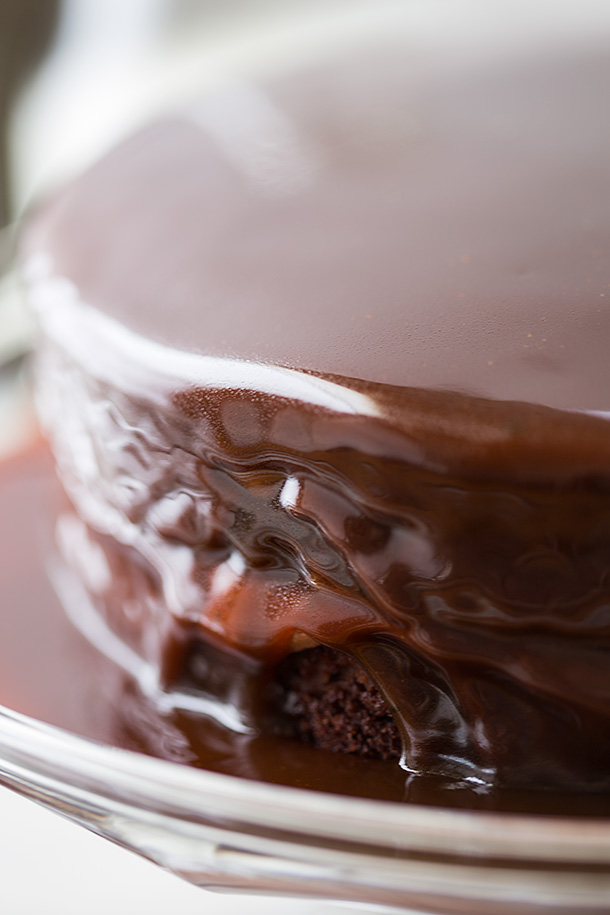 See what I mean by oozing salty caramel goodness?