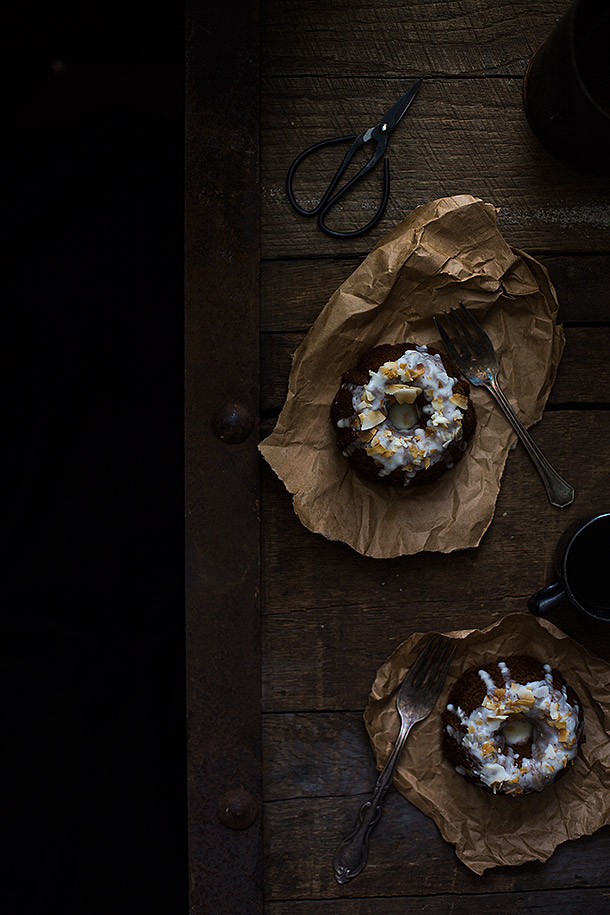 So this last week has been a massive slurry of emotion for me so I sort of didn't have time to do this recipe then. I won't dive too deep with that info but basically my girlfriend Jamie ended up having to move to the UK for college and we are faced with several problems due to that. There are many things that people have asked me such as if I plan to go with her or not and let's just say that it's a bit more complicated than that for both of us.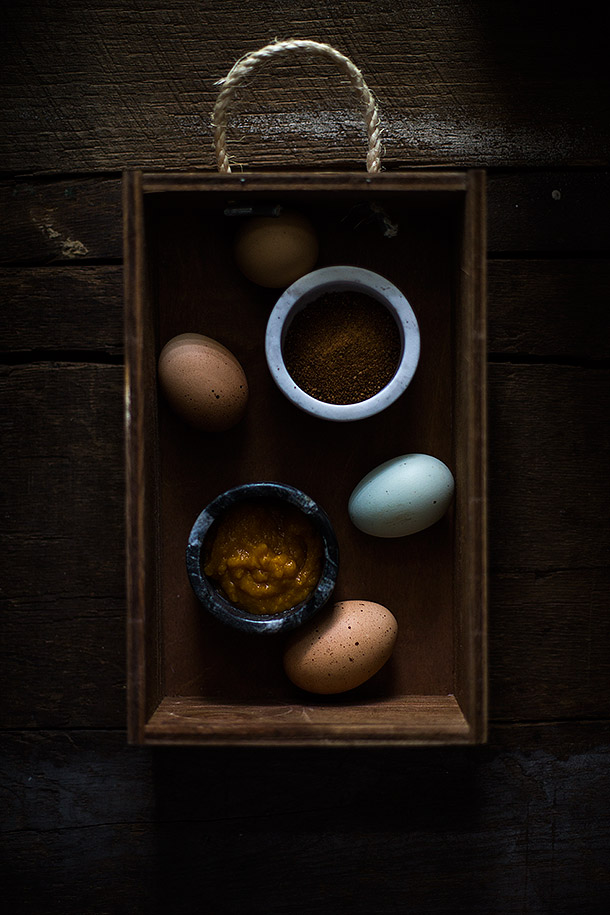 Needless to say I have had quite a hankering for comfort food. Luckily I had a little pre made gift jar from my friend Vanessa Barajas and her new cookbook Clean Eating with A Dirty Mind. The jar she sent contained the mix for her recipe for her pumpkin bread. Of course me being the rebel that I am I went ahead and changed the pumpkin bread recipe into something a little bit different with the same base. So essentially it's pumpkin bread that has been transformed into cute little mini bundt cakes with a touch of dairy free and refined sugar free icing on top.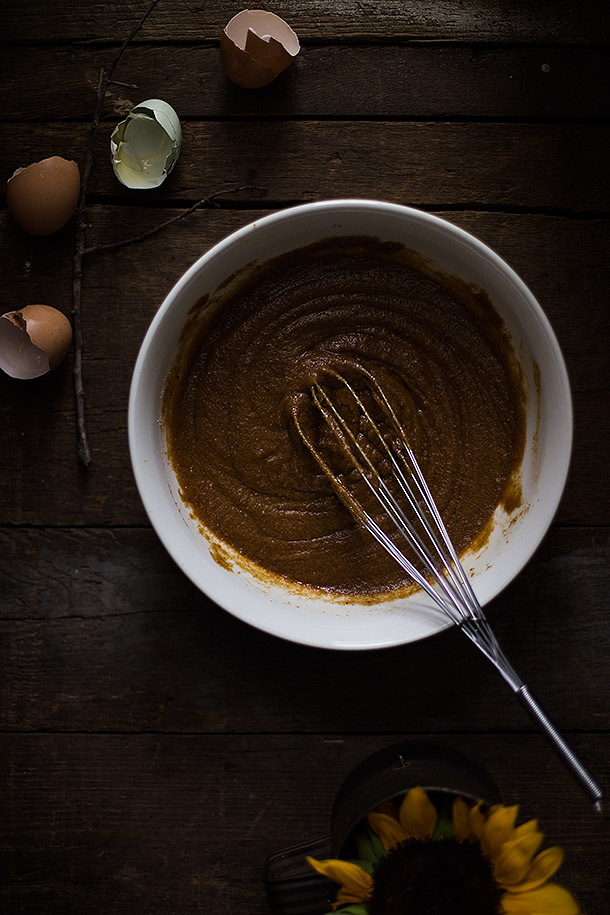 Think about it, this is definitely something that you have always wanted pumpkin bread to be…trust me. Just because September thinks it's hilarious by not making the weather fall-like doesn't mean that fall isn't coming and that it's not time for the obligatory pumpkin baked good. My hopes of this perfectly textured and wonderfully spiced pumpkin bread was to make it a little bit of a change from the norm. Also to try and get the pumpkin naysayers to keep their shit to themselves.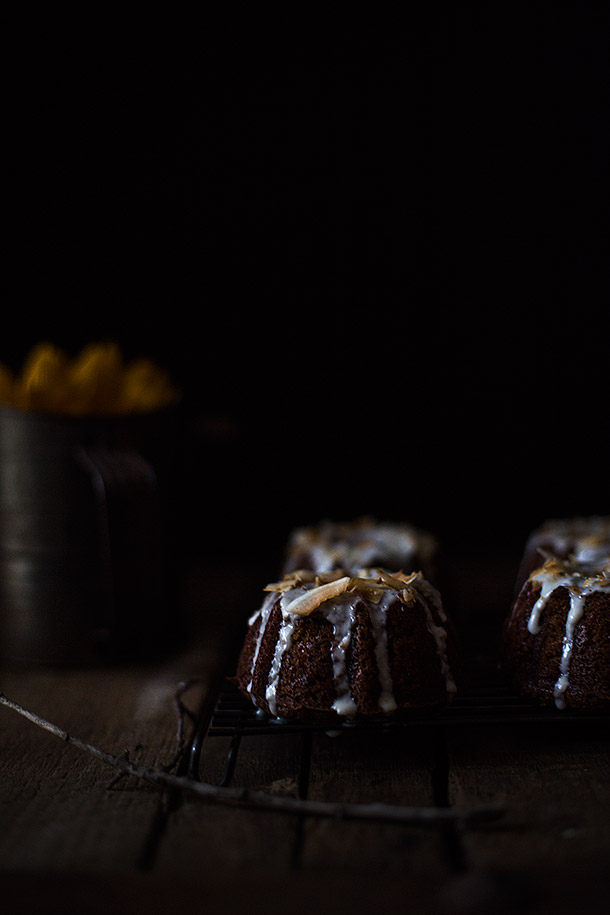 I grew up on pumpkin bread, I remember every year just before Thanksgiving my grandmother would bake and send me loads of pumpkin bread in the mail. So yes, I am a bit of a slave to the sweet scent of cinnamon, cloves, and pumpkin flowing through the house. It's enough to make my stomach grumble and my knees uneasy. This pumpkin bread that I adapted from Vanessas book is absolutely perfect both in texture and flavor so hats off to her for this recipe, it is just lovely.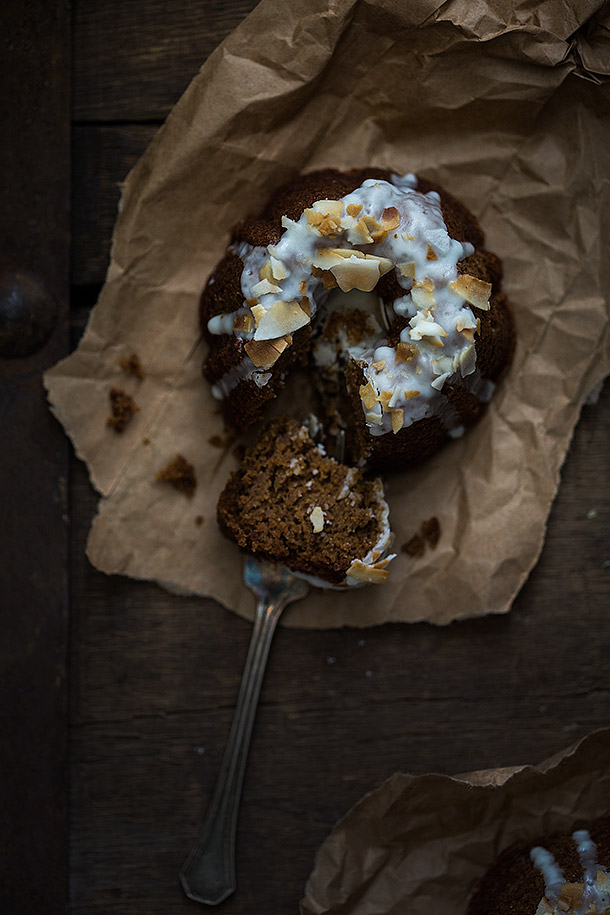 I would like you to leave with one bit of advice about these cute little bundt cakes: This recipe will only make about 4 mini bundt cakes depending on the size of your pans so be aware of that. I'm only saying this because I ate a whole bundt cake in like 2 minutes so yeah…be warned.

Pumpkin Bread Mini Bundt Cakes
Ingredients
1 cup blanched almond flour
¼ cup coconut flour
1 teaspoon ground cinnamon
½ teaspoon baking soda
½ teaspoon fine grain salt
½ teaspoon pumpkin pie spice
¼ teaspoon ground cloves
1 cup coconut sugar
½ cup canned pumpkin puree
½ cup melted butter or coconut oil (I used butter, you know me)
3 tablespoons full fat coconut milk or milk (I used raw milk but coconut milk works too)
1 teaspoon vanilla extract
4 large eggs
For Icing:
5 tablespoons coconut butter
½ teaspoon maple sugar *optional*
⅓ cup coconut flakes
Instructions
Adjust an oven rack to the middle position and preheat the oven to 325 degrees fahrenheit. grease a mini bundt cake tin with coconut oil or butter generously. Make sure to get every crack and crevasse greased for every bundt cake mold.
Combine the flours, cinnamon, baking soda, salt, pumpkin pie spice, cloves, and coconut sugar in the bowl of a medium sized bowl. Whisk them together until they are fully combined. Add the pumpkin puree, coconut oil, coconut milk, vanilla extract, and eggs, and mix together with a large spoon until everything in completely incorporated with no lumps.
Use a rubber spatula to transfer and evenly distribute the batter between the mini bundt cake molds in the mini bundt cake tin. Fill them up leaving at least a ¼ inch of space at the top so they don't over flow when they bake. Don't try to fill up all of the molds at once because my mold had six spaces and I only had enough batter for 4 of them. If you want to fill them all up then simply double this recipe.
Place the mini bundt cakes in the preheated oven for 35-40 minutes or until a toothpick is inserted and removed and comes out clean. Remove it from the oven and allow the pan to cool for 15 minutes. Then use a knife to carefully loosen the edges from the sides of the molds. Make sure to be very thorough in loosening because you don't want to lose any product when you invert them. Carefully invert the mold on a wire cooling rack and tap the molds to loosen the bundt cakes onto the tray and carefully remove the mold tin.
Make the icing by microwaving the coconut butter and maple sugar together in a bowl at 15 second intervals and stirring in between until smooth. drizzle the icing over the tops of the mini bundt cakes. Toast the coconut chips in an empty pan on medium heat stirring them often to prevent burning until they are browned around the edges. Sprinkle them on top of the iced portion of the bundt cakes. You can serve these the same day or even the next day.
Notes
You can make these a day ahead if you like but they are best fresh.