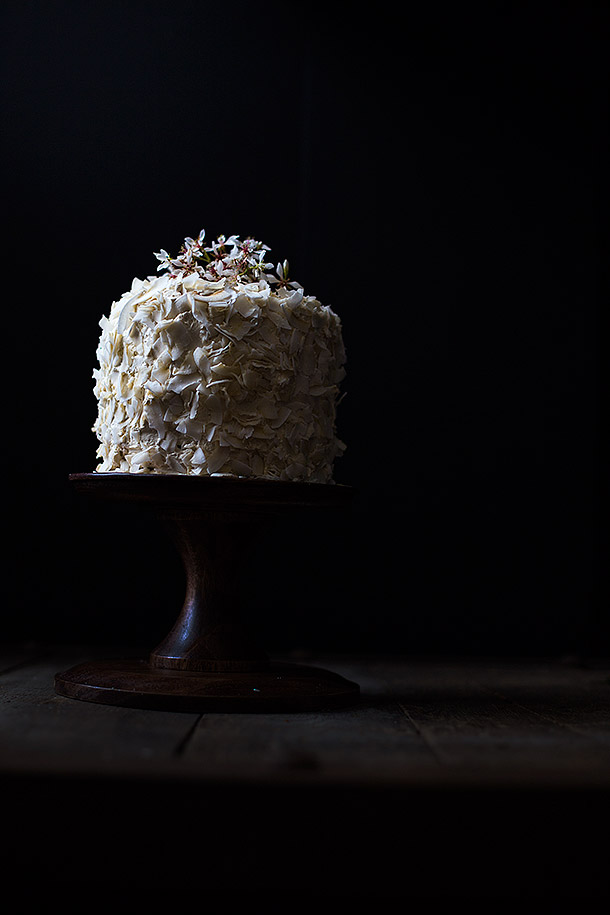 It's funny that I would be making this recipe since I've always hated carrot cake since I was a young boy. It might've stemmed from my mothers hatred. All I know is that I haven't had another piece since I was about 8 years old or so. Until now….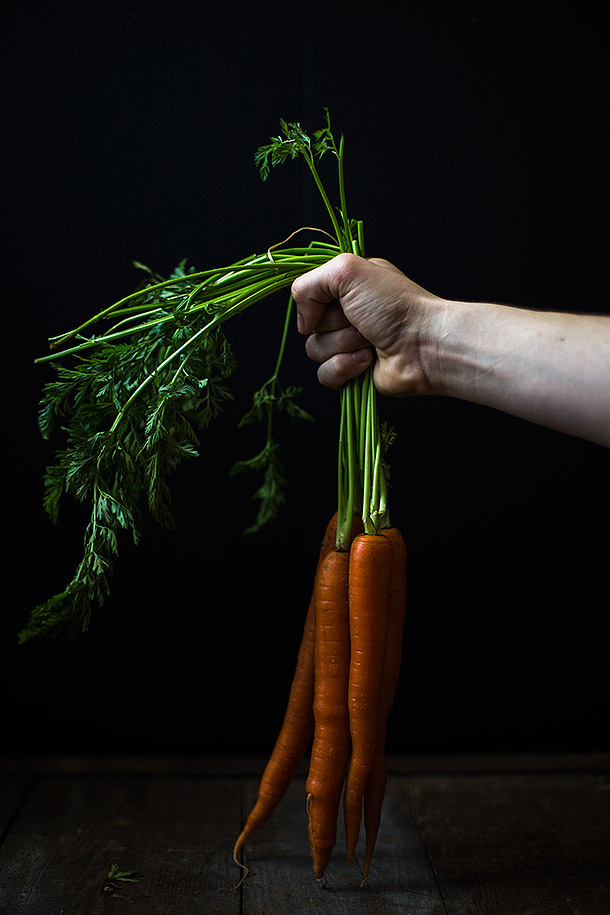 Despite all of this and with Easter coming around the corner I was compelled to try it again when I saw it in My Paleo Patisserie by my talented friend over at The Urban Poser. FYI there is a giveaway at the bottom of this page for a copy of her cookbook! My friend Jenni and I have a similar eye when it comes to photography. We both really love to utilize the darkness in moody photos to bring out the most emotion of our food. Theres somewhat an irony to it, I suppose we just like the way things look in the darkness.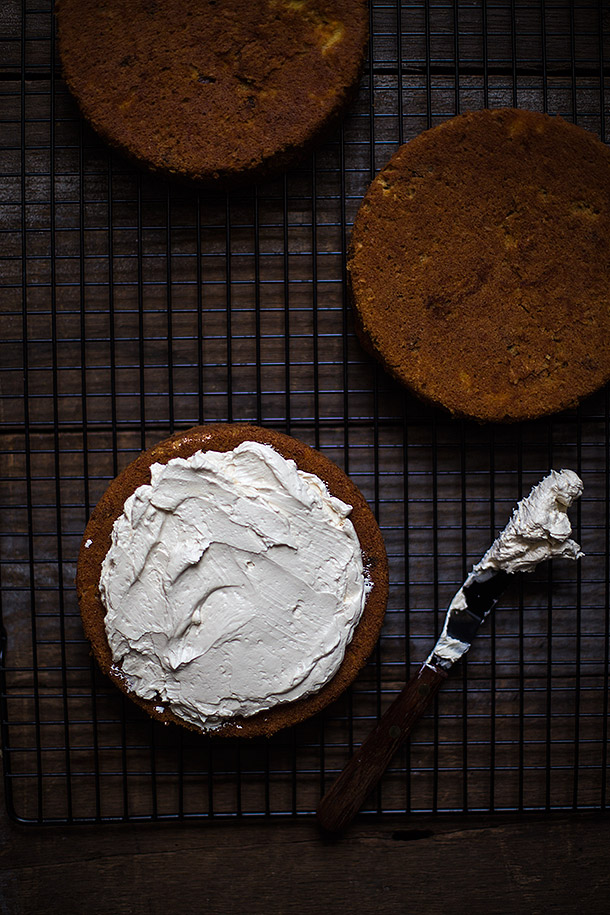 Not to discount the lighter photography that we both do. but even then there is still certain gradient that I thin we leave leave by casting shadows on certain areas of the food. To me it sort of brings out the best in food. You see things that you wouldn't normally see in plain daylight. That's why I really love her book, each beautiful photo in her book is very much the style that I love and if you enjoy my photography then you would definitely enjoy hers too.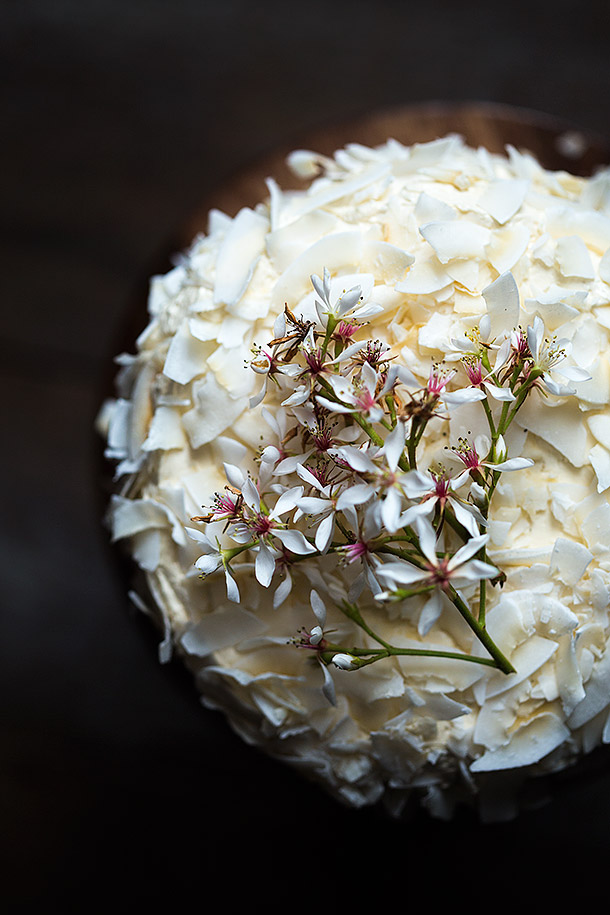 Enough with the blabbering about photography though, let's talk about the verdict on this cake. After tasting my first rich, and flavorful bite  I think I've come to the decision that I actually love carrot cake. Or maybe specifically Jenni Hulet's carrot cake. Not only that but her whole cookbook is full of amazing and versatile recipes including a create your own filling eclair (yep you guessed it that's my next endeavor).  Lucky for me she was nice enough to let me share her recipe on here just for you guys along with the photos of my experience.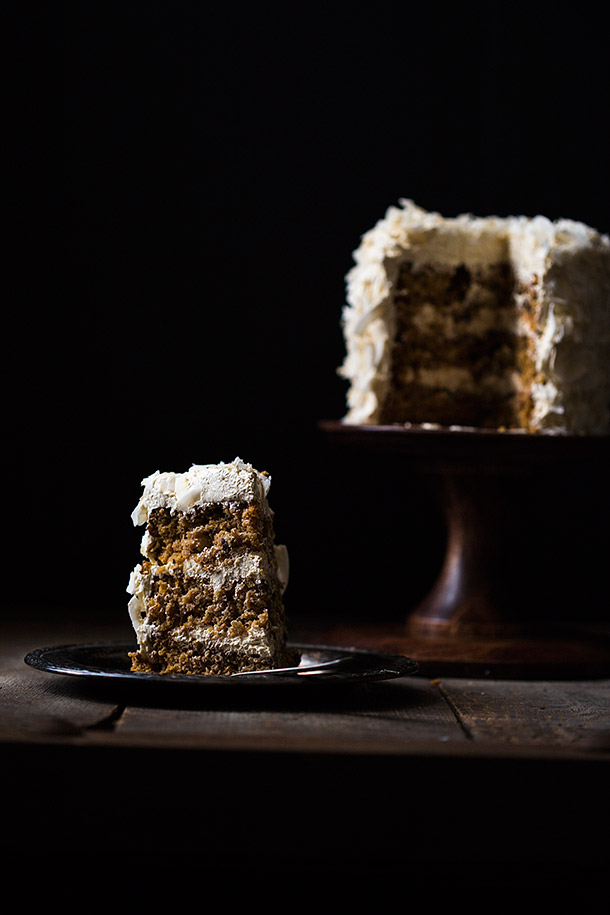 Paleo Carrot Cake
Ingredients
Cake:
¼ cup palm shortening or butter
4 large eggs
1 large egg white
1 cup firmly packed maple sugar
1 teaspoon lemon juice
3½ cups almond flour
1 teaspoon ground cinnamon
¾ teaspoon ground ginger
½ teaspoon ground nutmeg
½ teaspoon baking soda
½ cup unsweetened shredded coconut
⅓ cup raisins
⅓ cup chopped pineapple
⅓ cup chopped pecans
3 medium carrots grated
3 cups coconut flakes for garnish
Swiss meringue buttercream frosting:
3 room temperature egg whites
¾ cup maple syrup
¼ teaspoon cream of tartar or lemon juice
1½ cups room temperature palm shortening or butter
1 teaspoon vanilla
Instructions
Preheat the oven to 325 degrees fahrenheit. Grease three 6-inch cake pans and line the cake pans bottoms with parchment paper circles.
Melt the palm shortening or butter in the microwave or a small pan over low heat, then set aside to cool. In the bowl of a stand mixer fitted with the whisk attachment, beat the eggs, egg white, sugar, and lemon juice on medium-high speed for 15 minutes. The mixture should become thick and voluminous. Always continue to beat it for the whole 15 minutes.
While the egg and sugar mixture is beating, whisk together the almond flour, cinnamon, ginger, nutmeg, and baking soda in a large bowl. Then add the shredded coconut, pineapple, raisins, pecans, carrots, and melted shortening or butter.
Once the egg mixture is done beating, gently fold it into the flour until completely incorporated. Divide the batter amongst the cake pans and place in the oven for 30-35 minutes.
Remove from the oven and allow to cool for 10 minutes. Then, gently loosen the edges of the cakes and invert them onto a cooling rack to cool completely.
Now it would be time to make the frosting. First you want to make sure your stand mixer bowl and whisk are completely clean and dry before continuing. Once you have that done add the egg whites, maple syrup, and cream of tartar or lemon juice to a heatproof bowl.
Place the bowl over a pot of simmering water (you don't want the bottom of the pot touching the water). Heat the mixture while whisking continuously until it reaches 160 degrees fahrenheit with a candy thermometer.
Once it reaches temp immediately remove it from the heat and pour it into your stand mixer bowl fitted with the whisk attachment. Whisk it on low and gradually raise the speed to high over the course of 30 seconds. Beat the mixture until stiff peaks and it is cool to the touch. This could take about 8-10 minutes.
Now use the paddle attachment for your stand mixer and beat on medium-high adding the butter bit by bit. Beat until thick and smooth.
To assemble: place the first cake layer on a cake stand and frost the top of it about ¼ of an inch thick worth of the frosting. Then add the next layer, repeat the step again. Then add the third layer and frost the entire top and around the cake. It's okay if the frosting around it is thin as you only need enough to stick the coconut flakes on.
Scoop up handfuls of the coconut flakes and lightly press them into and all over the surface of the cake.
You can serve immediately but for best results chill the cake for 30 minutes, uncovered before serving.