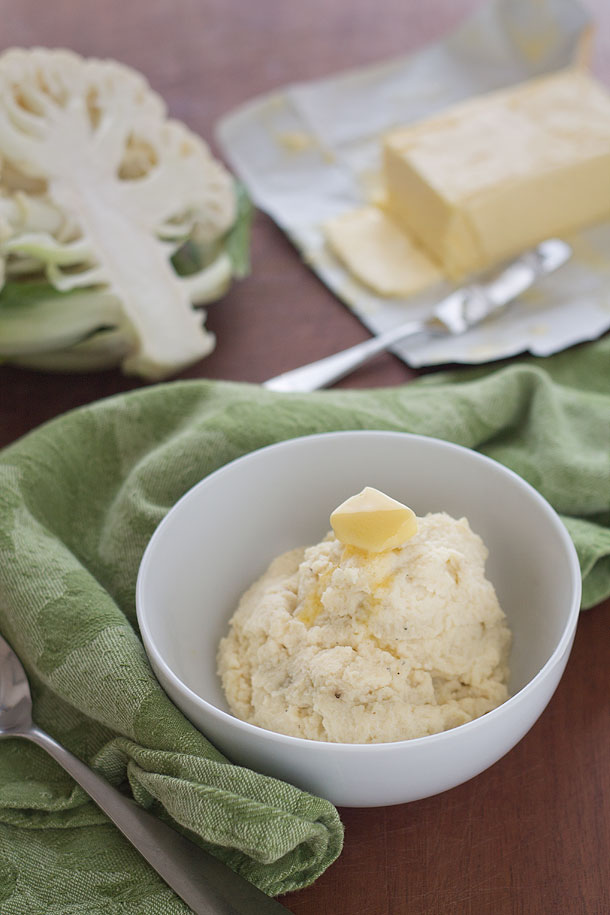 Another side dish? How could you josh, how could you post another side dish? Well it was so highly requested that I decided to go ahead and get this recipe up as soon as possible so I hope some people will be joyous about it. Regular, plain, old potatoes can be pretty boring. Granted their great for absorbing flavors but they aren't a health marvel and don't contribute much flavor to anything. Not trying to bash potatoes, so don't worry all of you potato lovers out there. I personally think there needs to be somewhat of a flavor contribution, a subtle one. Cauliflower of course hits this key right on the spot. It's taste is very subtle but it has a slight sweetness that potatoes do not, which in my opinion really makes a huge difference in the mash.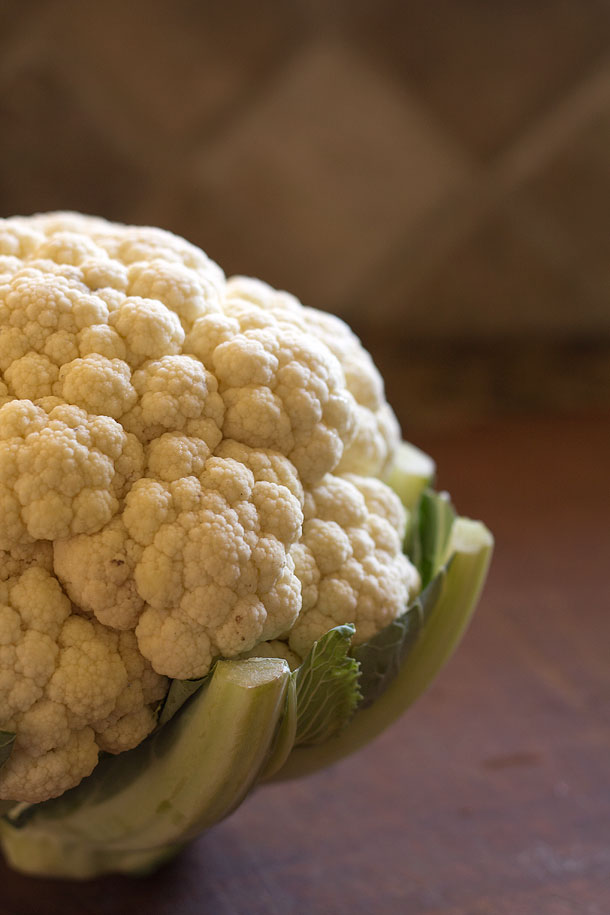 Having some sort of slight sweetness with the savory in a mash really keeps a mash from being too bland. Now I call this mashed cauliflower even though I do it in a food processor because I like it just a little bit textured. A slight nuance that keeps you wanting another bite to search for that second out of place texture note. But if that's not your thing you could always process it more until it's pureed. The next most important thing in my view for a mash is that you should try to keep the ingredients as minimal and simple as possible. Don't go to crazy all of the time, sure it's great every now and then to toss in a thread of saffron finish it with a drizzle of olive oil, balsamic vinegar, and shaved truffles but not for an every day thing.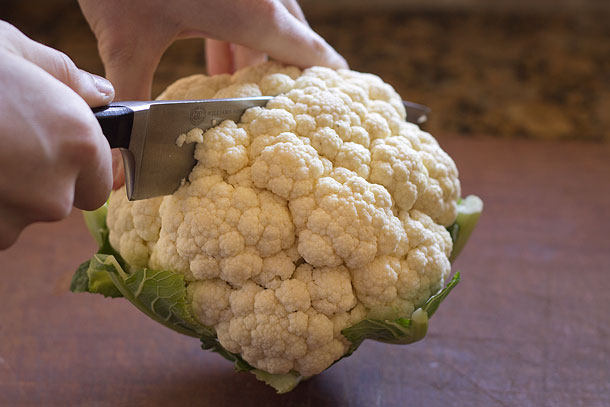 Just stick with how your grandmother made it because chances are she probably knows more about cooking than me and you combined. She said she kept it simple because it saved money, but we all know that's not the truth. She just didn't want to give that secret away. I found out anyway, just be sure not to alert the granny police because I'm sure they wouldn't be too happy. Regardless of this whole granny tangent I seem to be going on, I personally think that cauliflower makes a really good alternative to mashed potatoes, but is also it's own thing.
Now of course there is a second secret to making this decadent, buttery, amalgamation of flavor and texture so good. I'm hoping that you have guessed it by now because I just wrote it out in plain text right in front of you. If you read buttery and knew right away then I know you truly love food.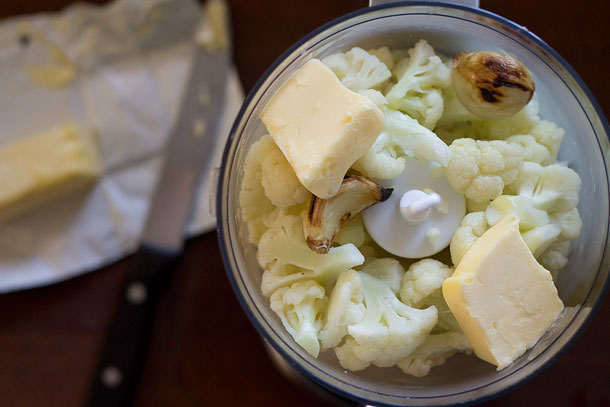 Butter, is the base of flavor in this. It's another subtle note,one which may call for a little extra depending on your taste, but it's what provides that silky, slightly salty, and ever so rich flavor that makes every  mounded spoonful a really fulfilling and warming side dish. Plus at what point do you ever hesitate in a recipe if the chef or recipe writer uses the sentence "and if you want throw in an extra knob of butter" to not follow that critical technique? If that sentence or anything along those lines are used, it's not really a "if you want" its more of a yeah its going definitely happen now. If you don't use grass fed butter I highly suggest you do, and not just for it's wonderful health benefits but it tastes so much better.
I really like the brand Kerrygold because it's made from 100 percent grass fed, antibiotic/hormone free Irish cows and you can find it just about anywhere. Imagine a butter, that tastes even more buttery. I don't think I have anymore convincing to do. Please don't skip on the grass fed butter in this because you would be making a huge mistake if you did. If you're really bold you will add a little slice on top when it's done to melt down that beautiful fluffy tower of goodness.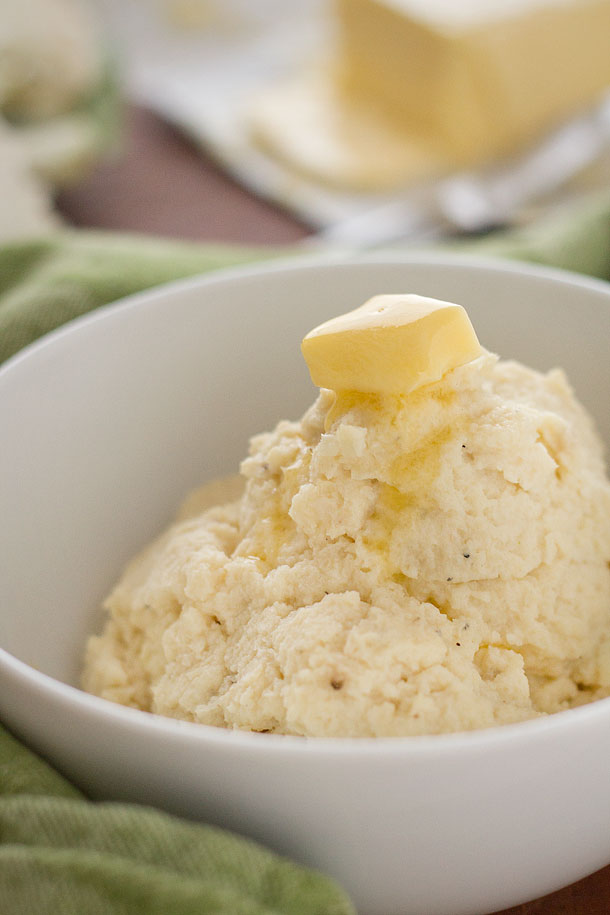 Mashed Cauliflower
Ingredients
½ large head of cauliflower (stem removed and each floret cut into fourths depending on size)
2 tablespoons grass fed butter
2-3 garlic cloves unpeeled
salt and pepper to taste
Flavor Variations:
Curried Mashed Cauliflower: add ½ tablespoon curry powder and ¼ teaspoon cayenne pepper powder.
Cheesy Mashed Cauliflower: add ¼ cup grated grass fed cheese and a tablespoon of heavy cream or coconut milk.
Herbed Mashed Cauliflower: add 1 sprig fresh thyme, 1 sprig fresh rosemary finely minced and chopped chives.
Smokey Barbecue Mashed Cauliflower: ½ teaspoon smoked paprika, ½ teaspoon chili powder, ½ teaspoon cumin, ½ teaspoon ground coriander.
Instructions
Take individual unpeeled garlic cloves and place them on a small baking sheet and place them under the broiler on high until nicely browned all the way around and soft.
Either place cauliflower in a medium sized bowl and steam in the microwave until slightly translucent and easily pierced with a fork or steam for about 10 minutes or until soft.
Place cooked cauliflower in processor followed by butter, roasted garlic and a little bit of salt and pepper to taste.
Process until you get a nice smooth and creamy texture(you may need to scrape down the sides to make it go faster)