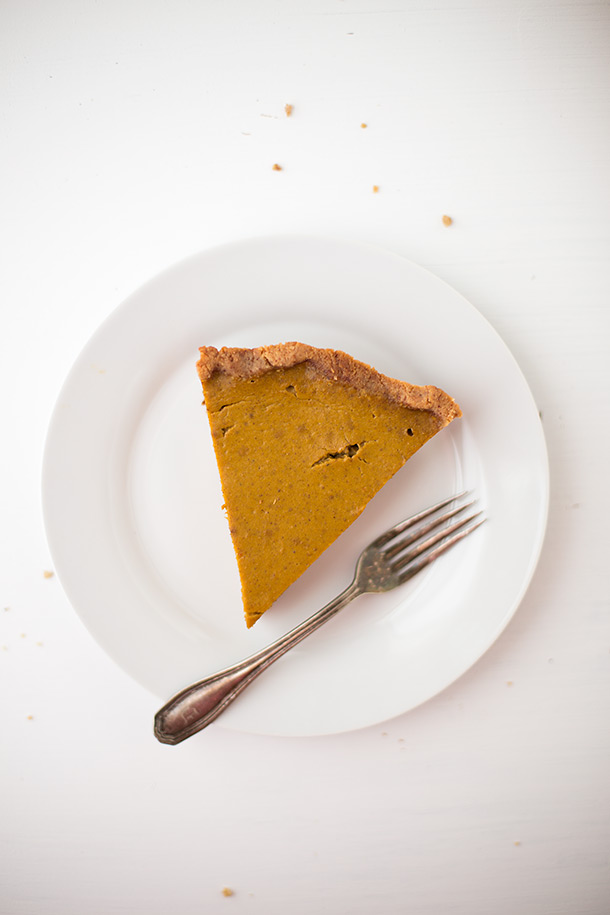 So Thanksgiving is coming up as I'm sure many of you know. As with any get together I have to prepare as many things as I possibly can because that's just how I get. I am not exactly aware of why I choose to do that to myself but I just like to make a plethora of things for people to taste. I suppose I just like being able to view the response on everyones face even if the expressions are of discomfort.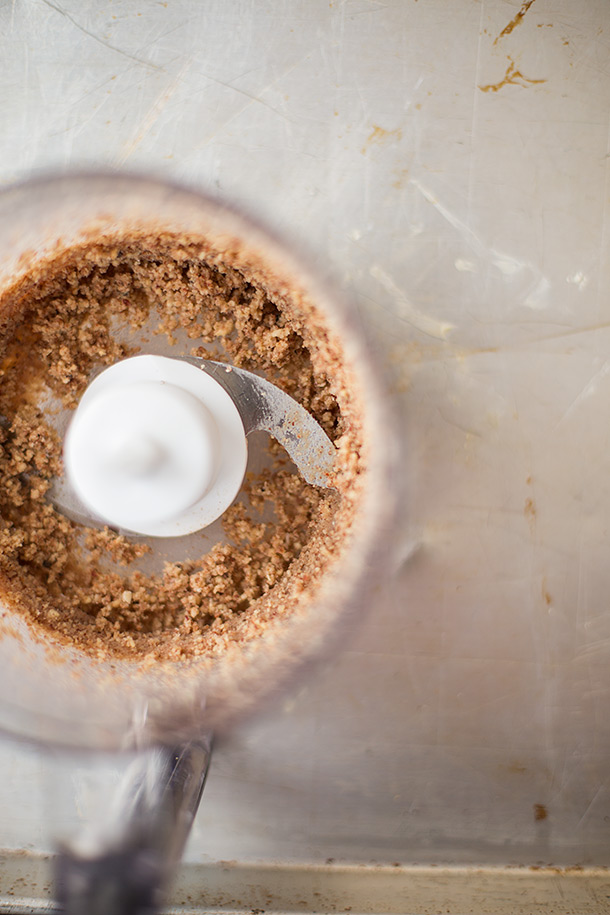 At a recent Halloween party, I received a request from quite a few people to make pumpkin pie. I figured it was going to be a cinch and began my planning until I actually made the realization that I had never made pumpkin pie before.
I'm almost certain that it took over 2 hours to actually get it in the oven because I was being so precocious with putting it together. Here's where I made a slight mistake which was the fact that nut based crusts brown incredibly quickly  and I have the oven temp started at a much higher temperature than normal for the first few minutes. I of course smelled that incredibly alarming scent of something that is getting quite "browned".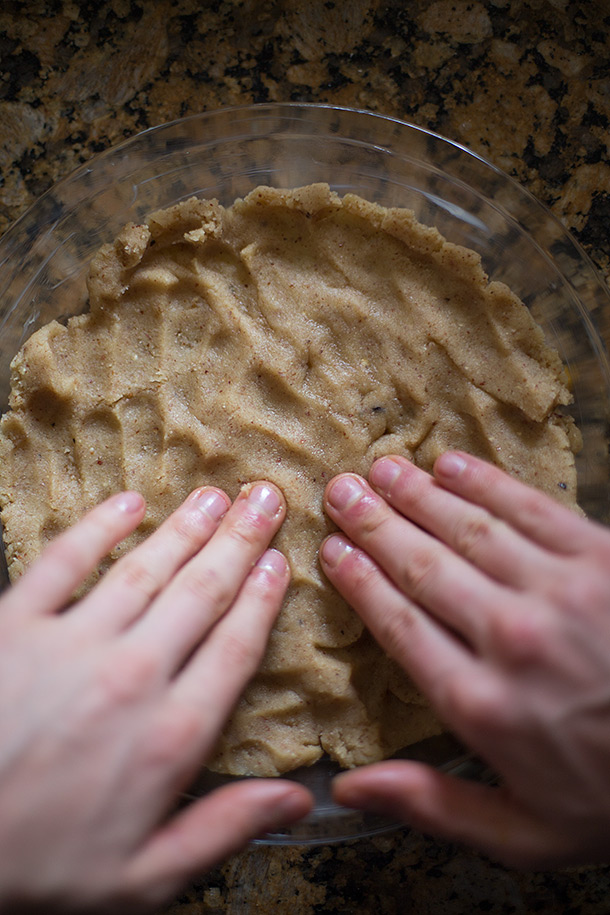 Like a panicky girl scout I opened the oven to get a closer look and a plume of smoke blew out of the oven. Bad news right? Luckily the crust was fine, in fact it was perfectly browned so I figured I'll just put on a pie shield. Because I'm the luckiest person on the planet the pie shield was missing from the house so I had to create a makeshift pie shield out of foil which completely saved me or more specifically my pie crust. In the end the pumpkin pie was wonderful and was promptly requested yet again but this time for Thanksgiving. The interesting thing is that even though everyone that has tasted it so far has liked it they didn't have the slightest idea that it's technically Paleo and moderately nourishing. Granted I still used a type of sugar in it but who cares really, it's a treat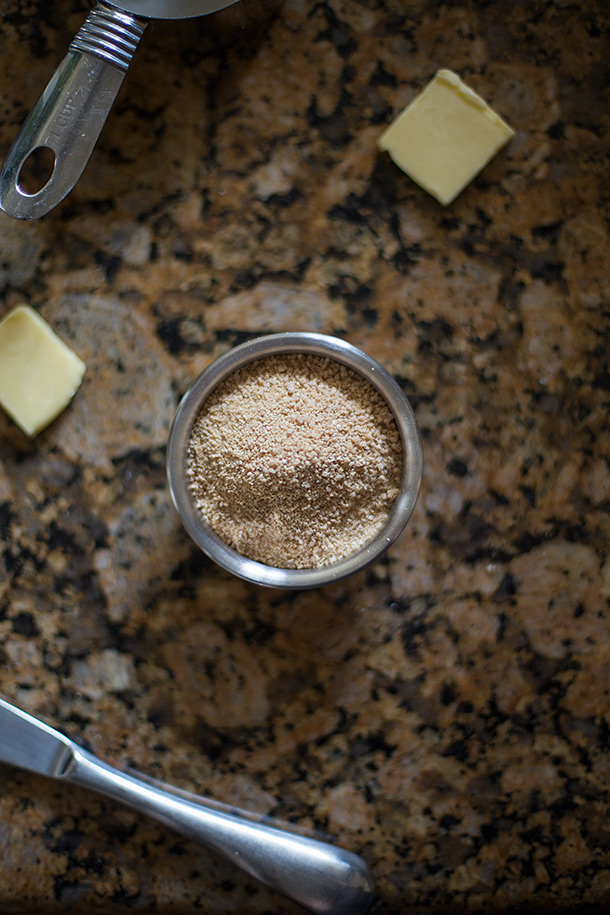 At least I now have a pumpkin pie recipe I can rely on for thanksgiving, christmas or any time of the year really.  that I can feel moderately okay about eating that I can stick to for the holidays. Pumpkin pie to me was considered a sacred art form until I found out many of my family members just used the recipe on the back of the pumpkin puree cans. Moral of the story: if nobody knows that you almost burned the pie crust it's still completely delicious and pumpkin pie is a valuable tool during the fall.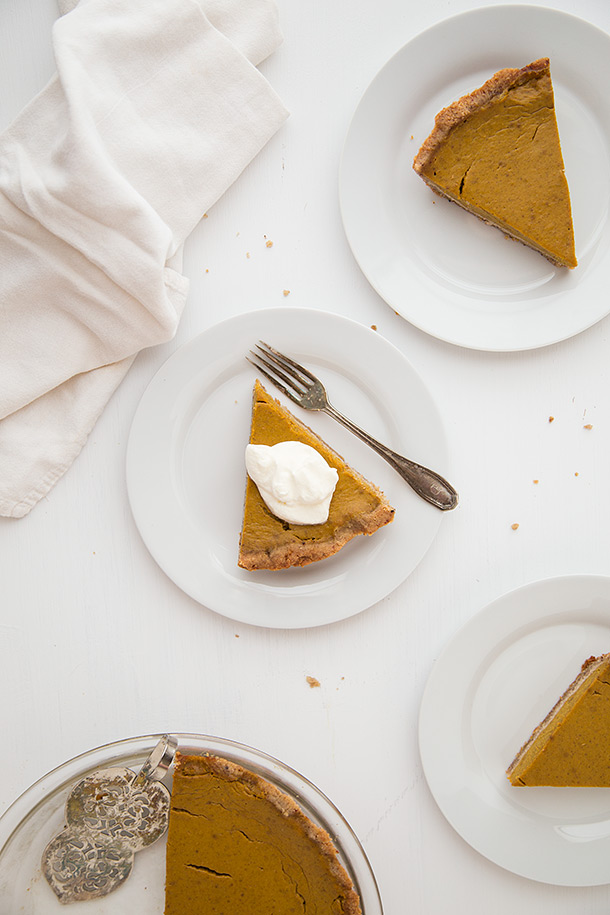 Maple Pumpkin Pie
Ingredients
Crust:
1½ cups blanched almond flour
½ cup pecan halves
1 egg
2 tablespoons butter or coconut oil softened and slightly melted plus more for greasing
2 teaspoons maple sugar
small pinch of salt
Filling:
1- 15 oz can pure pumpkin or 2 cups fresh pumpkin puree (I used this brand of canned)
½ cup coconut milk
3 eggs
½ cup maple sugar
1 teaspoon cinnamon
½ teaspoon ground nutmeg
½ teaspoon ground ginger
¼ teaspoon ground cloves
½ teaspoon sea salt
Instructions
Preheat the oven to 425 degrees. Grease a 9-inch pie mold with butter.
Pulse the pecan halves in a food processor until they are very finely chopped and almost represents pecan butter. It will start sticking to the walls of the food processor. In a medium bowl combine almond flour, salt, and maple sugar. In a small bowl whisk egg and add to the almond flour mixture along with butter and pecan halves and mix until thoroughly combined.
Press dough into pie mold and poke holes on the bottom with a fork. In a large bowl add pumpkin. In a seperate smaller bowl whisk together eggs, pour, and mix into pumpkin. Add cinnamon, nutmeg, ginger, cloves, sea salt, and maple sugar and mix until well incorporated. While mixxing slowly pour in coconut milk until completely distributed.
Pour filling into pressed dough pie mold and lightly cover the edges with a pie shield or foil. Place in the oven for 15 minutes then immediately reduce temperature to 350 degrees and let bake for 35-40 minutes or until it has no jiggle left in the center.
Remove from the oven and allow to cool completely before serving.
Notes
Note on foil if you don't have a pie shield
: So it was rather tricky when I was creating my makeshift pie shield with foil but to save myself the confusing explanation I found a post that has an excellent tutorial on how to make one
here
.
Note on maple sugar: So I realize this might be an unusual sounding sugar and that it would be hard to come by but it's actually pretty widely available at most grocery stores. If you cannot find it I put a link to it in the ingredients list above.
Related links:
Thanksgiving Smorgasbord – Nom Nom Paleo
Perfect Smoked Turkey – The Domestic Man