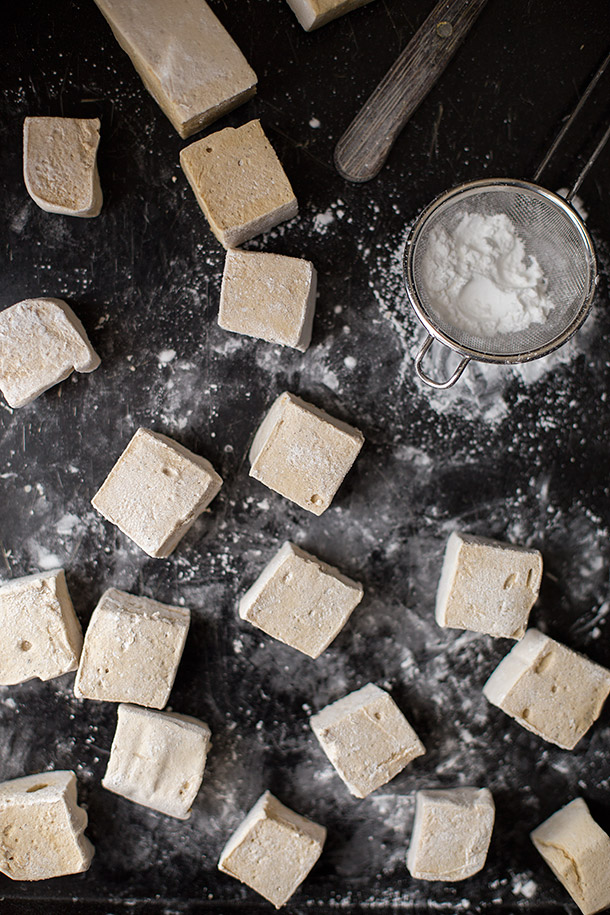 Winter has officially hit Texas with complete disregard of the fact that I wear shorts pretty often. Well I did, I've been forced to change my habits because of the exceedingly "cool" weather. It's odd to walk outside on a nice Texas day only to be chilled to the bone with an windy ice blast to the face and bare legs. Yesterday it was actually colder here than in New York so I'm not just being a wimp about it.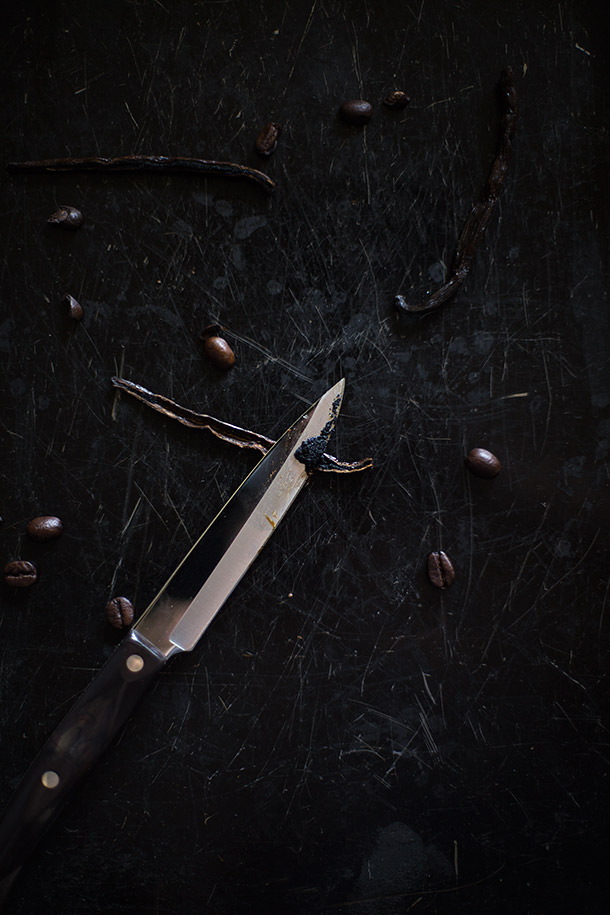 Along with the sudden onset of winter comes the time to garnish the house with all things winter and holiday related whether it's Christmas, Hannukah, or Kwanza, I don't discriminate. A warm fire roaring in the fire place, sweet spiced scents drifted around the house, maniacal laughter from your family members. We recently put up our Christmas tree, or Holiday tree as my school would call it, which was ultimately my signaling that it was in fact time to be in that blissful "spirit" regardless of whether it's a monday or not. Because yes, Mondays don't exist during the holidays.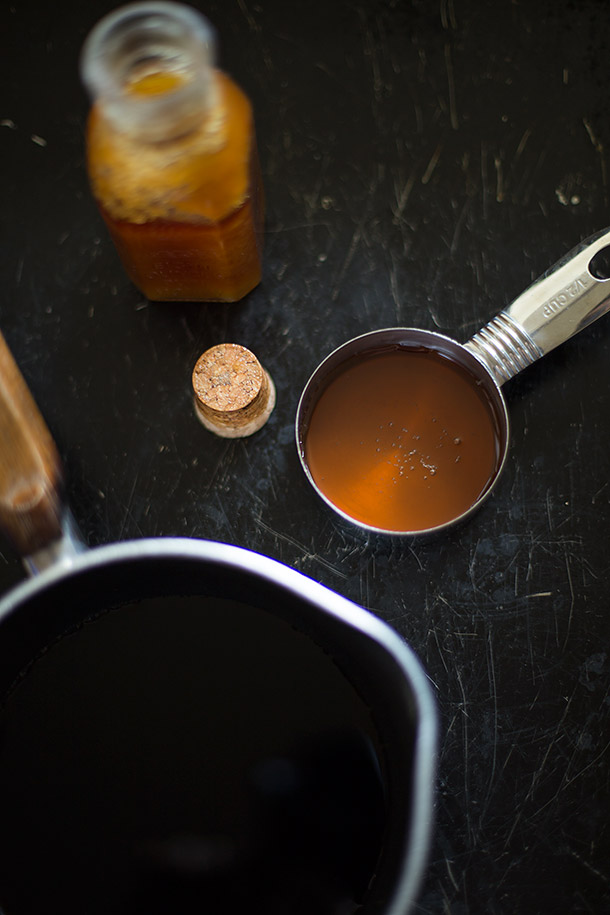 I talk often with my family members, girlfriend, and friends about how much I'm going to enjoy sitting back on the winter break drinking a steaming cup of velvety and rich hot chocolate. First off, that's a ridiculous thing for me to say because I don't really drink hot chocolate very often at all. Though I might since I just got some Eating Evolved's new hot chocolate in the mail.  A few friends of mine always mentioned marshmallows though, which kind of made me feel like my hot chocolate was less of a beverage due to that.
Well I say no more piteous and marshmallow-less hot chocolates for this guy. I found a way to make them myself with mainly gelatin and a mixture of honey and maple syrup rather than an excessive amount of sugar and corn syrup. As much as I would like to take credit for figuring this out entirely myself, I have to say that I used Jenni's from the The Urban Poser plain Marshmallow recipe as a reference to create my own.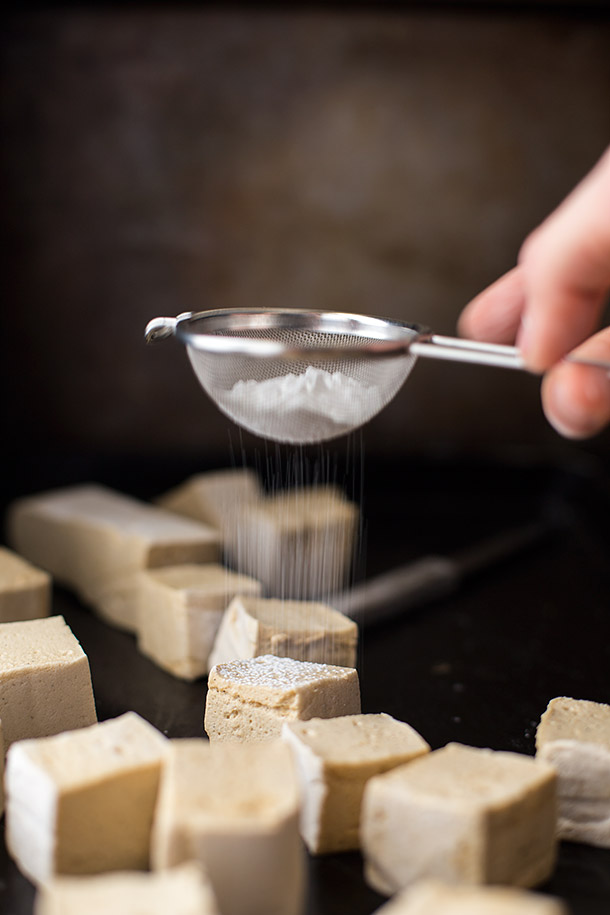 It really doesn't get much better than a refined sugar free, honey/maple sweetened, fluffy marshmallow flavored with fresh vanilla bean and coffee to get me going. And even though it's not necessary for myself it happens to be dairy free and egg free for those of you with intolerances out there. You can also put these fluffy off-color white masses of pleasure into your hot chocolate and turn it into a vanilla bean mocha hot chocolate. I totally planned that, yep.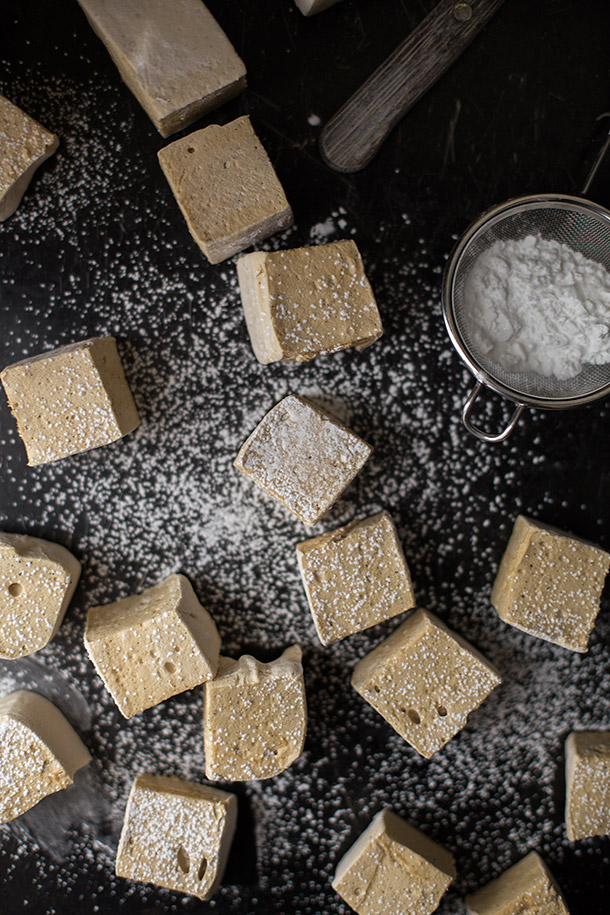 I'm not trying to sway any of your possible marshmallow rituals, I'm merely saying that you can instantly make a hot chocolate twice as seductive with the addition of these. Or just stuff them  too many of them in your mouth and play the game chubby bunny. Actually on second thought please don't do that, turns out there has been at least 2 deaths from it, and even if you do survive I doubt your body with thank you.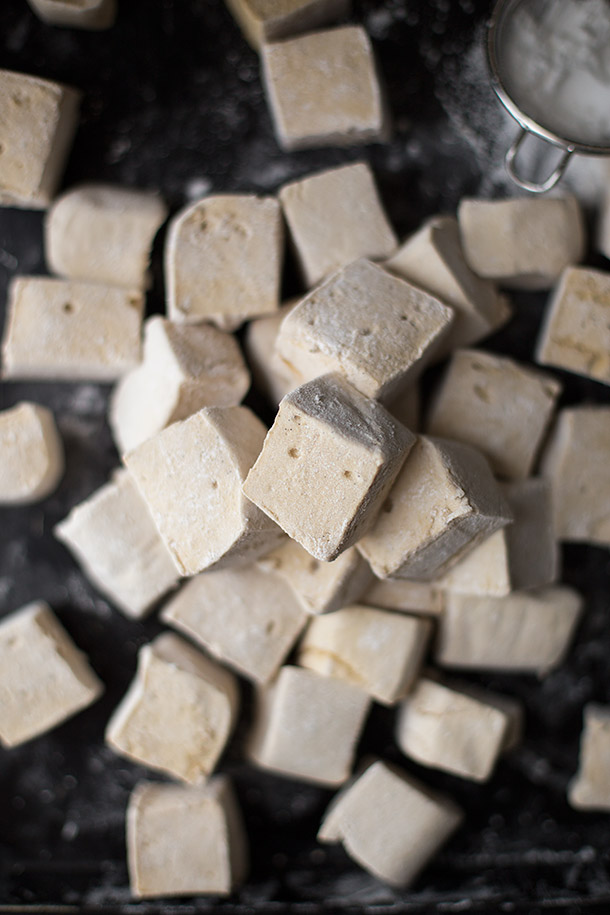 Vanilla Bean Coffee Marshmallows
Adapted from The Urban Poser's
Rustic Marshmallows
. This is much easier than it looks I promise. You'll have your very own refined sugar free, egg free, dairy free, marshmallows in no time.
Ingredients
2½ tablespoons unflavored gelatin (If you're looking for grass-fed gelatin I use this brand which is grass-fed)
½ cup cold brewed coffee (you can also use chilled regular coffee but the coffee flavor will be slightly less pronounced)
½ cup water
½ cup honey
½ cup maple syrup
1 vanilla bean
pinch of salt
coconut oil for greasing
arrowroot starch for coating
Instructions
Grease an 8x8 baking dish with coconut oil and line it in both directions with parchment paper. Grease the parchment paper and dust a layer of arrowroot powder on the bottom of it to prevent the marshmallow from sticking.
In a standing mixer add unflavored gelatin and pour in cold brewed coffee. Give it a stir with a fork to make sure it's well mixed. Leave it in the bowl to let the gelatin bloom. The gelatin will bloom as you make your syrup for the marshmallows. WIth a sharp knife slice the vanilla bean in half lengthwise. Gently scrape the vanilla beans from the inside of the pod and place them into the mixer with the blooming gelatin.
In a small/medium saucepan add the water, honey, maple syrup, and salt. Place it over medium heat and bring it to a boil then attach a candy thermometer to the side of the pot and into the liquid making sure it doesn't touch the bottom. Boil it breaking any bubbles with a fork that may get too high in the pot, just make sure not to stir the liquid itself when doing this. (if your syrup begins to bubble uncontrollably high, slowly lower your burner temperature to keep it level but try to avoid going all the way to low). Once your thermometer registers 235-240 degrees or soft ball stage fahrenheit turn off the burner and take it off the heat immediately.
With the whisk attachment on, turn your stand mixer on to slow/medium. Pour your syrup down the side of the standing mixer bowl in a slow and steady stream, making sure not to pour it directly in the center of the bowl. Once all of the syrup has been poured in let it mix for 10-20 seconds to assure that the gelatin bloom is well incorporated and mixxed with the syrup.
Increase the speed of the mixer to high and mix for 7-8 minutes or until the mixture has the consistency of marshmallow cream and has turned white.
Immediately transfer the marshmallow by scraping it out with a scraper into the prepared 8x8 baking dish (you really have to work fast here as it can begin to set very quickly). Even it out with the scraper and lightly sift some arrowroot starch over the whole top of it. Cover it with parchment paper and let it set for at least 4 hours and up to overnight. I let mine go overnight.
Cut them into pieces with a large sharp knife and dust/toss them with some more arrowroot powder to prevent them from sticking to each other. Enjoy!
Notes
Note About Cold Brewed Coffee
: Some of you may not know what cold brewed coffee is but I assure you that there are many grocery stores that now carry it. My favorite brand that I use is
Chameleon Cold Brew
. Cold Brew Coffee is stronger than regular coffee so it works well in a recipe with minimal liquid added. You can substitute chilled coffee in the same amount but the flavor of coffee will be less pronounced.
Note About the Vanilla Bean: You can get vanilla beans at almost any grocery store or
buy them online
and I don't recommend skipping it at all. If you absolutely cannot find it anywhere and don't want to order it online you can substitute 1 teaspoon of vanilla extract and simply add it to the marshmallow cream after it has thickened to a marshmallow cream consistency and let it whisk 10-20 more seconds to incorporate it. LIke I said though I don't recommend it as the flavor will be a bit different in comparison to fresh vanilla bean.
Related Links:
Hot Chocolate (an oldie but a goodie)
How to Scrape  A Vanilla Bean – CHOW