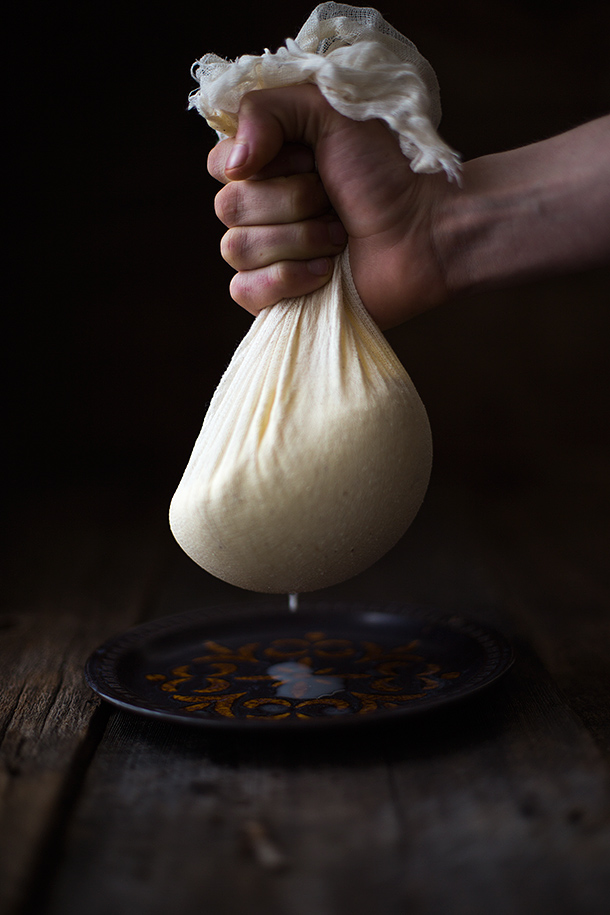 I feel that right off the bat this post is going to start a debate about whether or not dairy is okay. Look here, if you're dairy intolerant in any way then I totally understand if it doesn't appeal to you. While there is a large group of people that are dairy intolerant I am fairly sure that there is a good amount of people who can tolerate it as well. I fall into the category that can tolerate it.  I don't need to be chastised about my choices here especially since I have the rest of my eating under control and I focus only consuming grass-fed, and raw dairy. Plus it tastes oh so good and life without butter, cream, yogurt, and the various other dairy delights is not a life for me; again with exception to those who are intolerant.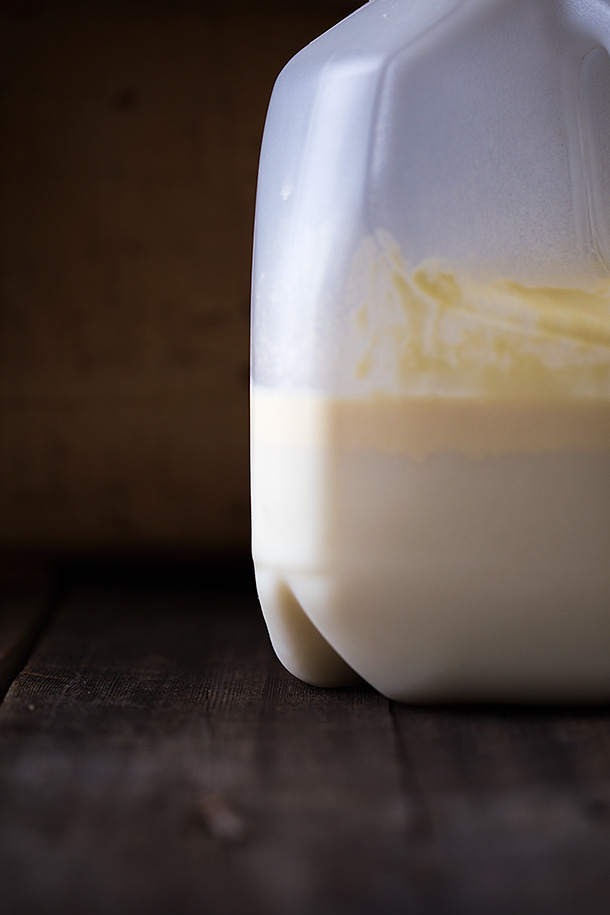 That said, I've actually been trying to gain weight lately. Yep, you read correctly; gain weight. Those words probably sound like breaking glass or nails on a chalk board to most. I'm talking about muscle weight of course, so settle down folks, I didn't lose more than 100 pounds and write a cookbook for nothing. I suppose after losing so much weight my appetite stayed relatively low even though I've been doing crossfit so I just continued to lose weight slowly. I dropped way too low for my current height so I decided it's time to change that.
It's actually pretty comedic; the mental shift I've had to make in terms of eating to start gaining weight. I already ate a lot, but now I eat so much it surprises people on Instagram. Yes tiffany454 I'm eating all of that.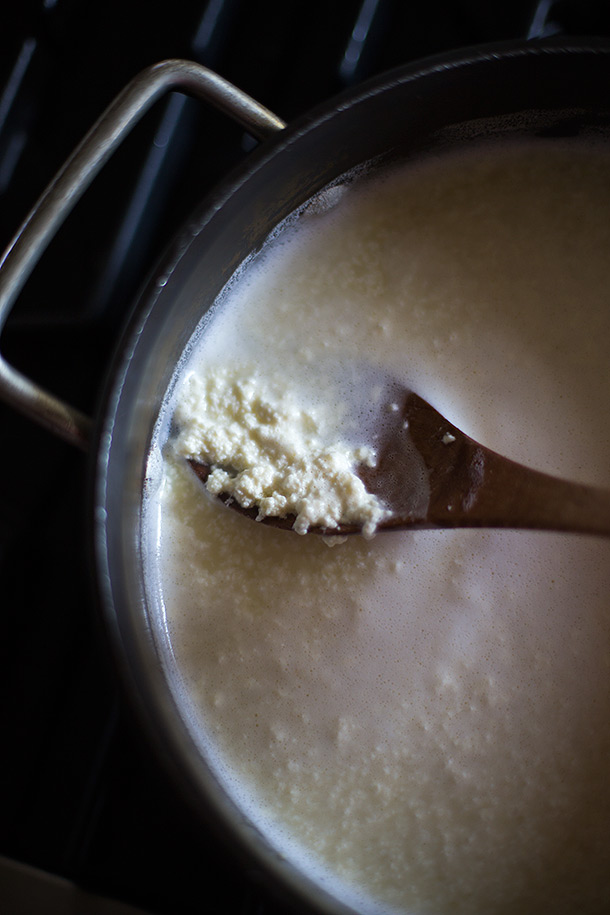 Since I'm trying to gain weight I basically try to fit in as much food as I can get in my young and now fast paced metabolized body to help it grow, meanwhile doing a pretty intense strength program at my Crossfit gym. My gym owner suggested I start drinking a little bit of milk with my meals to get in some extra calories to ensure I'm eating enough. As soon as he said that my mind flooded with the idea to try some of that raw milk that my favorite local farm Yonder Way Farm offers. So I've been drinking some of that with my meals with no ill effects so far  and let me tell you something. It tastes like heaven; ice cold and creamy heaven. It's so incredibly creamy that it holds to the glass after each refreshing sip.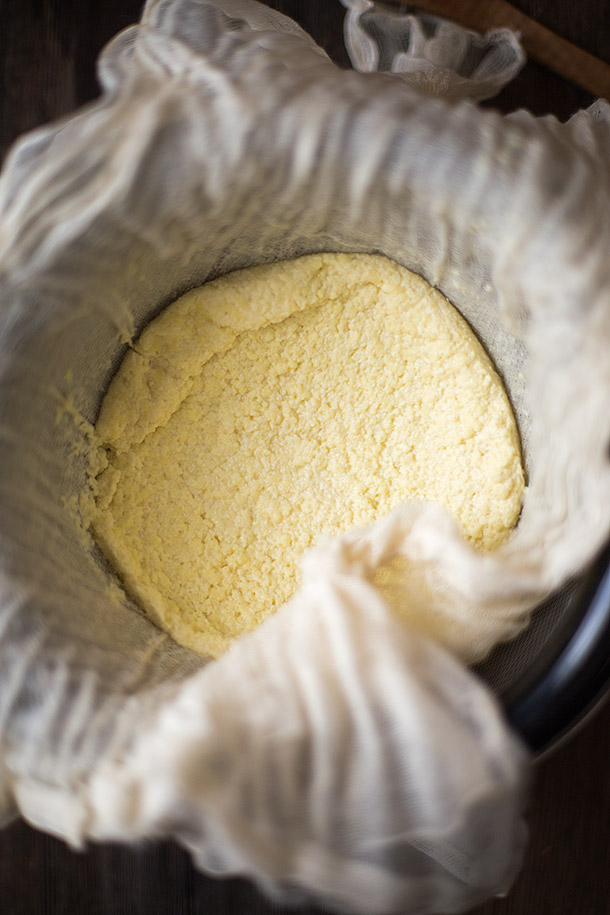 Now I truly understand why my farmer always urged me to try it. In fact he let me know on Instagram that I was now a man since I've finally started drinking it. It's basically his beverage of choice. I used about half of the jug in a week and I was worried about it getting spoiled since it started smelling a tad "off" so I immediately thought to make ricotta out of it since you have to heat it in order to make ricotta which would kill any bacteria that could be forming. Granted I'm fairly sure it's no longer raw after that but it's better than wasting the rest of that wonderful milk. Lucky for me when I started on the ricotta there was exactly 2 quarts of it left and not a drop more. Ah the little things.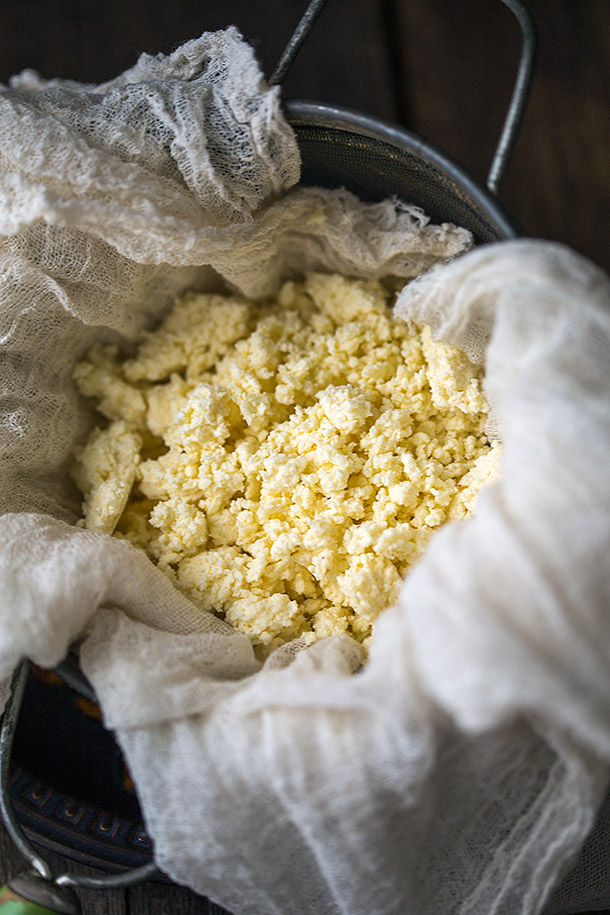 Homemade Ricotta
How to make fresh ricotta at home. A great way to use up that other half gallon of milk. Adapted from
epicurioius
.
Ingredients
2 quarts (8 cups) whole milk *see notes*
1 cup heavy cream *see notes*
1 teaspoon salt
3 tablespoons lemon juice
Instructions
Line a large sieve with fine mesh cheese cloth and place it over a medium sized bowl.
Pour milk, heavy cream, and salt in a 5 quart heavy bottomed pot and set to medium heat. Heat milk stirring occasionally to prevent scorching until the milk reaches 190 degrees with an instant read or candy thermometer. Add lemon juice and reduce heat to low and continuously stir until curds form, about 2 minutes.
Turn off the heat and strain through the cheese cloth lined sieve. Let the curds drain for 50 minutes to an hour or until desired consistency is achieved. Store in the fridge for up to 2 days.
Notes
Notes on milk: I used local raw milk from Yonder Way Farm and recommend the same. If you cannot find or obtain raw milk look for the lowest temp milk that you can find as UHT has reportedly had a problem separating from the whey.
Notes on heavy cream: You can use any heavy cream you like.
Notes on how to serve this: I especially enjoy this spread on some cucumber slices with a drizzle of honey, olive oil, and a light sprinkling of flakey sea salt. It really goes great on just about any vegetable or with some fruit and honey. You can also cook with it of course and add it to gratins, tarts, or casseroles. The possibilities truly are limitless.