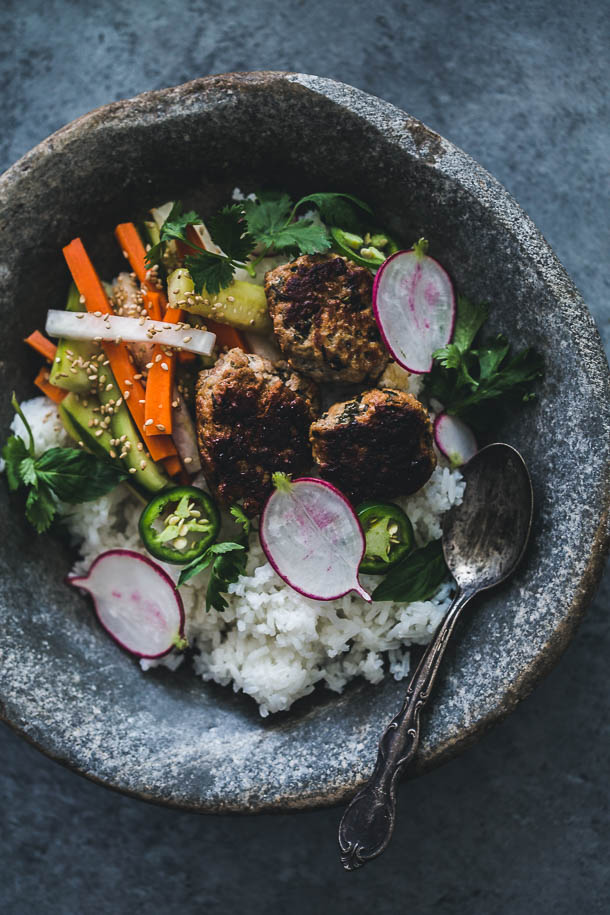 Prep time: 10 mins
Cook time: 15 mins
Total time: 25 mins
A gluten free and fun rice bowl version of a vietnamese bahn mi. This is a great recipe for when you have leftover rice you don't know what to do with or if you just feeling like having a rice bowl with all of the delicious profile of a bahn mi sandwich.
Steamed rice or cauliflower rice for base of the bowls. You can have serve as much of this as you want per person.
Pickled Vegetables:
1 cup julienned carrot
1 cup julienned daikon
1 cup julienned cucumber (peeled)
1½ tablespoons sugar (coconut or cane)
¼ teaspoon salt
1 teaspoon soy sauce
rice vinegar to cover
Meatballs:
1 pound ground pork
1½ teaspoons grated ginger
3 cloves garlic grated
¼ cup minced thai basil
¼ cup cup minced cilantro
1 teaspoon sesame oil
½ teaspoon sriracha
1 teaspoon fish sauce
very light pinch salt
cracked pepper to taste
Garnish:
Thai basil
cilantro
sesame seeds
radish, sliced thin
jalapeño, sliced thin (optional)
Pickle the vegetables by adding all the carrots, daikon, and cucumber in a large jar with sugar, salt, soy sauce, and fill with rice vinegar to cover. Let sit out at room temperature for at least 30 mins; can sit out for a couple days.
In a medium sized bowl mix together all the ingredients for the meatballs until thoroughly incorporated. Form into meatballs to the size of your liking.
Preheat an empty pan to medium high heat and add your meatballs, browning them 2-3 minutes per side. Lower heat to medium low and lid the pan to finish cooking for about 5 minutes or until fully cooked.
Assemble your bowls by starting with rice at the bottom, then add your pickled vegetables and sprinkle them with sesame seeds, then add the garnishes to your taste. Serve with sriracha (or maybe a sriracha mayo if you're really feeling adventurous) on the side.
Recipe by
Slim Palate
at http://slimpalate.com/pork-meatball-bahn-mi-bowls/