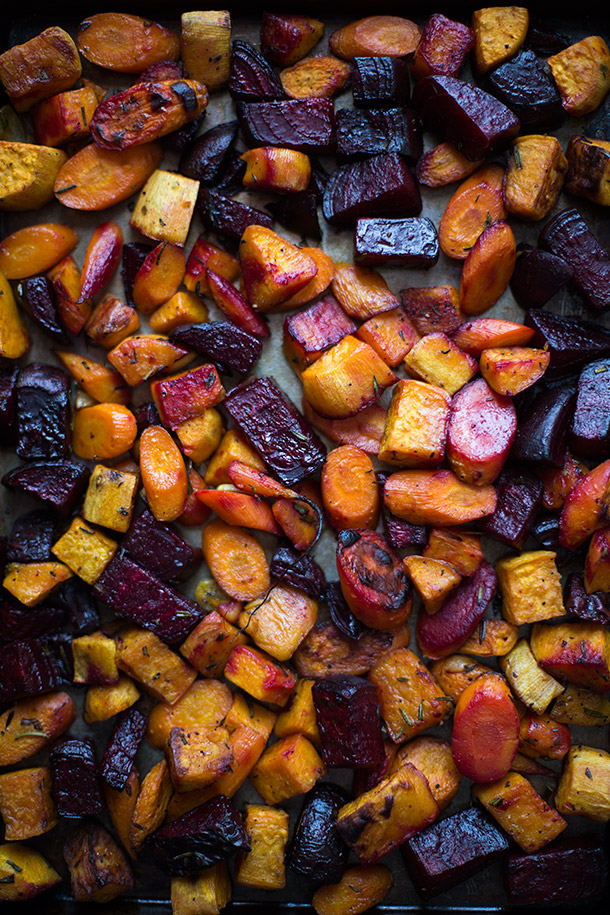 Prep time: 10 mins
Cook time: 45 mins
Total time: 55 mins
A simple and easy root vegetable medley roasted to tender and sweet perfection.
7 large carrots sliced at a diagonal
2 large sweet potatoes peeled and cut into 1 inch cubes
3 medium sized beets cut into 1 inch cubes
3 cloves of garlic thinly sliced
1½ tablespoons fresh rosemary chopped
½ tablespoon fresh thyme chopped
¼ cup butter or lard, melted (really you can use any cooking fat you want here, these are just my two personal favorites to use in this)
salt and pepper to taste
Preheat the oven to 400 degrees fahrenheit and line a rimmed baking sheet with foil.
In a large bowl add the carrots, sweet potatoes, and beets. Add the garlic, rosemary, and thyme, then pour over the melted butter or lard or fat of choice. Season with salt and pepper and toss well to coat.
Spread the root vegetables over the foil lined baking sheet so they are in a single layer and place in the oven for 40-45 minutes or until tender and lightly caramelized on the outside, shaking the tray and tossing them around a couple of time to ensure even cooking. Optionally, you can broil them for about 3-4 minutes after their done to get some extra caramelization on the outside of them.
These go wonderfully as a side served with a salad or just about anything!
Recipe by
Slim Palate
at https://slimpalate.com/roasted-root-vegetables/