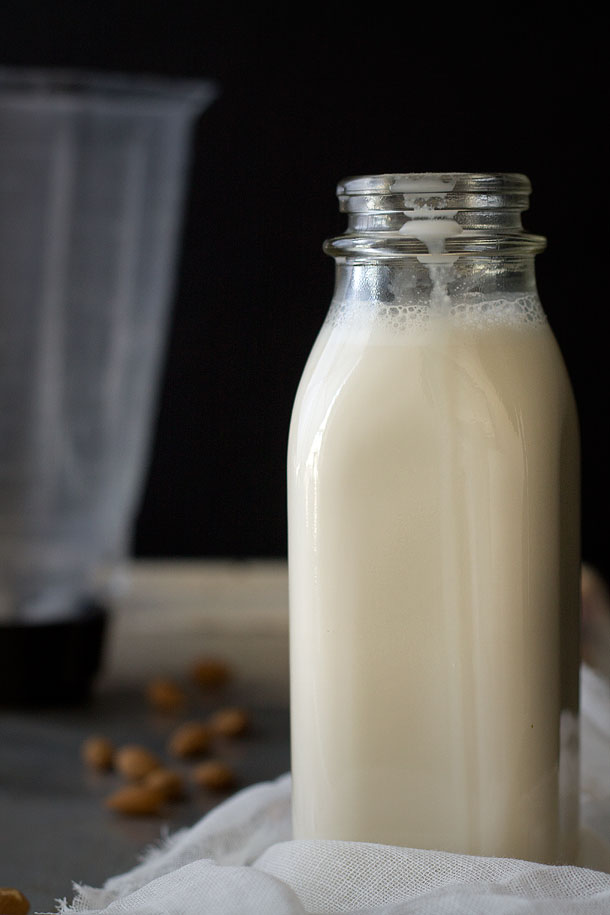 I get a lot of joy and a feeling of self accomplishment when I make something homemade. It's rewarding, it's fun and it usually leaves you with plenty leftover to share of your masterpiece. Of course as I usually try and exemplify, it's also much healthier. When you make anything at home you know exactly what is going into it, usually where it came from, and have complete and total control which are all incredibly powerful factors in having perfect taste and nutrition value.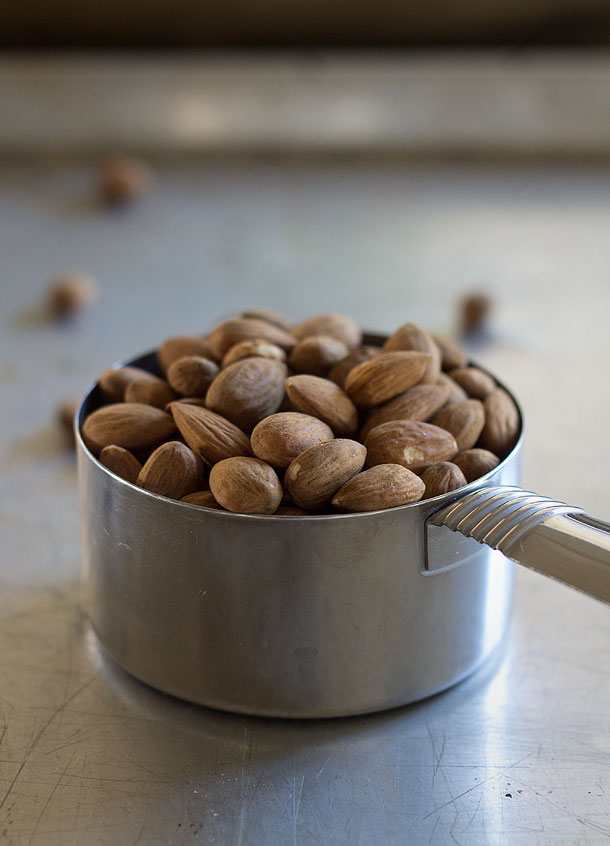 I usually just went to the store and bought the unsweetened almond milk that was there that had the least amount of additives. Which I thought and hoped would be a fairly intelligent decision.  Although after taking another look at the ingredients some of those scientific names like "potassium citrate" and "tricalcium phosphate" began to daunt me so I felt it was time to at least try making it once myself.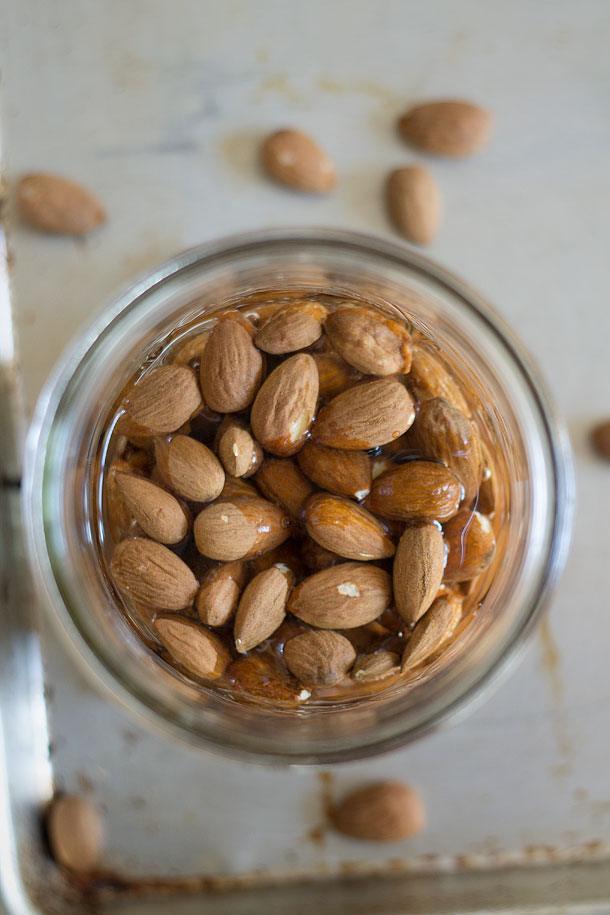 After trying it I'm fairly shocked how ridiculously easy that it really was. It literally takes a total of maybe fifteen minutes in the kitchen and that's only if you are being really sluggish. Don't be the almond slug that takes 15 minutes to do this. I'm kidding of course, you can take as long as you need to make this just try not to over complicate things by being "too scared" to pour the water over the almonds.
Now when you do make this, it's not complicated and it only takes a little bit of time to prep, but it does take time to let the almonds soak. The almond soaking is very important and is the major factor in how your almond milk will turn out. The longer you let it soak the better. Although I wouldn't go above about a 48 hour soak.  Usually 18-24 hours yields a very nice taste and consistency.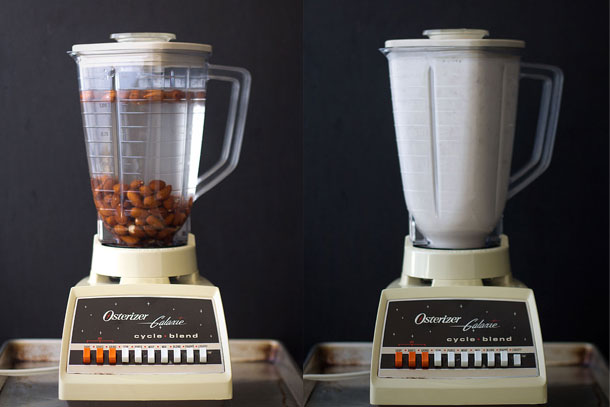 To be honest after any almond milk that I've tried this almond milk is the best. Obviously, it is homemade after all. It has a beautiful white milky appearance that leaves wonderful streaks along a chilled bottle and tastes absolutely superb. It just tastes incredibly refreshing that makes you feel really replenished after having a nice cool glass. The taste is a really interesting one and actually quite different to that of a store bought brand, a light and refreshing nutty taste with a creamy finish and a gorgeous slight sweetness that tingles on the tongue after every sip.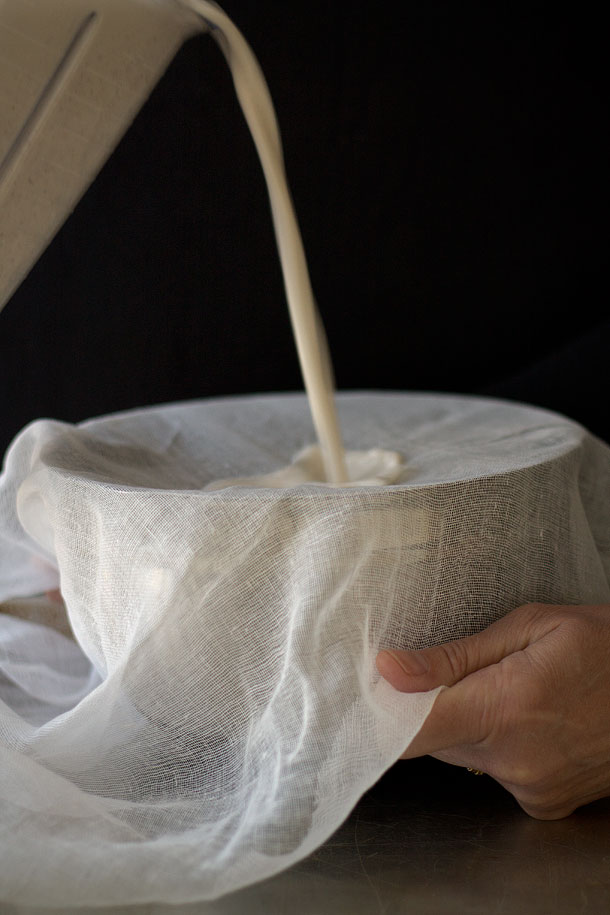 Another wonderful gift that this almond milk seems to keep on giving is that it can be used for just about anything. You can use it in your cooking like as the base of a sauce (I would take out the vanilla if you were going to do that though), in your baking, use it to thin something out, put it in a shake or smoothie, and even make a soup. Or just enjoy it the best way you can possibly enjoy homemade almond milk, freshly poured right out of the cold refrigerator in a nice cool glass. Which you really can't go wrong with, and you might as well do the beautiful concoction of nut milk some justice by enjoying it's true taste in raw form.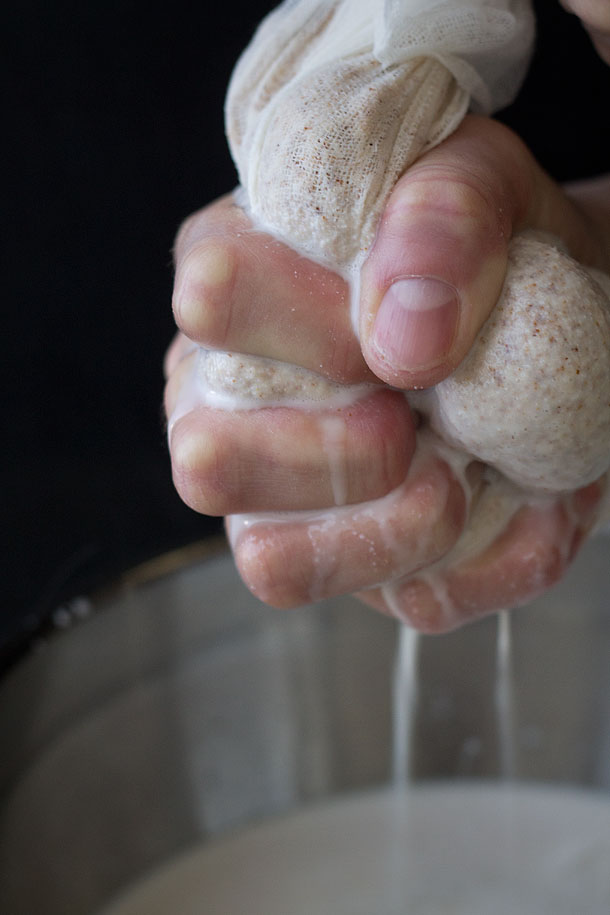 You can either use a cheese cloth or a nut milk bag but because I don't have a nut milk bag I used a cheese cloth which works perfectly fine for this. It does leave a little bit of almond sediment at the bottom but I kind of like that little bit of almond sediment that sets at the bottom. Slightly grainy to the tongue but not too much to be repulsive, just enough to make you want it even more. Some people might not even notice it but I think it gives the whole batch a bit of character and body.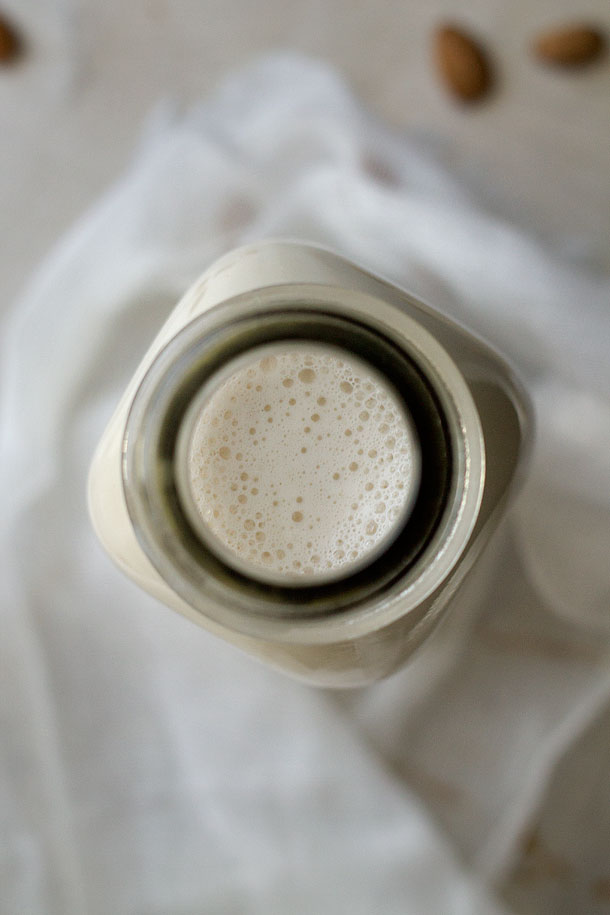 Almond Milk (Paleo, Added Sugar Free, Dairy Free)
Ingredients
1 cup of almonds(Sometimes I like to mix it up and do ½ cup almonds and ½ cup hazelnuts which creates a hazelnut/almond milk that is so incredibly good. I got the idea from an Instagram buddy so thank you wendyluluwang!)
filtered water for covering the almonds (the measurement here doesn't matter you only need enough to soak the almonds in and you will be discarding the liquid anyway)
4 cups of filtered water for blending
¼ teaspoon vanilla or more depending on taste
Instructions
Place the almonds or almond hazelnut mixture in a small mason jar or bowl with enough room to cover with water.
Add enough filtered water to the nut filled jar until the almonds are compltely covered with water.
Cover with plastic wrap and let soak in the refrigerator for 12-48 hours. (the longer the better. I have had often wonderful results with an 18 hour soak.)
Once they have soaked strain the water from the almonds and lightly rinse the almonds off.
Place the soaked almonds in a blender and top with 4 cups of filtered water and vanilla.
Blend on highest setting for a minute or until the almonds become very finely ground in the blender.
In a large bowl (large enough to hold 4 cups of liquid) place cheese cloth or nut milk bag and hold around the edges so it doesnt slip in and pour the almond milk through the cheese cloth or nut milk bag so to strain out the almond pulp. Once all the liquid and almond pulp has been poured thourgh the cheese cloth or nut milk bag form a tight ball with the almond pulp and tightly squeeze the remainder of the almond milk out of the pulp. (get every last creamy and rich drop in that bowl)
Place the remaining almond pulp to the side or toss in the trash can.(I feel bad about wasting the almond pulp but you could let it dry and use it as almond flour or a facial scrub.)
Pour the almond milk into a container large enough to hold 4 cups of liquid and chill and keep in the fridge. Lasts about 5 days in the fridge.